Update History
6/22/2002 Key Largo, Florida, USA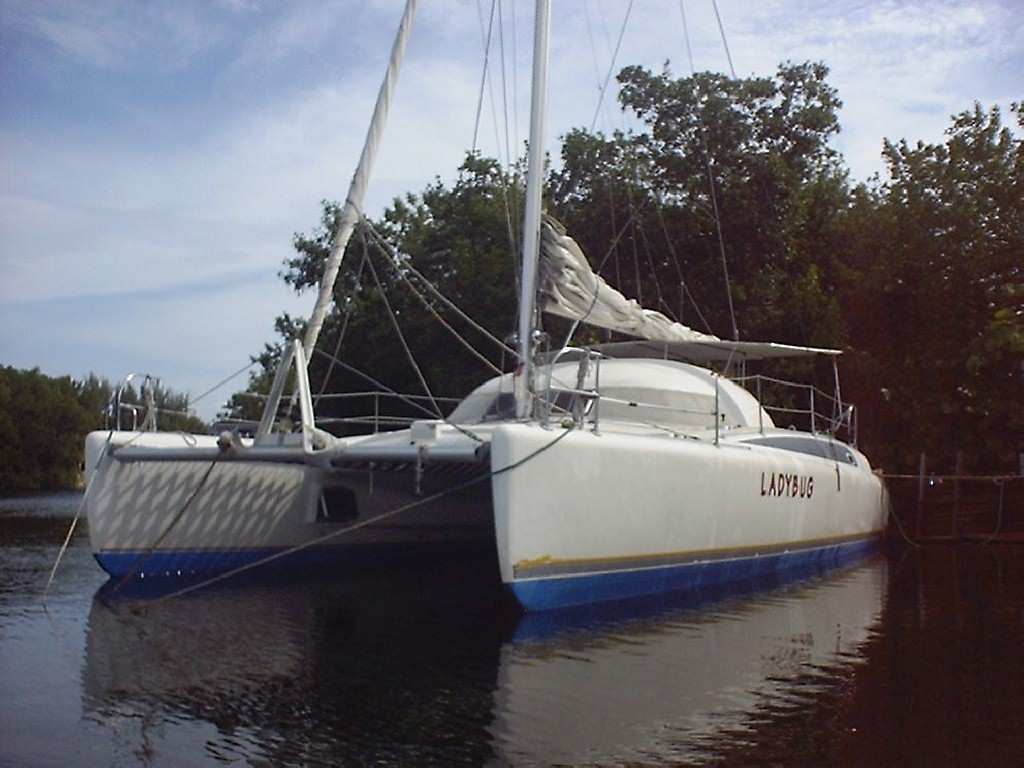 Feature Photo
Ladybug rests after 24,000 ocean miles
New News as of 6/22/2002
We had a good passage from the Virgin Islands, but there was some excitement. We ended up participating in a rescue operation, pulling 8 people off a sinking fishing boat.
Now we are in Key Largo, Florida. The boat is moored at the home of Jack Jelsema, the father of Dan Jelsema who we met in Brazil. We are working hard to get Ladybug ready for sale.
6/7/2002 St Thomas, US Virgin Islands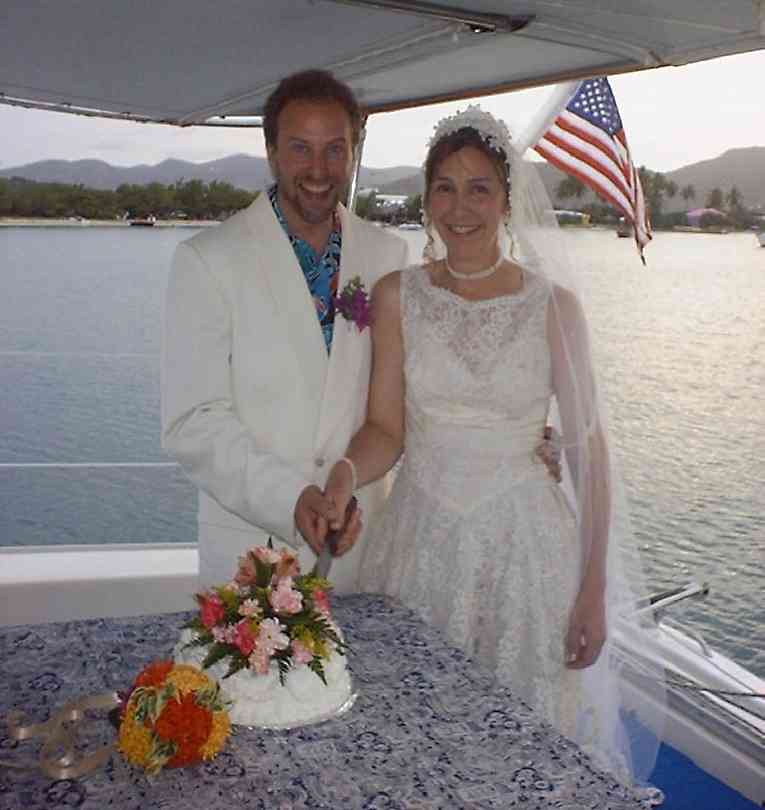 Feature Photo
Dennis and Polly tie the knot !!!!!!!!!!!!!
New News as of 6/7/2002
It has been good to revisit the Virgin Islands where we purchased Ladybug and started our trip. Even better, it was most excellent and a huge honor to have our friends Dennis and Polly join us to get married on Ladybug (A Wedding to Remember!!). Everything went smoothly and they had a beautiful wedding.
Now it is time for us to head for Florida and sell Ladybug. It will be a sad day, but it's time for us to go back to work for a while. Hopefully we will find a new crew to continue the adventures.
Oh, one last thing. We know there are many people, most of whom we don't actually know, who have been following our adventures. You know all about us, but we are also curious about YOU. Please click here to register and let us know you are Watching Ladybug. ( I promise we won't sell your name to any phone companies or magazines.)
5/27/2002 Chaguaramas, Trinidad
Feature Photo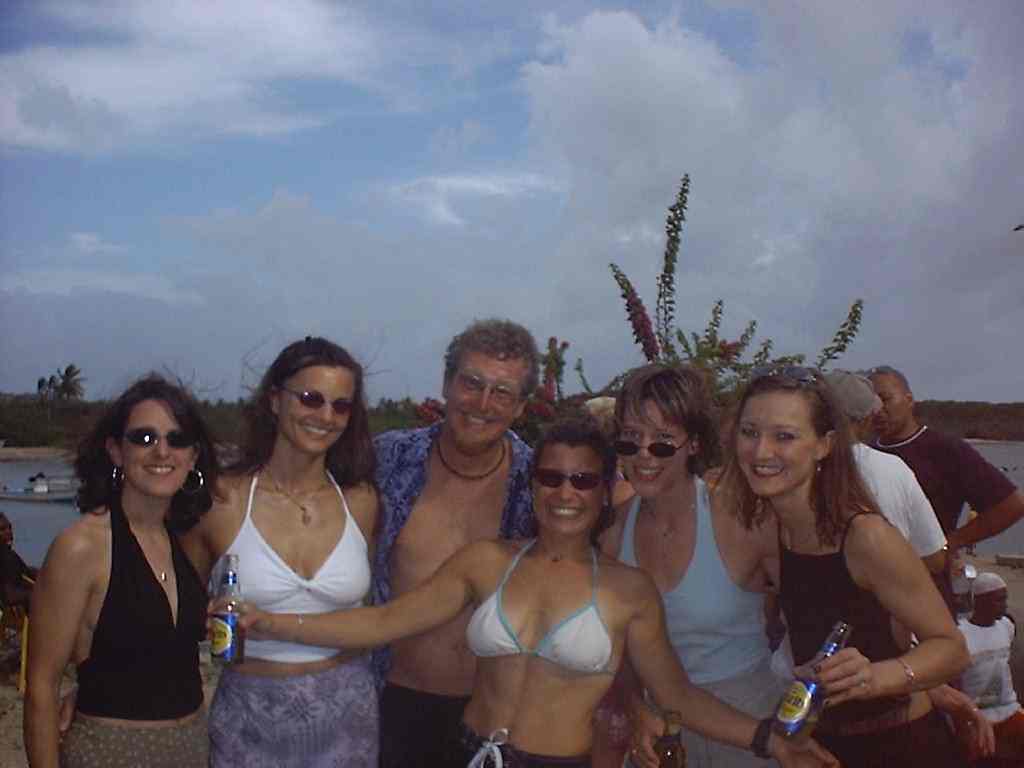 It's a rough life.
New News as of 5/27/2002
We had a most excellent party in Tobago. We had 15 people fly down from the US to join us. Our local friends did a great job of arranging everything and doing all the cooking. We had food and drinks for about 100 people. A good time was had by all.
Now we are in Trinidad making a brief stop before heading to the British Virgin Islands.
5/9/2002 Buccoo Bay, Tobago
Feature Photo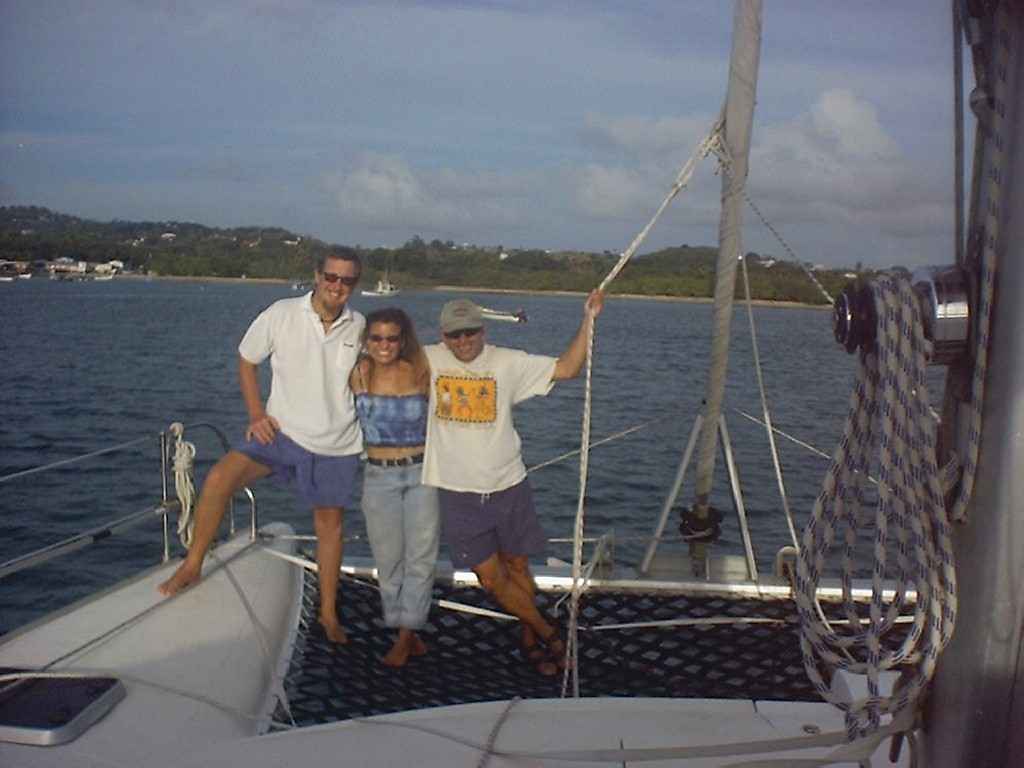 The happy crew of s/v Ladybug.
New News as of 5/9/2002
We are in Buccoo Bay, Tobago and have safely completed our first circumnavigation. We have already seen several of our old friends here and are looking forward to seeing many more in the next few days. We are also looking forward to seeing the friends and family that will be coming down to help us celebrate. At last count we had 15 people with tickets! It should be a fantastic party.
4/23/2002 Jacare, Brazil
Feature Photo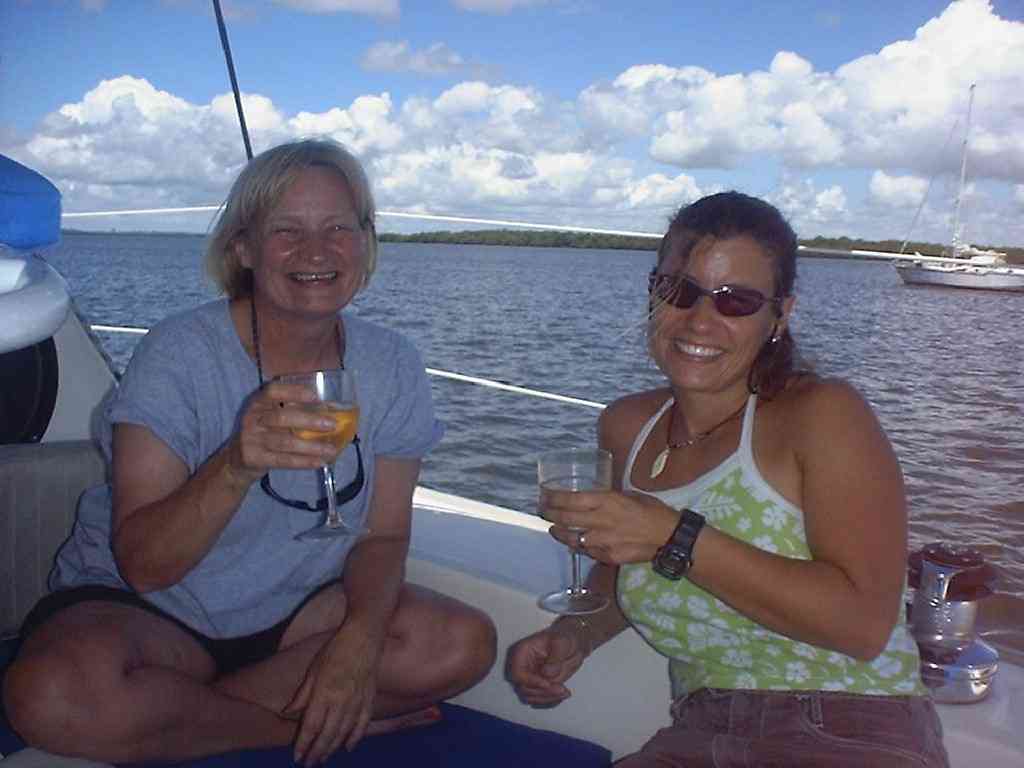 Stacy and Jann celebrate with a champagne after a pleasant 5 day passage from Salvador.
New News as of 4/ 23/2002
We are in Jacare, Brazil (near Cabadelo, about half way between Recife and Natal). This has been a good stop, but we will be leaving in the next couple days. We want to make sure we have plenty of time to get to Buccoo Bay, Tobago. The "Circumnavigation Party" is scheduled for May 19th, and we would hate to miss it.
Speaking of the party.....at least 8 people from home have already bought tickets and several more are seriously considering it. Fantastic. It should be a great event with friends and family from home, the local fisherman, and possibly some other cruisers. We are going to try to arrange to cook a whole pig on the beach, and there will be plenty of cold Carib beer. The Buccooneers (local steel drum band) are scheduled to perform, and we are also hoping to have Square One (band from Barbados) and Musky Mike and the Mad Dogs from Mars (band from the US) there also. Anyone who is reading this is certainly invited. Come on down and help us celebrate.
4/9/2002 Salvador, Brazil
Feature Photo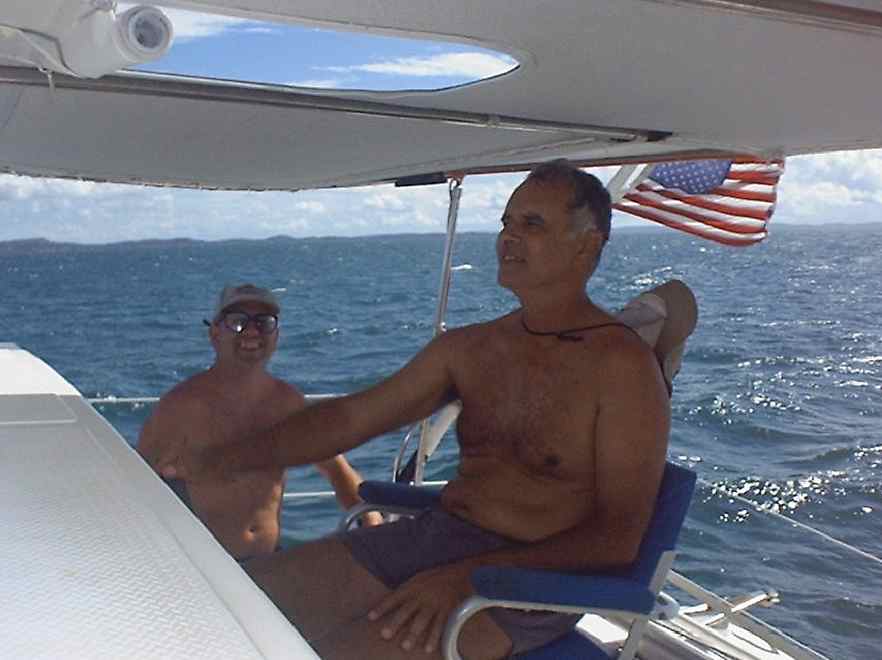 Some nice day sailing with Jo's cousin, Ed.
New News as of 4/ 9/2002
We arrived in Salvador, Brazil on March 21st. We spent only 24 hours in the city before jumping on a bus and heading to Ouro Preto to visit Jo's family. Ouro Preto is a beautiful old city, and Jo's family took excellent care of us. We arrived back in Salvador just one day before Stacy's mom arrived for a visit. Now we are preparing to leave Salvador and head up the coast of Brazil, working our way towards Tobago.
3/1/2002 Jamestown, St. Helena
Feature Photo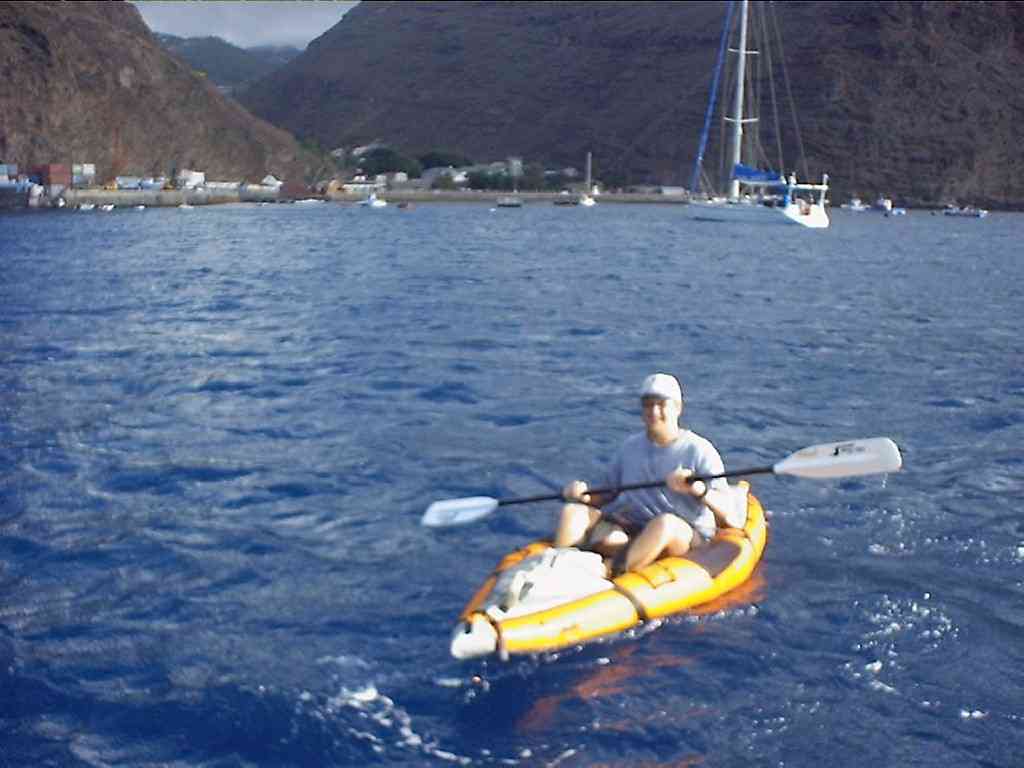 Off to explore the rugged coast of St. Helena in the kayak.
New News as of 3/3/2002
We arrived in St. Helena on February 28th!! St. Helena is our only land fall between South Africa and Brazil. The trip from Cape Town started out like a high seas adventure (gale force winds and big, breaking waves) and ended with 10 days of easy spinnaker sailing. St. Helena is best known for the fact that Napoleon was exiled to the island in 1815 and died here in 1821. The coast of the island is mostly steep cliffs and the interior is a lush combination of mountains and pasture. The island is 47 miles square and about 5000 people live here. It is an extremely friendly place!!
Other big news: As we get closer to the Caribbean, we are starting to plan a big "Circumnavigation Party". Long ago we decided that Buccoo Bay, Tobago would be the place. Now it looks like May 19th will be the date. Anyone who would like to join us should start looking for tickets.
2/5/2002 Hout Bay, South Africa
Feature Photo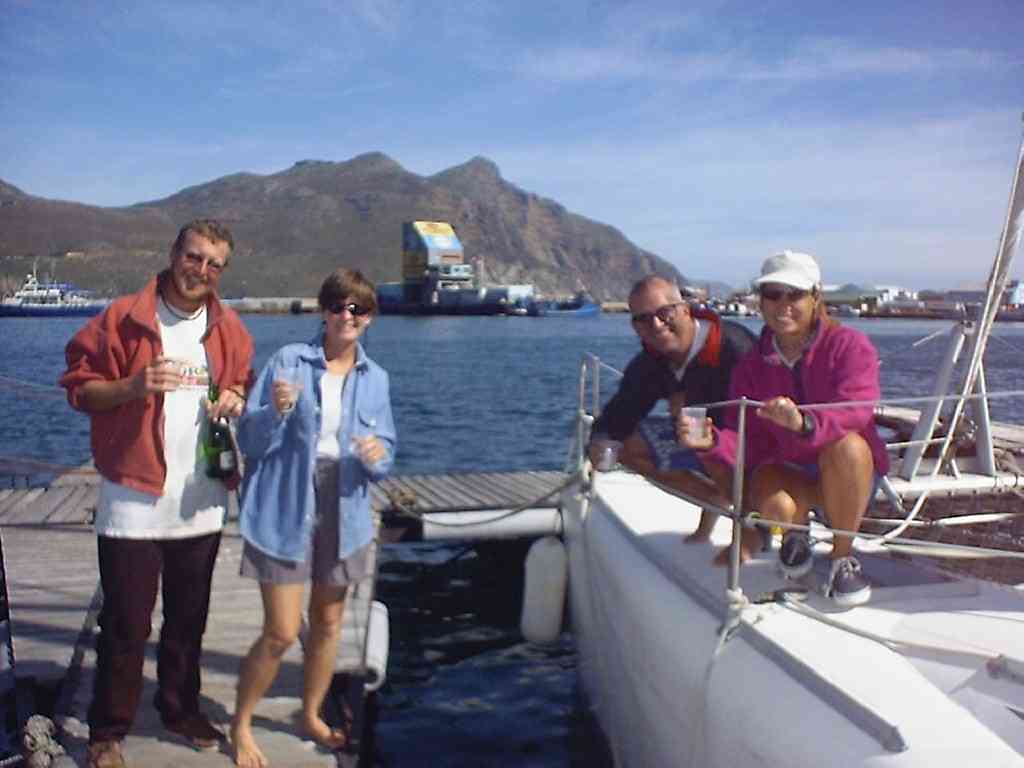 Champagne with Pat and Colleen from s/v Simmer(as promised in our guest log!!) to celebrate a successful passage around the cape and our arrival in the Atlantic Ocean. So nice to arrive somewhere and have friends waiting.
New News as of 2/5/2002
We arrived in Hout Bay yesterday. Our passage around Cape Agulhas (southern most point of Africa) and Cape of Good Hope was smooth. We had light wind and lots of motoring as we left the Indian Ocean and entered the Atlantic Ocean. We are very happy to be back in the Atlantic as this is the ocean where we started our adventure. Hout Bay is about 15 nautical miles south of Cape Town.
We will be spending the next few days buying provisions, getting Brazilian visas, making minor repairs and saying good-bye to friends before we set off for St. Helena and then Salvador, Brazil!!
12/21/2001 Durban, South Africa

Feature Photo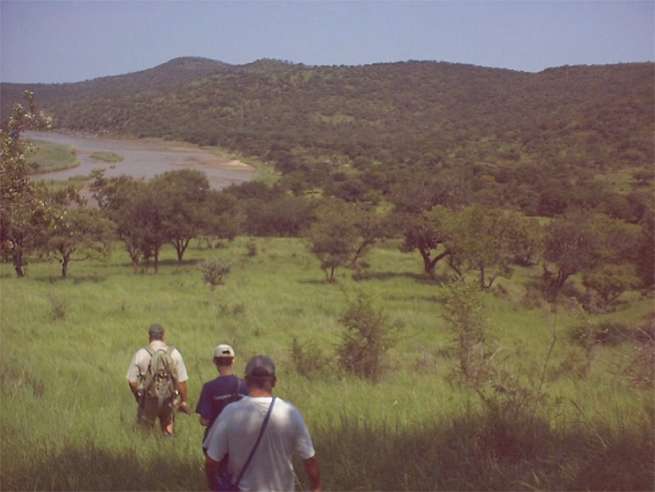 Greetings from Durban, South Africa. We have been having a fabulous time and even did a safari. Merry Christmas and Happy New Years to everyone from the crew of Ladybug!!!
Latest News as of 12/24/2001
Looks like we will be celebrating our Christmas in Durban. That is fine by us as we have old friends here and also many new friends. After Christmas we will work our way to Cape Town as weather permits.
12/04/2001 Richard's Bay, South Africa
Feature Photo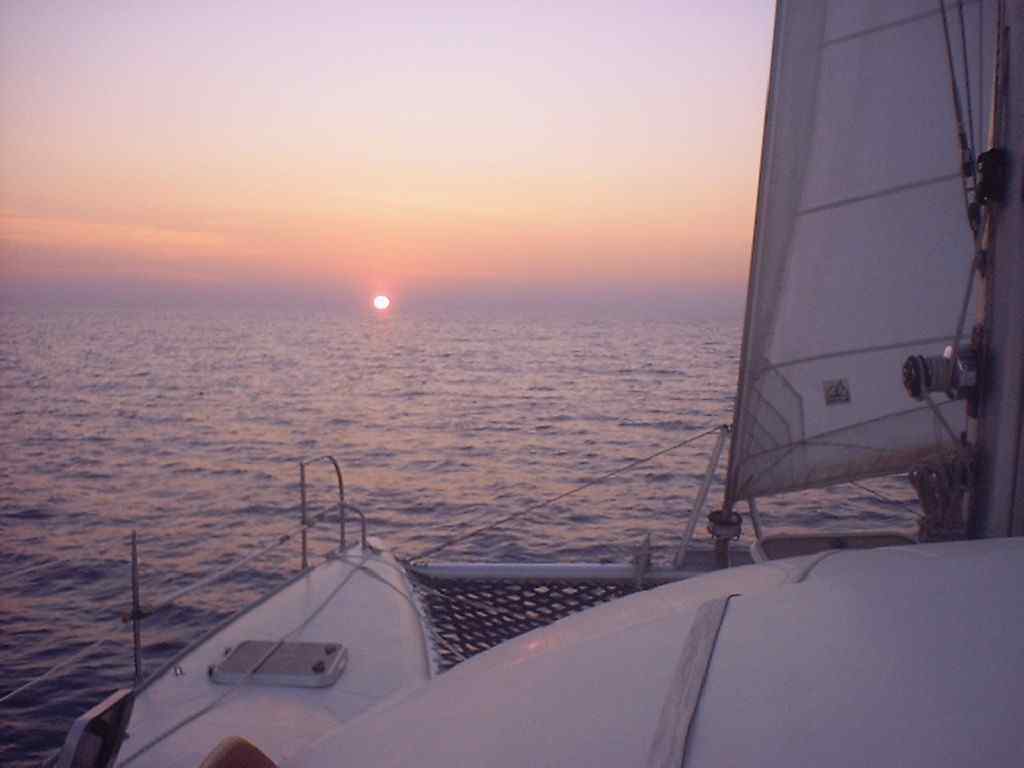 Sunset in the Indian Ocean!
Latest News as of 12/04/2001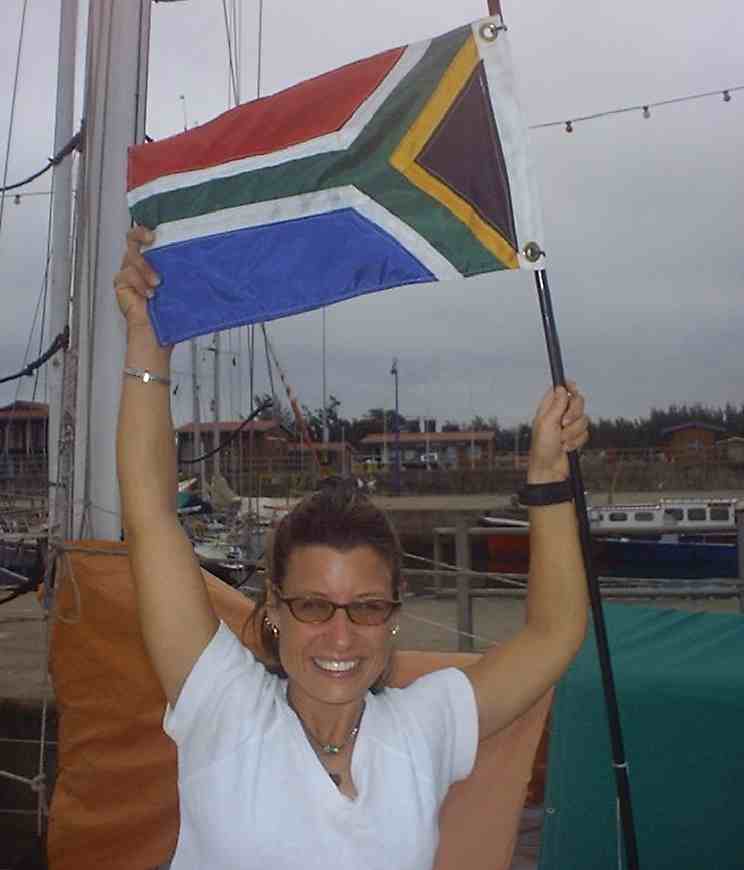 Arrived in Richard's Bay on December 1st. We are very happy to be in South Africa. We will go on a 2-day guided Safari hike this weekend and then get ready to head south along the coast. We will slowly make our way to Capetown over the next month.
Latest News as of 11/17/2001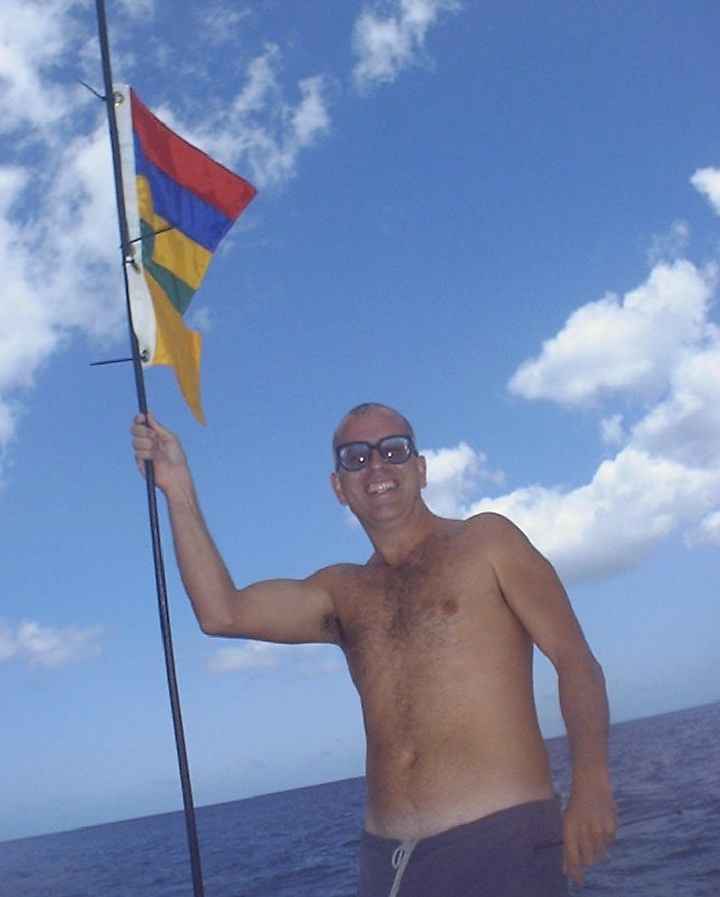 Jo hoisted our new Mauritius flag and quarantine flag upon arrival on November 14th. We had a great passage from Cocos Islands with steady wind. We averaged 6.7 nautical miles/ hour for the whole trip, usually it is closer to 5. After 15 days at sea we are happy to find friendly people, cold beer and Internet access. We will spend a few days in Port Louis and then head for Durban, South Africa.
Latest News as of 10/24/2001
Our departure from Darwin was a bit delayed due to a leaking seal in the sail drive. We hauled the boat then had the part machined and seals replaced. We were back in the water and checked out of Australia on October 9th. Our sail to Christmas Island started slow with many days of motoring, but about half way the wind came up nice and steady. Our passage from Darwin to Christmas Island took a total of 13 days. We are also getting used to being a crew of 3 instead of 4 as we parted ways with Guy in Darwin. We were very sad to say good-bye to Guy, but the shift sharing between the three of us has been surprisingly easy.
10/01/2001Darwin, Australia
Feature Photo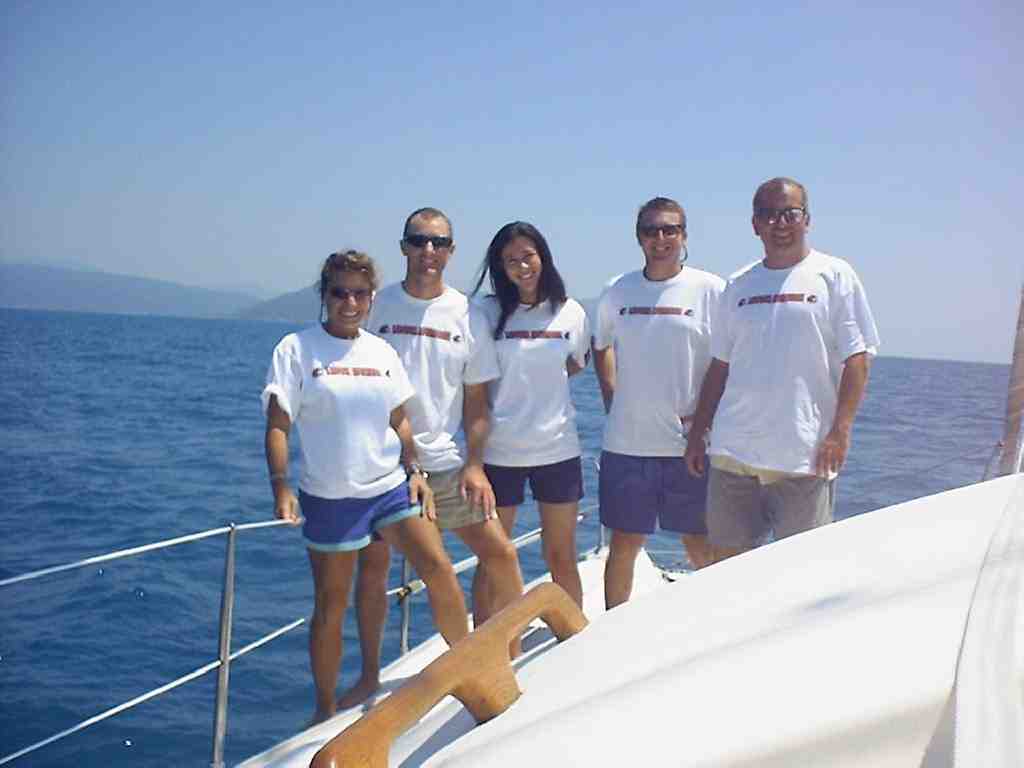 Stacy, Guy, Maiko, Dave and Jo showing off our very cool Ladybug Adventures t-shirts. A big thanks to Dave's mom for getting these great shirts made for us!
Latest News 10/01/2001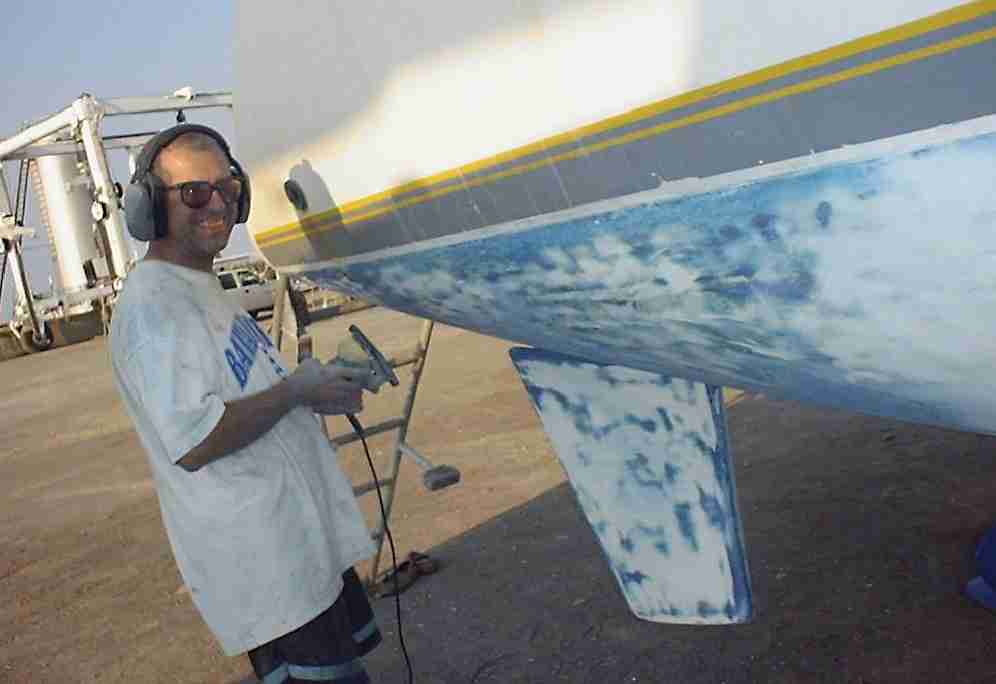 The work is never done. Upon return from our travels away from the boat we found all the remaining paint on the hull cracking. So we started again, this time we removed all the paint down to the fiberglass....what a tough job. All bottom repairs were completed and we went back in the water. We spent a few days in the Breakwater Marina while we got groceries, waited for our new bimini and our short term guest Maiko. We left Townsville on Sept 13th. We have traveled along the Great Barrier Reef (excellent snorkeling) and across the 'top' to Darwin.
08/15/2001Townsville, Australia
Feature Photo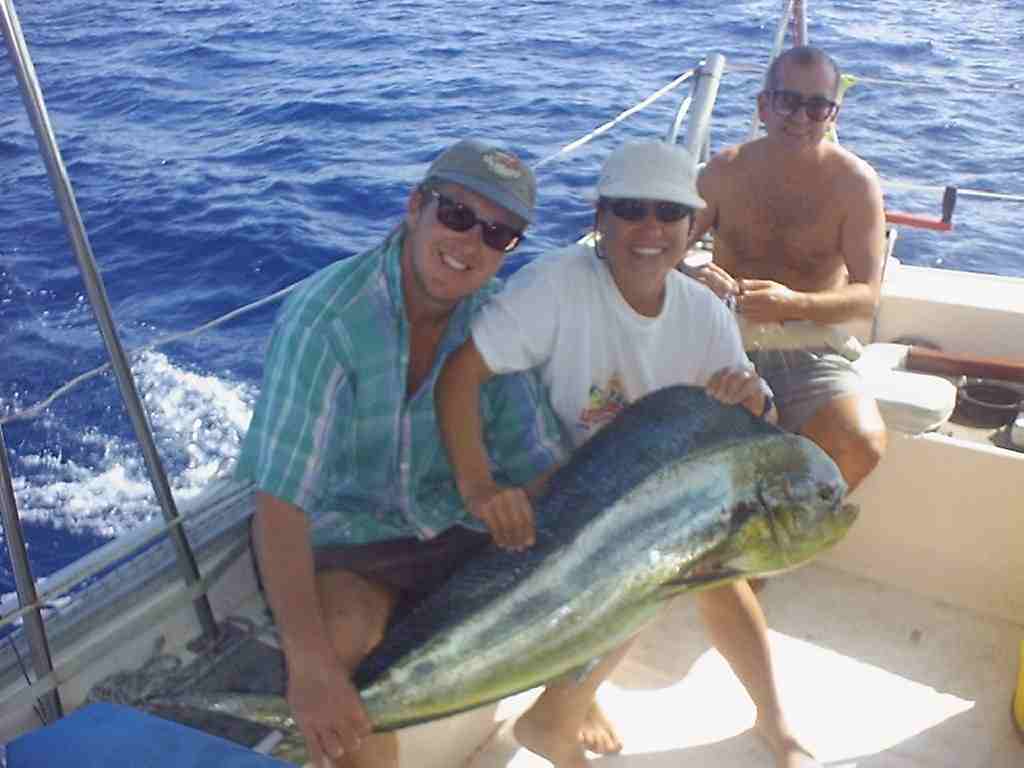 A 47 inch gift from the waters of Tonga!!
Latest News 08/15/2001
We arrived in Townsville, Australia on August 7th. We have pulled the boat out of the water. Most of our time has been spent scraping old paint, painting (steps, sail drive, bilge...etc), doing maintenance on the sail drives, some electrical work, and odd repairs here and there to make the boat safer and stronger. Guy left on August 13th to visit a friend in Melbourne, then on to Sydney to see his brother. Jo will leave on the 17th to see his brother in Auckland. Dave and Stacy will also leave on the 17th to meet Dave's parents in Bali!! We will all meet back in Townsville around the end of the month to continue our journey sailing westwards towards home!
06/27/2001 Nuku 'Alofa, Tonga
Feature Photo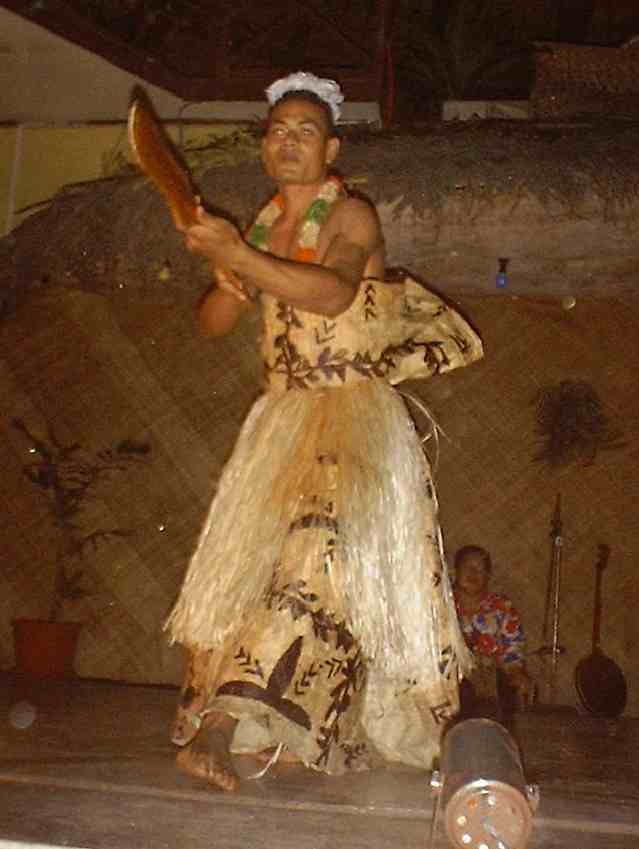 Tonga has never been colonized and is therefore very rich in traditional culture. Tongans are famous for beautiful dancing and thier friendly nature. They are know as the "Friendly Islands".
Latest News 06/27/2001
Due to the failure of the port engine starter motor we skipped the Cook Islands and headed straight for Tonga. The Cook Islands are atolls and the entrance would be too dangerous with only one engine. This added about 1000 miles to our passage. It was a good passage, but the weather was very inconsistent. Lots of rain squalls with intermittent periods of high wind and no wind. We arrived in Tonga on June 17th. We are working on fixing the engine and enjoying the local culture and people. We hope to visit a few more islands here in Tonga then head off to Fiji and/or Vanuatu.
05/30/2001 Papeete, Tahiti - Society Islands
Feature Photo
We have been enjoying really French Polynesia (Marquesa Islands, Tuamoto Islands, and Society Islands). This photo was taken during an awesome and challenging hike on the highest ridge around a bay at Tahuata (see Hiking on Tahuata). Can you pick out Ladybug? We are finishing the work on the fuel tank and we are getting ready to continue west. Our next stop in the westward direction will be the Cook Islands.

Jo and Dave tackled the difficult job of removing the deisel tank. What a sweaty, yucky job! The tank was fiberglassed into place, and has developed a nasty leak. This project will be completed quickly, as it will prevent us from moving the Ladybug( no helm's seat and no fuel for the engine).
05/09/2001
Hiva Oa - Marquesas
Feature Photo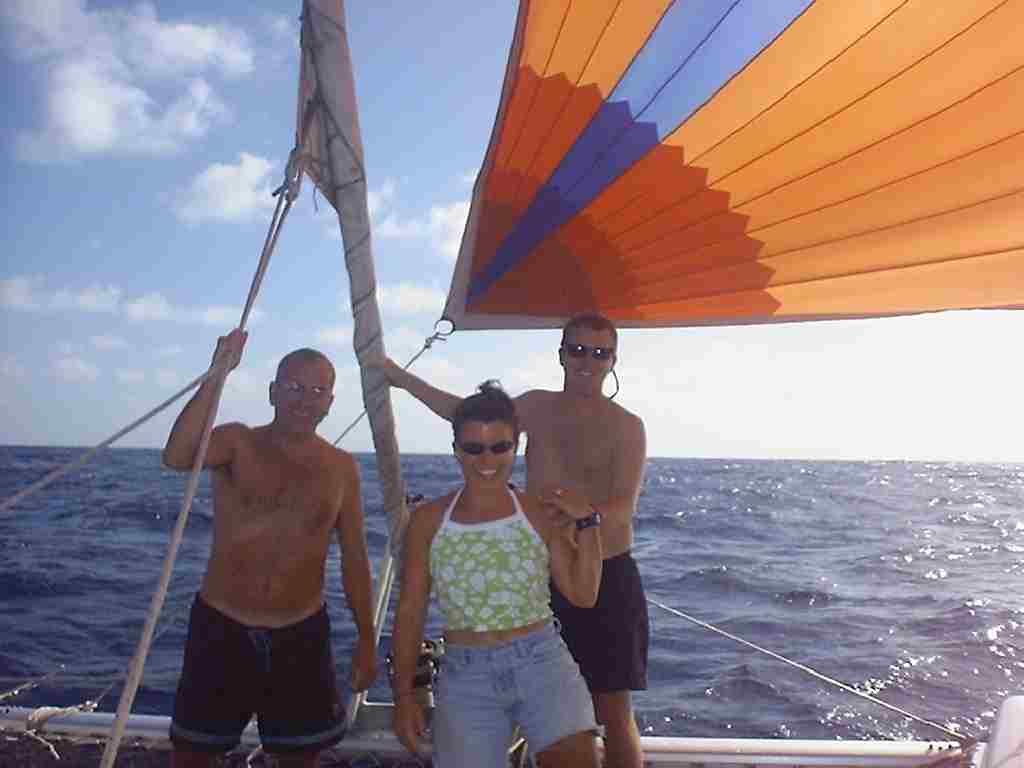 Jo, Stacy and Dave celebrating 1 year on Ladybug. April 18th, 2001 is officially one year since we moved onto the boat in the Virgin Islands. This photo was taken after 7 days at sea, between the Galapagos and the Marquesas. We had pizza, champagne and chocolate for our party! Yes, that is the spinnaker flying behind us.
We made it to the Marquesas! 22 days at sea and 3000 miles later we made landfall in Fatu Hiva. We spend a couple days there, now we are in Hiva Oa where we can officially check in and get the formalities done.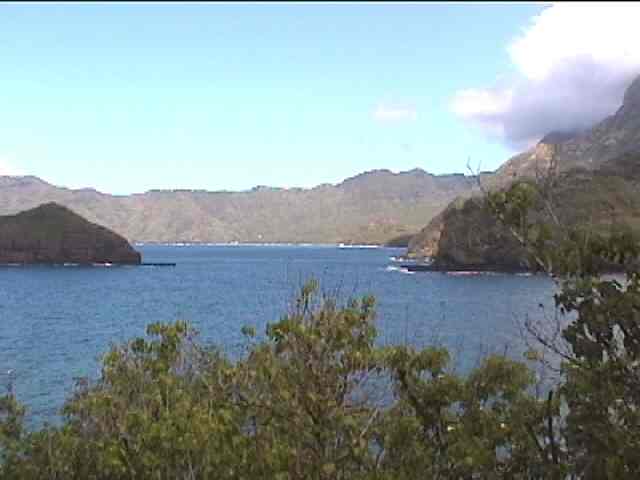 By the way, Stacy is now our official captain and has done a great job of checking us in! Good going cap't !!!
April 04, 2001
Santa Cruz, Galapagos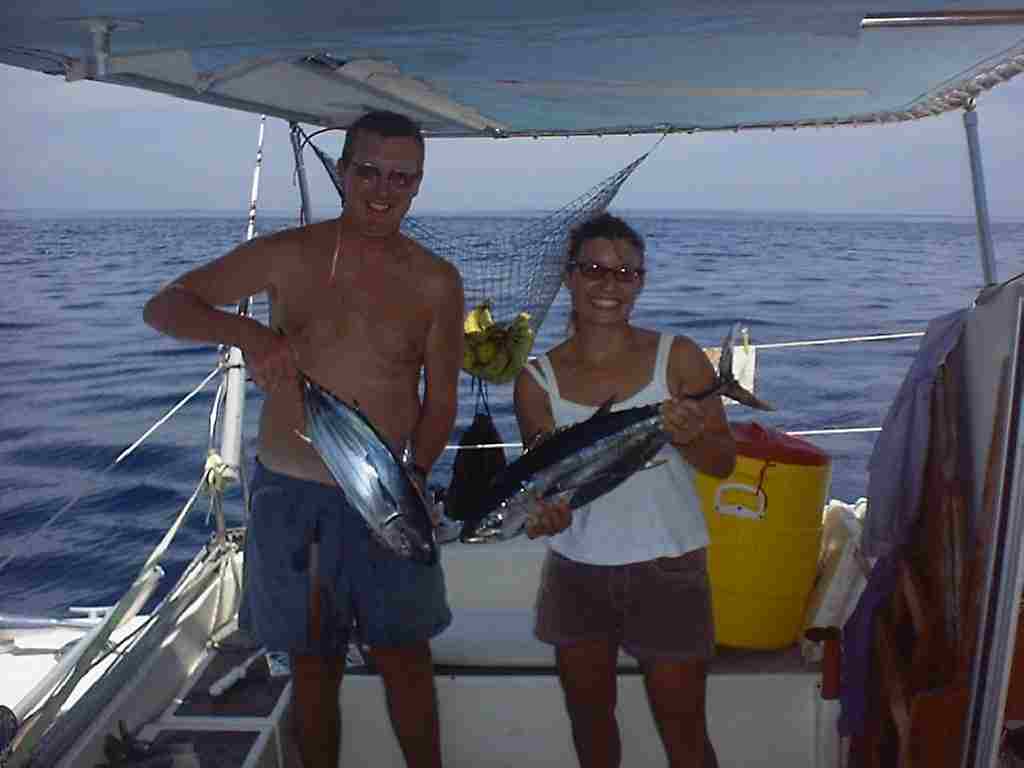 Enough tuna for 14 people!!
Galapagos is great! We have had an incredible time so far, and we have more to go. We have been in Isla San Cristobal and Isla Santa Cruz. From here we go spend a couple days in Isla Isabela to finish our tour. From there we head out to the Marquesas. Latest reports are that the trade winds are far to the south of us. In fact people have gone almost as far as 8 degrees south to get good winds. That means we have to bob our way south about 500 miles just to get into the trade winds. Then about 3000 miles to the west to reach the Marquesas. That probably means the trip might take closer to a month. Don't expect to hear much from us for a good month.
Whales! On our way from San Cristobal Dave sighted some whales. We got one on film to prove it!
To all the folks back in Wisconsin, have a great spring!
March 30, 2001
Panama to Galapagos
We made the papers!!! Thanks to the folks at the Madison Capital Times for adding a little excitement to our lives! It is incredible how quickly the news spread that we had a picture of Ladybug in our hometown paper.
Galapagos!!! We made it! Seven days and 16 hours later we are now anchored at Wreck Bay in Isla San Cristobal. For anyone who is up to date on their current events, this is where they had the big fuel spill three months ago. The spill seems to have been cleaned up nicely though. The place is fantastic! Before we even had a chance to drop anchor we had a sea lion checking us out! There is a whole colony of them living in this bay, and they have no fear of humans. Basically for us to land the dingy on the beach a few of them have to make way for us to get in. They always wait till the last minute to get out of the way. Some of them are massive and I'd hate to get one of them upset at us. Well that's all for now! Got to go exploring... Giant tortoises, hike to the Spanish ruins, Darwin research center, volcanic lakes, frigate bird roosting spot,... What shall we do first?!!!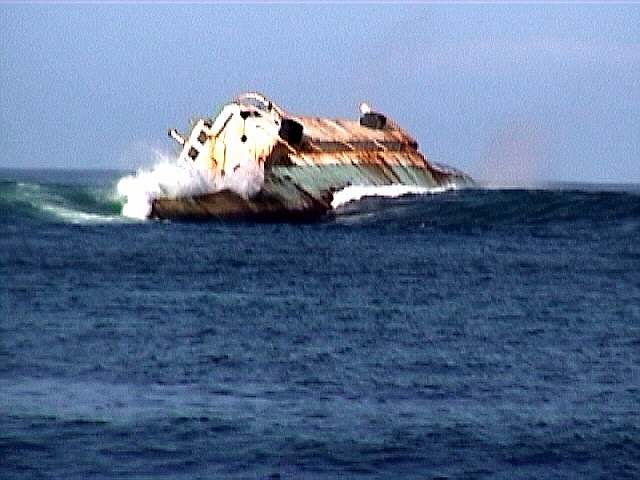 The Wreck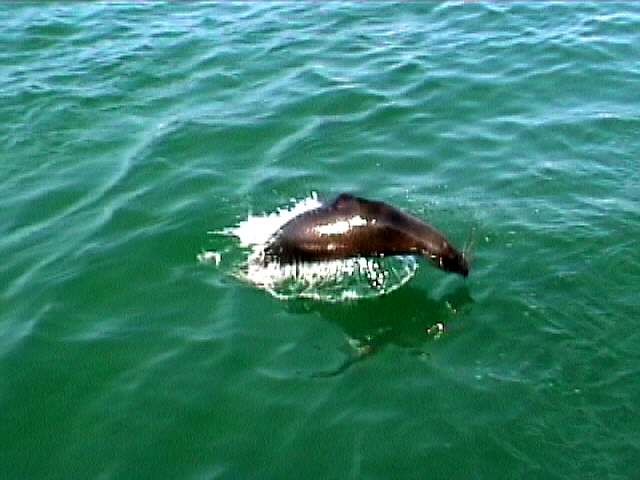 Sea Lions on Arrival!
March 18, 2001
Panama City, Panama
We have been working hard provisioning our boat and preparing for our Canal Transit. We arrived in the Pacific Ocean on March 12th, after a fun and uneventful passage through the Panama Canal. We were very fortunate to meet a lot of really great people in Panama. We had the good fortune of meeting Jiin, who spent 3 weeks with us on Ladybug. We are also happy to announce the arrival of our 4th crew member for the Pacific Ocean, Guy (see Crew). Also check additions to our Guest Log and Panama Log 1/31/01 to 3/20/01.

ATTENTION: Dr. Ellis check out Guy in the daily log for March 20th (click on Panama Log 1/31/01 to 3/20/01).

February 20, 2001
Colon (Atlantic entrance to the Panama Canal), Panama

Check out the Photo Gallery ! And a few new adventures... Mom's river adventure and Dolphins during passage from San Blas to Panama . Dave will be back tomorrow (si allah djabi...if god wills it!). When Dave arrives we will finish provisioining and start the process of getting the boat measured to go through the canal. We have said a said a sad goodbye to our temporary crew member Matti. We are anxiously awaiting Guys arrival on March 5th. Guy will be raplacing Matti for the next portion of our trip.

February 16, 2001
Colon (Atlantic entrnce to the Panama Canal), Panama

Jiin joins the editorial team

February 06, 2001
Colon (Atlantic entrnce to the Panama Canal), Panama

Sorry for the delay, but here it is. Tons of new pictures and a new and improved route section . Tomorrow morning (Wednesday) we will be helping some friends cross the canal, so I'm sure we will be adding more intersting stories in the next couple days. If you keep an I on http://www.pancanal.com you might see us on the way down. We should be exiting the canal some time early afternoon 2-3PM if all goes well. Look for Matti and I on La Boutique. Stacy and Dave will be on SamiBella, a Catamaran.

December 31, 2000
Porvenier (Kuna Yana, aka San Blas Islands), Panama

We had a nice passage from Aruba to Porvenier - 4 days of high winds and fast sailing. We arrived in time for Stacy's birthday (Stacy's B'day in Porvenir, Panama). Since then we have been enjoying the Kuna (local people) hospitality. Unlike many indigenous peoples, they have been very successful at maintaining their culture and to a large degree their autonomy. We have also met some delightful fellow travelers. We met Guy at the phone both and his girl friend Martina soon after. After a couple days of hanging out together, they ended up moving aboard Ladybug, and we all did some cruising around the islands together. (see Guy and Martina's Excellent Adventure, San Blas Islands and Guest Log)

Christmas was nice although we missed our friends and family at home. We hope everyone at home had a most excellent Christmas.

Today is the official end of the Ladybug Movie Trivia contest. And the winner is Mike Cohen! Come on down and get your lobster dinner, Mike.

We have made a number of additions in this update including a project section (Projects) and as always the guest log (ABC Islands log 10/26/2000-12/05/2000 and Panama log 12/06/2000-?). Stacy has also added a couple more items to the literature section (I like to tell myself, "I do it for the adventure." and I'm a Girl . Check them out!

We are now preparing to celebrate the new year, but you'll have to wait until the next update for the stories.

December 3, 2000
Curacao, Bonaire, Aruba

We had a nice Thanksgiving dinner/party on the boat. We met some cool people in Bonaire (see Guest Log ) and did some Day Sailing, Diving, and lots of Snorkeling. The water in Bonaire was awesome, the best yet for good visibility. We also have had some super awesome guest crew including Barry Widera, John Sharpless, Joe Ehmann, John Dregar, and Eric Slayback. We will be leaving Aruba this week to head for the San Blas Islands in Panama.

November 13, 2000
Curacao/Wisconsin Dells

We had an excellent time in Venezuela (see Las Aves) and then headed to Curacao. Stacy and I flew from Curacao to the US for Stacy's brother's wedding and to visit our friends and families. Jo and Matti remained in Curacao waiting for guests with whom they plan to check out Bonaire.

The trivia quiz is still on. We heard from a number of people who worked on it, but never submitted it. You can't win unless you enter. Trivia!!

Our friends, Pete and Sue Wagner, also have a cool web sight. Check out "www.kellnet.com/laboatique"

October 10, 2000
Trinidad

Still in Trinidad, check out some of our latest adventures... More fun in Trinidad.

September 14, 2000
Trinidad

We are back in Trinidad from another excellent trip to Tobago. Check out our latest adventures in Visit with Mom and Dad Hess (including pictures of Antje & Michael on the fishing trip and pictures of Alix's new baby boy). In the Guest Log you will also find several new additions.

August 22, 2000
Trinidad

Dave's sweater is complete!! You can see it at Log for 8/18/2000. We hoping to leave for Tobago on Wednesday the 23rd of August. We are also anxiously awaiting the arrival of Dave's Parents on September 5th!!!. Check out our new Trivia!! game. Also check out our new Literature section.

August 12, 2000
Trinidad

We are back from a great trip to Tobago. Check out Frank and Melissa's Wedding and the additions to the Boat Log and Guest Log. We also had wonderful visits from Linda (Laurie's mom shown above) and Eric.

July 15, 2000
Trinidad

Trying to leave for Tobago, but stalled briefly with an engine problem. We will probably not be able to get parts in Tobago, so we are trying to get it fixed quickly before we leave.

July 10, 2000
Trinidad

We just had a beautiful time at Chacachacare Island.Until about 30 years ago this island was a leper colony. It had a major village with a road running all around, even a traffic light! When a cure for leprosy was found, the colony was abandoned. The buildings include 2 doctor's houses. Much has been reclaimed by nature, but there is still a lot to explore. There is also a beautiful road up to the manned lighthouse on the hill. We saw lots of beautiful butterflys and interesting lizards on our hikes! See more in Boat Log.

July 7, 2000
Trinidad

Check out our Turtle Watching Adventure and the new additions to our Guest Log!! We need more additions to our guest log, when are all of you coming to visit???

June 29, 2000
Trinidad

Do we have stories from Grenada! It took us a while, but we are back. We are working on a new section for the site called JoQ expert advice for the working men. If you have been waiting for an update our appologies. We are trying to translate the site into multiple languages and the portugues section is done, except for the daily logs which we probably won't translate.

Life in Trinidad is good so far. We are in Chagaramas just north of Port of Spain. There is quite a crowd of boats here, everyone hiding from the hurricanes. The sun here gets quite hot, but that's when you take a nap. We will probably be in the area for the next couple months, so if you have vacation coming up we saw flights for $350 from Miami. We are looking forward to checking out the sea turtles nesting sites. Huge leather backs up to seven feet long come to lay eggs on the north coast of Trinidad.

A special hello to the kids from Mauston, WI! (Send us an e-mail)

Later
The Crew.

May 20, 2000
Martinique

It's been a while, and we have lot's to share. We think we figured out our problems with posting pictures so see our updates to our BVI stories. Otherwise the big news is we started moving south to hurricane season. We expect to spend June thru November in Trindad, Tobago and Venezuela. Matti joined us for two and a half weeks and it's been a blast so far. He forced us into vacation mode and we had a blast in Guadeloupe after stopping to provision in St. Maarten. We are now in Martinique where I'm sure we will have more stories to follow. Check out these dolphin pictures!

Dave has been busy typing in the daily logs, so for those of you who are interested, here it is! We wanted to update the site from St. Maarten but we had some poor timing in finding a Cyber Cafe that would let us link up our laptop. In Guadedloupe we basically did not try to go into the main city Pointe a Pitre to look for one. They seemed less connected then the other islands we stopped so far.

We bought this little device www.pocketmail.com that allows us to read and send simple text mail by phones so we check our e-mail on a weekly basis.

The Crew!

April 24, 2000
Trellis Bay, Tortola B.V.I.

We made it! Our first Caribbean cyber connection. Thanks to everyone who showed up and made the multiple bon-voyage parties a huge success. Miss you all. We have a few new pictures taken with Stacy's new digital camera so check it out. In the past few days we have managed to remove and then replace the old boat name and have remained anchored primarily in Trellis Bay. The place is like a magnet. Check out the new stories.

The Crew!

March 18, 2000
Madison Wisconsin USA

Pictures and a commentary on our latest trip have been added, checkout our latest adventure.

See ya!
Jo

March 11, 2000
Madison Wisconsin USA

We finally move the website to it's new home http://www.ladybugadventure.com

Check out our BVI trip pictures under our adventure log.

We have purchased tickets to return to BVI on April 18th. This time we might stay for a much longer time. Save Saturday April 15th for a Bon-Voyage party. Get your taxes done early and come party with us.

I added a section on boat projects to give everyone a feel of the continuous maitenenance required to live on a boat.

With only five weeks to go things are getting really hectic so don't expect much of an update until we get settled on Ladybug

See ya!
Jo.

March 01, 2000
Madison Wisconsin USA

We are back.

Mixed emotions. The news that Marquip will be closing the doors on the Madison facility put a small damper on our excitement. This being a source of many stories and friendships. Wish the best of luck to all the Marquip folks.

On a happier note ...

Our vacation was great! We were greeted by the typical weather patterns windy most of the time and widely scattered rain showers. Laurie and Stacey loved the boat. We saw whales, turtles and all kinds of different fish.

At the end of our vacation we had fixed more stuff then we broke. Hopefully a sign of things to come.

We are in the process of developing the pictures we took and expect a more colorful update in the near future.

See ya soon.
Jo

Feb 05, 2000
Madison Wisconsin USA

Currently we are saving money and trying to figure out an official departure date. Looks quite probable that we will be departuring sometime in April.

The four of us will be heading out to the British Virgin Islands from Feb 14th to the 29th. This is the first time Laurie and Stacy get to see the boat, so needless to say everyone is very excited.