A Wedding to Remember!!
This wedding has been a hard secret to keep, especially when we know both Dennis (aka Howie) and Polly so dearly. It is an amazing thing when two people you know separately get together.
Polly was Dave's travel agent while Stacy was in the Peace Corp in Africa. Polly was a good friend to Dave and quickly became Stacy's close friend when Stacy returned from Africa. Later Polly was also a Peace Corp volunteer in Africa, and when she returned she lived with Dave and Stacy for about six months.
Dave, Jo, and Dennis go way back as electrical engineers working at Marquip. Dave and Dennis were also skiing buddies in the northwoods. Dennis and Jo spent a lot of time together in Madison when Dennis would come down for work, football games and the annual UW Band concerts. Dennis always gets two tickets for the band concert. Until he met Polly, Jo always got to go along.
It was just a few short years ago that Dennis and Polly met each other. A group of us traveled from Madison to northern Wisconsin to watch the Birkebeiner Ski Race. Dennis was skiing and Polly was a spectator. After that weekend Dave got an email from Polly asking "Who is the guy with the hot tights and nice teeth?" The reply was... "Well, that would be Dennis of course." They have been dating since.
A while back the comment was made, "you should get married on Ladybug". Well, they didn't think it was a joke. Now here we are at Trellis Bay on the island of Tortola in the Virgin Islands celebrating a beautiful marriage of two great friends.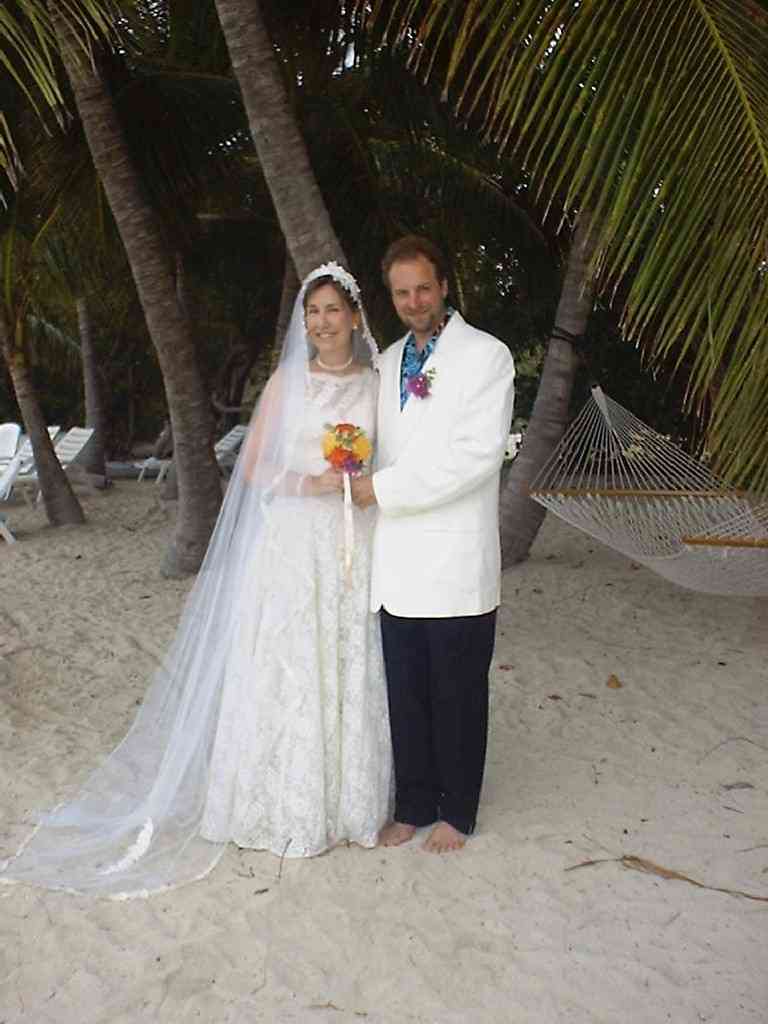 Polly and Dennis on the beach in Trellis Bay. They were still a little nervous at this point, especially Polly. The ceremony was onboard Ladybug a little later.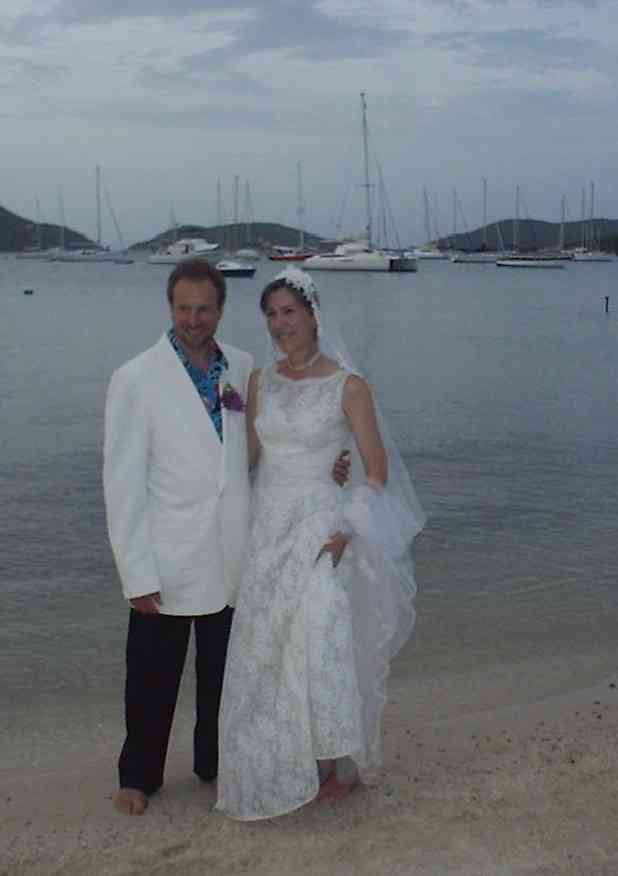 Another beach shot. Polly was so beautiful in here vintage dress. Dennis looks pretty sharp too.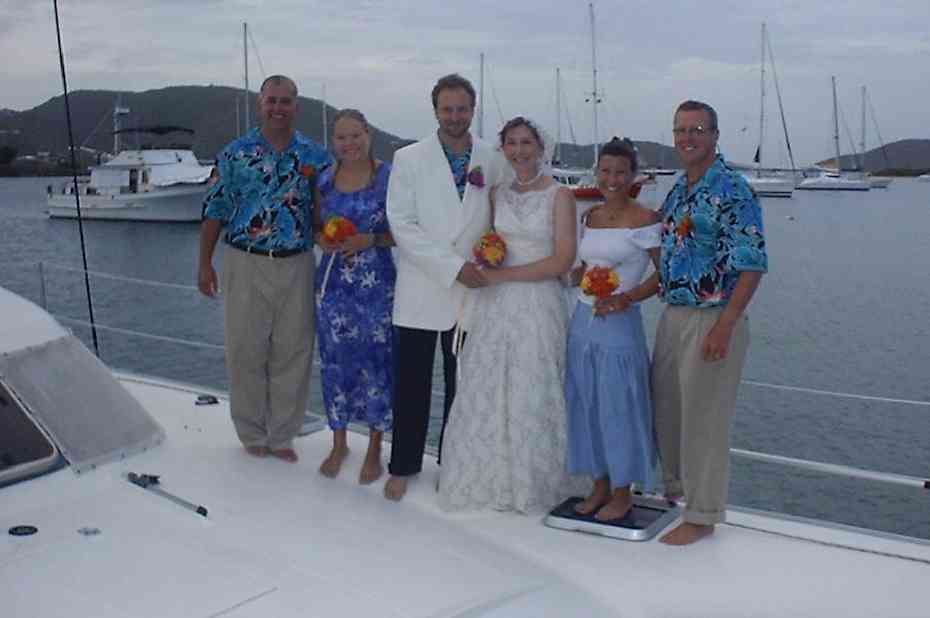 The entire wedding party on Ladybug.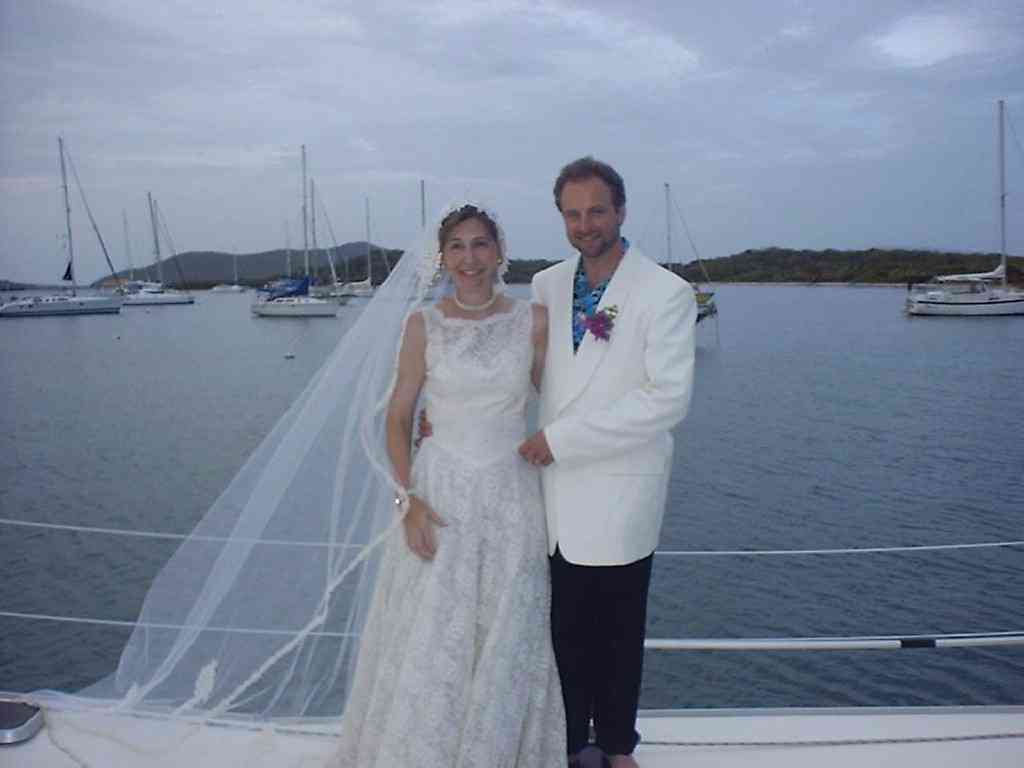 It was a beautiful day for a wedding.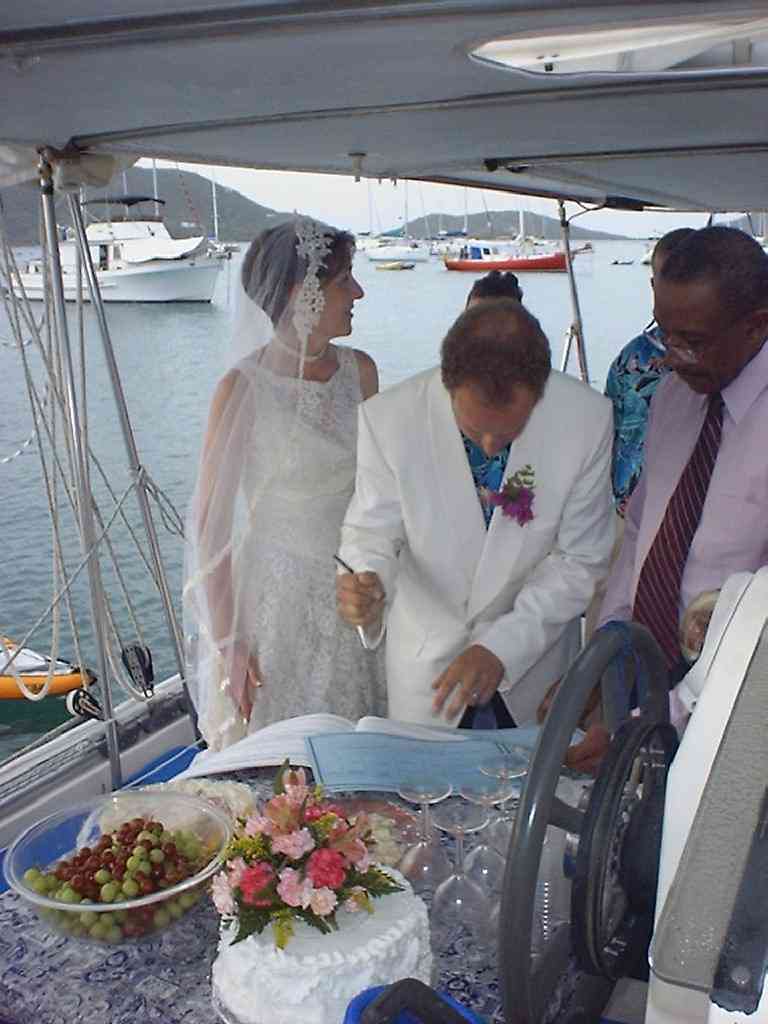 After the ceremony, it is all made official with the signing of the papers.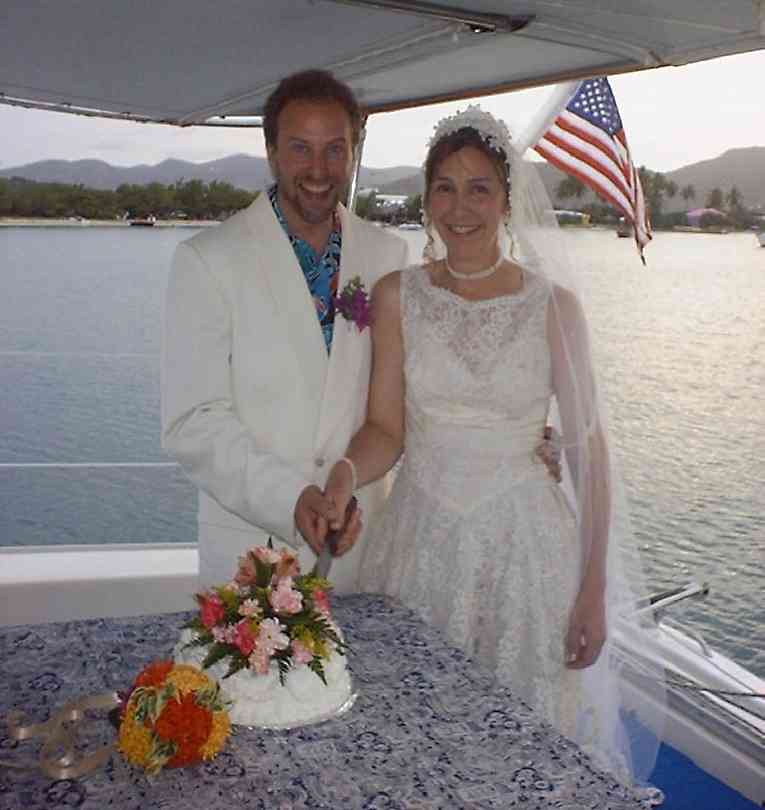 Cutting the cake. Look at those smiles!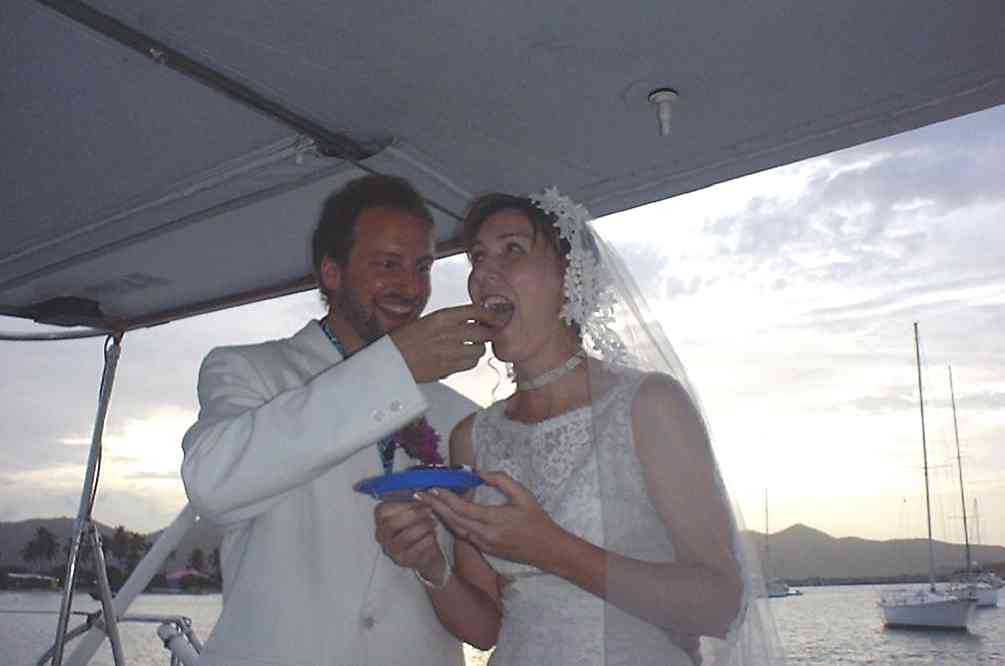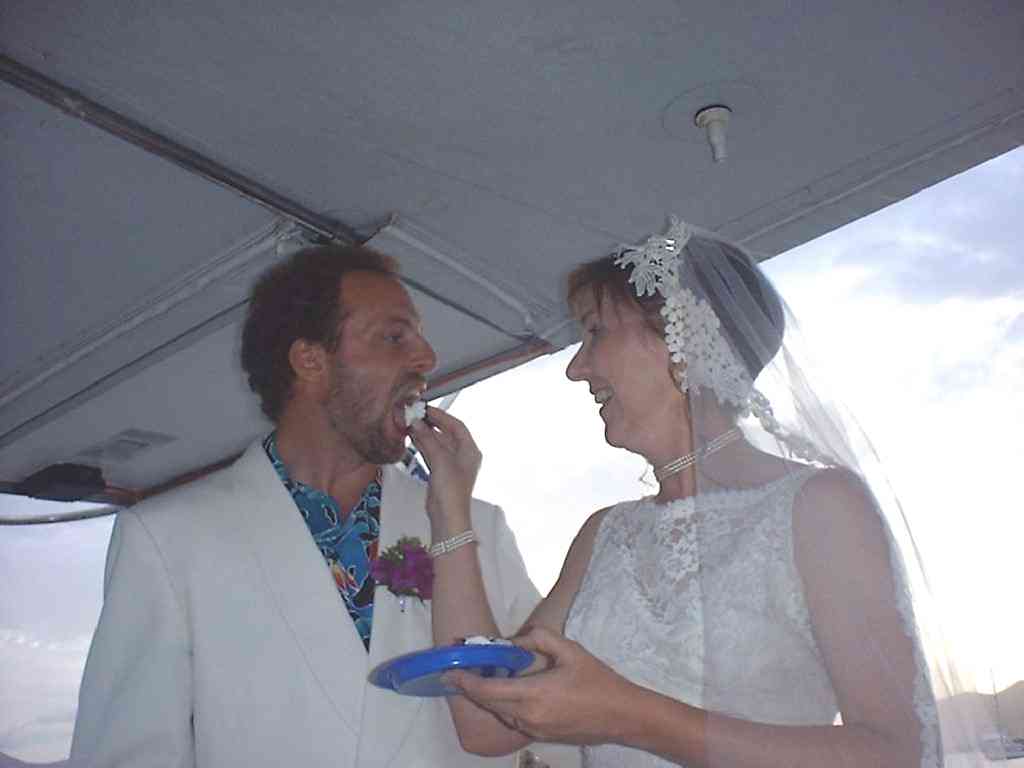 The tradition of shoving cake in the mouth of your new spouse.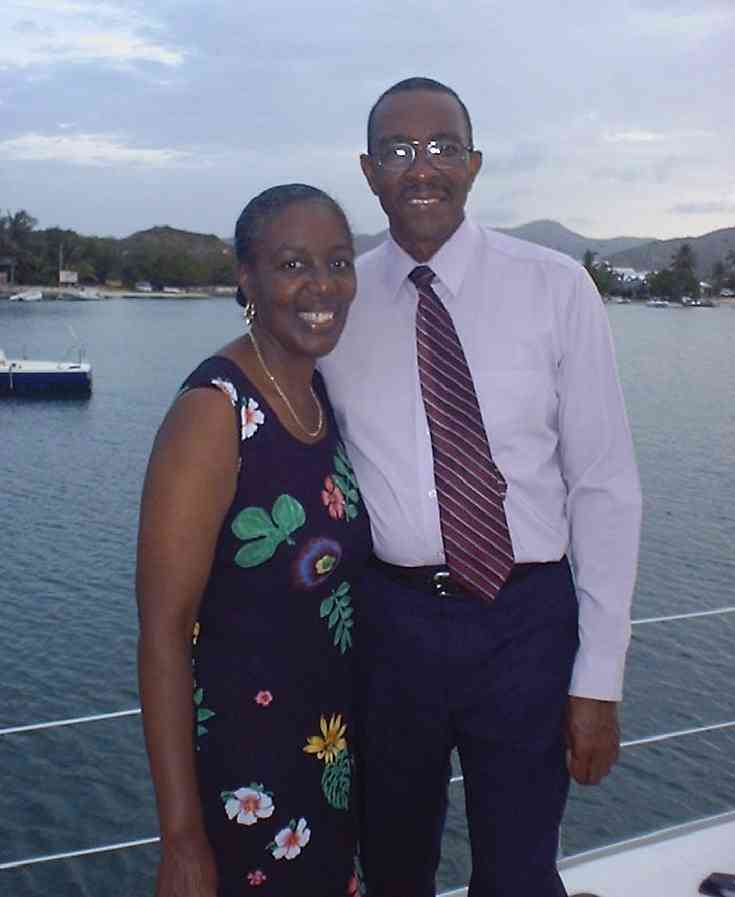 The people who helped make it all possible and official......Hugh and Elaine.
A toast to two wonderful friends getting married........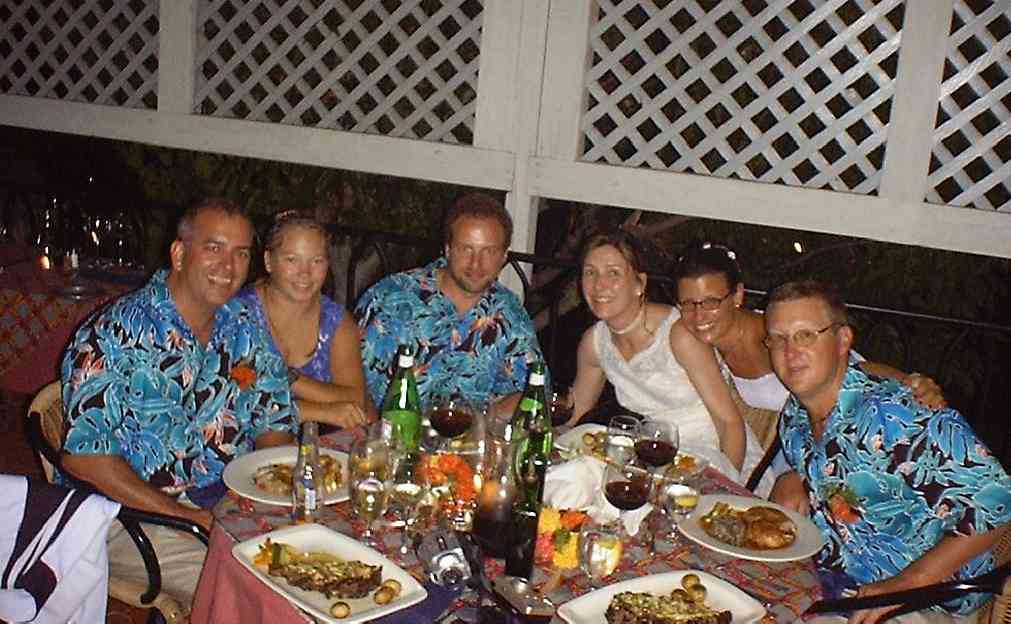 .......and to a fabulous meal to celebrate.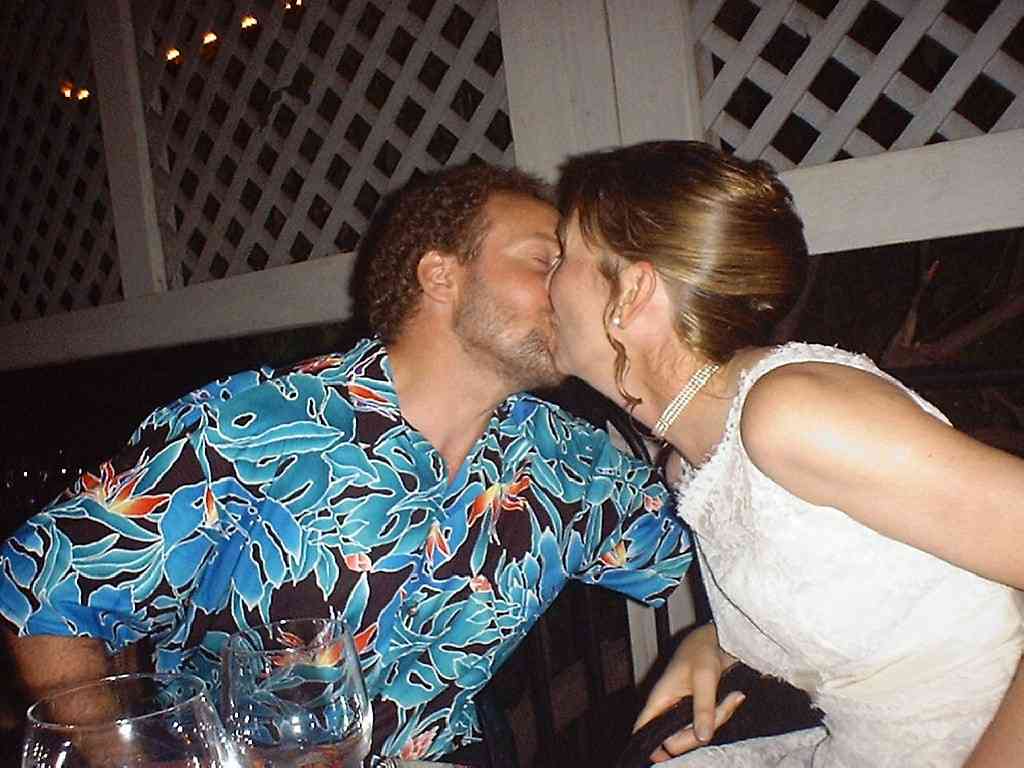 Dennis and Polly, Have a wonderful life together!