The Route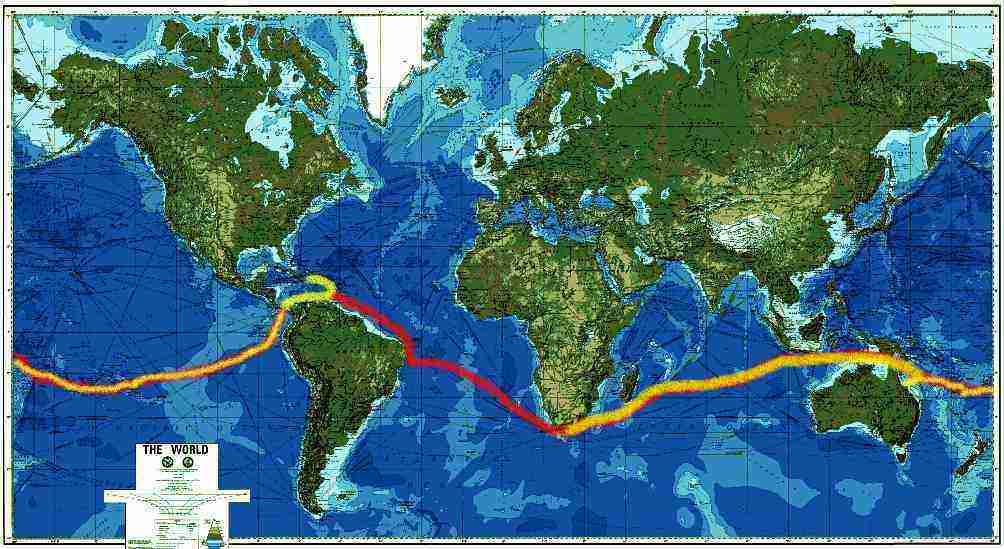 The stuff in yellow up to Panama we did in from April 2000 to March 2001
The stuff in yellow and red up to Cape Town we did from April 2001 - January 2002
The stuff in red we did from February 2002 to May 2002
Our basic route took us around the world mostly through the souther hemisphere.
In 2 years of sailing we sailed 22500 nautical miles. We sailed that distance in 315 days of sailing. We visited 23 different countries. Anchored in 102 different spots. Have about 200 names in our guest log, and met hundreds more. We took over 1000 photos. 700 which are on the web. We also have over 13 hours of video footage, summarized in 11 music videos (about 3 minutes each).
Longest Passage - 21 days, Galapagos to Marquesas
Fastest 24 hour sail - 215 miles, Coast of French Guiana in route to Tobago
Longest Stretch without wind - 400 miles as we left Darwin
Fishing record 7-8ft Marlin - Dave - South Atlantic
Best fishing spot - North Coast of Brasil
Most common fish caught - Tuna followed by Dorado
Most Incredible Beach - Galapagos
Coolest Dive - The Rift in Cocos Keelings
Most Spetacular Snorkel - Tobago
Cultural Experience - San Blas Kuna Indians, Panama
Most Stressful Time - Sailing across the Panama Canal
Time I feared most for my life - Umfolosi Park in SA with the Black Rhino hanging outside our tents.
Best Sunset - Arriving in Townsville, Australia
Coolest present to buy your hottie - Black pearls from Ahe, Tuamotus
Times Seasick - 0 for Jo (but the confused seas on the SA coast gave me a run for it), 0 for Dave, 2 for Stacy
Bad Storms - none
Best music - Brasil (I'm partial)
Best Dancing - Tonga, boy do they like to dance!
Memorable Bars (in order of discovery)
Loose Mongoose - Trellis Bay, Tortola
The Bight - Chaguaramas, Trinidad
Karl's Bar - Curacao
Panama Canal Yacht Club - Panama
Chappy's - Tahiti
Billfish - Tonga
Mermaid - Tonga
Green Iguana - Richards Bay, South Africa
Buccaneer - Knysna, South Africa
Standard Bar - Santa Helena
Phillippe's Bar - Cabedelo, Brasil
Here are the basic numbers once we crossed the Panama Canal
| | | | | | | | |
| --- | --- | --- | --- | --- | --- | --- | --- |
| Arrived | Source | Stayed (days) | Left | Destination | Miles | Days | Hours |
| | Balboa (Panama) | | 21-Mar-01 | Galapagos (San Cristobal) | 912 | 7 | 6 |
| 29-Mar-01 | Galapagos (San Cristobal) | 3 | 01-Apr-01 | Galapagos (Santa Cruz) | 43 | 0 | 10 |
| 01-Apr-01 | Galapagos (Santa Cruz) | 4 | 06-Apr-01 | Galapagos (Isabella) | 47 | 0 | 10 |
| 06-Apr-01 | Galapagos (Isabella) | 5 | 11-Apr-01 | Marquesas (Fatu Hiva) | 2971 | 22 | 0 |
| 02-May-01 | Marquesas (Fatu Hiva) | 4 | 06-May-01 | Marquesas (Hiva Oa) | 45 | 0 | 9 |
| 06-May-01 | Marquesas (Hiva Oa) | 4 | 10-May-01 | Marquesas (Tahuata - Hana Moe Noa) | 10 | 0 | 2 |
| 10-May-01 | Marquesas (Tahuata - Hana Moe Noa) | 2 | 12-May-01 | Marquesas (Tahuata - Baie Vaitahu) | 3 | 0 | 2 |
| 06-May-01 | Tahuata - Marquesas | 1 | 13-May-01 | Ahe, Tuamotu | 485 | 4 | 4 |
| 17-May-01 | Ahe, Tuamotu | 4 | 21-May-01 | Papetee (Tahiti) | 295 | 3 | 16 |
| 24-May-01 | Papetee (Tahiti) | 10 | 03-Jun-01 | Tonga (Tonga tapu) | 1450 | 13 | 2 |
| 17-Jun-01 | Tonga (Tonga Tapu) | 19 | 06-Jul-01 | Tonga (Vavao) | 175 | 1 | 18 |
| 08-Jul-01 | Tonga (Vavao) | 4 | 12-Jul-01 | Suva (Fiji) | 456 | 3 | 4 |
| 16-Jul-01 | Fiji | 4 | 20-Jul-01 | Vanuatu | 606 | 4 | 23 |
| 25-Jul-01 | Vanuatu | 4 | 29-Jul-01 | Townsville | 1252 | 10 | 2 |
| | | 68 | | | 8750 | 67 | 108 |
| | | | | | | | |
| 07-Aug-01 | Townsville | 27 | 13-Sep-01 | Hinchinbrook | 56 | 0 | 10 |
| 13-Sep-01 | Hinchinbrook | 1 | 14-Sep-01 | Cairns | 100 | 1 | 6 |
| 15-Sep-01 | Cairns | 2 | 16-Sep-01 | Cooktown | 88 | 1 | 0 |
| 17-Sep-01 | Cooktown | 2 | 19-Sep-01 | Lizard Island | 64 | 0 | 10 |
| 19-Sep-01 | Lizard Island | 1 | 20-Sep-01 | Darwin | 1140 | 7 | 12 |
| | Total For Pacific | 33 | | | 1448 | 9 | 38 |
| | | | | | | | |
| 28-Sep-01 | Darwin | 11 | 09-Oct-01 | Christmas Island | 1475 | 12 | 22 |
| 22-Oct-01 | Christmas Island | 2 | 24-Oct-01 | Cocos Keeling | 530 | 3 | 16 |
| 28-Oct-01 | Cocos Keeling | 2 | 30-Oct-01 | Mauritius | 2382 | 14 | 21 |
| 14-Nov-01 | Mauritius | 5 | 19-Nov-01 | Richards Bay (South Africa) | 1502 | 12 | |
| | Total For Indian | 20 | | | 5889 | 29 | 59 |
| | | | | | | | |
| 01-Dec-01 | Richard Bay | 11 | 12-Dec-01 | Durban | 98 | | |
| 13-Dec-01 | Durban (South Africa) | 19 | 02-Jan-02 | East London | 277 | | |
| 04-Jan-02 | East London | 4 | 08-Jan-02 | Knysna | 200 | | |
| 10-Jan-02 | Knysna | 9 | 19-Jan-02 | Mossel Bay | 45 | | |
| 20-Jan-02 | Mossel Bay | 13 | 02-Feb-02 | Haut Bay | 230 | | |
| 04-Feb-02 | Haut Bay | 7 | 09-Feb-02 | Capetown (South Africa) | 20 | | |
| | Total for South Africa | 63 | | | 870 | | |
| | | | | | | | |
| 09-Feb-02 | Capetown (South Africa) | 7 | 16-Feb-02 | St Helena | 1693 | 12 | 6 |
| 28-Feb-02 | St Helena | 6 | 06-Mar-02 | Salvador | 1907 | 15 | 18 |
| 21-Mar-02 | Salvador | 20 | 10-Apr-02 | Cabedelo | 450 | 5 | |
| 15-Apr-02 | Cabedelo | 10 | 25-Apr-02 | Tobago | 1930 | 14 | |
| | Total for Trip - Caribe | 215 | | | 21507 | 222 | |
The leg summaries can be found in the Caribbean Leg , Pacific Leg , and Indian Ocean summaries. Details on rounding Cape of Good Hope can also be seen here and finally we have the Atlantic Leg