Pacific Leg
This was an incredible 5 months. As we expected we spent 71 days at sea, and wouldn't you know 71 days on shore! Easy to see how one could spend years exploring the Pacific. 8750 miles of sailing averaging 5.1 knots per hour. Our best day was 184 miles and our fastest speed 14.36 knots!
We had good winds in most passages. We were far enough south by the time we got to Tonga that we were outside the trade winds, still the fronts were well defined and easy to predict.
| | | | | |
| --- | --- | --- | --- | --- |
| Start Date | Source | Destination | Miles | Duration Days |
| 21-Mar-2001 | Balboa (Panama) | Galapagos (San Cristobal) | 912 | 7d 6h |
| 1-Apr-2001 | Galapagos (San Cristobal) | Galapagos (Santa Cruz) | 43 | 10h |
| 6-Apr-2001 | Galapagos (Santa Cruz) | Galapagos (Isabella) | 47 | 10h |
| 11-Apr-2001 | Galapagos (Isabella) | Marquesas - Fatu Hiva | 2971 | 22d |
| 06-May-2001 | Fatu Hiva - Marquesas | Atuona - Hiva Oa - Marquesas | 45 | 9h |
| 10-May-2001 | Atuona - Hiva Oa - Marquesas | Hanamoanea -Tahuata -Marq. | 10 | 2h |
| 12-May-2001 | Hanamoanea -Tahuata -Marq. | Baie Vaitahu-Tahuata -Marq. | 3 | 2h |
| 13-May-2001 | Baie Vaitahu-Tahuata -Marq. | Ahe - Tuamotus | 485 | 5d |
| 21-May-2001 | Ahe - Tuamotus | Papetee (Tahiti) | 295 | 4d |
| 03-Jun-2001 | Papetee (Tahiti) | Tonga-Tapu (Tonga) | 1450 | 14d |
| 06-Jul-2001 | Tonga-Tapu (Tonga) | Vavao (Tonga) | 175 | 2d |
| 15-Jul-2001 | Vavao (Tonga) | Suva (Fiji) | 456 | 3d |
| 20-Jul-2001 | Suva (Fiji) | Porto Villa (Vanuatu) | 606 | 23d |
| 29-Jul-2001 | Vanuatu | Cairns (Australia) | 1324 | 10d |
| | | Totals | 8750 | 71d |
Maps of the Pacific route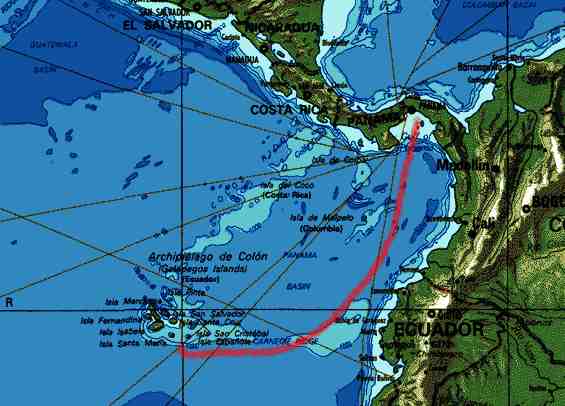 Panama to Galapagos
912 Miles of which the first leg going south will take us through the Equator! The first leg is also one where we expect variable winds and most likely on the nose. This area crosses the Doldrums and the location of the Pacific ITCZ controls the weather in this area. After Passing the equator we shouldnstart getting under the influence of the southern trade winds, which at this time of the year should be aproaching its northern most reach.
Note: As expected this leg took us 7 days 16 hours. Average wind was from the North East at about 10-15 knots. We motored for about 16 hours in two different nights when the wind died out. Not until we reached the Galapagos did the wind give a hint of moving towards the Southe East. Even then the wind was variable and light. From listening to other cruisers who also made the passage in the last coouple weeks the story was about the same for everyone. The heavier the boat the more the engines ran. Ladybug actually does quite well in light winds being able to sustain 3-4 knots in 10 knots of breeze. Fast enough for us not to consider using the engines. Most of the sailing ended up being downwind and the spinaker was used about 40% of the time. No sign of the Southern Trades.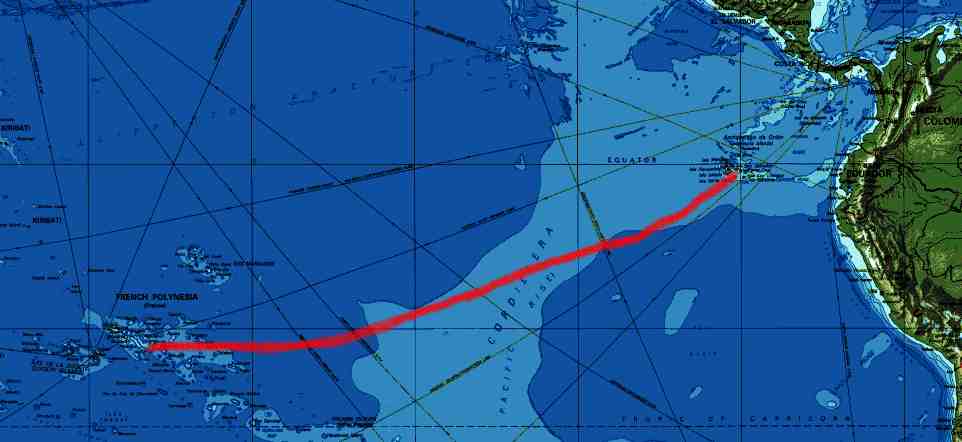 Galapagos to Marquesas
2971 Miles. Probably our longest non-stop leg of the trip. This is where we will be put to test. Our first Ocean crossing! Luckily this is typically a broad reach with the southern trade winds. Typical crossing time go from 20 to 40 days with some really unlucky fellows taking up to 60 days. The timing of this trip puts us in the Marquesas after the end of Cyclone season on April 1
Note: The trip lasted us 22 days making landfall on May 2. We started by sailing south up to about 5deg. South where we finally found the trade winds. For the first three days we had variable light winds and motored at night when we had no wind. On the fourth day the trade winds kicked in and we had 15-25 knots of wind from the ESE until 300 miles from the Marquesas. Then it died down some and we took 3 days to finish the trip. In the middle we had a few 170 mile days and actually a little less milage in the days with stronger wind since we would lower the spinakker.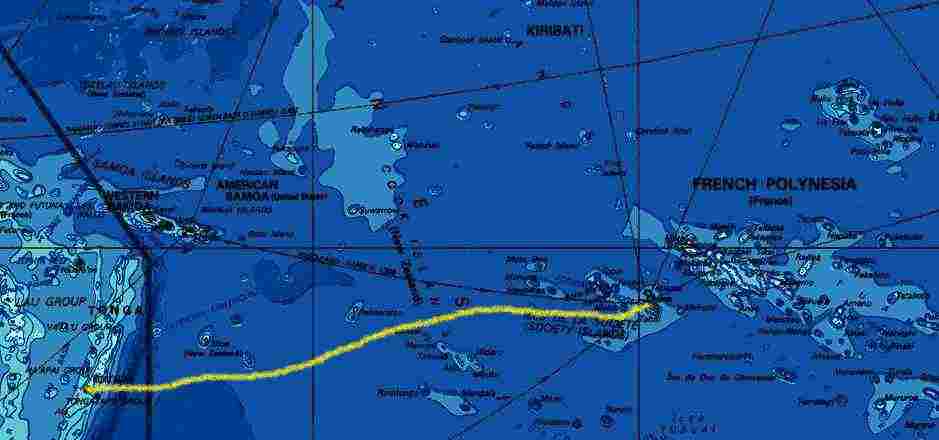 Marquesas to Tonga
So many options here that we are just going to wait and see where the winds take us. We plan to be in the South Pacific till early August.
Note: As we left Tahiti to the Cook Islands we had a short circuit in the port engine. That killed our starter motor and we basically had to skip our intended stops in the Cooks.We opted instead to go straight to Tonga (Tonga Tapu) where we waited for parts to come from Australia. We then headed north to the Vavao group still in Tonga. Delightfull place and we are sorry we did not have more time to spend there.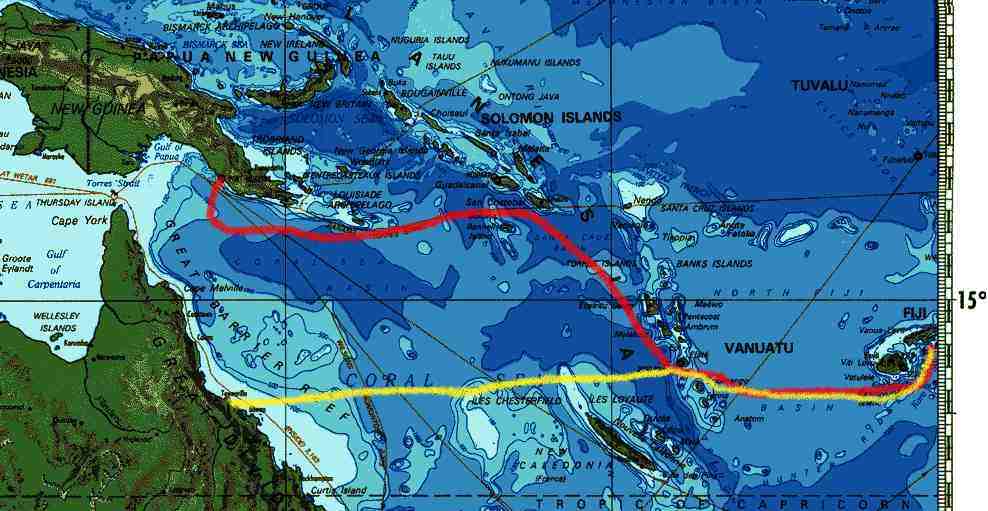 Fiji to Townsville (Australia) via Port Villa (Efate - Vanuatu)
Again many option in this area. The main point here is that we should be geting close to the Torres Straight by the beggining of August.
Note: We decided that hauling the boat out in Australia would be a good thing. We need to bottom paint the boat and Dave has arranged to fly into Bali to meet his parents. With that in mind we chose Townsville as our point to finish the Pacific crossing. The path in yellow is what we finally chose.