The Hess Family Adventure in Bali
While Ladybug was on the hard in Townsville, the crew took time to travel and visit family. Jo went to New Zealand to see his brother. Guy saw his brother in Sydney. Stacy and I met Ma and Pa Hess in Bali.
Bali is a very special place for me and Stacy. It was on Bali that we spent our honeymoon four years ago. I have also been there two other times, by myself in 1987 and with my friend and biking partner, Steve Weber, in 1993. While Steve and I were there we met a remarkable young lady. Kadek was around twelve years old at the time. She was no longer going the school and instead was selling pineapples on the beach. Steve and I were able to tell that she was far too smart to be missing out on an education, so we made arrangements to give her a little financial help with the cost of going to school. Steve, Stacy and I, and my family have been helping her ever since, and she has brought nothing but joy to our lives.
Stacy got to meet Kadek during our honeymoon. She quickly understood why Steve and I were so happy to be helping her. We had a wonderful time with her including taking a motorcycle trip in the mountains and having a nice visit with her family. We were very sad when we had to say good-bye to her at the end of our visit.
Over the years my parents have heard numerous stories about Kadek. They also talked to her on the phone a couple times, exchanged letters, and recently started e-mailing each other. Even though they had never met, my parents had started to think of her as a daughter, so it's understandable that they were so anxious to meet us in Bali and finally meet Kadek.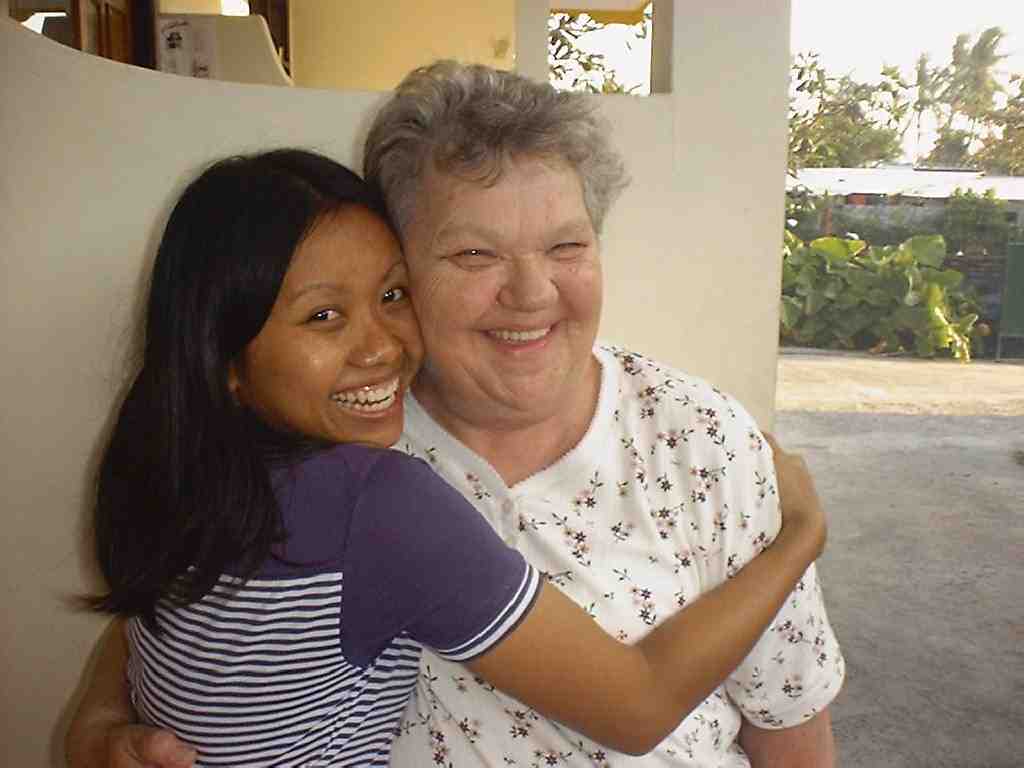 Welcome to Bali, Mama Jo!!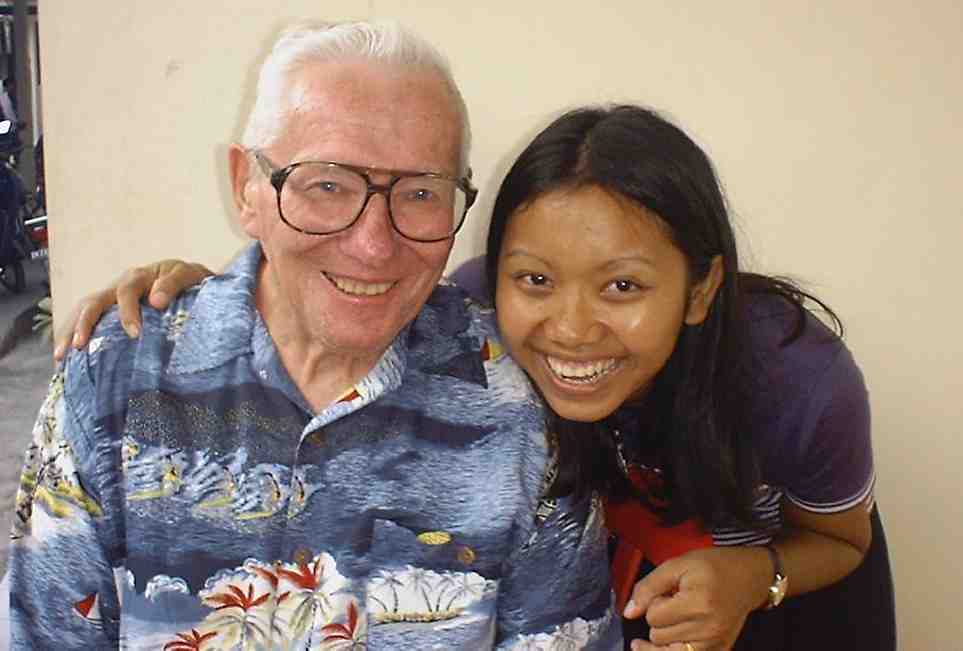 Welcome to Bali, Papa Buzz!!
During our visit we got to spend lots of time with Kadek and her whole family (there are a total of 9 siblings in her family). One night we had a feast at her boarding house near Kuta. Kadek lives with her older brother, Ketut, and her younger brother, Komang. Her aunt and uncle also showed up to help prepare the feast. It was excellent. It is obvious that Ketut and Komang take very good care of their sister.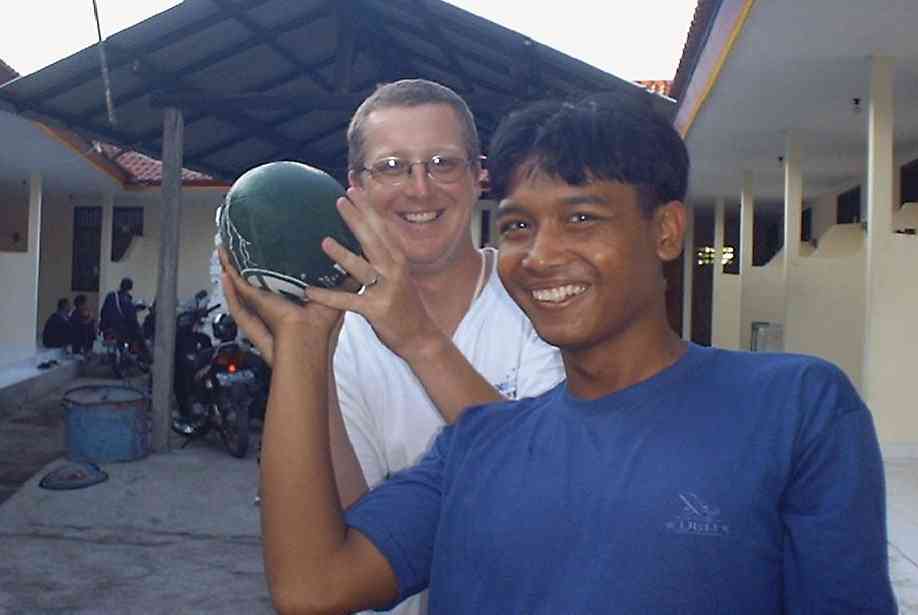 Who is teaching who to play football?? (Komang, a future Green Bay Packer?)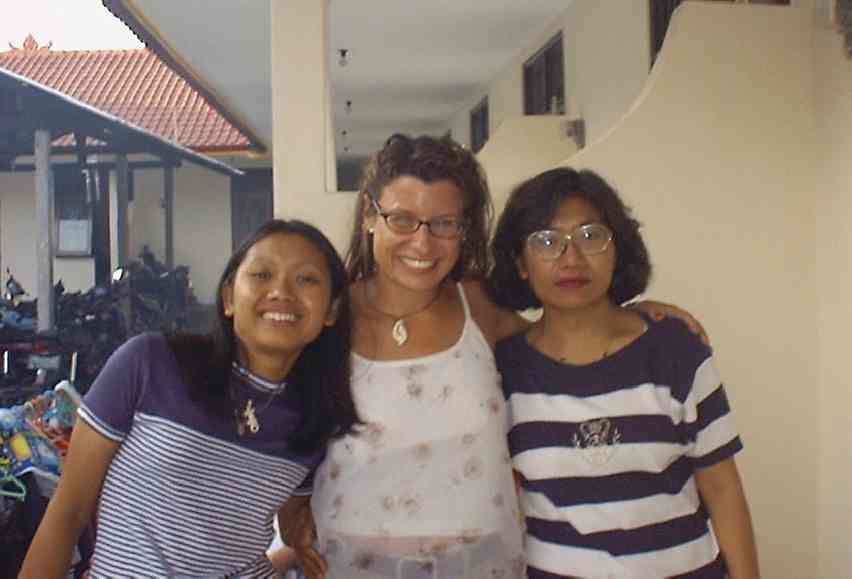 So happy to be here in Bali!! Kadek, Stacy and Auntie.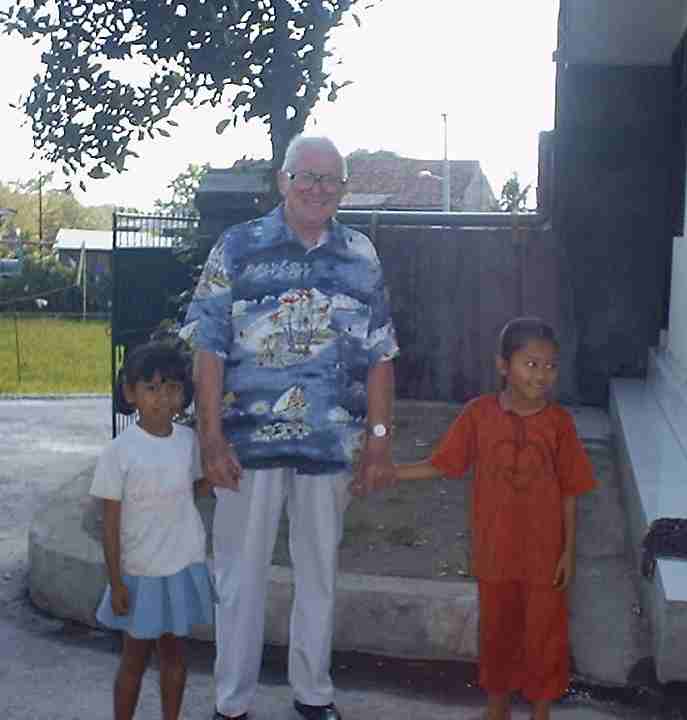 Papa Buzz is always making new friends.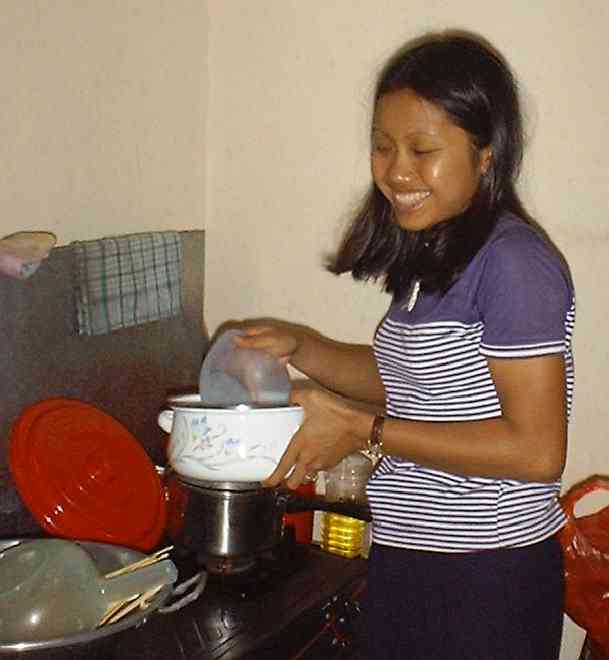 Kadek practicing her cooking skills.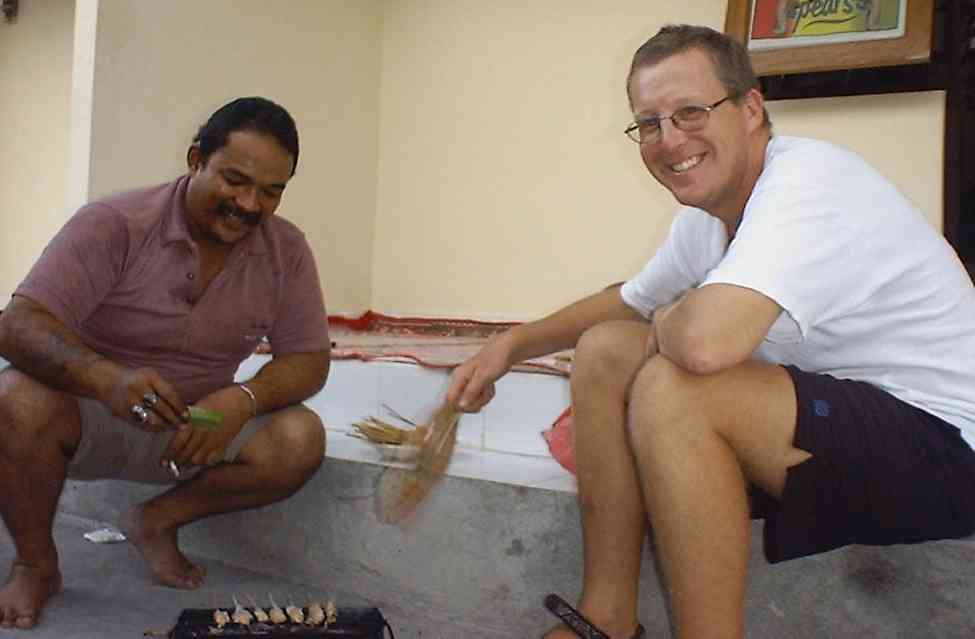 Barbecue....mens work (or was that drinking beer).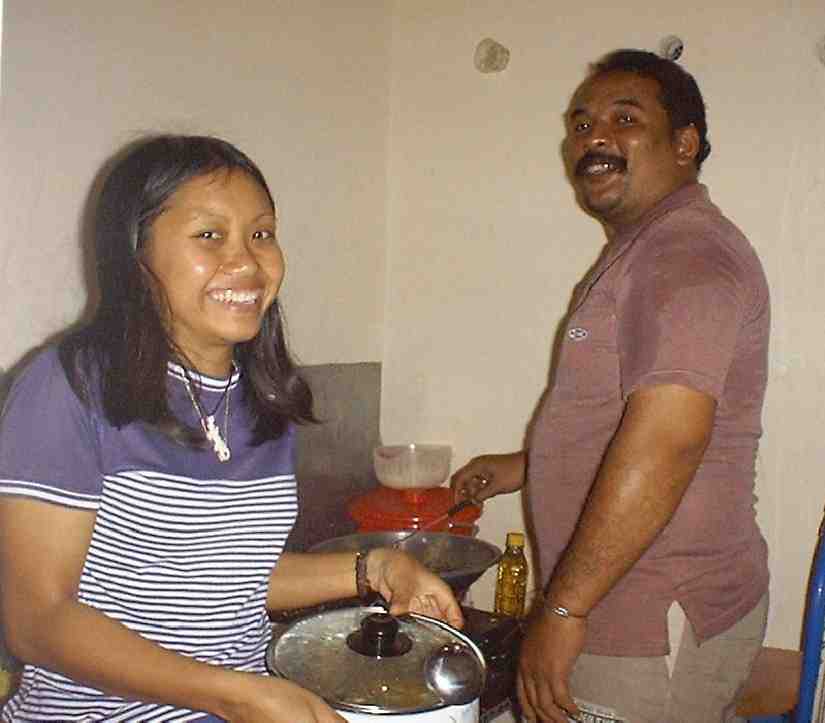 Kadek and her uncle making a wonderful dinner.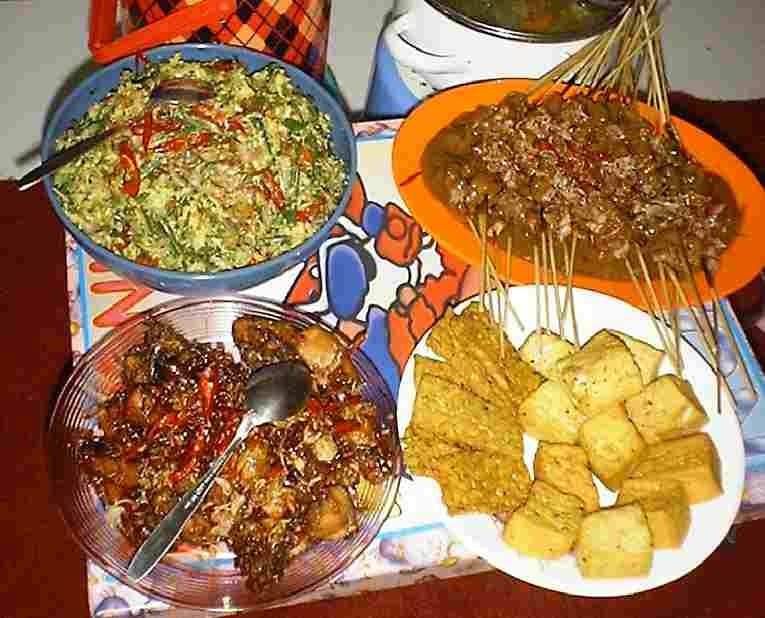 Fried tofu, tempeh, peanut chicken, spicy chicken and amazing salad with coconut.
After a couple days in the Kuta area we all went to a town called Ubud. Ubud is famous for art, music, dance, and a huge market. Komang and Kadek joined us and helped keep Mama Jo from buying the whole market.
We enjoyed Ubud, but after a couple of days we were anxious to continue to Lovina on the north coast where Kadek's family lives. We had an excellent trip through the terraced rice fields, over the volcano, and down to Lovina. We checked into a hotel near the beach and were quickly found by a couple of Kadek's sisters. Ketut took vacation from his job at the post office, and a big family feast was planned.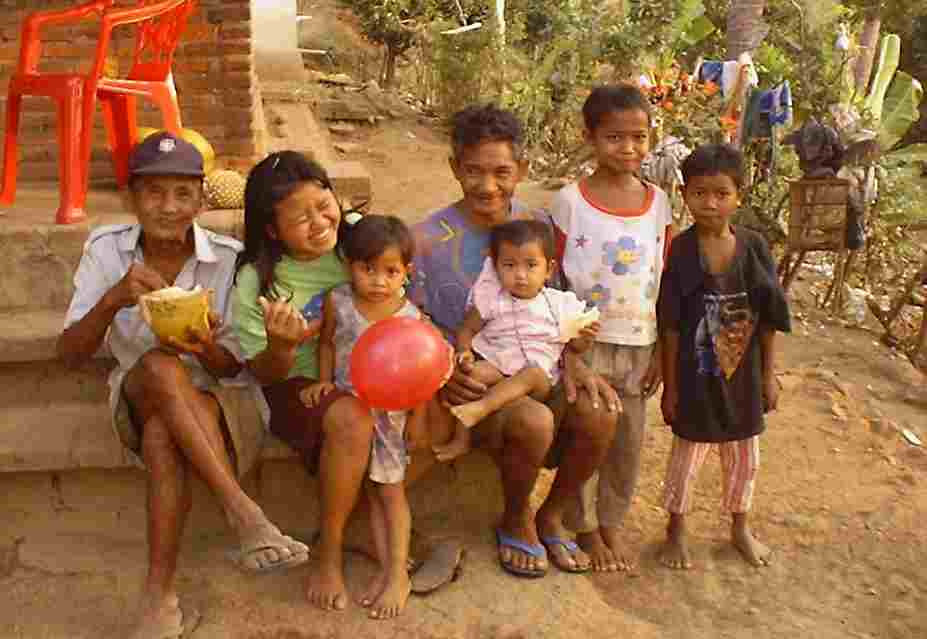 Uncle, Putu, Pani, Dad, Bella, Gede, Kadek.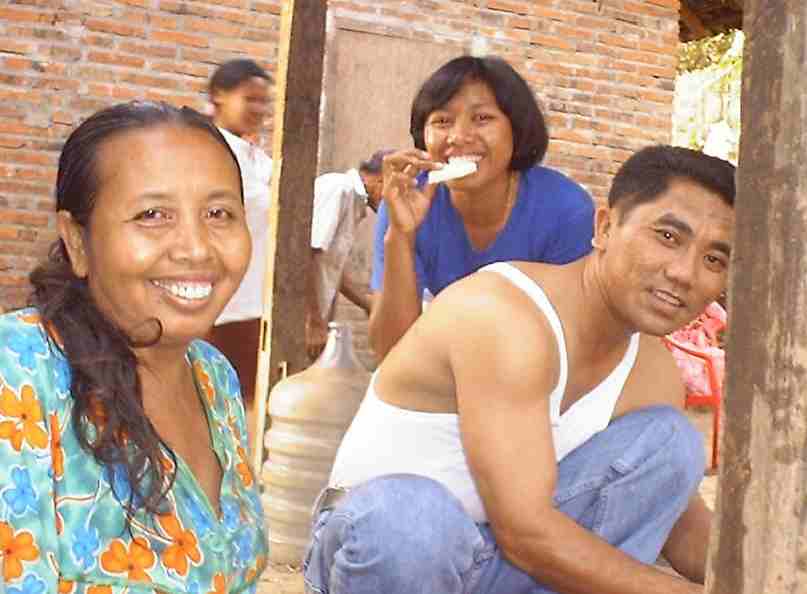 Mom, Luh, Ketut preparing another amazing feast for us.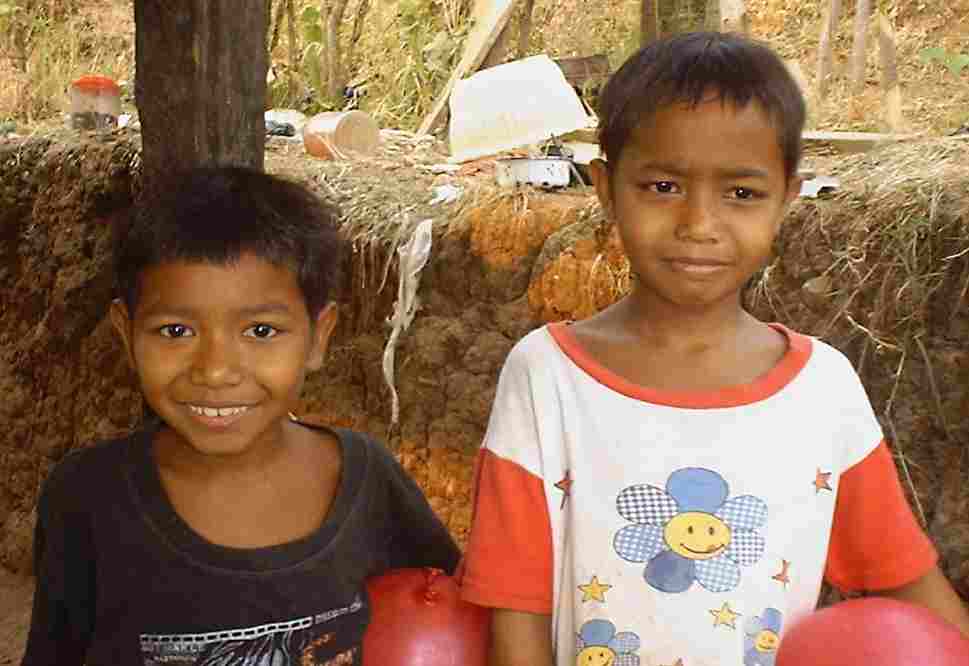 Kadek and Gede.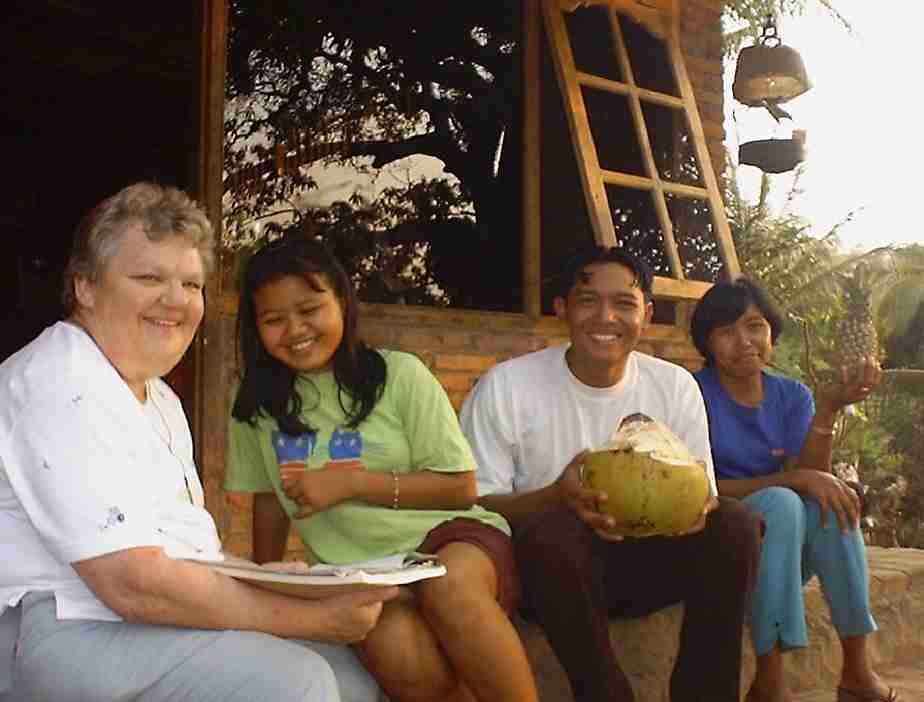 Mama Jo, Putu, Komang, and Luh.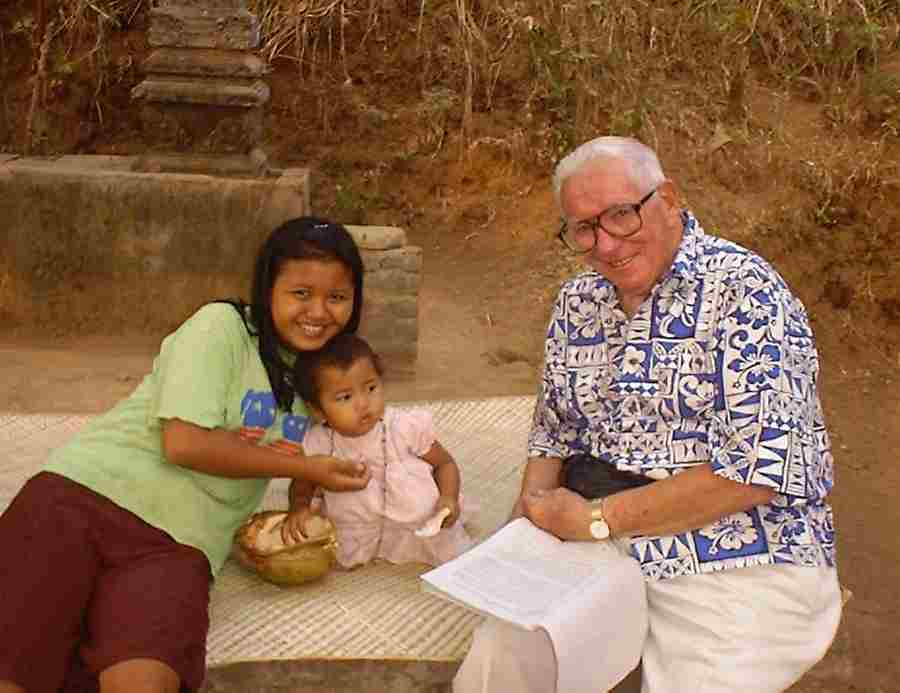 Putu, Bella and Papa Buzz.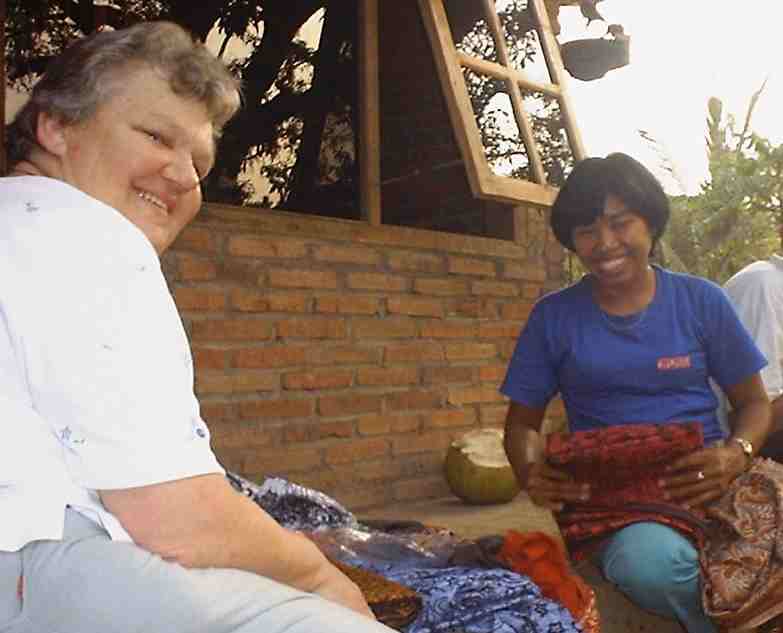 Mama Jo and Luh.
We had a wonderful meal and a great time. Kadek's family took very good care of us. The only one missing was Kiki who had to work that night. Since we missed her at dinner, we went to see her afterwards at the hotel where she was working.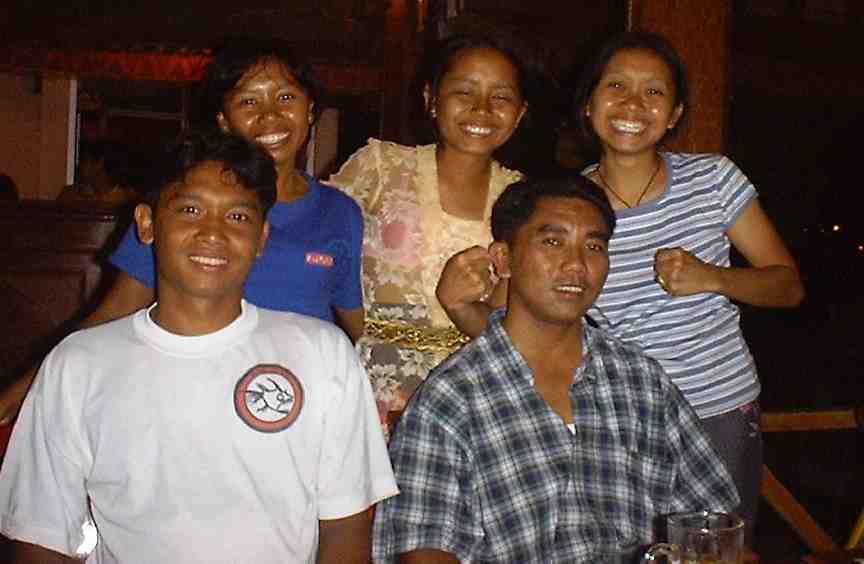 Luh, Kiki, Kadek, Komang and Ketut. Kadek, do you every leave your brother in peace?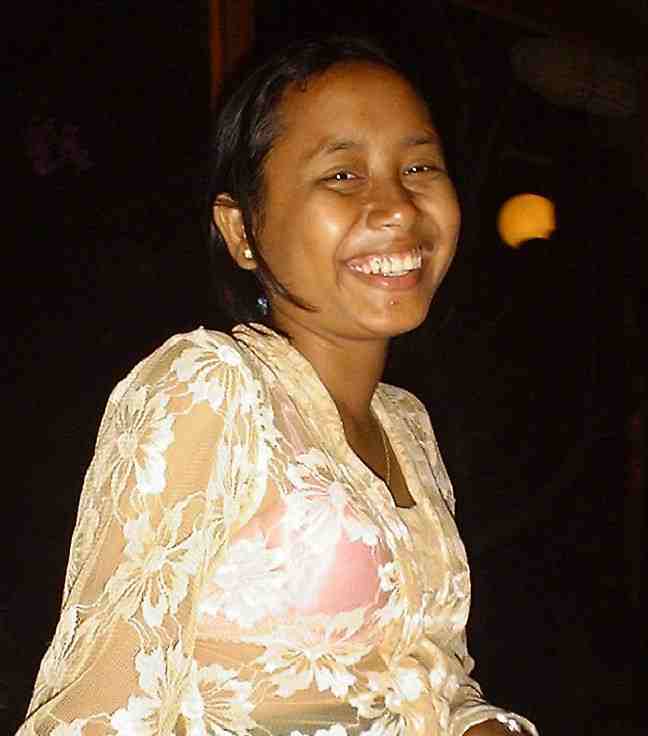 Kiki working hard at a nice hotel in Lovina.
All in all we had a most wonderful visit in Bali. It was great to see Kadek again. She is a wonderful young lady. She is also an excellent student and makes us and her family very proud. She has just finished her first year of hotel and restaurant management. Now she has a year of training. The first few months will be at the five star Ramada Inn in Bali (one of only a few students to get accepted for training there). Later she will be going to Singapore for additional training. After that she will be back in school for two more years to complete her degree.
We also really enjoyed spending time with Kadek's family. Kadek's mother and father were excellent hosts, and we especially enjoyed dinner at their house. They are a tight family and really look after each other. We were especially impressed with all that Ketut and Komang do for Kadek. She studies very hard, and I think the boys end up doing most of the cooking and house work at their boarding house. We spent a lot of time with Kadek's older sister Luh, who was not only good company, but also gave excellent massages. Putu and Kiki were good fun and kept Papa Buzz out of trouble on the beach. Kadek and Gede were very entertaining just being little boys. Pani and Bella were a little overwhelmed by everything, but we look forward to getting to know them better when they are a little older.
In addition to Kadek doing very well in school, we were happy to discover that all her younger brothers and sisters are still in school and doing well.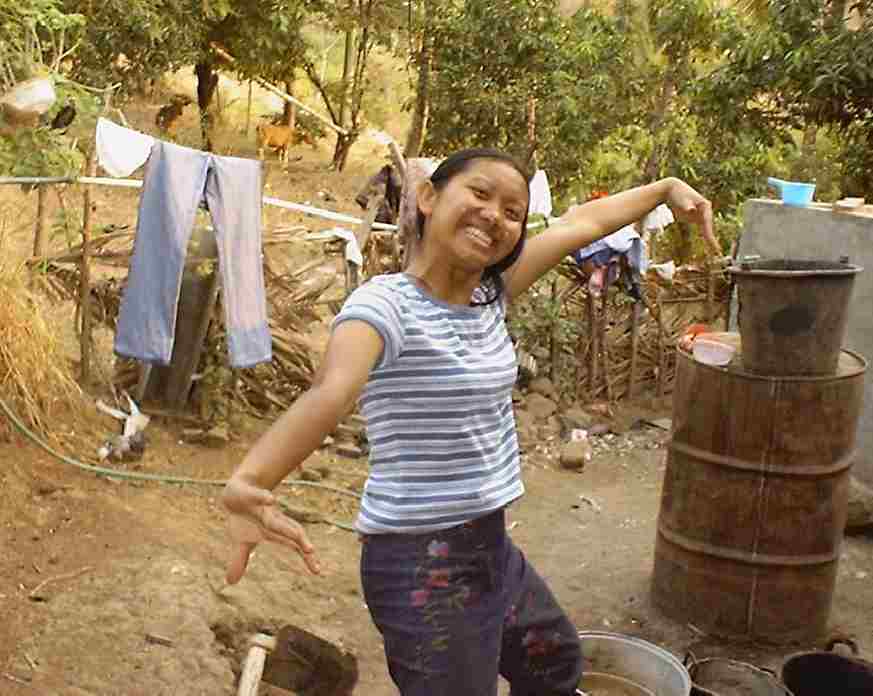 Good-bye, Kadek. We miss you already. Study hard and take good care of yourself and your family. We send lots of love from the Hess family!!