Guests in South Africa
December 16th, 2001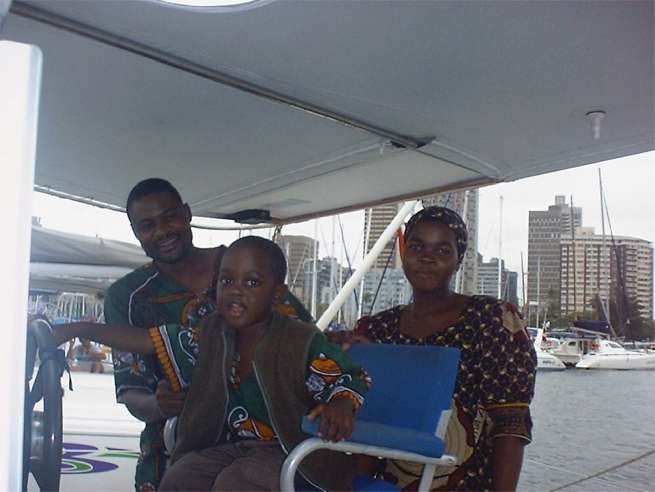 It was a pleasure meeting you. We liked it a lot and learned a lot. Thank you very much.
-Manuel, Neta and Mduduzi
December 17th, 2001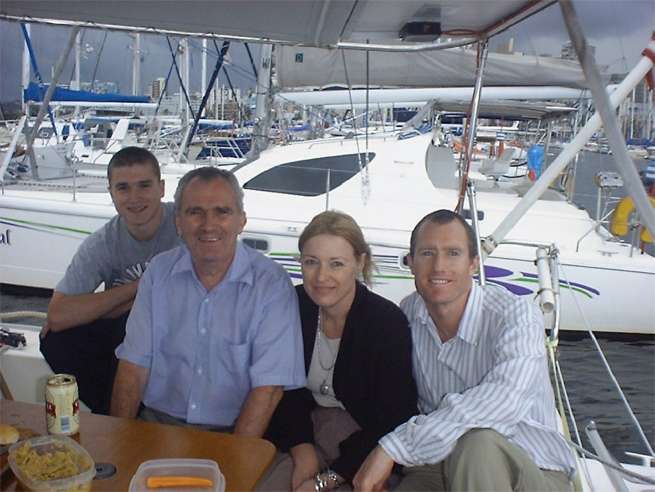 Best wishes for your voyage around Africa. Geniet jou reis Kaapstad toe. Alles van die beste Groete. (Enjoy your trip to Cape Town. All the best greetings.)
-Chris, Nicky, Luke and Guy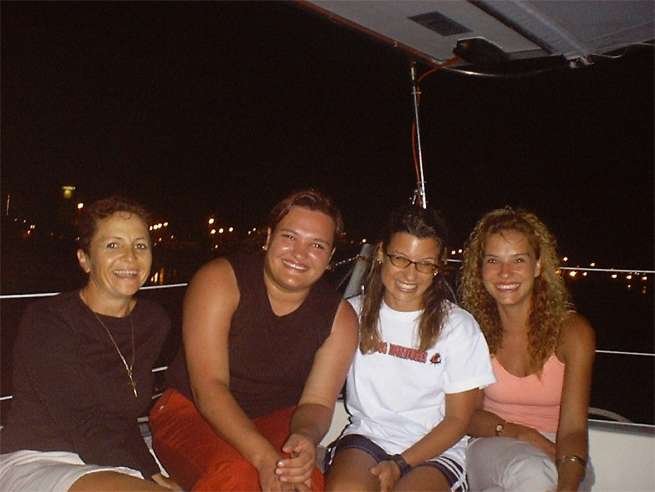 Pleasure meeting you.
-René(left on photo), Rochelle and Morika. s/v Prrrfection (S. Africa)

It was great meeting you all. We had a great time with you while you were here in South Africa. Hou di blinkkant bo.(??) Geniet die reis. (Enjoy the trip.)
-Heleen(second on left) & Beatrix (right on photo)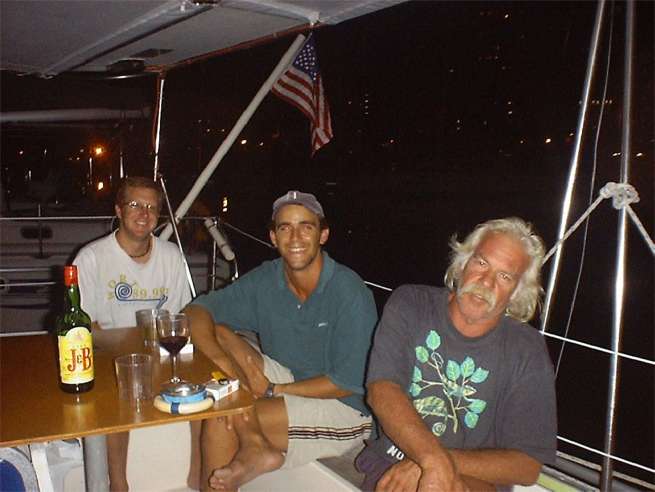 From another crazy South African. Great to meet all of you. Jo, you're an animal. Hope to see you all in Cape Town soon. Things might just heat up there!! Here's to another brilliant night. Wishing you fair weather and following seas all the way home.
-Etienne (center)

-Norm(right on photo) s/v Regal
December 17th, 2001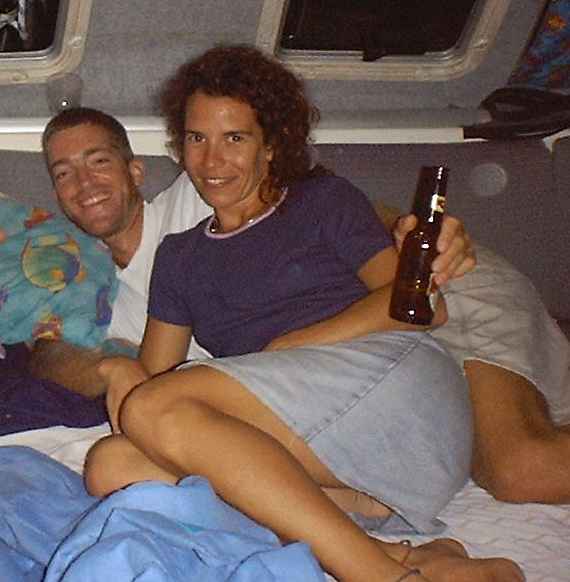 Nalu and Ladybug have both just finished great passages from Darwin to South Africa. Now Ladybug continues west towards home and Nalu goes east for one more season in Chagos. It was great to cross paths with you in Durban. Best Wishes for your journey home.
Hey Guys, I wish we could have spent more time together cause "you are the kind of people we like to meet". Hope you have a great time in Brazil. Buen Viaje y Feliz Ano Nuevo. Hasta la vista.
-Egon & Silvia s/v Nalu (USA and Uruguay) ".....it's good for your tits darling...."
December 31st, 2001
Great meeting you in Durban! Hope to sail with you through the next ports to Cape Town and wine tasting. Good Luck with the rest of your trip- Don't forget to slow down and smell the roses. Start a family soon (Stacy and Dave - Jo, if you want!) - you won't regret it! Take care and keep in touch.
-Laura, Jeff and Nicholas (16 months) s/v Wings of Time (Mystic, CT)
January 1st, 2002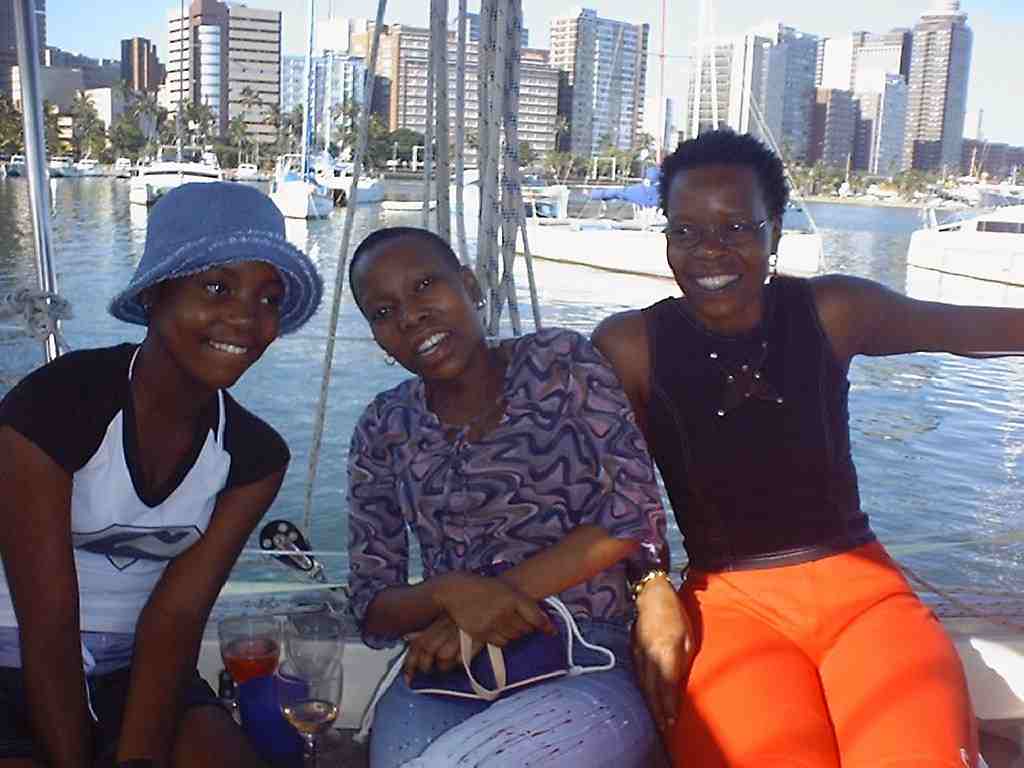 It was really great meeting you guys! Hope that you meet many more people and go as many places as possible. Hope you enjoyed yourselves in Durban. Keep it up.
-Colleen
What a great time and an honour to meet you guys!! Thanks for the company and hopefully we'll see each other again. I pray to God that you 2 have an everlasting love.
-Gugu
Great to meet friends like you. We wish to meet you again even if its not in Durban. I want to give you the African names: Stacy as Siphokazi and Dave as Sipho. Both names mean gift. God bless you.
-Joy
(Durban, South Africa)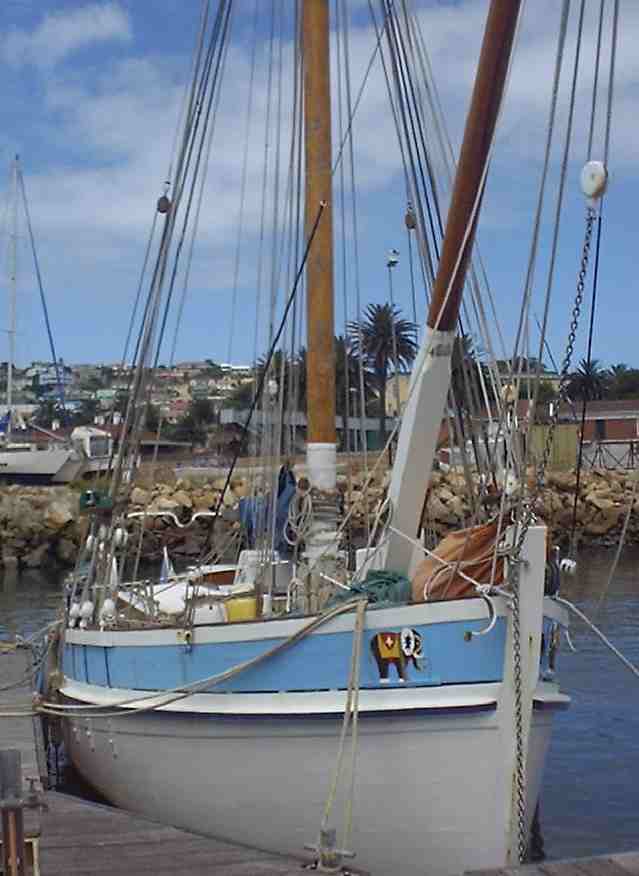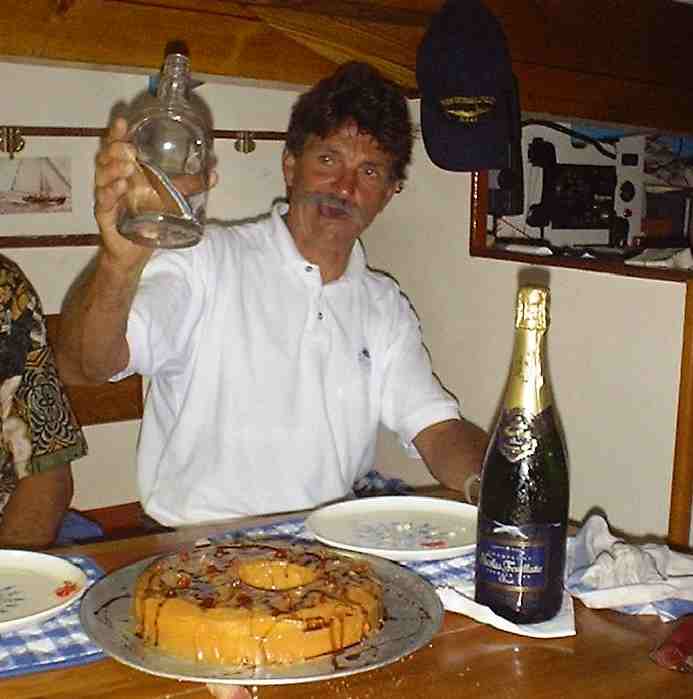 Thank you for welcoming me upon my arrival to Durban. I am very happy to get to know you. I wish you beautiful sailing with the best weather possible. But remember "you have one life!!". If your route brings you to the Bretagne, I will be happy to welcome you.
-Pierre s/v Babar (Bretagne, France) www.voilesdamour.com
January 19th, 2002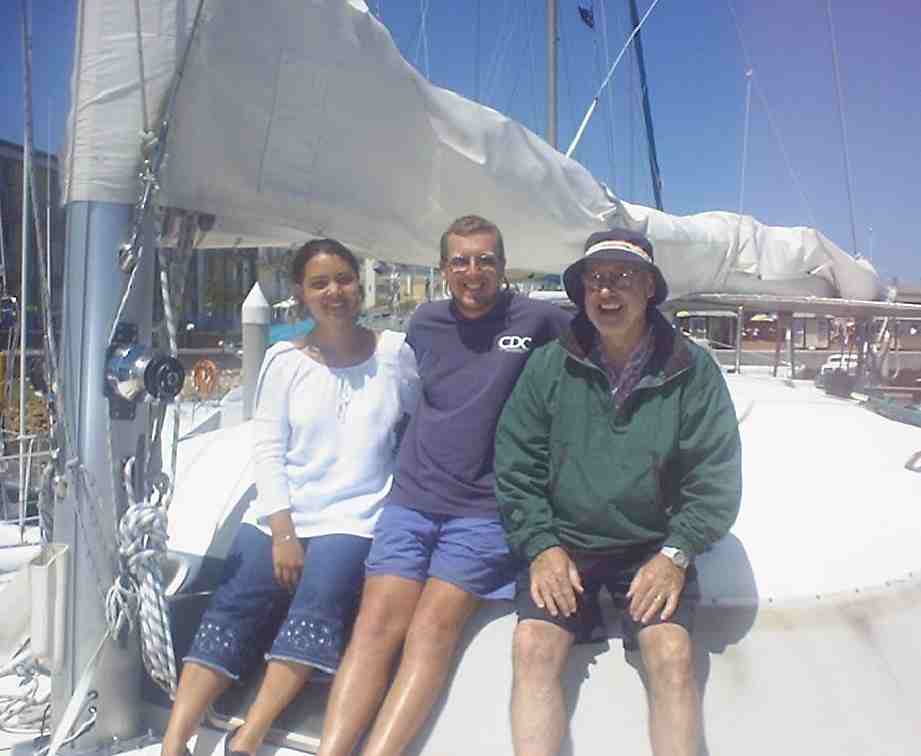 Well, it was karma like meeting you both at our special place. We are both happy to hear about some of your adventures and exotic locations. We wish you a safe and interesting trip ahead. We will definitely try to keep in touch and read your poetry from time to time.
-Carmen and Alfredo (Carmen's Corner Bistro, Knysna, South Africa)
January 26th, 2001
Thank you very much for your kindness. It is a pleasure to get to know people like you and very interesting. It was wonderful to visit you.
Lots of Love.
- Dewald(6),Antoinette, Wyland(9) (Mossel Bay, South Africa)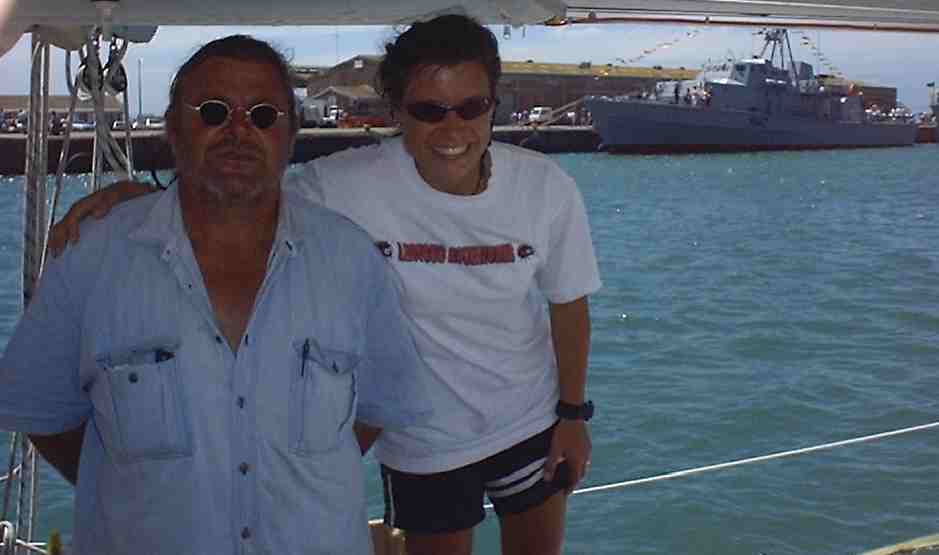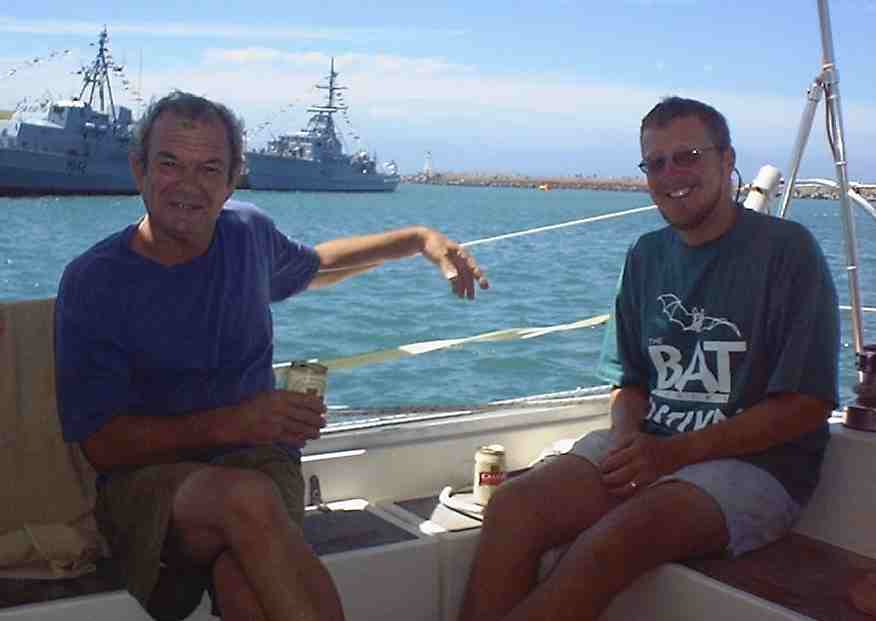 -Freek & Koos s/v Eye of the Storm (Mossel Bay, S. Africa)
January 27th, 2001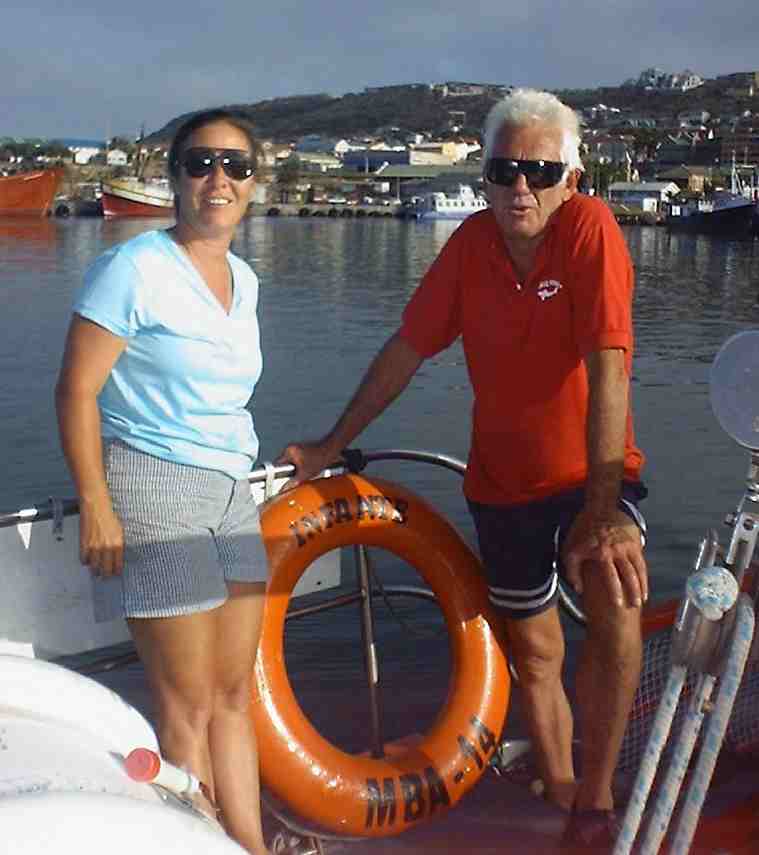 -Jackie, Roy and Dean (no photo) s/v Infante (Mossel Bay, S. Africa) website: www.sharkafrica.co.za
January 28th, 2001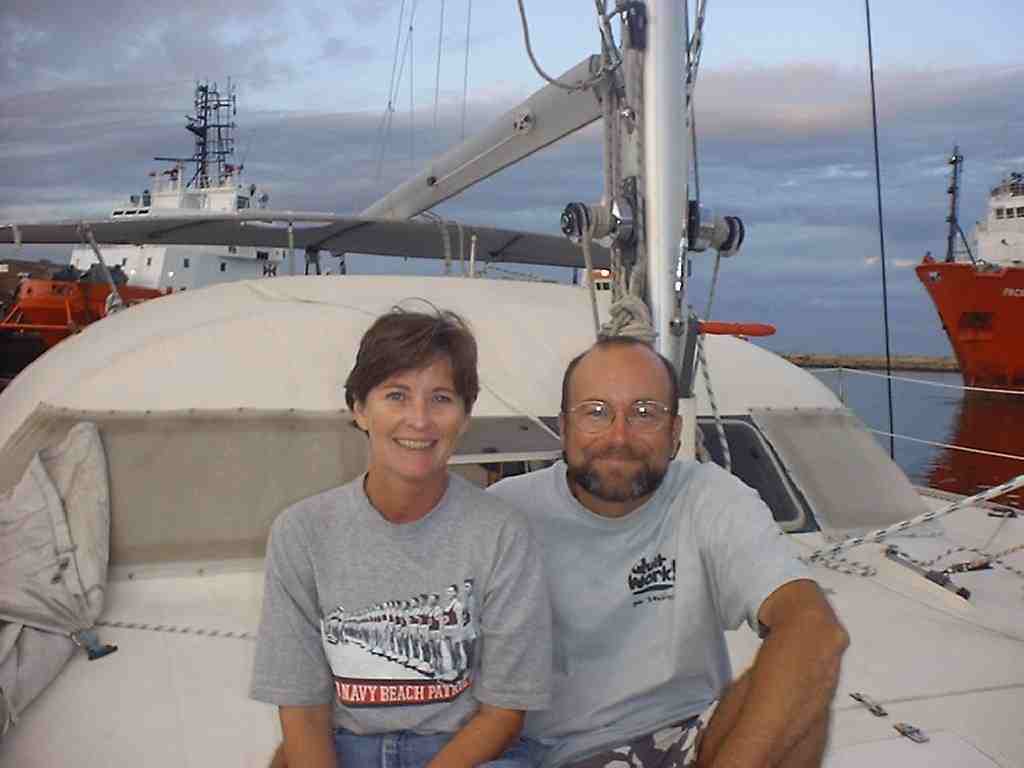 Great meeting up with you again (even though you don't remember us from Richard's Bay...Stacy's birthday) in Mossel Bay. Hope you get your engine and rig fixed soon and catch up in Cape Town. Lots of cruising left even though it's only one more ocean to cross. Good luck and see you on the other side of the Cape with a bottle of champagne.
-Colleen & Pat s/v Simmer (Islmorad, FL)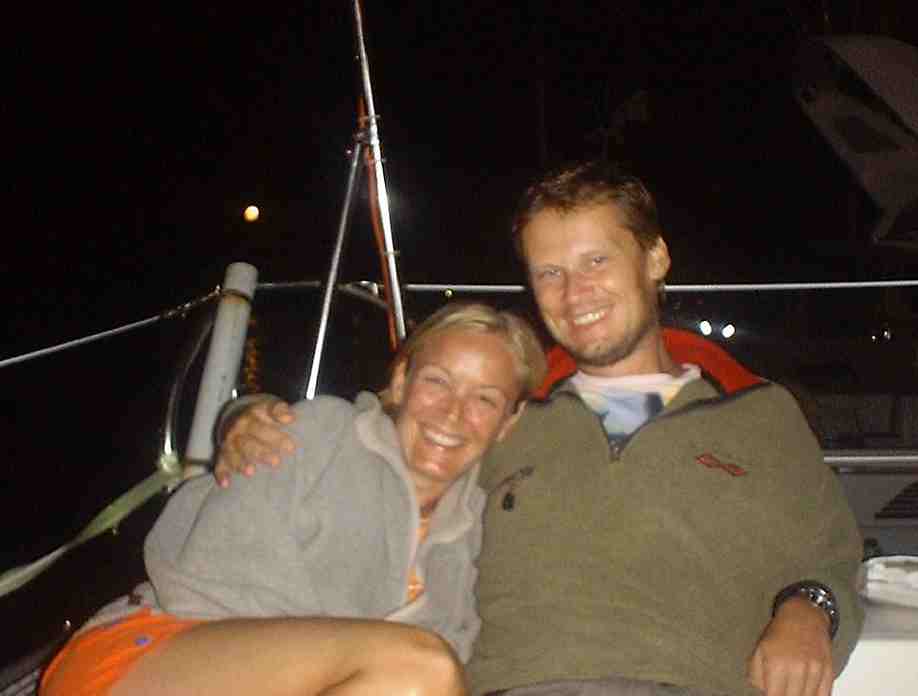 It's been really nice meeting you - we definitely hope to see you again. If not on this trip then on the next one, or next one. Never stop and keep the dreams. The ski slopes in Norway are waiting for you.!!
-Torild & Nils s/v Abeline (Oslo, Norway) ...check out the full moon behind Torild!
February 12, 2002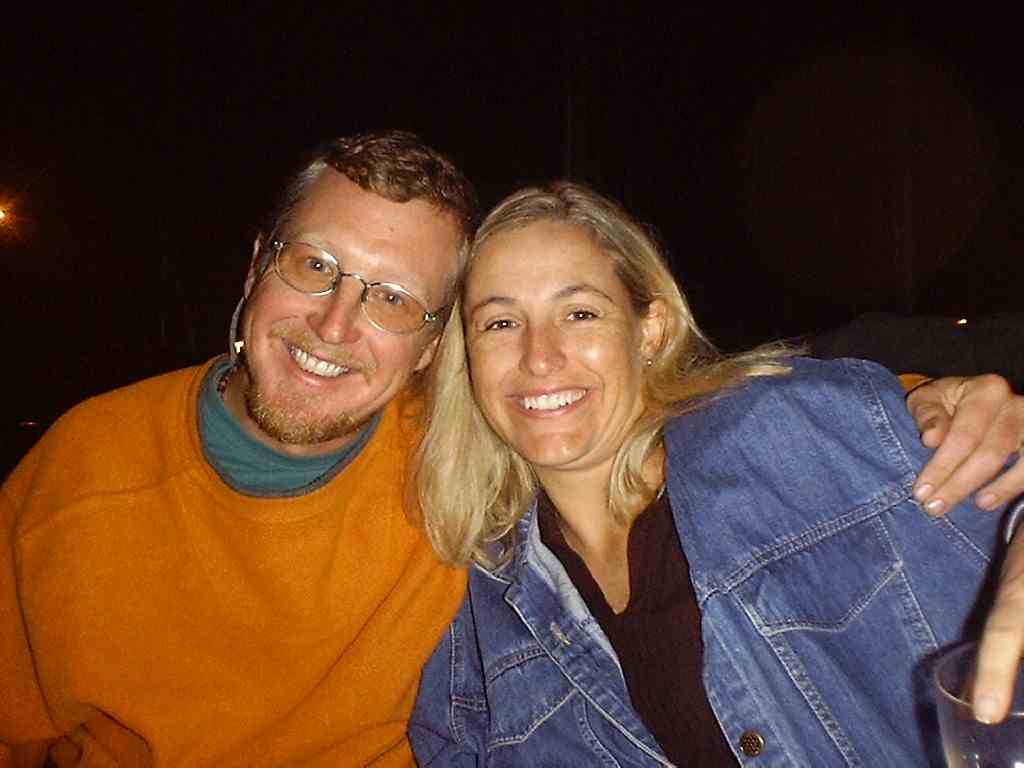 What a pleasure to meet such vivacious and adventurous people. I envy you and your easy going lifestyle. I do hope we stay in touch so that I can share in you future adventures. If you are ever in Cape Town again be sure to look me up. "My post box is your post box!!"
Love, Leanne (Cape Town, South Africa)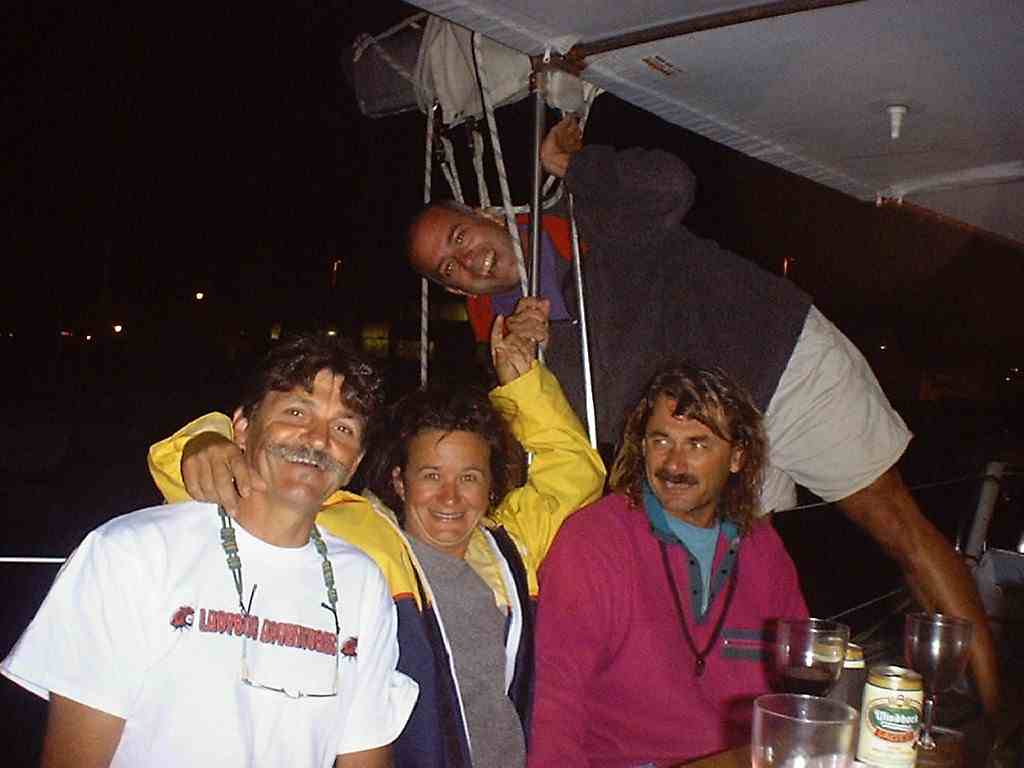 Hang loose! Good fun!! Lots of love to all and thanks for a good night.
-Amanda(center) & Mick(right) s/v Karisma (Great Britain and Sweden)
February 15, 2002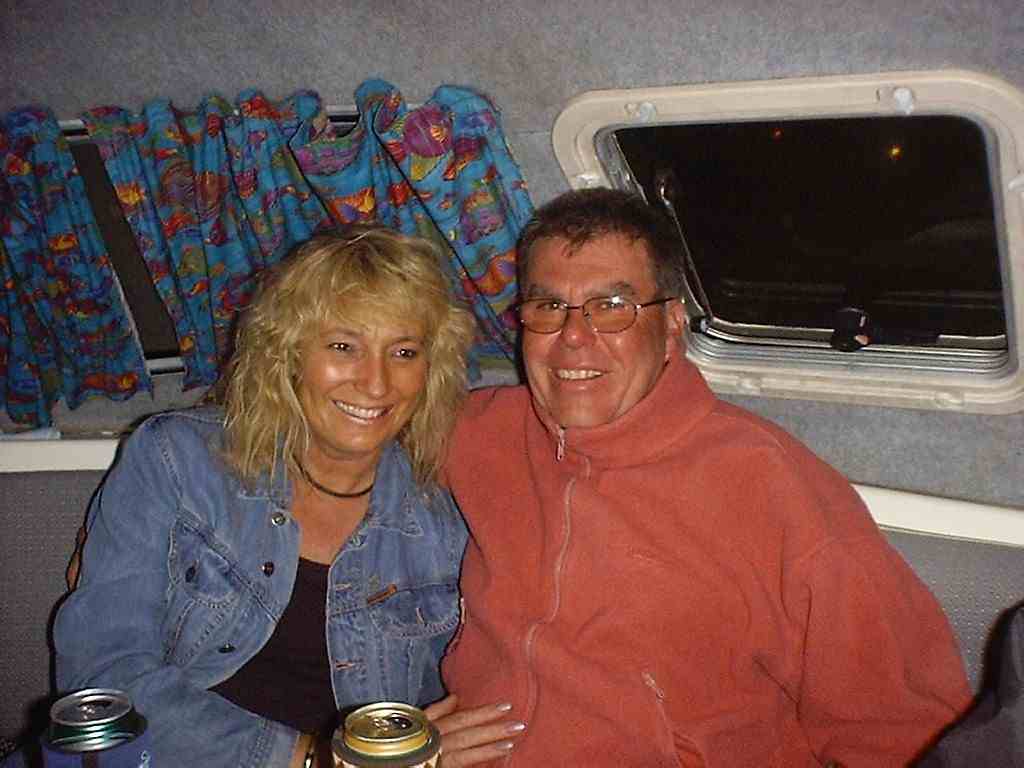 Thanks for all your computer help Stacy, thanks for having a birthday Dave, and thanks for the laughs Jo. Good Sailing.
-Paul and Kay s/v Wirlinga (Australia)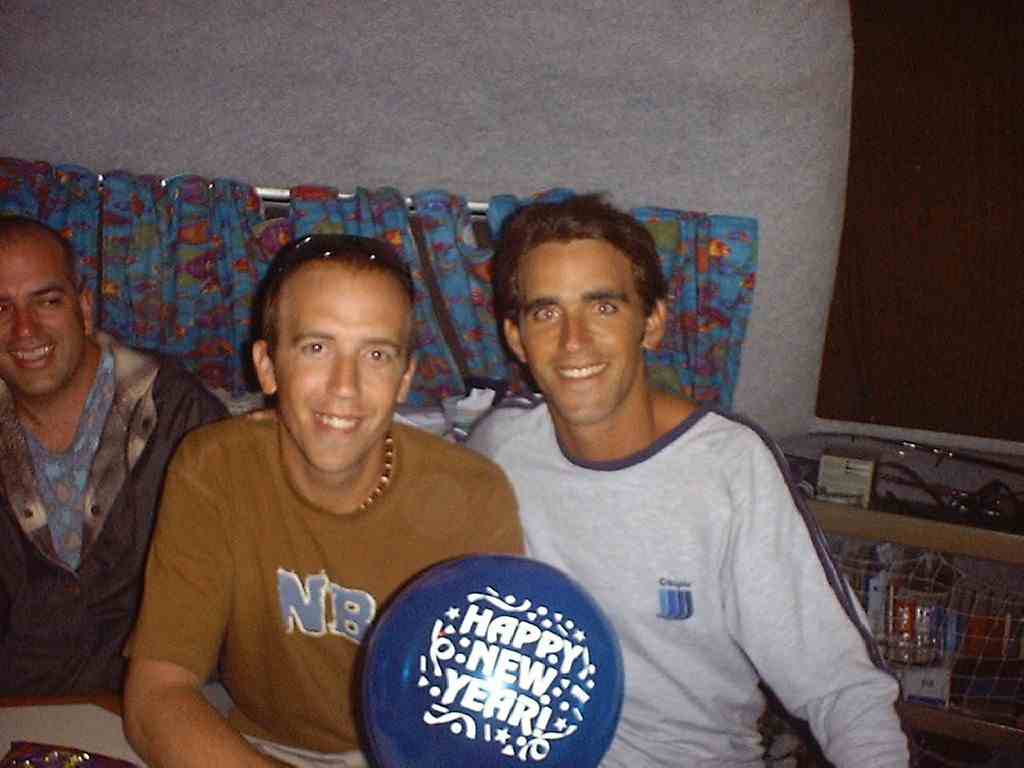 Thanks for entertaining me on your wonderful craft. Safe Journey.
-Jacques (Cape Town, South Africa)
PS Happy Birthday, Dave