Back to Passage to Florida Log
Florida Log
Thursday June 20th, 2002
Jo called Customs yesterday to do the initial clearing in. Today we need to go to immigration in Miami. Jo rented a car, and we were off. Later we drove around the Keys finding adventure. -DWH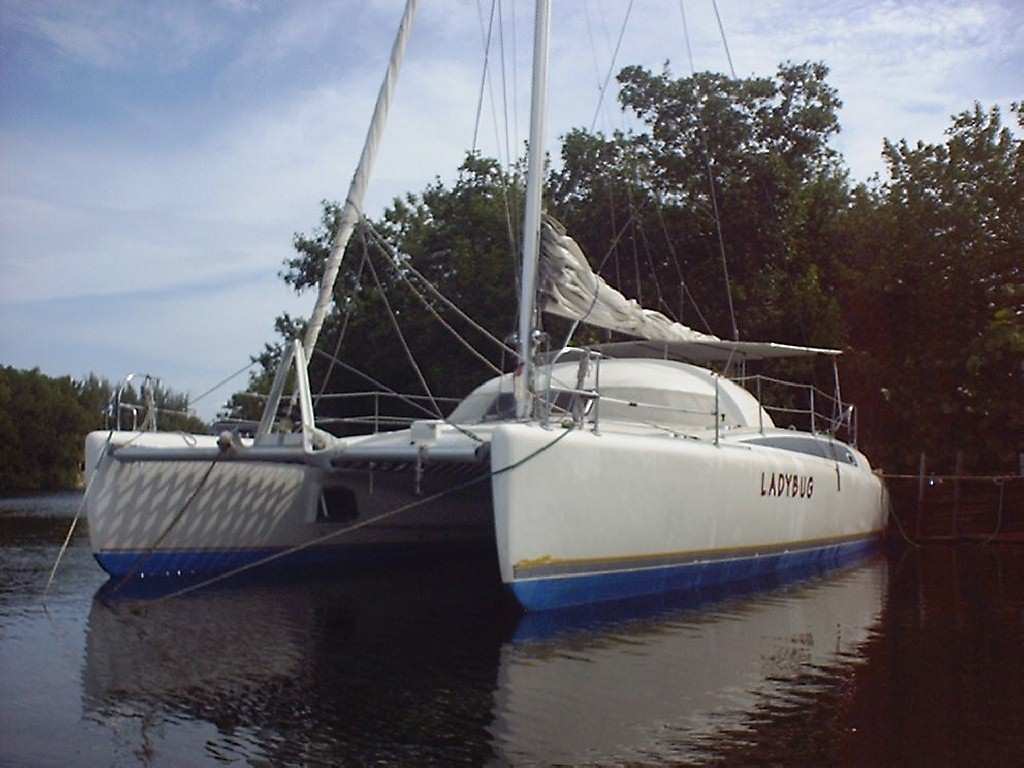 Ladybug takes a break after 24,000 ocean miles.
Friday June 21st, 2002
Today we started moving off Ladybug and doing a big final cleaning. Everything is getting scrubbed. It was incredible how much stuff we had on board. On our next boat we are going to have a rule that once a year we take everything off the boat and clean. There is two reason for this. One is that the boat gets cleaned well. The other is that it is a good time to throw away a lot of stuff that has accumulated in the bottom lockers. Everyone worked really hard. It is great having Monique to help us.
While cleaning I accidentally set off the our EPIRB. I quickly called the Coast Guard on the VHF to let them know that there was no problem. A little later I realized that when the signal was received they might have called Stacy's dad. When we registered the EPIRB we gave his number as a contact. Stacy called and found out that her dad had in fact been called. (It's good to know that it works!) He gave Stacy a number to call to make sure everyone knew we were OK. Stacy called and explained the situation. While she was on the phone she asked about the people we picked up in the Bahama Channel. Stacy was transferred to a guy who was involved later. It turns out that a Coast Guard cutter met Fezzano in the Florida Straights and picked up the eight people. They were then taken to Freeport, Bahamas where they got on a flight back to Haiti. I'm not sure that was what they were hoping for, but at least they are safe. -DWH
Saturday June 22nd, 2002
Another day of working on Ladybug. Then pizza and movies. -DWH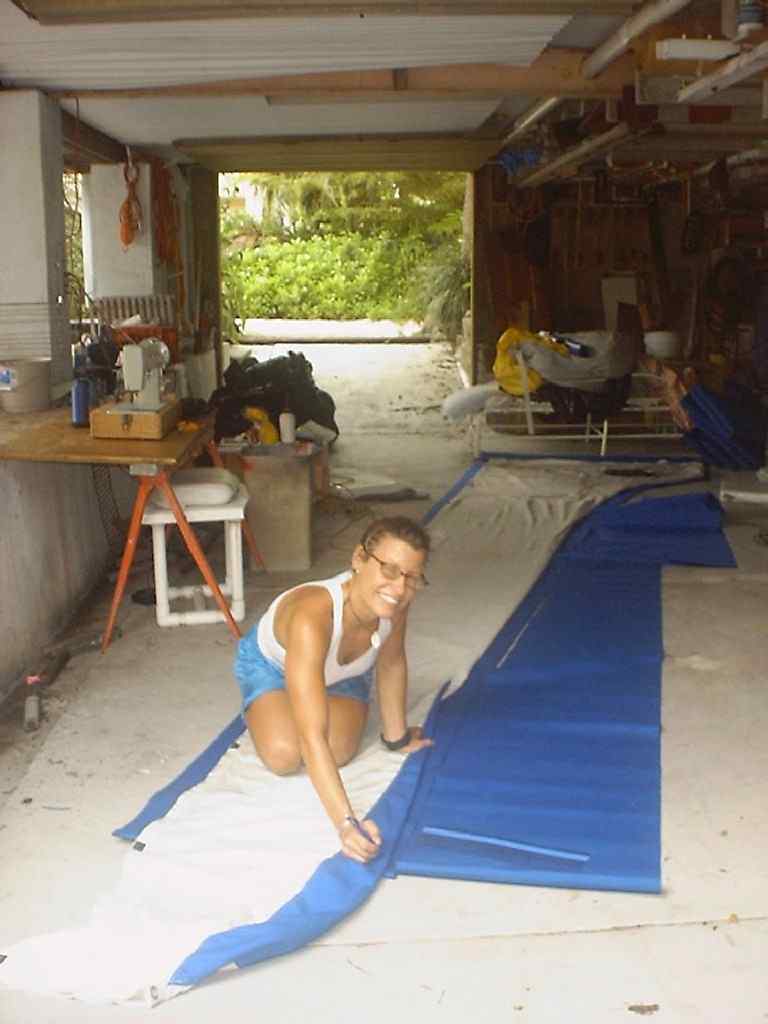 Stacy is making a new sail cover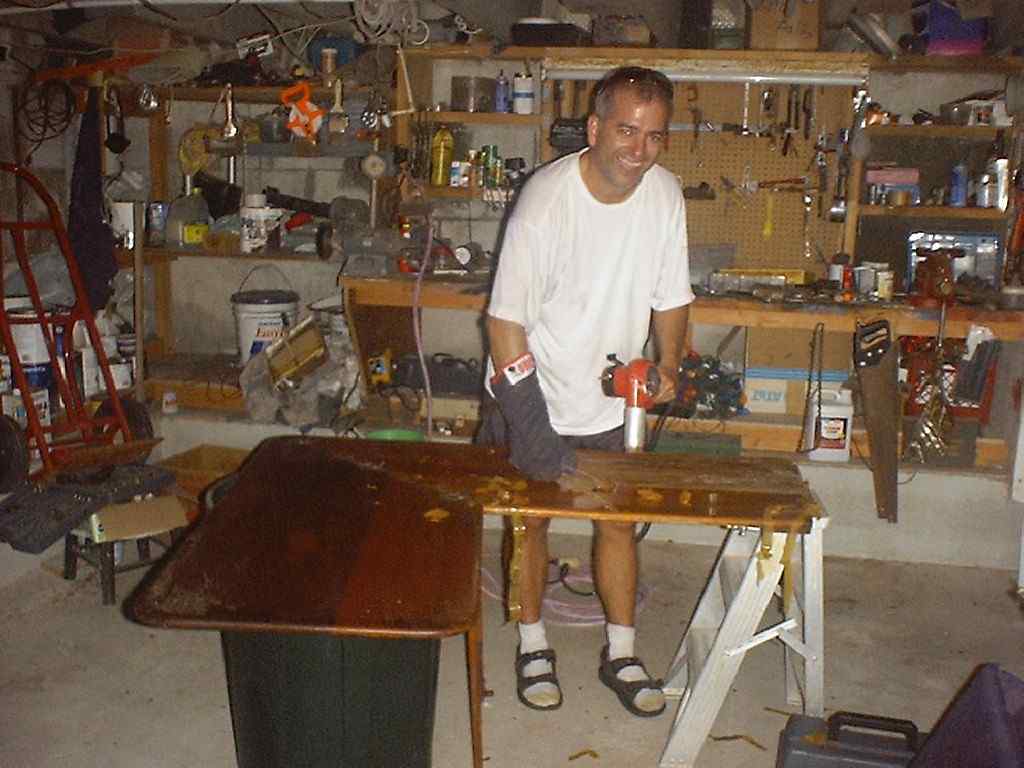 Jo refinishing the cockpit table in Jack's shop
Sunday June 23rd, 2002
After two days of very hard work, we took it easy today. But that does not mean we just sat around all day. We ended up having a most excellent adventure right here. See Manatee Adventure. -DWH
Monday June 24th, 2002
Today it was back to work. Stacy finished up the new sail cover. Monique and I cleaned the bilges. Jo worked on a lot of varnishing. There was also a lot of small jobs and general cleaning.
I worked on ads for Ladybug. I started advertising online from St. Helena. In Brasil I contacted "Soundings" and arranged for an ad for June and July. The hope was to have people lined up when we got to Florida. We have had some definite interest, but today I found our why there has not been more. The people at Soundings screwed up. I was charged for the ad, but it never appeared in the magazine. Now it will not be in for another 5-6 weeks. Well, that's better then nothing I guess. I also have a ad that will appear in "Sailboat Trader" starting on Friday.
At the end of the day Stacy, Monique and I went kayaking. It was pretty good even though we didn't see any more manatees. -DWH
Tuesday June 25th, 2002
Another day of work, but the Bug is really looking good. It is very satisfying. She has never been in better shape. -DWH
Wednesday June 26nd, 2002
We spent the morning getting putting the final touches on Ladybug because we are showing it this afternoon. The rest of the day was spent preparing for our barbecue.........buying groceries, cooking, baking and waiting for the rain to stop. The rain was heavy all day but like magic the sky's cleared as the boys decided to take Greg, our "potential buyer", out for a short motor/sail. We had a wonderful barbecue on Jack's patio and then watched Jo's videos from the trip. We had a great evening! Check the Florida Guest Log for photos. -SLC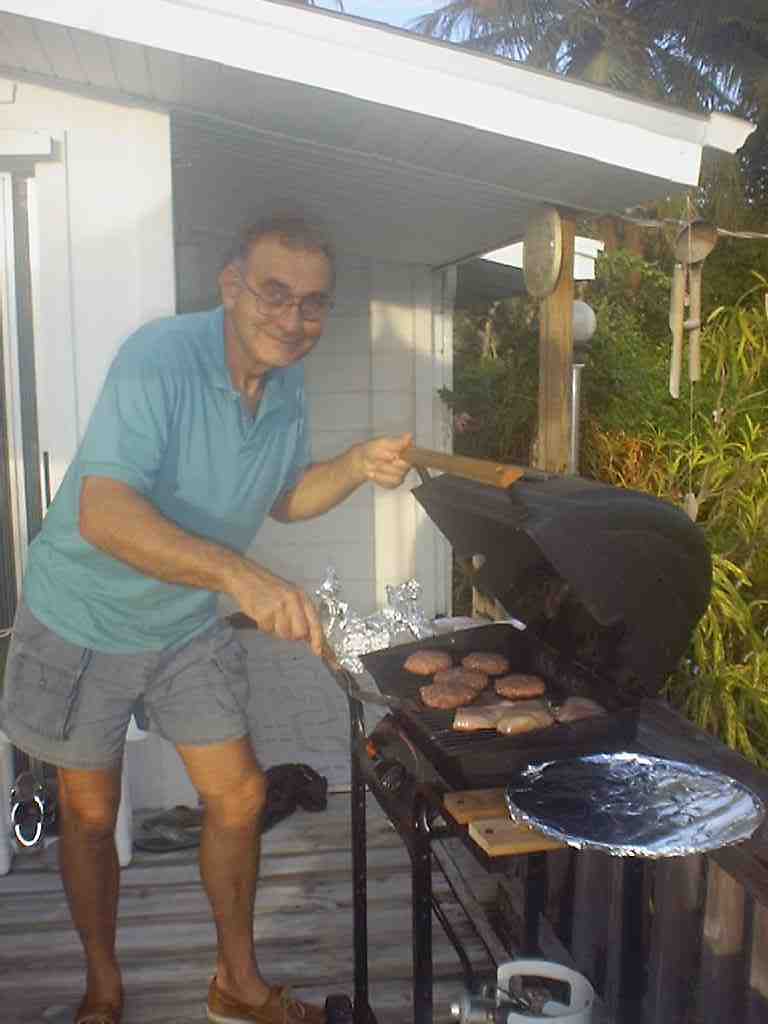 Jack was "the man" on the grill.
Thursday June 27th, 2002
Slow morning. Lots of rain and not much action from the crew of Ladybug. -SLC
Spent a good part of the mourning talking with Greg. He is and interesting guy and seemed impressed with Ladybug. Whether or not he decides to buy her, it was excellent meeting him. -DWH