Back to Virgin Islands Log
Passage to Florida Log
Monday June 10th, 2002
Spent the morning running around getting things done before leaving. We bought a porta pottie from another boat, so now we can comply with the Florida regulations (We don't have holding tanks). We also picked up a chart pack for Florida and some groceries. Jo cleared us out, though we didn't really need to do anything since we are a US boat in US territory (That feels strange). -DWH
When we were in Brazil, Dan Jelsema mentioned that his family had some kind of yacht related business in Florida. I was able to contact his dad, Jack, and he offered to let us keep Ladybug at his place in Key Largo. That should work out really well for selling her. I gave him a call today to let him know that we are on our way. He sure sounds like a friendly guy, which does not surprise me after meeting Dan. (Later we learned that there is no yacht related business, but Jack has a great setup for working on boats. I misunderstood Dan.)
Anchor up at 2:10pm: Off to Florida. It is about 1020 nm to Miami. -DWH
2:45pm: Spinnaker up. It is time for some very comfortable down wind sailing.
6pm: We are passing Isla de Culebra, which is part of Puerto Rico. We just got passed by a tug boat with a large tow. He was slowly gaining on us and called about 20 minutes ago to make sure that we were not going to get in his way. The captain was extremely friendly and professional. I offered to alter our course if need be, but he said he would alter his a little to make sure there was plenty of space between us. -DWH
8:30 Wind shifted a little, the auto pilot had a little trouble steering. We gybed the spinnaker over, now we are going smoothly again and also a little faster. -mlr
Tuesday June 11th, 2002
4am: We are about 10 miles north of San Juan. There have been ships everywhere during the last 3 hours. One was showing lights for "not under command". It was all lit up but appeared to be drifting. -DWH
11:30am: It is a beautiful day for sailing. The wind is out of the east at about 12 knots. The sky is blue with a few puffy white clouds. We just passed a cruise ship heading SE. There is a sailboat directly ahead of us, and we seem to be slowly gaining on it. I also passed a yellow balloon floating on the water. -DWH
Noon: Our position is 18 55 N, 66 54 W. We have 896 nm to go to Miami. -DWH
In the afternoon the wind picked up slightly and so did our speed. We still have the spinnaker up.
11pm: There is a thunderstorm approaching. Spinnaker down.
Wednesday June 12th, 2002
3am: We are now 35 nm north off the eastern tip of the island of Hispaniola. The eastern 2/3 of Hispaniola is the Dominican Republic and the western 1/3 is Haiti. We will be going along the north coast for the island for the next 300 nm. -DWH
8am: Spinnaker back up. It looks like another nice day.
Noon: Our position is 19 40 N, 69 08W. We made 134 nm in the last 24 hours. We have 762 nm to go to Miami. -DWH
Made some sugar cookies today, thanks Ryan and Linda. -SLC
5:30pm: The wind has picked up to about 20 knots, and we are doing better than 8.5. Life is fine. -DWH
7pm: Talked to s/v Sophia, they are headed 200 miles to south Bahamas. A South African couple from Knysna. We gave them a weather report. Maybe we will get to meet them in Florida. -SLC
10pm: The wind continued to build and so did our speed. Monique averaged about 9.5 knots from 7 to 10pm. After that we decided to bring the spinnaker down for the night. -DWH
Thursday June 13th, 2002
8am: Wind has died down and the spinnaker is back up.
Noon: Our position is 20 17N, 71 48W. We made 156 nm in the last 24 hours. We have 606 nm to go to Miami. -DWH
It has been an ideal afternoon of sailing. The is wind is 10-12 and has shifted slightly so as to not be directly behind us. (We have been going straight down wind for the last 3 days. It is not the best, but it is much better than having it on the nose, so I won't complain.) We are cruising along at 5 or 6 knots, and it is very comfortable. The girls spent a good part of the afternoon reading up in the net. -DWH
Friday June 14th, 2002
3am: The wind has died down. We are once again heading pretty much straight down wind with about 3 or 4 knots apparent. We are making about 4 knots. Haiti is 40 miles to the south. Great Inagua Island is about 20 miles to the north. The eastern tip of Cuba is 60 miles to the south west. -DWH
6:15 Beautiful sunrise. -SLC
Noon: Our position is 20 48N, 73 45W. We made 114 nm in the last 24 hours. -DWH
Monique and I are making homemade pizza. Monique made the dough. Then she went outside, because, well.........because she's smarter than I am. I'm making sauce and baking the crusts. It is hot, hot, hot. The sweat is dripping. (We have about 2 knots of apparent wind when there is a puff.) I don't want to get too dehydrated, so I'm sucking down the red wine, always good for cooking and for the cook. Life is sweet (and I'm catching a buzz). We are listening to the Bare Naked Ladies, and I miss my mom and dad. -DWH
Pizzas was delicious! -MlR
Saturday June 15th, 2002
6am The sky is starting to get light. We are sailing along nicely. We are about 30 miles from the coast of Cuba. We will be sailing along the coast of Cuba for about 250 miles with the Bahamas on the other side of us. Less than 400 miles to Key Largo!! -SLC
Noon: Our position is 21 19N, 75 16W. We made 90 nm in the last 24 hours. We have changed our destination to key Largo and now have 372 nm to go. -SLC
We have been off the coast of Cuba for most of the last day. Right now we are 20 miles away. There is a lot of shipping traffic. At one point this afternoon we had three ships passing us at the same time. -DWH
Yesterday I noticed that when we started the port engine it took a minute for the current from the alternator to come up to what it should be. Strange, I thought. Maybe the belt is loose. I planned to look into it today. Then this morning I started the motor to charge the battery. As I often do, I checked the exhaust to see that there is water coming out after I had started it. This time there was none. I guessed it was probably time to change the impeller. Now I had two little jobs to do, so I got right at it. First I tightened the belt. When I started the engine I noticed something very interesting. The amps came up right away as I expected, but I also noticed that our "sticky" tach on the port engine no longer appeared to be sticky. Let me go back to explain. Quite often when we start the port engine, the tach does not come right up to engine speed. It would sit at about 500 rpm even though the engine was obviously going faster than that. After 30 seconds or a minute it would start working fine. It's been that way since we bought the boat, and we had stopped worrying about it a long time ago. Now I understand that the tach is linked to the alternator and the belt has been slipping a little at start up for a long time. It made me quite happy to figure this out. After that I changed the impeller on the water pump. When I restarted the engine, it was working great. That's good because we have no wind, so we might be doing some motoring. -DWH
4pm spinnaker back up! -SLC
The spinnaker stayed up for a couple hours, but we dropped it again when a nasty looking line of clouds approached. Actually the clouds were really cool looking even though very menacing. We were motoring when the cloud line passed and to our surprise there was no wind. As a matter of fact, we actually lost what little wind there had been. After that we motored for about 4 hours. Then it picked up a little and the spinnaker went back up. -DWH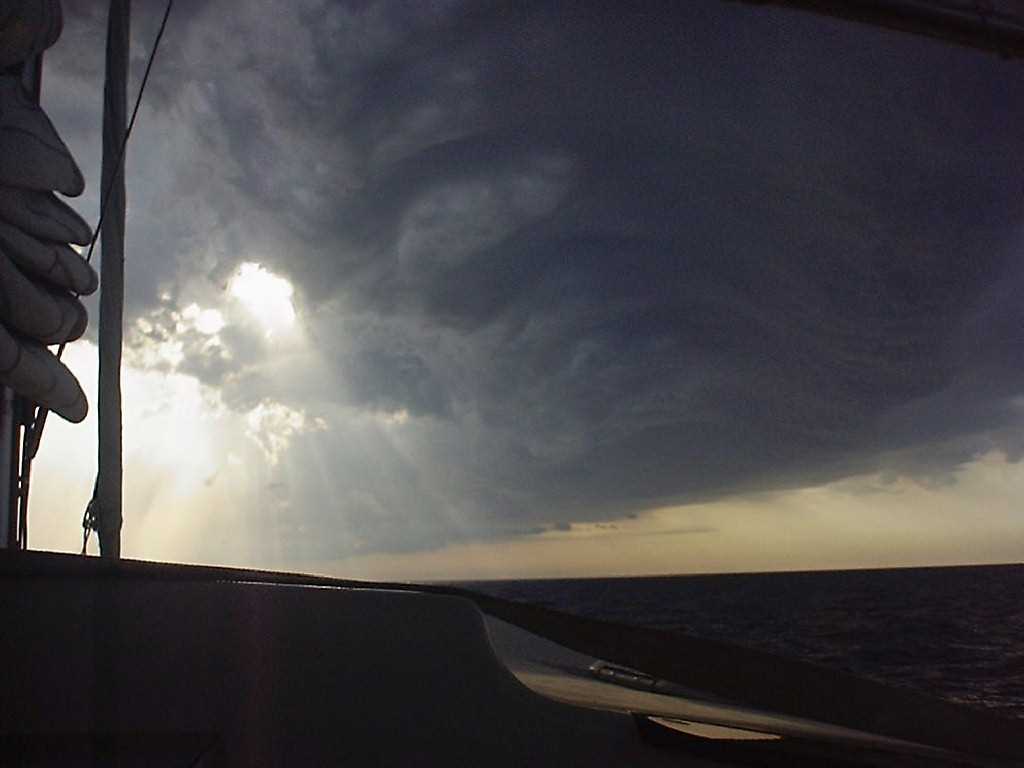 The cloud line looked cool and scary at the same time but produced no wind.
Sunday June 16th, 2002
Thinking of Mom and Dad, especially Dad. -DWH
3am: There have been lots of small boats to the south. Maybe they are Cuban fishing boats. -DWH
5am: Dave realized the spinnaker sock was not all the way up and then he noticed that the halyard was on the wrong side of the forestay, so we brought the spinnaker down. Luckily there was no chafe on the line. We needed to gybe it anyway. So the spinnaker is back up and we are moving along nicely. A couple of ships and a couple of fishing boats to the south and a little lightening in the far north. -SLC
7am HAPPY FATHER'S DAY!!! Dad, sorry I can't call...but I am thinking about you. Hope you have a great day! -SLC
9:00am: I got up early today (considering that I went to sleep at 6am). I knew that Stacy was going to put the fishing lines out at dawn, and I wanted to get bread started so we could have fish sandwiches. When I walked out into the cockpit I noticed that one of the hand lines seemed to be jerking. We already had a fish on. I soon landed the beautiful 50" dorado. In addition to having fish for our lunch there was also plenty to dry. How convenient since it looks like it will be a very hot, sunny day - perfect drying conditions. I cleaned the fish. Jo baked about half, and I salted the other half. Then I started the bread. It looks like it will be a fabulous lunch! -DWH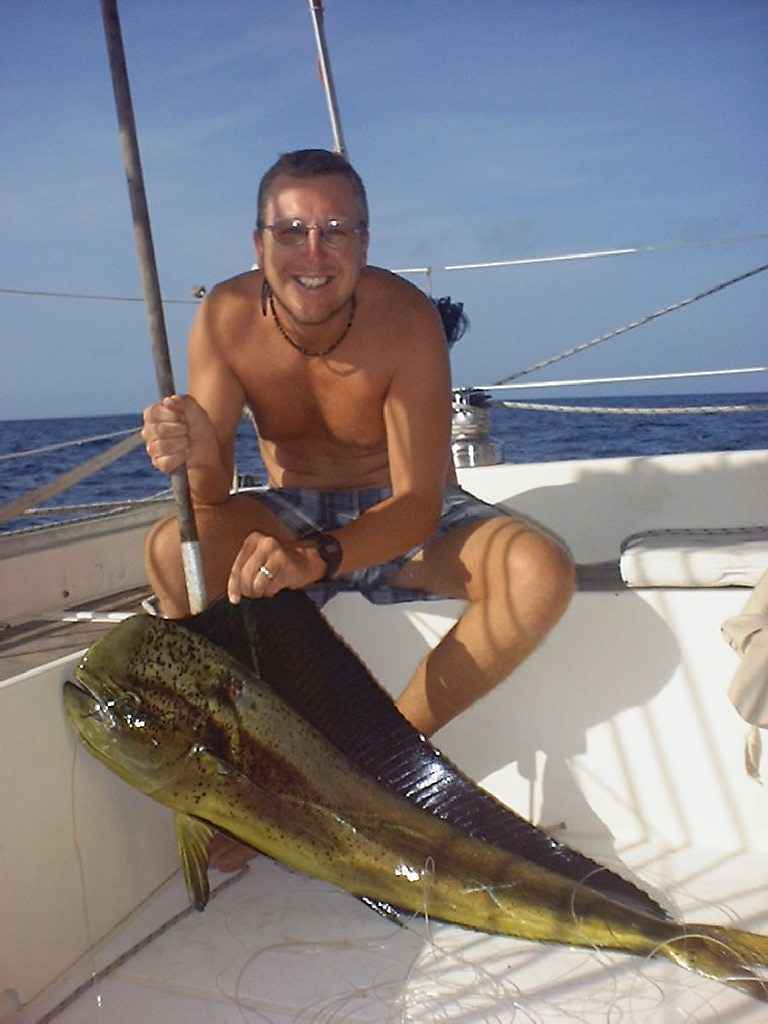 A nice dorado (aka mahi mahi). We can tell it's a male because of the big, square head.
Noon: Our position is 21 53N, 76 57W. The wind has been really light, but we still made 100 nm in the last 24 hours. -DWH
6:30pm: Every day I listen to the weather broadcast by the Coast Guard station in Portsmouth, VA. So far there do not seem to be any storms chasing us. Let's hope our luck holds out for a couple more days. We are now entering the Old Bahama Channel that runs between Cuba and the Bahama Bank ( The Bahama Banks is a huge area - about 30,000 square miles- marked as shallow and with "numerous rocky heads". The channel is about 75 miles long and 10 miles wide. There are hazards on either side and a lot of shipping in the channel. We will have to be very careful tonight. -DWH
Ladybug assists in rescue !!
1:30am: Around 10pm Jo and Monique heard part of a discussion between a freighter and a boat in distress. Through the static they determined that there was a vessel taking on water and a freighter going to assist. After a little while the conversation got more clear. Stacy and I heard parts of it from our berth and came up to see what was going on. The vessel in distress turned out to be Miss Nelly, a 48 foot wood fishing boat from Haiti with 8 people on board. It was anchored just off of Lobos Cay, Bahamas. The ship, Fezzano, is an Italian ammonia carrier and could not approach closely due to his draft. (From later conversation we believe that Fezzano has safety rules that prohibit him from getting closer than 2 miles from shallow water during a passage) Since Fezzano could not get close, we headed over to assist. This was a little scary because our chart of the area is not very detailed, there is a lot of reef, and it was very dark. Jo kept his eyes on the depth gauge, and I watched ahead for any sign of breaking water. Meanwhile Fezzano stayed in the channel and contacted the US Coast Guard using a satellite phone. When we talked to the captain of Miss Nelly he said that they were taking on water and wanted a pump. All we had was a 12 Volt bilge pump, but they said that they did not have power so that would not help. When we reached Miss Nelly, their diesel was running and they appeared to be working on the problem. We told them we would stand by while Fezzano tried to arrange for help/a pump. While we were waiting I realized that if their engine was running, they probably had 12 Volts at the starter battery. I asked and they confirmed that it was true. I rigged up an emergency pump using the 12 V bilge pump, a 15-20' piece of hose and a 25' electrical cable. We did a quick test to verify that it worked and then passed it over to them. I explained over the radio that they just needed to hook the wires up to the battery. They got it working but said that it wasn't big enough and could not keep up. (The pump was rated for about 700 gallons and hour). We told them that we would continue to stand by while Fezzano talked to the Coast Guard.
3:30am: Fezzano got word from the US Coast Guard that they would not be sending help. (After all, these are not US waters and the Coast Guard does not have any ships in the area at this time.) The US Coast Guard tried contacting the Cuban Coast Guard, but there was no immediate reply, so it was not clear whether or not they would be sending help. Miss Nelly's radio was very weak, so we had to relay all conversation between her and Fezzano. Miss Nelly asked about getting towed to Bimini. Fezzano basically said that they could not alter their route. It was Tampa or nothing. Miss Nelly then said that they would take a tow to Florida. I was really surprised that the captain of Fezzano would even consider this. Then he asked about their vessel. When I told him that it was a 48 foot wood vessel he said no way. "I would destroy that boat trying to tow it." The new plan, which I believe was approved by the US Coast Guard, was for Ladybug to take the 8 people on board and then transfer them to Fezzano in the morning. Fezzano would then take them to Tampa. All this was passed on the captain of Miss Nelly. After a few minutes he replied that it looked like he was flooding faster than before and that they would like to abandon ship. We moved into position. Miss Nelly was now drifting, her anchor probably dragged into deeper water. She was bouncing pretty badly making the prospect of tying up to her not so appealing. Instead we tied a line from their stern to our bow and transferred people two at a time using their dinghy. It was pretty crazy and a couple times we nearly collided with her stern. Jo did a good job at the helm and responded quickly to our cries of "Reverse, Reverse!" when the boats got too close. The last person was the captain. He wanted to stay with his boat until dawn, but with it drifting near reef and the chance of the weather deteriorating we strongly suggested that he come aboard. It was a little crazy, but eventually we had everyone safely on Ladybug. By this point everyone was pretty tired. We gave them blankets and they got comfortable on the net.
4:45am: The captain of Fezzano called again. He was checking to make sure that everything was OK. Jo and I were both trying to sleep. We wanted to make sure we were not too stupid/tired when we do the transfer tomorrow. Monique and Stacy were on watch while we drifted just off of Lobo Cay. He also wanted to verify that everyone from Miss Nelly had passports. He's been talking with the US Coast Guard in Miami all night. I'm sure he wants to make sure he doesn't get hosed like the captain of the Norwegian ship did in Australia last year. (Picked up refugees and then was not allowed to drop them off in Australia)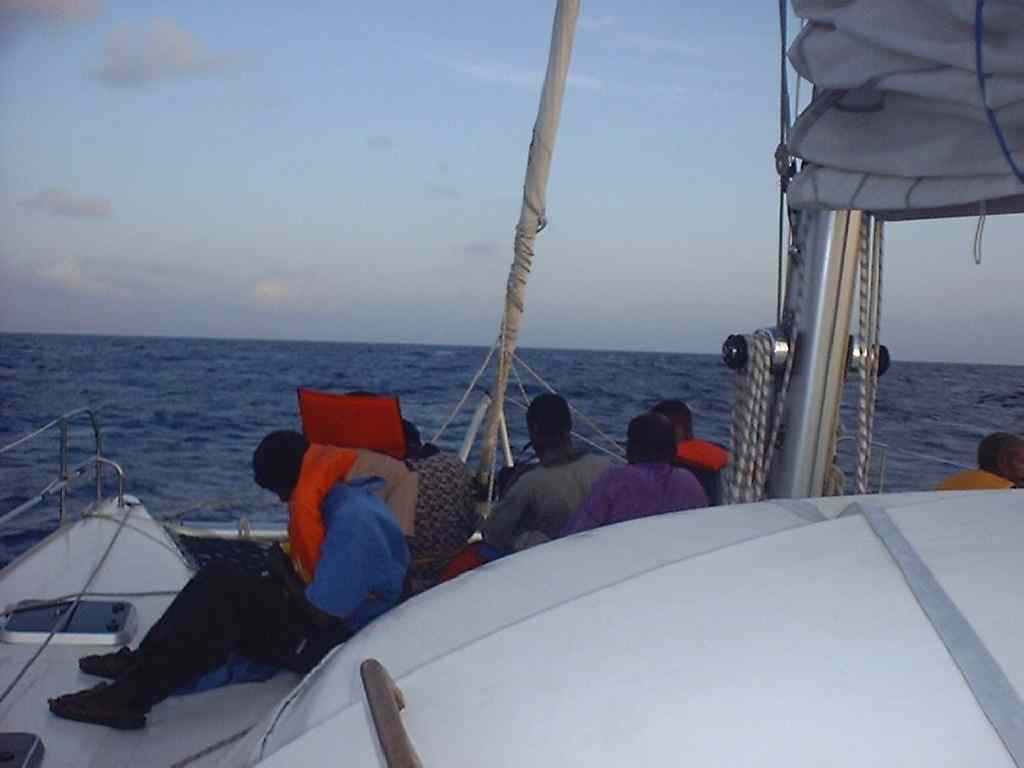 The crew of Miss Nelly.
7am: Fezzano called us just after daybreak and they verified our location (even though we could see each other) and made plans to start motoring toward each other. As we started up the motors we looked back towards Lobo Cay behind us. We could see Miss Nelly with the binoculars. She was very low in the water, still afloat but sinking slowly. I just hope she goes down quickly and does not become a hazard in the channel. We were very nervous about pulling up to Fezzano to transfer everyone. We've read too many stories of yachts being destroyed by ships during rescue situations. The skipper of Fezzano said that if we were uncomfortable, we could stay clear of her and they would take the people off of our boat with a harness attached to their crane, but as Ladybug came closer to Fezzano we saw that we would be able to safely tie up to them and do a direct transfer. When we met up with Fezzano they turned 90 degrees to the wind, allowing us to approach in their lee. They were ready with a boarding ladder and fenders. As we approached they tossed us light lines with a monkey fist at the end. We tied our dock lines to them and they pulled our lines aboard. We were quickly secured along side, and the folks from Miss Nelly were aboard Fezzano within a minute or two. It was actually very easy as it was calm in Fezzano's lee and because of her low freeboard. Then we were off. We waved good-bye and wished each other good luck as we pulled away.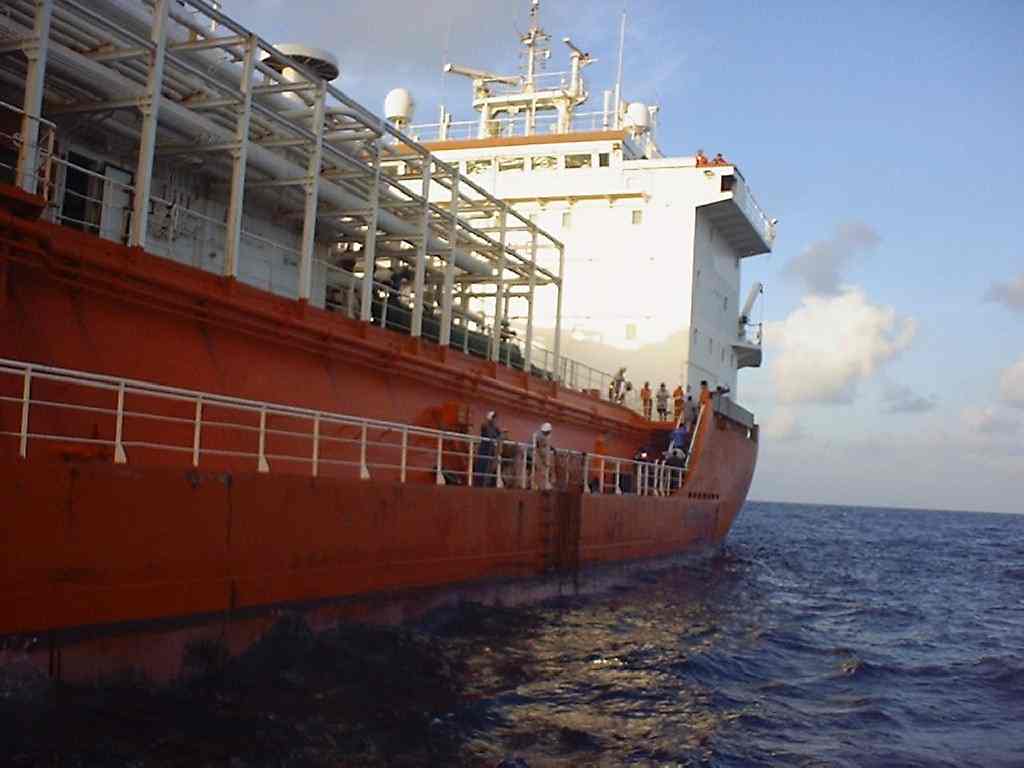 Fezzano. Luckily she has a low freeboard making her easy to board.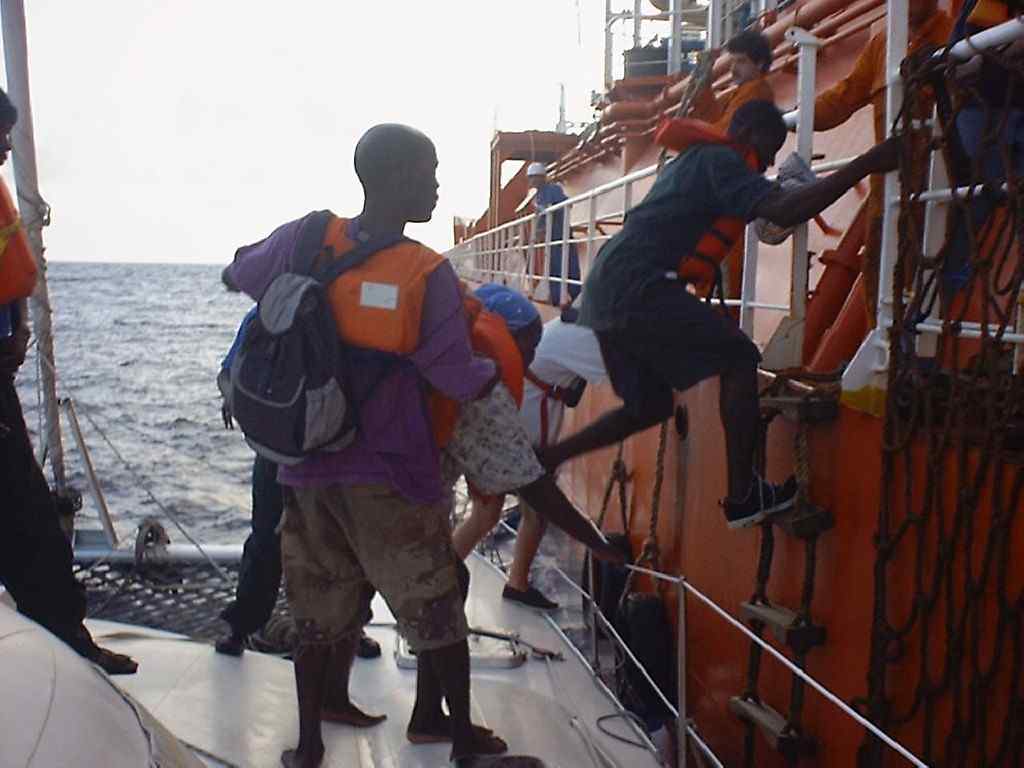 The crew of Miss Nelly quickly climb onto Fezzano.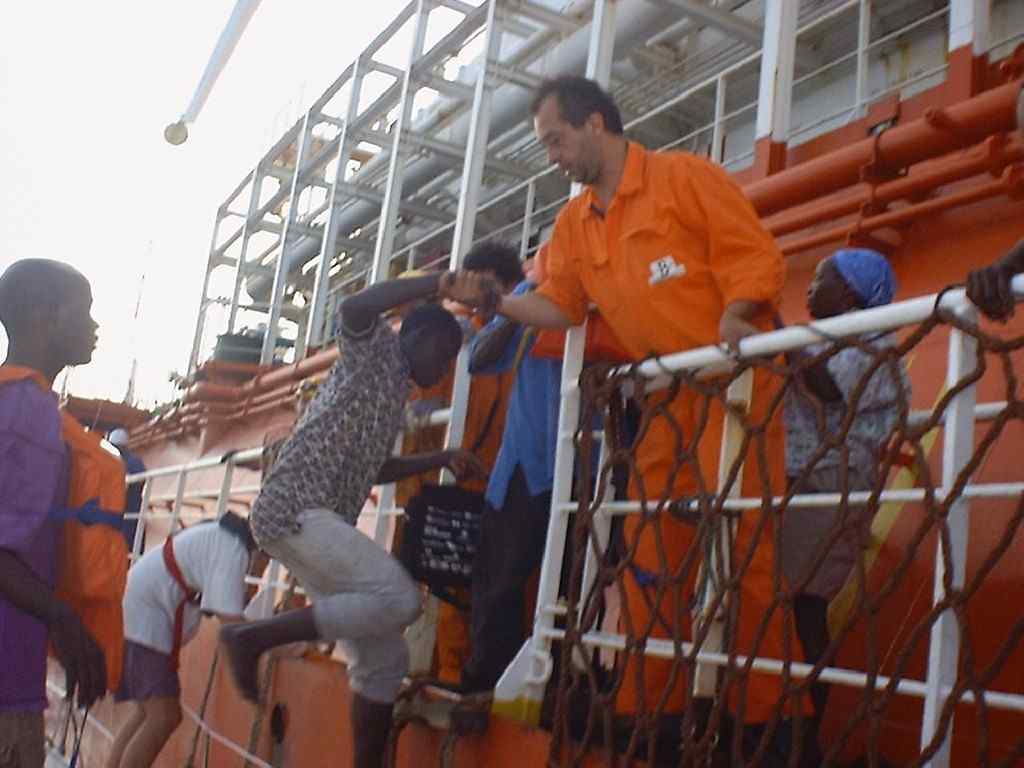 The crew were helpful and professional.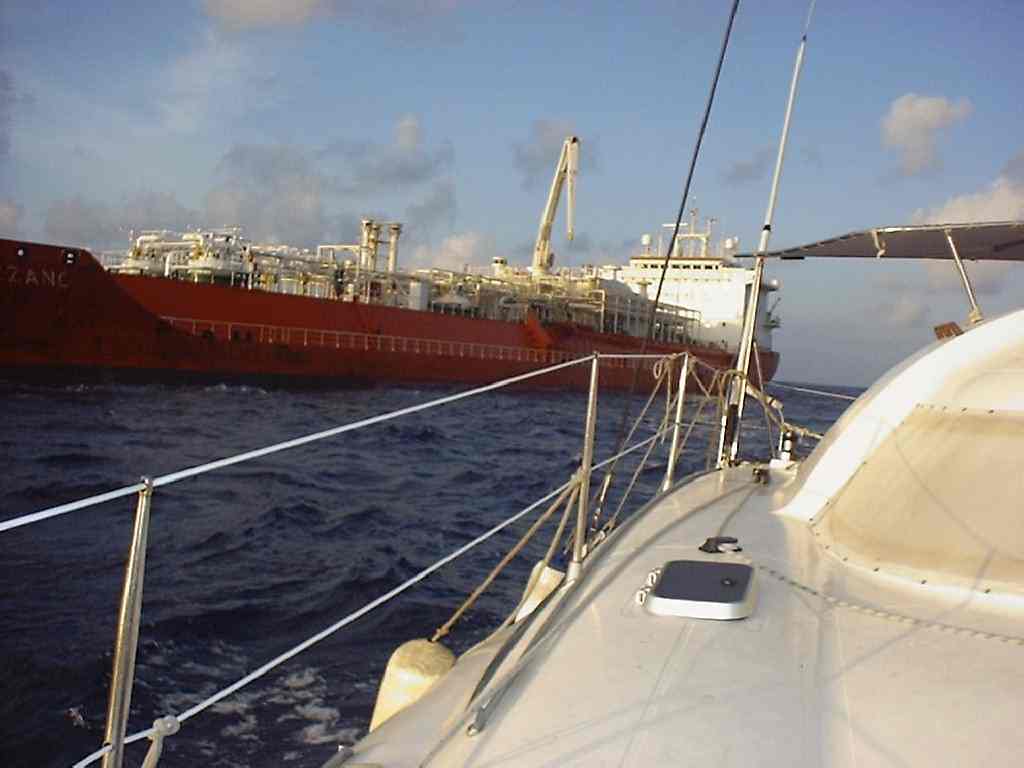 The view as we pull away. The eight people from Miss Nelly will be in Florida before we are.
7:15am: Spinnaker back up. We are sailing again. Stacy is making pancakes. -DWH
Other Issues related to Rescue: 1) We think these people were really trying to reach the US. The captain was not an experienced seaman. The other crew were not fisherman, did not know how to swim, and did not even have life jackets. I don't think their plan was to abandon ship where they did, but the boat was probably not up to the planned voyage and this was all the further they made it. Despite our strong suspicions, these suspicions had no impact on our actions. They were at sea and needed assistance. 2) I am uncomfortable with the fact that their boat was drifting after we picked them up. We put out a security call to warn others and later asked Fezzano, which probably has more range on their VHF, to do the same. Still, that boat could drift for a long time. If we were cruising along at 7 or 8 knots at night, we would never see that boat until we ran into it. Very bad. I hope she sank quickly. -DWH
Noon: Our position is 22 35 N, 78 05 W.
6:15pm Even though we saw lots of ships last night and early this morning, we have not seen much since then. We have now cleared the Old Bahama Channel and are turning north towards Florida. We are still just off the Bahama Bank which continues in that direction. Our fish is drying nicely. It usually takes 3 days, but we ate some today after only 32 hours of drying. It is excellent. -DWH
Tuesday June 18th, 2002
2:15am: Spinnaker down. The wind is up a little and there is lightning ahead. -DWH
3am: We are out of the Tropics again. This is the second time. The first was when we went around South Africa. -DWH
5:30: Less than 100 miles to the entrance that we will use to get to the gulf side of the Florida Keys. We will then sail 30 miles north to get to Key Largo. I am very excited, but still tired from all the stuff that happened on Monday morning. Even after sleeping most of the day yesterday I still fell like I could sleep another 12 hours. Missing a night of sleep and all of the stress of the situation really made me tired. But I am glad we were able to help those people. -SLC
7am: If we average 3.8 knots for the next 24 hours we will be at the entrance at sunrise. -SLC
9am: Jo just caught a nice dorado. It was about 4' long just like the one we caught the other day. Since we just had dorado and have a lot drying already, we released this guy. -DWH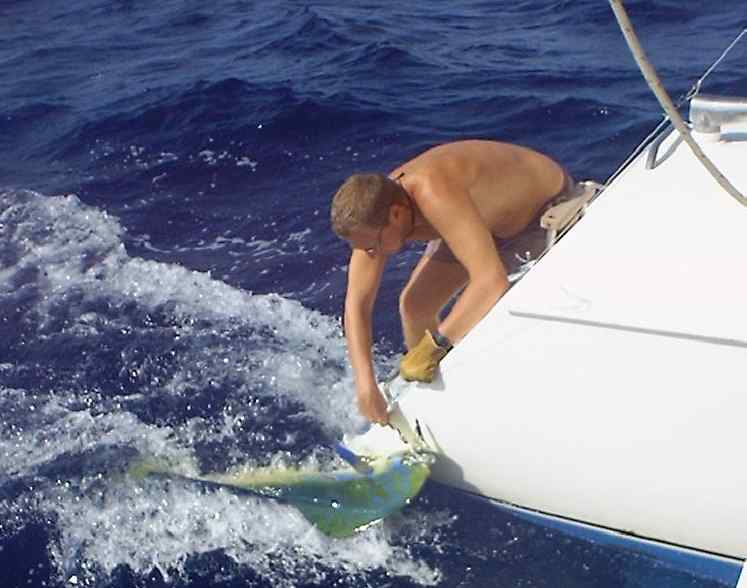 Releasing the dorado
Noon: Our position is 24 12N, 79 49W. It is about 60 nm to the "Channel 5" entrance through the keys and then another 30 to Key Largo. We would like to be at the entrance just after daybreak. This will give us time to reach Key Largo during the day. The only thing of interest between us and the entrance is the Gulf Stream. We have decided to head on a more westerly course for the next 35 nm or so to give us a better angle when crossing the current. The idea situation is to be able to steer perpendicular to the flow to cross as quickly as possible. If we are a little upstream when we enter it, we should be carried right down to our desired point. We don't want to spend any extra time in the current because if the weather gets bad, the waves could get really nasty. It is not quite as scary as the situation with the Agulhas current in South Africa, but we still want to be very careful. -DWH
6pm: The afternoon has been sunny and hot. There is very little wind and the seas are confused. We still haven't hit any current. Water temp 82.3 deg F. Jo made his famous beans and rice for dinner. This time he was able to add dried fish which always makes it better. He ended up using 2 of the 12 pieces that from the dorado we caught a couple days ago. (We dried 1/2 of that fish) That is equal to 1/12 of the fish, and seems to be plenty for enough beans and rice to stuff four hungry people. So, it appears that one large dorado, when salted and dried, can be used to prepare 12 meals. It is an incredibly efficient use of the fish. -DWH
7pm: We seem to be seeing some current now, but the water temp is down a little which is the opposite of what we expect. -DWH
8:30pm: We are sailing 290 magnetic and making 315 magnetic. Our speed over ground at 315 is about 6 knots. That leaves us pointing just upstream of our destination as we cross the current. Very nice. The only confusing thing is that the water temp is still down a little at 82 deg F. -DWH
Wednesday June 19th, 2002
Happy Birthday Dean!!
1am: We are about 15 nm out from the Channel 5 entrance and holding position by sailing slowly into the current. -DWH
4:30am: Starting to slowly work our way towards the entrance.-DWH
7:30am: We are about 2 miles from the bridge!
7:40am: Monique just spotted a very large shark in front of the boat. It was brownish-grey in color, very large and was swimming very slowly on the surface right in front of the boat. And a few minutes later we saw a turtle.
8am: We passed under the Channel 5 bridge of Hwy 1 and are now in the Golf of Mexico! -SLC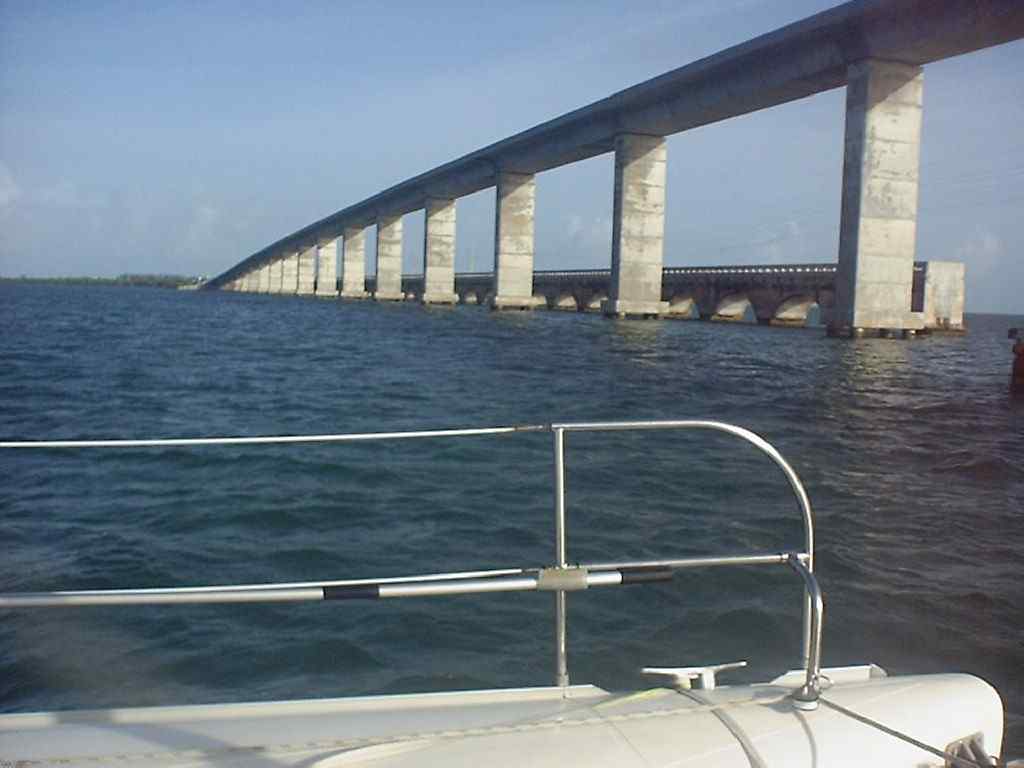 Under Hwy 1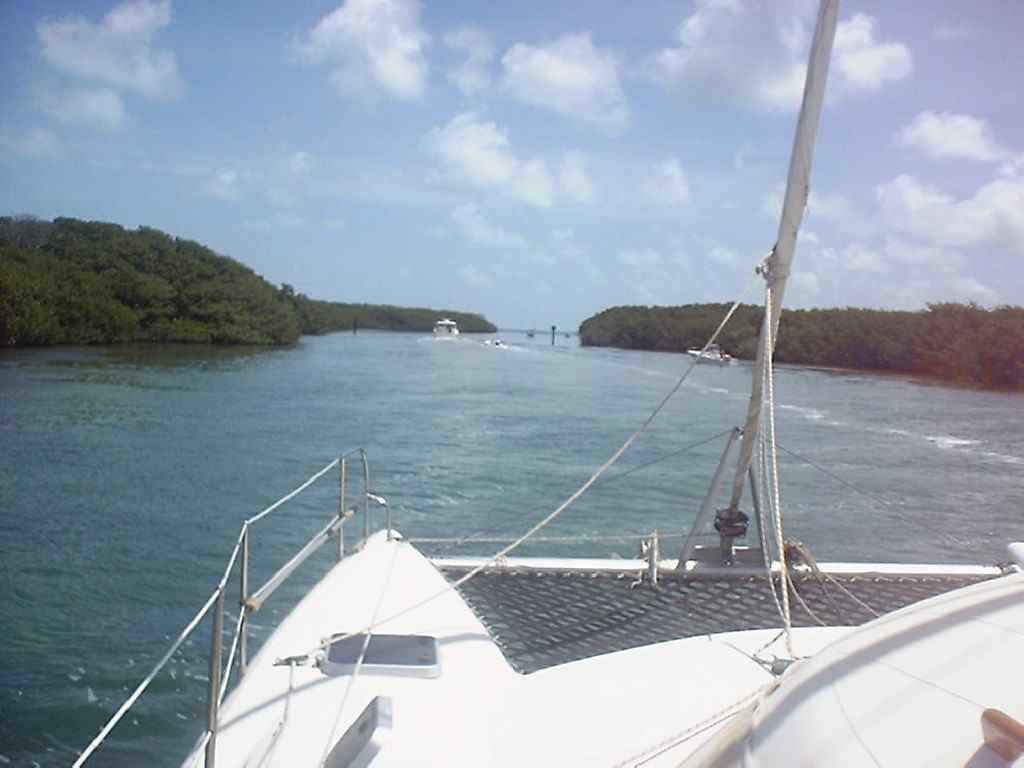 Through the mangroves
After motoring between the channel markers for about 25 miles we finally arrived at Buttonwood Bay and Key Largo. Our original plan had been to land in Miami and then call Jack for better directions. All we know is that he lives on the south side of Buttonwood bay, has a lot of boats, and lives at 19 Jolly Roger Drive. I also remembered that Dan mentioned something about about his place being up the river. We dropped the anchor and Jo set off in the dinghy to try to find Jack. He ended finding him and soon Jo and Jack showed up in Jack's boat. He guided up to his place. As we motored up the channel to his house the neighbors rang bells and shouted "congratulations". What a welcome! Once we got to Jack's place we saw how perfect it is. He has a great place for us to tie up, water and power, a workshop, a nice bathroom and shower, and a bed for us if we want to sleep off the boat. He made us feel most welcome. -DWH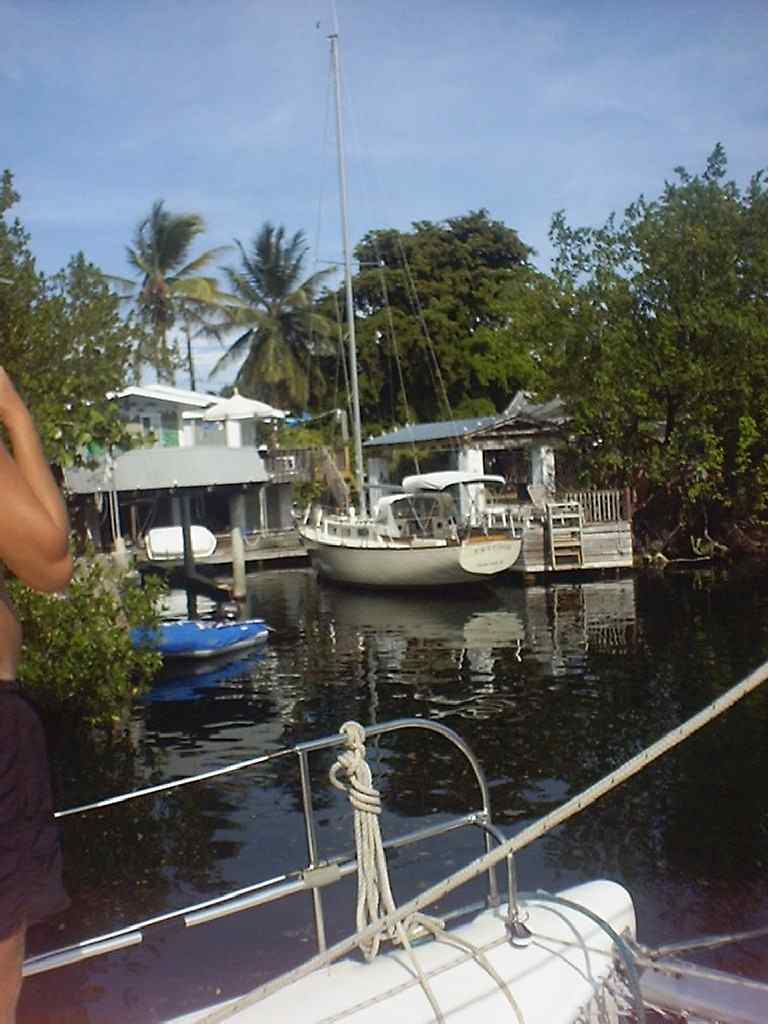 Pulling up to Jack Jelsema's place in Key Largo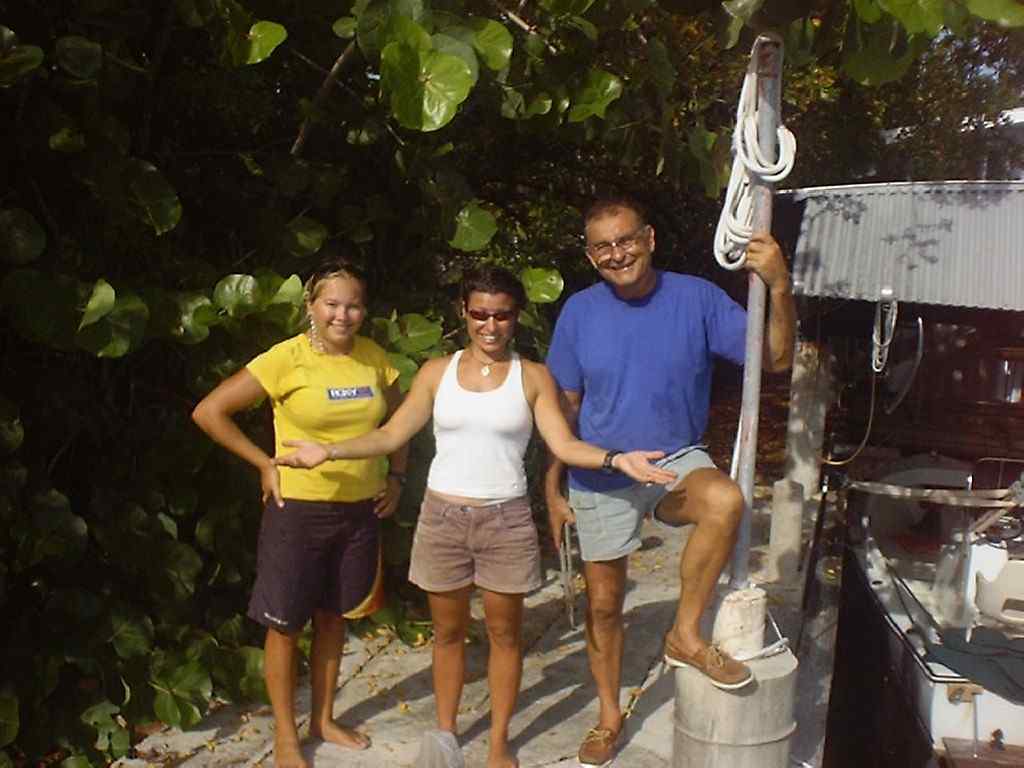 Jack and the girls.
Forward to Florida Log