Back to Trinidad & Tobago Log
Virgin Islands Log
Monday May 27th, 2002
We have a few things to do this morning... check out, buy more sunbrella, update website, etc... Then we we head for the Virgin Islands. -SLC
Along with checking out this morning, Captain Jo also signed in our additional crew. It will be good to have Monique along with us. -DWH
1:30pm: Lines are loose. Off to the Virgin Islands for the top secret wedding of Howie and Polly. I am now free to write about it because we will not be updating the website until after the big event. All along we have been talking about getting Ladybug ready for the "big party". While we wanted her to look good for the party in Tobago, I was often actually referring to the wedding. It has been a fun secret. -DWH
4pm: We have good wind and are pounding along at 8-9 knots right now. It feels like the Indian Ocean. Cool. -DWH
It is now 7pm, Jo spotted a lifebuoy and we had a little man overboard practice. We did pretty well and now Ladybug has one extra lifebuoy. -MLR
Tuesday May 28th, 2002
4:30am: The wind has dropped to 10-15 and slowly shifted from NE to SE, putting us on more of a down wind course. Our speed has dropped to below 5 knots, but if it stays like this we will be flying the spinnaker once it gets light. -DWH
6:30am: Spinnaker up. We are doing 4.5 - 5 knots with about 6-8 knots of apparent wind. We have two fishing lines out and are ready to catch lunch. We have passed a couple fishing boats this morning, so there must be fish out here. -DWH
11:50am Spinnaker back down. Main w/ 1 reef and jib out. Apparent wind is 15-20 at 90 degrees to Starboard. Boat speed is about 7 knots. -DWH
Noon: Our position is 12 03 N, 62 32W. We have made about 135 nm since leaving yesterday afternoon. We have about 365 nm to go to Tortola, BVI. -DWH
2pm: Talked to s/v Simmer on the SSB. They are in Tobago. They had news from our friends Jeff and Laura on s/v Wings of Time. Laura went into false labor a couple days ago. They were pretty excited, but the baby didn't come. If she does not deliver by June 4th the doctor is going to induce labor. Good luck to them. -DWH
Later Jo also had a little radio action. He talked to a French warship.
Wednesday May 29th, 2002
It was a good night of sailing. The wind came up a little and so did our speed. During my 3-6am shift we had apparent wind of 16-24 at about 70 degrees, and we averaged just over 8 knots. The boat really sails nicely in these conditions. The only problem is that we are probably going a little too fast to catch fish. -DWH
Noon: Our position is 15 20 N, 63 10 W. We have made 162 nm in the last 24 hours. We have just over 200 nm to go to Tortola. It is a beautiful, sunny day. -DWH
We had no fishing action all day. Then, just before sunset, I saw the hand line go tight for a second. It went loose again, but a few seconds later it went really tight. It was something big. I grabbed the line, but the fish was off within 3 or 4 seconds. As the line went slack again I saw the back and fin of what must have been some kind of bill fish. I pulled in the lure and found what I expected......a bent hook. Oh well, it was exciting for a few seconds. -DWH
Thursday May 30th, 2002
6am: It was another easy night of sailing. We have about 105 nm to go. Since we will not make Tortola during the day today, we will take it easy and plan on arriving at day break tomorrow. We should be able to clear in at Road Town and still have plenty of time to reach Trellis Bay. None of us remembers exactly when Howie and Polly are arriving, but it seems to me like it was Friday. They have a place rented right next to the Loose Mongoose. If they are not already there when we arrive, then we might even be able to meet them at the airport, which is only a short walk away. Either way, we are pretty excited to see the happy couple. What an honor to share in their big day. -DWH
9:15am: Had a hit on the Provider. We were excited, anticipating fresh fish for lunch, but it turned out to be a barracuda. It is just not worth the risk of getting fish poisoning, so we released it. It had nasty teeth, and I had to be very careful removing the hook. -DWH
Noon: Our position is 17 24 N, 64 04W. We have made 132 nm in the last 24 hours. We have about 70 nm to go to Tortola. It is another beautiful, sunny day. -DWH
1:30pm: The homemade pizza was just coming out of the oven when another fish hit. It went down like a tuna, and I thought that we were going to have way too much food - three pizzas and a tuna. When we got the fish to the boat it was another barracuda. I was not as disappointed as I was this morning. -DWH
Pizza was great!! -SLC
3:20pm: Land Ho! It's not Tortola, but it is one of the Virgin Islands.....St. Croix.
4:45pm: Dropped the main to slow the boat down to about 3 knots. This should make our arrival in the BVI at first light. -DWH
Friday May 31st, 2002
1am: There are lots of lights on the horizon. No main sail and jib is furled to slow us down more. We 5 hours to daylight and just 14 nm to the next way point which starts our entrance to Road Town Harbour. Strange to think that we started here just a few years ago. We have all learned a lot and had a lot of fun since we left Maya Cove 26 months ago.
We are still averaging 3.7, can I furl the jib more and still maintain steerage with the auto pilot?
2am: That worked, I got the speed down to 3.2 knots. Seems like we are barely moving, but GPS still says 3+ knots. We have about 15 knots of apparent wind and the sail is now about the size of a handkerchief.
2:30 Pan pan for overdue fishing vessel 38-40 ft between Road Town and Anguilla(?), didn't get name of vessel (because some big ship was yelling at some one on his port side that was less than 2 miles away and getting closer. He asks "What are you doing?"). -SLC
Lots of radio traffic from the US Coast Guard Station in San Juan. We have heard three "pan pan" calls - one for a missing yacht, one for an overdue fishing boat, and one for a boat transmitting a distress signal. -DWH
5:30am: Spent the last couple hours basically holding position 4 nm south of Salt Island Passage waiting for it to get light. Now that the sun is coming up, we are heading in. The islands are so beautiful. If it wasn't for all the charter boats this would truly be cruising paradise. -DWH
Anchor down in Road Harbor Tortola 8:00 AM. Off to clear customs and immigration! -Jo
10:30 Anchor up and off to Trellis Bay!
We arrived in Trellis Bay and anchored just off of the Loose Mongoose. I got in the water to make sure that we were set and also that we had room to swing 360 degrees. Then we heard shouts from shore. It was Howie and Polly!!!!!!! Fantastic. -DWH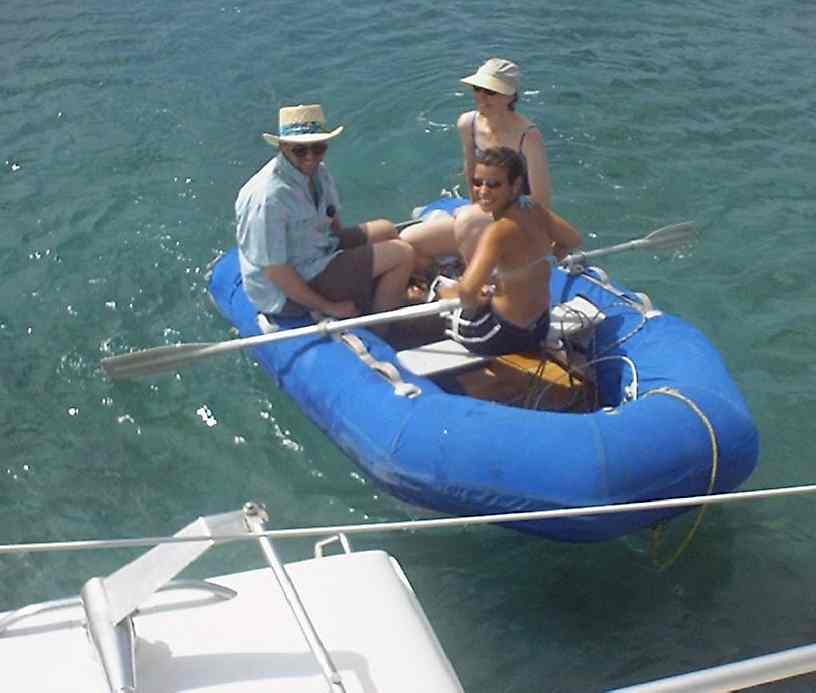 Smiles all around. Howie and Polly were happy to find Ladybug at anchor after spending the morning in town. They weren't sure exactly when we were arriving, they were just hoping we would make it in before the big day! -SLC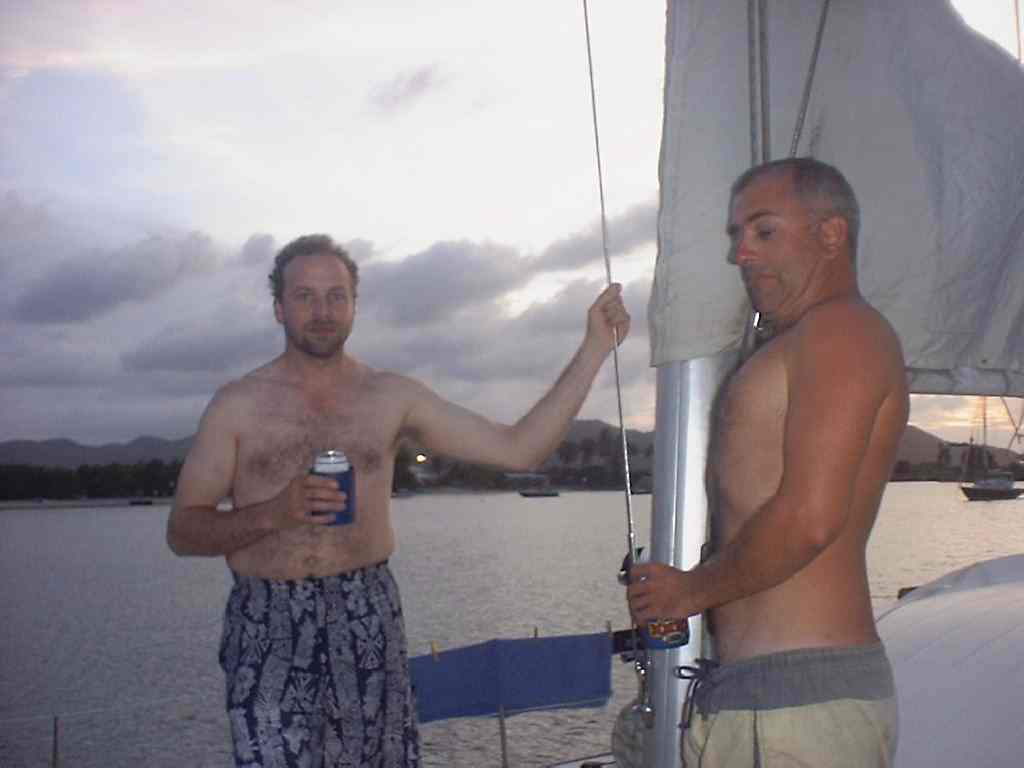 Well earned beer after a long afternoon of snorkeling.
Polly trying to catch dinner.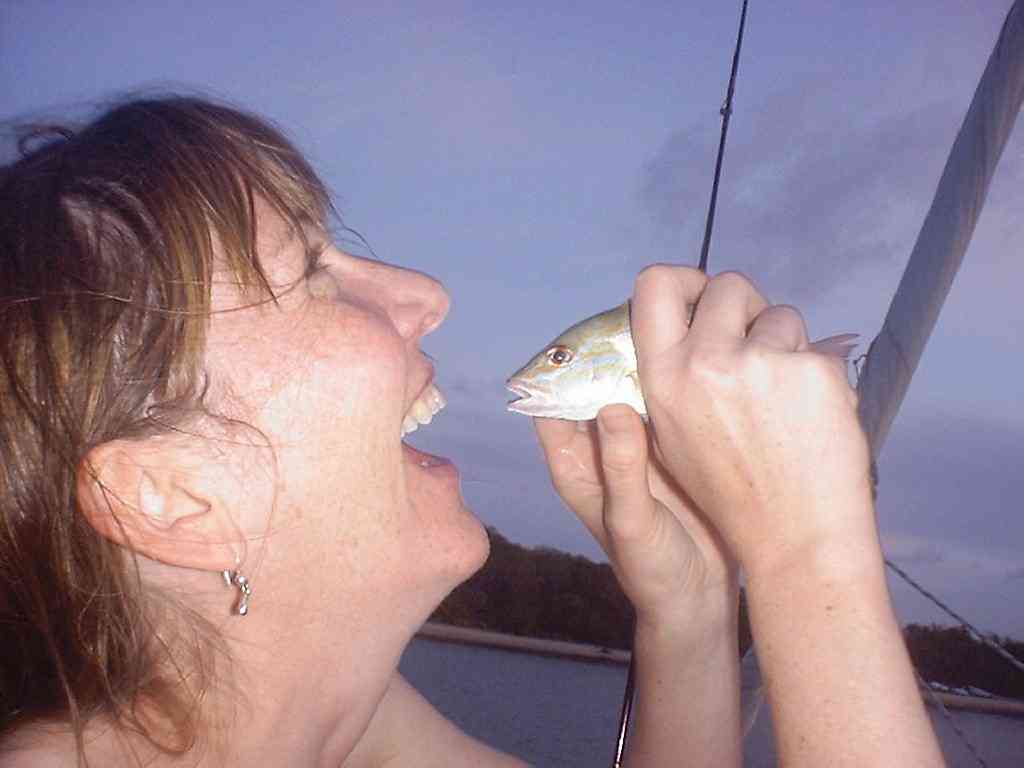 Polly eating dinner.
Later we all went snorkeling. We saw rays, barracuda, and conch. I found one really large conch that became part of dinner. While I was cleaning the conch, Stacy used a small part of it as bait for fishing. Right away she caught a nice snapper. It also became part of dinner. Polly also caught a small snapper. In addition to the conch and fish, Monique made chicken and rice. After dinner and a few cocktails we all headed into shore and to the 'goose. A good time was had by all. -DWH
Saturday June 1st, 2002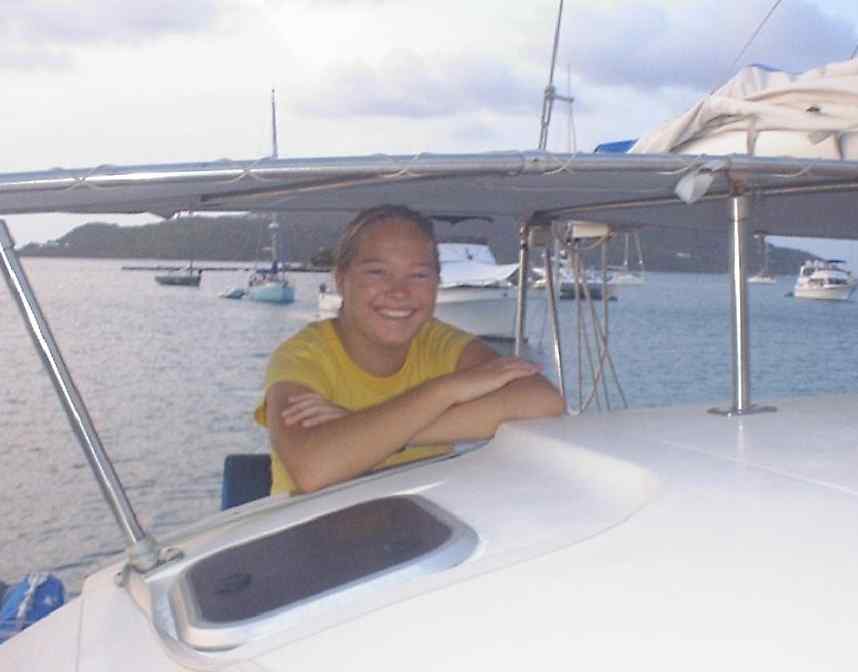 We cleaned up the boat a little. Monique has proved to not only be a competent sailor and good company but also a lot of help in other ways. She was up early and did all the dishes. Later the girls went into town to do girl things. The boys spent the day hanging out at Trellis Bay. -DWH
Polly and Howie moved onboard. They have the aft cabin in the port hull. Later we all went to the Loose Mongoose for dinner and then back to the Bug for an early night. We are going to "The Baths" on Virgin Gorda tomorrow. -DWH
Sunday June 2nd, 2002
7:20am: Anchor up. Off to Virgin Gorda. -DWH
We saw turtles. Way cool.
9:00 AM Tied up to a buoy in The Baths
Click on A Day at The Baths.
Monday June 3rd, 2002
HAPPY BIRTHDAY, RYAN!!!!
HAPPY BIRTHDAY, POLLY!!!!
We started the day with French Toast to celebrate the birthdays.
Noon: Anchor up, we are on our way to Jost Van Dyke for the afternoon and evening!
At 2pm we listened to the weather forecast. It sounds like it is going to be more southerly than normal which is not so good for anchoring at Jost Van Dyke. We decided to go to Cane Garden Bay instead. We pulled up the fishing line before making our way through the reef and into the bay and found that something had sliced our line. That's too bad. That lure was pretty lucky. We caught 2 sailfish, 2 barracuda, a dorado, and lots of tuna on it. Once the anchor was down Howie, Polly, Monique and Jo went to shore. Stacy and I stayed on the boat. I read and Stacy baked a birthday cake for Polly. Later Monique came back out the the boat and picked us up. We all had dinner on shore (Thanks Howie) and then came back to the Bug for cake. -DWH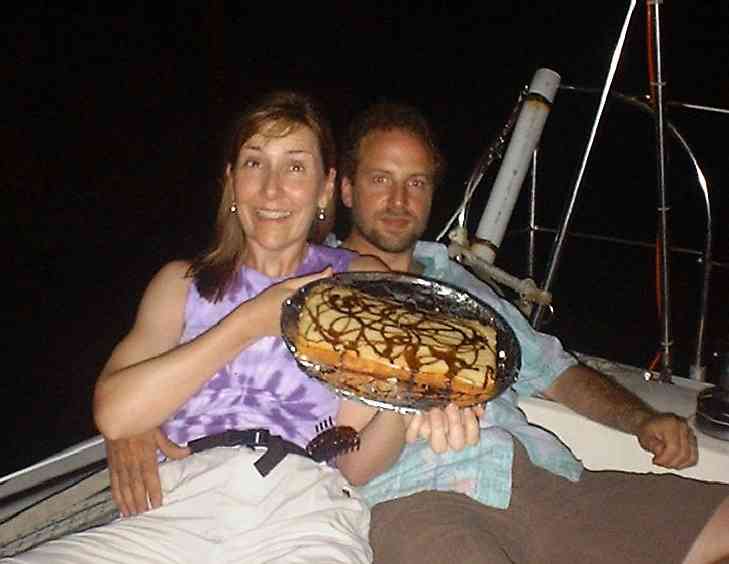 The birthday girl and her cake.
Tuesday June 4th, 2002
HAPPY BIRTHDAY BERNARD!!!!
I got up early this morning. It was very peaceful. There are a lot of Moorings cats in the anchorage, but there was one other cat that caught my eye, so I took the dinghy over to check it out. It was a "Freebird 50" from Northshore. I've never heard of it before, but it was a nice looking boat. It was too big and expensive to buy or maintain, but it looked nice. After my little dinghy trip I also went for a swim. By the time I got back everyone was up and we got the boat ready to go. We pulled the anchor up just after 9am. -DWH
We wanted to stop at Sandy Cay, but the wind wasn't good for anchoring. Luckily Jo offered to stay on the boat and motor around, while the rest us do some snorkeling. It was really nice except for the loads of sea urchins that covered the bottom. Jo picked us up again and we are now on our way back to Trellis Bay. -MLR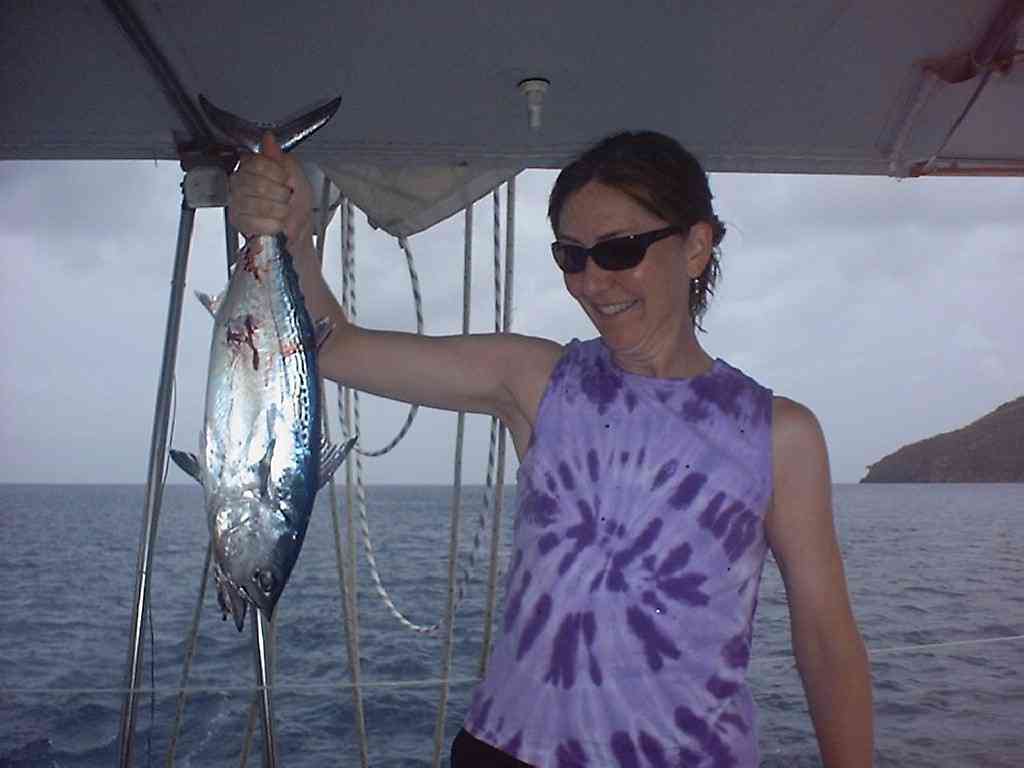 Polly pulled in a nice tuna. The tuna had huge teeth marks(check out the blood dripping under her hand). But what ever it was it did not get a good hold of it and left it for our dinner. Dave chilled it for sashimi and grilled tuna tonight. -SLC
Anchor down in Trellis Bay at 2:05pm. Time for a cheeseburger in paradise. -DWH
Wednesday June 5th, 2002
Click on A Wedding to Remember!!
Thursday June 6th, 2002
After dinner last night the crew of Ladybug headed back to Trellis Bay while Howie and Polly went to the villa they are renting over on Brewers Bay. This morning the crew was still a bit tired from the big party yesterday so we got a slow start. We left Trellis Bay around noon to head for Cane Garden Bay, which is right next door to Brewers Bay. Later in the afternoon Stacy, Monique and I hiked over the hill to visit them. Polly made a wonderful dinner and we had a little South African wine.
Friday June 7th, 2002
Getting website ready for another update. Did some pre-passage checks: oil, fuel, water, etc... We will be leaving in the next couple of days for Florida. -SLC