back to Passage to the Marquesas 4/11/01 - 5/2/01
French Polynesia Log (Marquesas, Tuamotus and Society Islands)
Thursday May 3rd, 2001
What an absolutely beautiful anchorage. It is a narrow bay with steep rock walls on three sides. Despite the steepness, the walls are covered with lush vegetation. There are also a couple of huge rocky spires. The bay was originally named "Bay des Verges" (Bay of the Phalli) by early explorers. The missionaries disapproved and inserted an "i" making it "Bay of Vierges" (Bay of Virgins).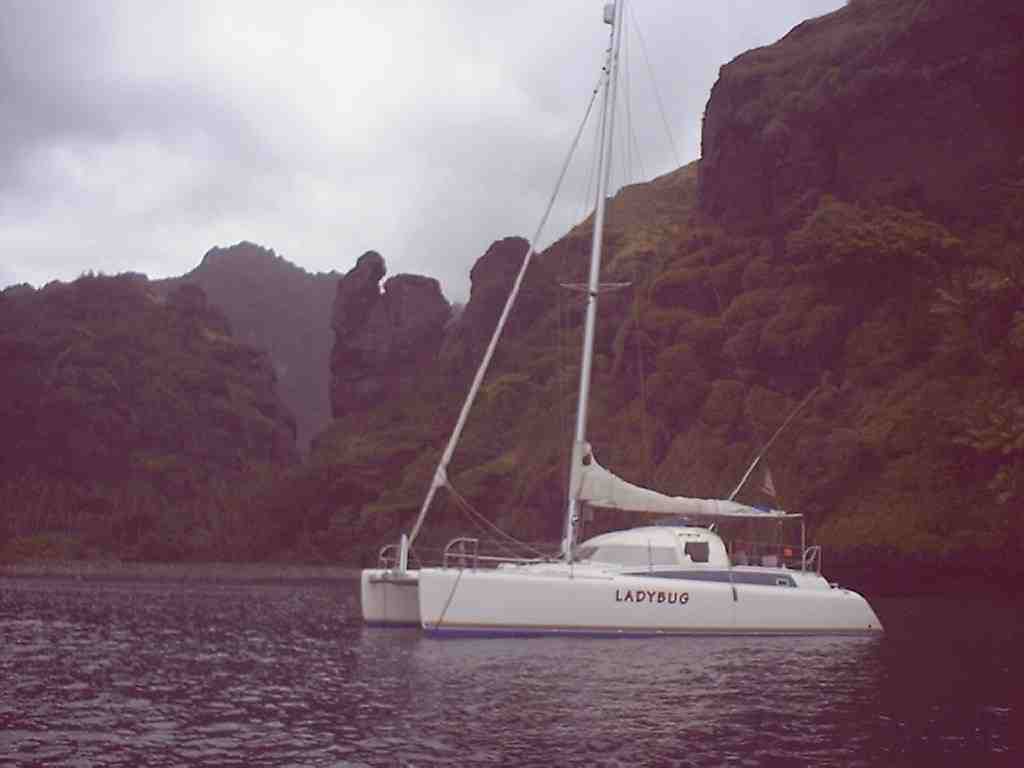 Ladybug at Fatu Hiva.
Jo and Guy tried to find the waterfall today. They had a long hike, but did not find it. When they got back to town they ran into Barry from s/v Cherokee. He had a map. After checking it out they discovered that they had gotten very close but turned back just before they reached it.
I did a little skin diving this afternoon. I had gotten used to seeing beautiful coral fish in the Caribbean.. Even though I couldn't name most of them, they had started to get familiar. Now there are new fish which makes it that much more interesting. -DWH
Friday May 4th, 2001
This morning we had the best grapefruit for breakfast. The local name is "pampamoos". They are larger than the grapefruit we have at home and much tastier. We traded a few fish hooks for three of them.
In general it seems that people are very anxious to trade for things. The local economy on Fatu Hiva is much less based on money. This makes sense because other than a one room grocery store and the bakery, there doesn't seem to be any place to spend it.
This morning we hiked up to the waterfall with Barry from Cherokee. It was a nice hike taking about 45 minutes. The waterfall was about 200 feet high, but there was not much water. We swam in the pool and Guy impressed everyone with a few high dives. On the way back Stacy traded some girlie things (nail polish, lipstick, etc.) for a stalk of bananas, some limes, a couple pompamoos, and some green papayas. We also picked up some fresh baked bread.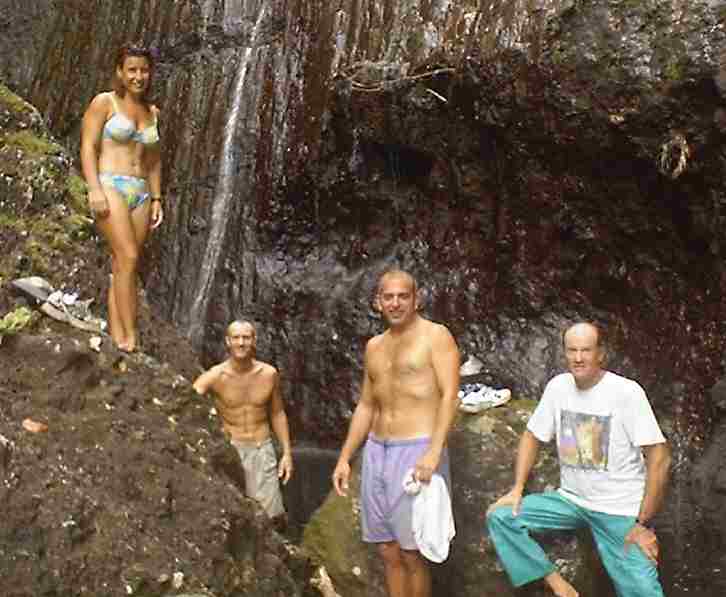 Guy and Natalie went fishing in the dingy while I took to the water with the spear gun. I got a couple shots off, but with no success. Guy and Natalie did much better. They got four nice fish. Two of them were "little tunnys" (tuna family). The other two we could not identify, but the local fisherman verified that they were good to eat. Natalie made curry rice and some pasta and came over with the rest of the crew of Beacon. Stacy cooked up the fish and we had a fantastic meal. -DWH
I was surprised at our success in fishing. So pessimistic was I that we wouldn't catch anything I took along but one lure and one hook. We hadn't been gone for more than 15 minutes before something took my ill tied hook off the line and left us hookless. So it was back to the boat and restart the fishing trip. This time I prepared us a little better with spare hooks and lures. The fishing was very exciting. We were continuously getting bites and fighting fish to the boat only to loose them before landing them. That wasn't always the case as we managed to land 5 of which we put one back. We also clowned around and acted like amateurs getting the line jammed on the reel and then wound around the propeller. This is the second time I've managed to get a fishing line wound around a propeller in the last 3 weeks. I fear that it may become one of my specialities. Nevertheless we brought home the bacon and had an excellent feast that evening. -Guy
We were invited for cocktails on s/v Argonota with Julius and Sally. Most of the anchorage was there, luckily they have a large boat with a large cockpit. We met a few new people, talked to old friends, and watched the sun set. We left a little early because we were anxious to find a fish feast back on Ladybug. -SLC
Saturday May 5th, 2001
Jo and Guy were ambitious early this morning and filled up all of our water tanks and jugs. Jo even did his laundry. I got up and rewired the outside VHF speaker and then changed the oil on the port engine (hours = 1587). Stacy did the dishes from last nights fish dinner and then did a tour of the anchorage in the kayak. She arranged for an email to be sent by Natalie on Beacon and traded some books with her and with Suza on Voyager. Rick and Suza on Voyager also gave us some frozen tuna (They caught a large one on the passage and had lots of meat).
Guy and Alix from Beacon went kayaking and fishing in the afternoon. No luck today, but maybe the fish gods know that we already have tuna for dinner.
Later the guys headed in for a little volleyball. There is a court right next to the landing. There was a good mix of locals and cruisers. The teams were always mixed, but when there ended up being a lot of cruisers on one team they got killed. The rules were not completely clear, but that was not the reason. The locals are really good.
Stacy and I headed to shore in the kayaks. As we approached the landing we were swarmed by little kids. At one point I had 5 or 6 of them on, or trying to get on, the kayak with me. I rolled it throwing all of us into the water and then let them have it while we watched the volley ball games. They seemed to be having more fun than I was, and I guess the rule should be "who ever is having the most fun gets to play with the toy". Once it started to get dark and we were ready to head to Ladybug, they brought it right back.
Ken and Judith from Sunbow stopped by for awhile. They had just arrived today after a 17 day passage. Though they were about 20% faster, we were pretty much in agreement on the passage. It was pretty comfortable and really great with the spinnaker up. In general, people in monohulls reported less comfortable conditions with lots of rolling.
We had a fantastic dinner of fish curry (Thanks to s/v Voyager for donating some frozen tuna left from their passage) and then discussed our trip to Hiva Oa. Our original plan was to sail during the night, but after reviewing the charts, we decided that we would be better of waiting until morning. It is only about 45 miles so we should have no trouble getting there while it is still light. -DWH
Alix and I, as mentioned above, took the kayaks out on an exploratory adventure paddle combined with fishing trip. We had a length of line tied to one of the boats fenders sitting between Alix's legs and trailing a dangerous (to fish that is) looking lure. We went for a good long paddle in and out of all the bays where we'd caught fish yesterday but didn't get a single bite. The are two possible reasons I can think of for our lack of success today. One, we were too early. We went kayak fishing just after midday. Yesterday we'd done it in the late afternoon evening. Two, we were travelling too slowly. The dinghy's speed was obviously much faster than what we could do in the kayaks. Nevertheless, it was a pleasant paddle and we got to go up the gullies that we couldn't explore with the dinghy. -Guy
Sunday May 6th, 2001
Up at 5AM. Anchor up and sailing by 5:30. We are bound for Hiva Oa where we can officially check into the Marquesas..
There has been much discussion of the check in situation here. It used to be illegal to stop at Fatu Hiva before checking in, but boats still often did it. It's hard not to stop at the first island after 3000 miles of ocean. Now the rules have been relaxed, allowing a 72 hour stop. Some other cruisers have said that there are people who report all the boat names in each anchorage and that the official monitor the radio communication, so they know who is here and since when. They warn that you will be fined if you don't follow the rules. Many others say that it's no big deal. They will check in eventually, but they are really not concerned about when. Some have been at Fatu Hiva for a week and are not planning on checking in for several days. Our position is that the rules are reasonable, and so we will basically follow them (we must admit that we stayed slightly more than 72 hours, but only a few). If we want to come back to Fatu Hiva, it's only a 6 - 10 hour sail.
At 9:30 we are on a big broad reach with 20 knots of breeze. Ladybug is cruising along nicely at about 8 knots. The motion is not as smooth as going downwind with the spinnaker, but it's nice and feels quick. In the next couple hours we will pass between the islands of Montane and Tahuata. We should be arriving at Hiva Oa sometime in the early afternoon. - DWH
Picked up a 26 inch yellow fin tuna just before entering the harbor.
Dropped anchor 1:55 PM. Dave is already busy filleting the fish for tonight. A barbecue might be in order - Jo
Trojka Danmark is here! Our friend John left the Galapagos about a week ahead of us. Trojka Danmark is only 22' long, so it took him a little longer. He arrived late last night.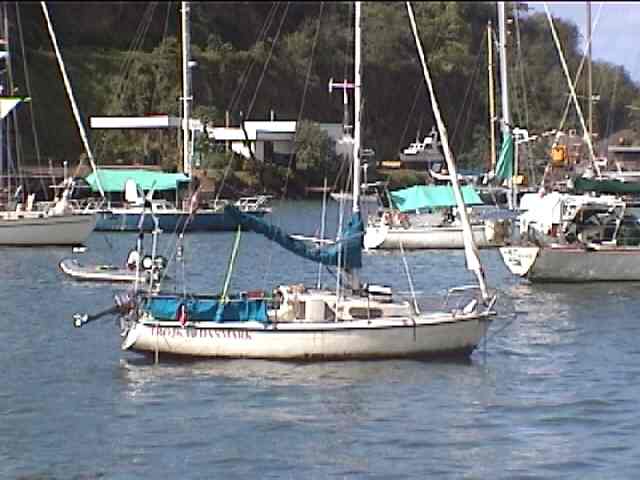 Trojka Danmark at Anchor.
Stacy, Jo, and I went into town to see if we could check in. When we got to the police station there was a sign explaining that the office was closed because they were on "external duty". We later found an officer. He explained that it was election day. All the shops were closed, and it looked pretty much like a holiday.
After returning from town we invited John (s/v Trojka Danmark) and Nils (also a single handed sailor) over for a fish dinner. It was really fun hearing about John's passage. He saw killer whales, caught lots of fish, almost lost his mast, and very nearly got run over by a freighter (Passed 75 meters in front of him. He woke up when he heard the engine.). I especially liked his story about a very tough Dorado. He got the fish up to the boat but realized it was much to big for him to eat, so he tried to release it. He was not able to get the hook out while the fish was still in the water, so he pulled it into the cockpit. John finally got the hook out, but had trouble getting the fish back overboard. It flopped around madly eventually getting inside the boat and even in his bed. John was fighting to control it while it basically trashed the inside of the boat. He eventually wrapped the fish up in a sheet and was able to get it out of the boat. "And all I wanted to do was save the stupid fish's life." -DWH
Monday May 7th, 2001
We all went back into town again this morning. Captain Stacy worked on getting us checked in. I tagged along. Eventually we ended up at a hotel that has internet access and cold beer (about $3/ bottle - not South American prices, but we heard it's $9 in Tahiti, so we'd better enjoy it while we can). John was also there. We checked email and had a couple cold ones. -DWH
My second day as captain is proving the job not so difficult. The line was long in the morning, so the official told me to come back at 2pm. When I arrived back at 2pm, the official was running off to some business at the port. He told me to come back the next day. Well not too bad, I will try again tomorrow morning early. -SLC
Hiva Oa is quite a bit more modern than Fatu Hiva. There are nice roads. There is not much traffic, but the cars are nice. In general it seems like a pretty prosperous place. It is also very lightly populated, as are all the islands. I believe that I read that the entire population of the Marquesas is about 6,000. This is way down from the 100,000 that lived here at one time. -DWH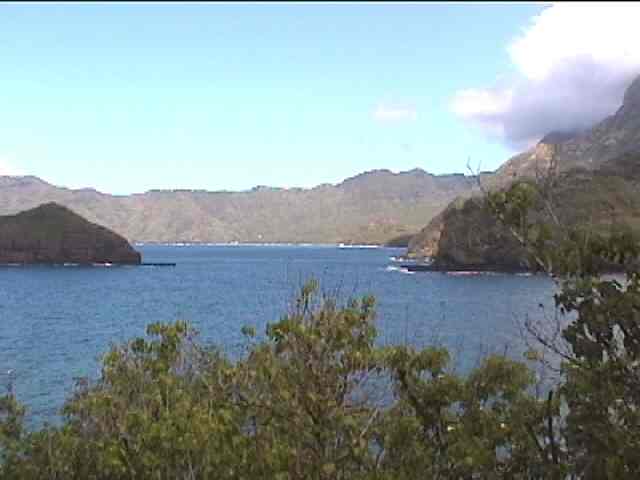 Hiva Oa!-DWH
Tuesday May 8th, 2001
Stacy got up early this morning and headed into town to try to check in. After taking her to shore in the dingy, I came back to Ladybug. I was feeling ambitious. First I scrubbed the transom, a big job on a cat. Then I started to work on the fuel tank but got side tracked and ended up doing some wiring. It is amazing how easy it is to get side tracked when you're not sure how to do the task at hand. Jo and I have been thinking hard about how to fix the fuel tank. It is not going to be simple. Actually, fixing the tank itself is easy, but how to get at it? It was installed before the boat was fully assembled, so it involved cutting it out. I guess this is also pretty easy. The truly hard part is how to put it all back together so it looks good and so we can also get at it in the future (in case other repairs are needed). -DWH
I headed into town around 7:15AM. I got a ride as soon as I got onto the road. I was waiting at the police station around 7:30, I wanted to be sure to beat the crowd today. When the official arrived he was all dressed in a fancy uniform. Today is a holiday, something like Memorial day. He told me to come back around 8:30, so I went down the street to buy a couple of French Baguettes (bread). There was a ceremony at 8AM. They gave a speech from the French minister, flowers for the memorial and some music (probably the national anthem). I was the only non-local person at the ceremony, I felt quite special. The ceremony only lasted 15 minutes. Around 9 the guy came back to do my paperwork. I got us checked in. There were no charges. I think we will eventually have to buy stamps for our visa (30 $ per American passport, Europeans don't need to pay), and post bond to prove we can be exported from the country if necessary. The bond is $800, and completely refundable. The problem is you lose some money to the credit card company in the process, so we are trying to avoid this - if possible. So for now we are only checked in for 30 days....we will see what they say when we check in Nuku Hiva (the next Marquesa port where we will need to do more paperwork).
I was quite happy because when I started talking to the official yesterday he kept going back and forth between English and French. But today he only spoke French to me, I guess that means my French is understandable. I learned French about 5 years ago in Africa, but have not used it much since. I am happy to be using it now. It makes me feel very valuable to have this skill on the boat.
9:30...By now I had eaten half of one of the baguettes, so I went back to buy several more. Then I spent an hour on the internet, and finally found my way back to the boat. Dave was busy working on rewiring. We made egg sandwiches for lunch, then Guy and I dove into the laborious project of doing laundry by hand. There is plenty of water here (shower + 3 more taps on shore where we land our dinghy). We were done washing and showering in about 2 hours. Then we hung all of the laundry on the boat and relaxed.
When Dave was done with his project, we decided to go for a walk. We found a nice dirt road, that went for 1.5 miles off the main road. I could smell all kinds of fruit. The smells in generally were very strung and mostly nutty. I could smell the over ripe red/purple berries that were all squashed on the red. I smelled some passion fruit, but didn't see the tree. I got strong wafts of coconut, must be from the nuts on the ground....coconut trees never smell like coconut. Soon the dirt rode turned into a stone path, and finally into two muddy tracks with lots of grass growing over it. The vegetation was very dense with super tall skinny trees and finally ended up in an open green space that was marked as private property. It was a good walk, but very dark by the time we got back to the boat. -SLC
Wednesday May 9th, 2001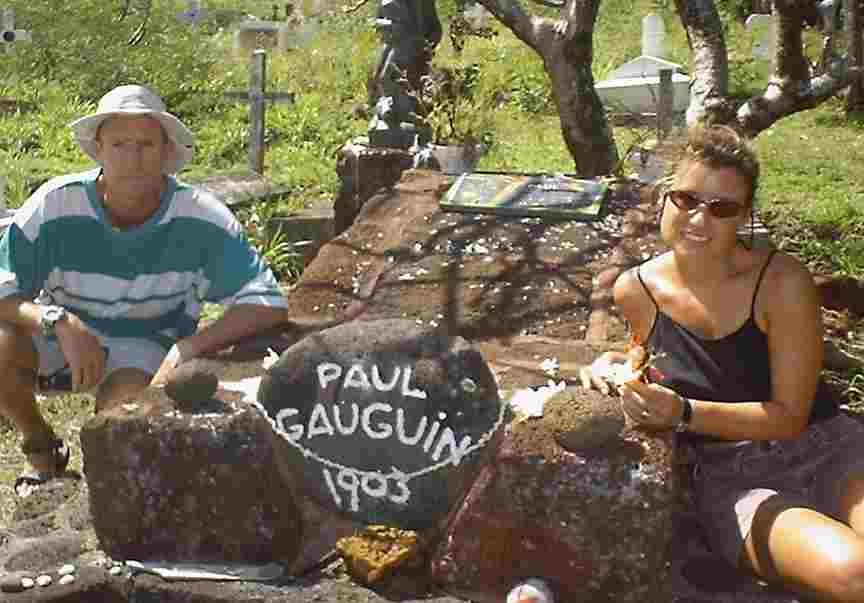 We all headed into town today. The French artist Paul Gauguin lived here, so Stacy, Guy and I tried to go to the Gauguin Museum. It was closed but there were instructions to go to the caretakers house. When we got there he was having lunch and seemed cranky because we were disturbing him. He said he would be busy for a couple hours, but that he might have time later in the afternoon. Being like small children, our attention span is not that long. We had lunch, hiked to the cemetery and viewed Gauguin's grave, and then had ice cream cones. Later we ran into Jo who was riding his bike around town. We split up, with Guy going to by fruit and Stacy and me going to buy other groceries. We all met up at the hotel where we had beers and worked on the internet. We all checked email and Jo updated the website.
Rick and Suza from s/v Voyager were also at the hotel. They worked at Cape Canaveral. It's a big place, but I asked if they knew Guy Ethridge or Dean Zunz, a couple guys I went to school with who work there. They knew both of them pretty well. They said they would get a message to Guy and Dean for me. Excellent.
I called my parents today. It is good to talk to them. The last time was about 6 weeks and 4000 miles ago. - DWH
Thursday May 10th, 2001
We have decided to move on today. We are going over to Tahuata. Jo and Guy filled up our diesel and gasoline. Stacy and I went in to make sure we were cool with the officials and to pick up a few groceries. I also called my grandmother. It was good to hear here voice.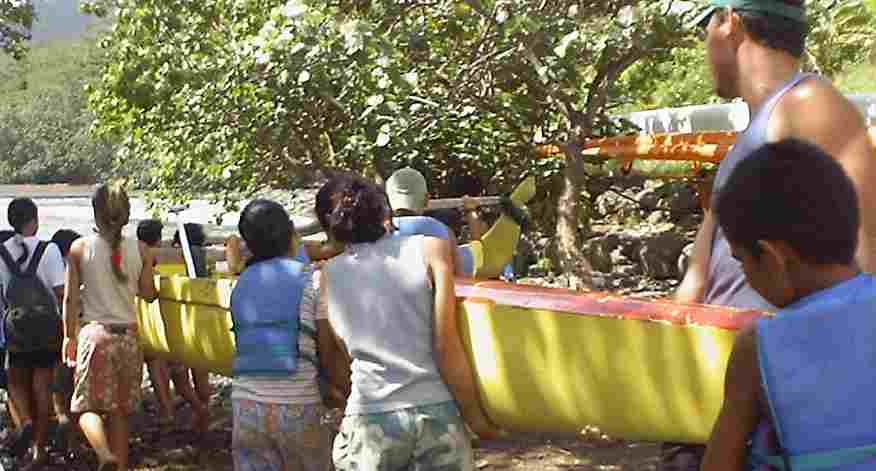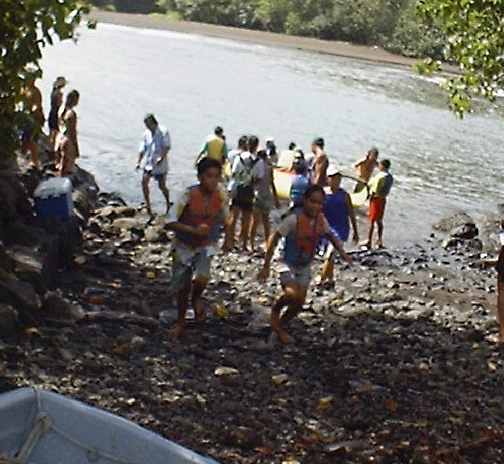 While waiting to take the dinghy back to Ladybug we got to see a bunch of school kids get ready for a rowing excursion. About 6 went at a time with one adult, while the rest waited. They seemed to really love the water and the chance to do something other than schoolwork.-SLC
We lifted the anchor around 2:15. -DWH
5PM and anchor is down in Hana Moe Noa on Tohuata. There is a nice sandy beach, it is quite steep. We had a nice sail. No fish, but we got to see some dophins on the way in. One dolphin jumped 4 or 5 times in a row. The jump was straight into the air, so the dolphin appeared to be standing on its tail. I also managed to get a wasp sting between my fingers. This was quite painful. The pain went up about half way to my elbow, and immediatly swelled. It feels better now, so it will be fine.
Had to say goodbye to Beacon and Trojka today, but we will see John and Nat in about 2 weeks in Tahiti. -SLC
Took the last few minutes before sunset to go snorkelling while Guy tried his luck at trolling for dinner. I was kind of excited to go for a swim since we saw a manta ray while dropping anchor. Sure enough in my 15 minute dive I saw the manta and 5 spotted eagle rays. The manta was about 5ft wide and came real close to me. Finally about ten feet away it curved away and I realized it was actually taking a better look at me, their eyes being under their body.Guy came back empty handed so Dave is preparing a most excellent dinner "sans poisson" -Jo
Friday May 11th, 2001
This is a great anchorage. The water is crystal clear and warm. I pumped up one of the kayaks this morning and with my goggles went for a swim and paddle. When I'm swimming I have the kayak tied to a leg so that it doesn't blow away. One of the great advantages to having a kayak floating on the surface above you while you're snorkeling is that if you find sunken pirate treasure (gold medaleons etc.) you can put them in the kayak and not weigh your pockets down with it. So far I haven't found anything in the way of sunken treasure but I keep looking. There are a few reef fish scattered here and there. I saw yellow box, butterfly, angel and parrot fish. There were plenty of others I couldn't name including the little blue neon ones who's name I've forgotton. I also did some snorkeling with our friends from Bambola and we saw a small manta-ray swim by and do some acrobatic sommersalts in front of us beforing returning for a lap of honour and doing them again. I'm sure it's the same one that Jo saw yesterday and is probably resident in this bay. We also spotted an octupus near to the shore and as soon as it saw us it hid itself away in a hole in a rock pretending that it wasn't an octupus.
At lunchtime I took a few hours off having fun which gave me a chance to inspect my sunburn. At 4:30pm I put on a T-shirt and hat and took the dinghy, a fishing rod, a spare lure and the luck of the Irish out fishing with me. The first fish caught was a thin silver one with a funny name that we can't remember. It tasted like smoked herring. Fish number two was rather unfortunate. It was a gar fish and after striking the lure became hooked behind the gill. Once near the boat I knew I didn't want it and had to work out how to get it off the hook. The teeth looked pretty scarey and I didn't want my fingers anywhere near them. In the end I landed it in the bow and using the sheath of the knife I held its mouth against the side while I worked the hook out. It was actually very well behaved and didn't flap at all while I unhooked it and threw it back. It swam off and I hope it survived. Fish number three was the most exciting. I hooked this one a bit too close to the rocks so I had to drive the dinghy a safe distance from the shore before I could fight it. All this time the ratchet was letting out line and half of it was out by the time I killed the engine and started fighting it. It put up a great fight and every time I pulled it in a bit, it pulled out just as much line. In the end I made the mistake of tightening the break on the reel to try and land it. Needless to say it then went and broke the line and swam off with my lure (or was it Jo's lure?). I was trolling back across the mouth of the anchorage and the sun was just about to set when number 4 struck. This time, having learnt my lesson, I left the break at its previous setting and kept the line tense and gently fought the fish. A good sized tunny. Firsh number 5 was also a tunny, slighty smaller than the previous one. The last two fish I caught using the John of Trojka technique. John told us a few days ago how he never failed to catch fish during his Pacific crossing. Instead of having the lure drag smoothly through the water he would pull it in and then let it out to create this random swimming motion. I tried this with the rod, jerking it forward and then slacking it off; the tunny certainly voted for that technique. On arriving back on the boat Dave (the filleting expert) took over the filleting job from Jo (the fire lighting expert) who was needed to replace Guy (the fisherman) who it turns out can't light a fire. The fish were cevichied, barbecued and eaten. -Guy
Stacy and I had a big hike today. See Hiking Adventure on Tahuatu, Marquesas -DWH
We had a couple fisherman stop by at sunset. They ended up having some ceviche (from Guy's catch), juice, and coffee. They were on a fishing trip. They will be working their way along the shore from this bay to their village on a bay a few miles south. They are using a spot light, with one of them in the water and one in the canoe. They are trying to catch parrot fish. We made plans to meet up with them tomorrow in their village. -DWH
Saturday May 12th, 2001
The manta ray was back this morning. We saw it's dark shape coming towards the stearn. Then it did a couple summer saults, showing us it's very white belly.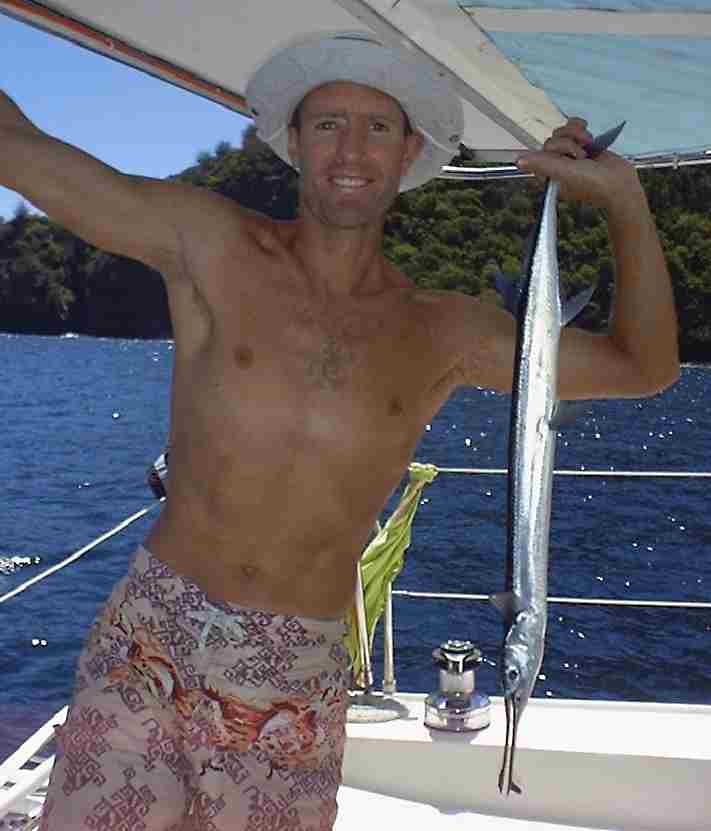 Anchor up and heading out of Hana Moe Noa at 11AM. Anchor down at Baie Vaitahu at 12:15 after a quick motorsail with only the jib up. Guy caught a gar fish on the way in. We'll give it a try. -DWH
Visited the Village of Vaitahu. Small village of about 200 people, but this inrcedible church that incorporates many traditional wood carvings and a beautiful stained glass display. Saw our fishermen friends and spent an afternnon looking at at tatoo designs. It happens one of them is a bone carver. His brother being a carver and tatoo artist. Had ice cream for the first time since the Galapagos, what a treat! The locals where incredibly friendly and we ended up with a load of mangoes and pomplemuse for our trip tomorrow. The day ended with a spectacular dingy launch from the beach where a wave hit us square on! In a good mood we invited Sunbow and Silverfin for some sunset cocktails. - Jo
Sunday May 13th, 2001
Went to church this morning. We couldn't understand anything because it was all in Marquesasian, but there was good music and everyone was friendly and colorfully dressed. After church we chatted with other cruisers and had local pastries, ice cream and sodas.
Made prepassage checks. Fuel: tank=80% plus 6X6gal. in jugs. Water: port tank = 54 gal., starboard tank = 18gal., 4X5gal. in jugs plus a bunch of 2 liter bottles. Checked back up GPS, EPIRB, engine oil in both engines, battery water for starboard bank. Everything looks good.- DWH
Anchor up and sailing by 11:45. Spinnaker up by 12:15 - Jo
We picked up a 23" yellow fin tuna just before sunset, so we had a fantastic dinner. -DWH
Monday May 14th, 2001
Changed over the propane tank this morning. I'm not exactly sure when the tanks were filled (can't find in log), but I believe it was on or near March 12th. That means we got just over 2 months on the first tank.
At noon our position is 11:12S, 141:17W.
2PM. I just finished my noon to 2 shift. What wonderful sailing conditions. It's sunny, there is 20 knots of wind, and we are averaging a solid 8 knots. Even though we have sailed over 4000 miles in the last two months, this is still very, very fun.
Homemade pizza for dinner. I started out making bread, but our bread pans are in sad shape (very rusty), so I made the dough into pizza crust instead. We had two deep dish, from scratch, polynesian (ham and pinapple) pizzas.
Guy and I saw a new type of bioluminesense last night. These were large (sometimes a foot or more in diameter) flashes. They almost looked like little explosions and only lasted about a second. They were under the surface (sometimes several feet under) behind and to the side of the boat. Sometimes they were as much as 50 feet away. The scene reminded me of WWII footage of ships dropping depth charges. -DWH
Tuesday May 15th, 2001
We have been doing some reading on the Tuamotus. The archipelago is made up of many low coral atolls spread over about 1000 miles. They require very careful navigation. We have picked out three that look to be the least dangerous to visit - Manahi, Ahe, and Rangoroa. One of the big challenges is getting in and out through the pass. It usually needs to be at slack tide because at other times the currents that can reach 10 knots make entry difficult and dangerous. At this point be will not reach any early enough tomorrow to enter, so we are taking it easy with the jib and double reefed main.
At noon out position is 12:29S, 143:23W. We are about 210 miles from Ahe.
Tried fishing, but no luck. -DWH
Wednesday May 16th, 2001
We had another easy night of sailing with the jib and double reefed main. A couple small rain squalls came through, but the wind never got much about 30 knots. The boat actually sailed very nicely in those conditions, but unfortunately just after the squall passed the wind would drop to almost nothing. Then a half hour or so later suddenly we would be back up to a nice steady 15 knots. We also saw a ship, the first since leaving the Marquesas.
Talked to a few boats on the SSB this morning. It sounds like the Tuamotus are the place to buy black pearls. Unfortunately we heard that the locals don't want US$, and we are very low on Polynesain Francs. Maybe we will be able to trade for them. -DWH
During my shift I put out the fishing line, made lunch and worked on knitting my sweater. We put up the spinnaker at noon. Not much wild life, only a few birds to watch. The weather is nice, and the sailing is easy - no complaints here. -SLC
It looks like our easy pace the last couple days may come back to haunt us. The wind has dropped and it may be tough to make it by tomorrow morning without using the engines. -DWH
Thursday May 17th, 2001
We will definately not make the 8:16am low tide, but should be at the pass for the 2:26 high tide. Once we get through the pass we need to go about 5 miles across the atoll to reach the anchorage, so the earlier we go through the better.
At sunrise Ahe is just visible.It is about 10 miles southwest of us The atoll is so low that only trees can be seen. This makes it difficult to see a definite edge, but doing our best to take bearings seems to comfirm our position to within about a mile.
2:30PM The anchor is down and we are officially anchored in our first atoll. We also just completed our 4th longest passage, but we barely noticed that.
The pass into Ahe was not too bad. We would have liked to come in at slack tide as suggested, but we ended up coming in with a rising tide. This let us come in with the sun strainght overhead. There was a good current running in and that would have normally been enough to keep us from entering (hard to proceed slowly and be able to steer and impossible to stop if there is something ahead), but we took some measures to make sure it was OK. First of all, the chart shows nothing less than 15 ft in the pass. Secondly we watched a freighter go out of the pass, and we followed the same line. In addition, Stacy and I took the dinghy through the pass to check to it out. We verified that there wasn't any real shallow water and found out just how much current there was (any more and we would have not have been able to get back out with the dinghy). Finally, we had Guy up on the spreaders the whole time, keeping an eye out for coral heads.
Now that we are safely anchored, it's time to clean up and head in for the post passage cocktail. -DWH
We found frozen chicken and cold beer in the tiny village of Tenukupara. When I asked for bread at the store, they told me to hurry up and head out to the ship docked at the concrete wharf. We hustled back to where we left our dinghy and found a cargo ship piled high with buiding materiels, large water containers, a car, moped and other miscellaneous items. When I asked for bread I was told to climb up a rope ladder to get on the boat. I then waited for the captain to finish on the radio. When he finished I told him I wanted some bread, lettuce and a few tomatoes. He wrote out a reciept and I paid him. Then I went to a container about mid-ship that was actually a cooler. I stood in line with a few other locals and when it was my turn I handed my reciept to a guy inside of the cooler (this container only opened about 1 foot because there was so much crap blocking the door) and he handed me some lettuce and tomatoes. He didn't have any lettuce, so I got cucumbers instead. Then I waited a while longer and some one motioned me over to hatch that led into the depths of the ship. I quickly found out that my bread was being handed out of this hatch. The bread was frozen but very fresh. What a transaction, I never went shopping on a ship before. The produce was a little expensive, but we were happy to have something fresh.
We now had the fixings for a proper barbecue...beer, bread, cucumber salad and chicken. Jo started the grill and we relaxed with a beer and a beautiful sunset. A boat soon arrived wanting to know if we would like to see some pearls. We were anxious to look at the pearls as we have heard so much about the beautiful 'black' pearls of Polynesia. Jo traded a little rum for a few pearls, both parties seemed very happy with the transaction! -SLC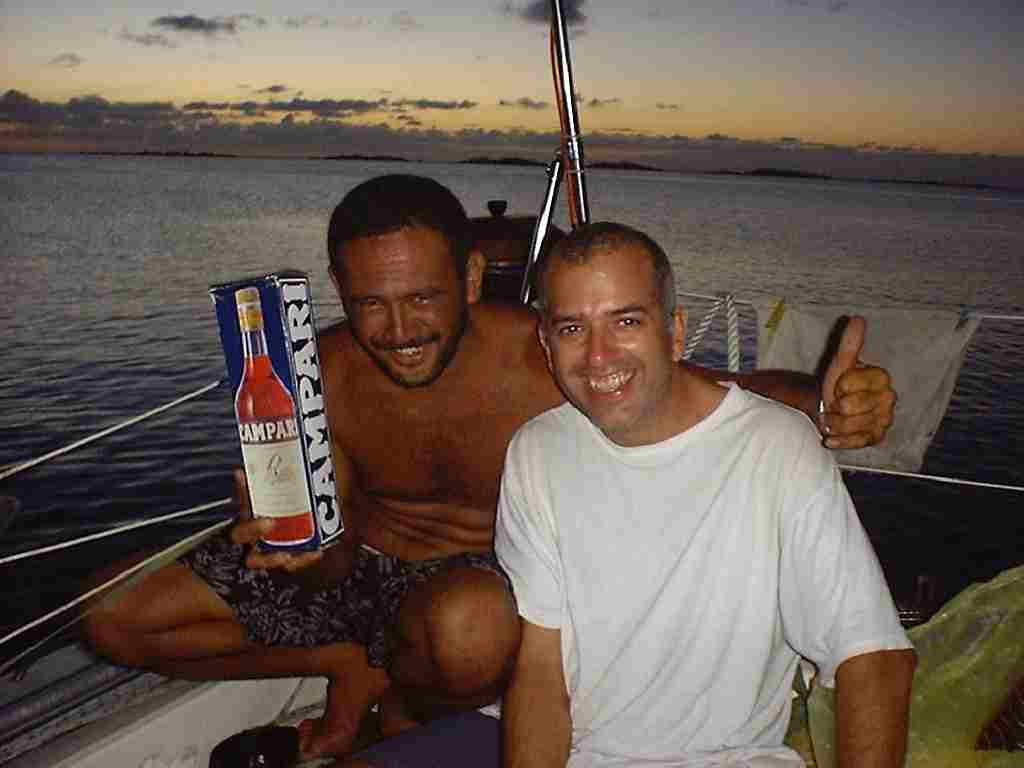 Jo trading rum for pearls.
Friday May 18th, 2001
It is very strange. Being anchored in the atoll reminds me of being on a large lake in nothern Wisconsin. There are trees in all directions and the shore is dotted with houses and other buildings. There are people zipping around in small boats and even a jet ski or two. The water is usually calm with only small waves. I have to keep reminding myself that only 50 or 100 feet on the other side of the shore is the Pacific Ocean.
We went for a hike this morning. First we went through the little town. One interesting observation - there are solar panels everywhere. It seems like every house has them. Even the street (actually dirt road) lights have individual solar panels. It took about 5 minutes to get all the way through town and to the outside shore. As we worked our way along the shore, it was very obvious that the atoll is completely formed of coral. That's all there was under our feet - miles and miles of coral. If I understand correctly, millions of years ago there was high, mountainous island here. The coral reef grew along the shore. Over time the mountain receeded (not sure if it sank or eroded away) and the coral continued to grow up. Now all that remains is the coral ring with a few trees on it. -DWH
Saturday May 19th, 2001
We headed into shore around 9am looking for some information on the pearl farms and the possibility of a tour. We talked to the store owner and he told us the farms are all closed for the weekend and we would have to wait until Monday. We talked to a few other guys who seemed to know something about the farms, they told us to wait until Monday as well. We sat for a few minutes in the shade just to hang out, and eventually one of the guys offered to take us over to the farm where he works. So we got into his power boat and zipped across to the other side of the atoll. We were quickly introduced to a few people, and eventually some one took us down to the houses on shore. We met Caroline, Thierry and a few others. We talked a while and looked at a few pearls. They invited us to come back on Monday to see the farm in action. We thought it would be fun to have them on the boat so we invited them to dinner on Sunday. After talking a bit longer, we discovered that they had some DVD that we could watch on our computer. We were happy to have some new movies, and plans for a Sunday party and a pearl farm visit on Monday.
The rest of the day we watched movies. -SLC
Sunday May 20th, 2001
I went to church at 8 am. It was a short service, there didn't seem to a pastor because the service was lead by the congregation itself. I really enjoyed the guitar music. Dave was working on his new fiction story, while I worked on preparing food for the party and cleaning the boat for guests. At around 2 pm Jo and Guy went to shore to check out the drumming music. After a little while Jo came back with 2 little local boys to get Dave and I, he said the music was really great. We had fun sitting in the shade of a few big trees and listening to the drummers. I walked on the beach with a few of the children and they helped me find some shells for my collection. I really like the small cowry shells, but I kept having to explain to them that I only wanted the shells that did not have something alive inside of it.
We headed back to the boat around 4 for showers before our guests arrived. Caroline, Thierry, Titi, Laurent, Seb and Pascal showed up around 5 and we had a super evening together talking about boats, pearls and life in the Tuamotus. We really had a super evening together! -SLC
Monday May 21st, 2001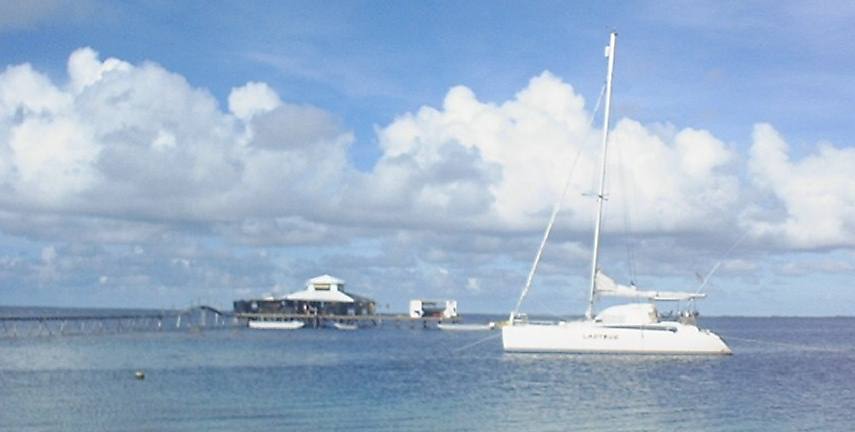 Ladybug anchored in front of pearl farm.
We picked up the anchor around 7 am as we were anxious to see the farm. We arrived at the farm about an hour and a half later. We used 3 anchors to make sure we were comfortable around all of the reef. As soon as we had Ladybug situated Laurant came over with a few other guys in a boat loaded with oysters. We were invited to go snorkeling with them while they hung the oysters back on their lines. The oysters are brought to the once every couple of months for cleaning. The cleaning is a natural process where the fish do all of the work. We enjoyed watching the guys work, eventually we got into the boat to go to another spot to collect oysters for todays harvest.
When we got back to the farm we were introduced to the whole process of cultivating the pearls. We ate some of the mussel from the shell just mixed with a little lemon juice. We helped open shells and find pearls, we even learned a bit about the grafting procedure and the planting of the nucleus.
After our quick education about the cultivation of pearls we were invited to an amazing lunch prepared by Pascal. There was scalloped potatoes, roast lamb, and fresh salad. This meal was wonderful, the really tasted wonderful ( I think this was the first red meat, other than hamburger, that any of us had in months!) -SLC
We had an excellent day of hanging out with our new friends, learning about pearl farming, and buying a beautiful pearl pendant (drop shaped pendant with a white gold finding) for Stacy. Then at about 3:45 we pulled the anchors and headed out. We cleared the pass about 5pm. Tahiti here we come. -DWH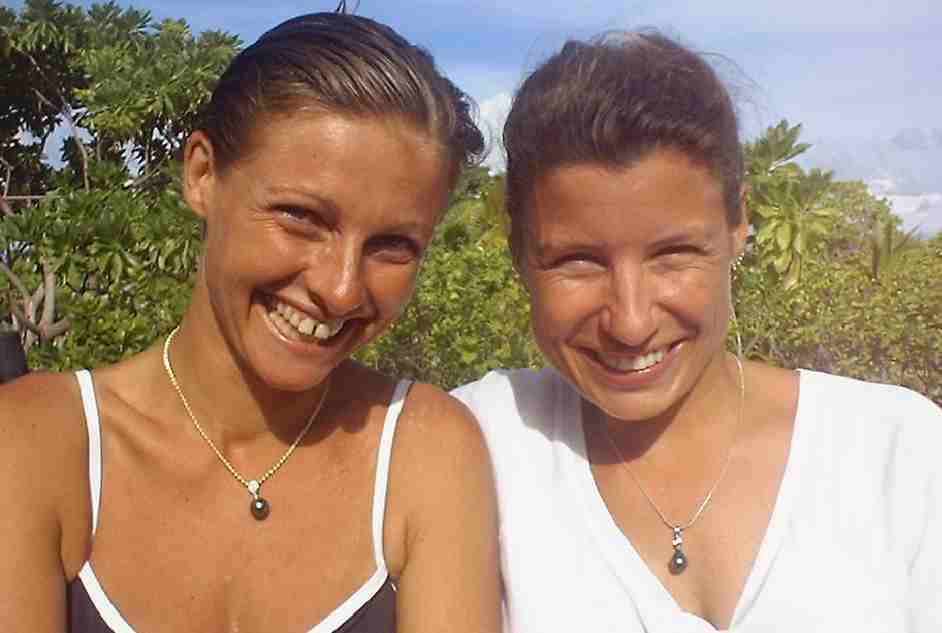 Caroline and Stacy showing off beautiful 'black' pearls.
Tuesday May 22nd, 2001
All night long it was raise the sail, reef the sail when we see nasty clouds and lightning, drop the sail and motor, raise the sail, drop the sail and motor, raise the sail with 2 reefs, take out the reefs, put reefs back as more nasty looking clouds approach.........When all was said and done we never really got much wind last night, and what we're getting now is very light and right on the nose. I guess we got spoiled by the trade winds. When we left Ahe I wanted to be double reefed to keep the speed down to 5 knots so we would hit the pass between Rangiroa and Arutua at sunrise. Now I'm hoping we get there before it gets dark again.
I tried a little fishing, but the gods were not smiling. I started with my favorite lure - a little purple squid on a 250 lb monofiliment leader. This baby attached to 80lb line on "the provider" (the heavy pole) has brought in a lot of fish since the Galapagos. It's been grabbed by so many tuna that all but two of it's little tenticals have been ripped off. Since it was looking a little bare, I converted it into a "Buck Weber Special" (a lure adorned with part of the wrapper from a Magnum ice cream bar). It looked good, maybe too good. After a couple hours, with the wind really picking up, I decided to pull it in. I discovered that a hungry shark had taken the lure and about 2 feet of the leader.
The wind started to pick up around noon. We passed the tip of Rangiroa about 2pm. The wind continued to get stronger. Now we are flying along with a double reefed main and partially rolled up jib. This is the most wind we have seen since the Aruba to Panama passage.
At sunset the jib was rolled up. The boat is sailing along nicely at about 5 knots. -DWH
Wednesday May 23rd, 2001
The wind continued through the night. In the morning Guy unfurled the jib for a while. The boat speed came up to over 7 knots and the boat motion was more violent - the fact pointed out by those that were sleeping at the time. Since we are not going to make it to Tahiti during the day today (would need to average 10 knots), we would like to arrive tomorrow morning. The jib was rolled back up, and our boat speed dropped to 4 knots. If we stay at this pace we should arrive tomorow morning. -DWH
Thursday May 24th, 2001
3am Watched cruise ship get closer, we turned 180 degrees and are now hove to. We will arrive in Tahiti early tomorrow as we are 15 miles from the entrance to the harbour.
Anchor is down at 11 AM. Entry into the port was not too dificult. I asked permision on VHF Channel 12 from the harbor mastor. We are in 45 feet of water. Shore looks clean and pleasant, lots of traffic and buildings! Boys are pumping up the dinghy, I will clear customs as soon as possible.
Today is Ascencion Day, I guess check in will be tomorrow. We went out for hamburgers and on our way back to the boat we found Natalie and her mom. I knew they were here but didn't think we would just run into them. I should have know better. They had been on Moorea for 5 days and just came back today on the ferry. Natalie said she couldn't believe it when we saw our boat, she just started yelling 'Ladybug', but we were already ashore. We spent the rest of the evening catching up with Nat and getting to know Abbie. We had a great time.-SLC
Friday May 25th, 2001
We checked in today, but I still need to visit the Port Captain on Monday. Looks like we can avoid paying the bond if we exit Polynesia from Tahiti. This means skipping Bora Bora, which seems very touristy anyways.
We got our electronic approval for our Australian visas today, that is very exciting.
The guys started cutting the fiberglass for the diesel tank repair.
We had Nat and Abbie out to the boat for a glass of wine, then we headed into town to find trouble. We had a nice dinner at the food court on the water front (about 30 carts offering grilled fish, chow mein, pizza, crepes and ice cream). After we ate we found a little bar with some loud, but fun music. We were out on the town until midnight, this is later than we ever stay up! -SLC
Saturday May 26th, 2001
The guys have successfully removed the diesel tank and found the nasty hole that is causing us so many problems. Guy is filling water, and of course I am 'playing' on the computer. -SLC
Sunday May 27th, 2001
Dave and I spent the morning trying to find a bus to go to a museum. By the time we figured out that there were no city buses going that direction on Sunday (even though the museums are open) we were starved so we headed for a restuarante where we could hear music. After a great lunch we were enticed onto the dance floor by some energetic French women. We ended up staying for quite a while. We met the restaurant owner...Choppi and he took great care of us. Eventually the dance music turned into great local music including 2 guitars, bajo, ukulele, spoons, and a string attached to a plastic garbage can. We had a great time. -SLC
Once again definite word of mouth cruiser information is absolutely wrong. Ever since Trinidad we've been hearing that beer is $9US a bottle in Tahiti. We've heard it over and over again. Not true! The beer in town is $2.50 to $4.00 in town for a normal sized bottle and $2.25 for a half liter bottle at Choppi's. -DWH
Monday May 28th, 2001
Had to re-anchor the boat by instruction of the Port Captain. We tied a line to shore to med moor, becuase the anchorage is becoming crowded.
We decided to add a third reef to the main, so the sail maker picked up the sail this morning.
Guy and Jo watched the big square rigger get launched this morning. Then they delivered the tank to the boat builders to have the hole welded.
Dave and I had a nice evening alone on the boat while Guy and Jo headed over for food and beer. Dave was woken up when guy arrived home around 5AM. We were entertained in the morning with the story of his adventure of getting past security not once, but twice on a very large cruise ship that is tied up to the dock. He spent hours meeting crew and checking out the boat until security finally kicked him out. -SLC
Tuesday May 29th, 2001
Dave and I bought plywood to start working on closing up the hole where the tank goes. I helped saw wood and drill holes all afternoon. Dave and I had a lot of fun working all day together! In the evening we went for a beer over at Choppi's bar. I spent the night trying to translate everything into French, I think he understood most of what we were talking about. Dave and I came home early and Nat, Jo and Guy went on to another bar to look for more trouble. -SLC
Wednesday May 30th, 2001
Dave and Jo are working on getting the tank back into the hole, and getting the hole closed up. I am on my way to meet with immigration to ask if we can stay here until Saturday. -SLC
Stacy ended up meeting with the head of immigration at Choppi's bar. We were supposed to leave today or tomorrow at the latest, but it helps that Choppi wants to do a barbeque for us on Friday, and his the head of immigration is his cousin. We are now good until Sunday.
I managed to get the tank back in and hooked up, so we can actually run the engines again. Now I am much more comfortable. I really didn't like not having engines or a main. This is a very protected harbor, but if anything did go wrong we are stuck here. At least we are well anchored. We have the 75lb beast with 200ft of chain and 100 ft on nylon (300ft / 40ft depth = 7.5:1 scope) and the 44 lb Bruce (about 4 or 5:1 scope) off the bow and a 3/4 line to shore.
Jo and Guy worked on numerous other projects including fixing the roller furling (extrusion tends to slip down into drum and jam, this time the fix is more permanent), working on new lazy jacks, etc. -DWH
Thursday May 30th, 2001
John arrived late last night. Stacy spotted Trojka Danmark at the other end of the anchorage while running this morning. He and Natalie came over for breakfast around 9am. Once again he has lot's of stories. He caught lots of fish and had a big shark (as long as his boat) surface at the stern while cleaning one of them. The end of the trip was very frustrating as he had no wind and almost no fuel. It took him five days from when he saw Tahiti until he actually arrived.
I spent the whole day (again) working on tank. I now have the fiberglass section with the helm seat back in place and have started fitting the aluminium strips that reinforce and cover the cut in the fiberglass.
We got our sail back. We have never needed a third reef, and I hope we never need it in the future, but I'm glad we have it.
Stacy and I went to Choppi's to make arrangements for tomorrows barbeque. We had a beer with Henry (Choppi's cousin and head of immigration) and some of Choppi's other friends. Then we found Jo, Guy, John, and Natalie downtown and had a few beers. -DWH
Friday May 31st, 2001
Stacy got us cleared out this morning. Henry is not usually in the port office, but he was there today. Stacy suspects that he was there to make sure everything went smoothly. He's been very helpful. We are cool as long as we leave by Sunday. When all was said and done the only thing we paid for to be in French Polynesia was the fee to anchor in the harbour at Papeete. Stacy is doing well as skipper.
After checking out Stacy met Choppi at the store to buy meat for tonights feast.
I continued working on the tank repair. Today I finished the 67" long curved aluminium piece. It is 1.5 inches wide, 5 mm thick and fought me all day, but in the end it was bent and screwed into place and looks really good. I started on the other pieces where we cut along the front of the cockpit, but Stacy pointed out that I had been working far too hard and made me quit.
I should describe the entire fix in more detail:
The fuel tank was placed in the boat prior to the boat being fully assembled, so it is neccessary to remove the entire section of fiberglass above it to get it out. (This is a pain, and such situations are not uncommon with boats. I've heard of boats where the entire engine must be removed to get to the tank. And removing the engine often means disassembling it or cutting it out. I'm glad our situation is not any worse than it is.) Cutting through the fiberglass took Jo and me an entire afternoon. Much of the cutting was done on our knees reaching into tight spots with a hack saw blade. Once we removed the section of fiberglass, we were able to remove the tank. Jo and Guy worked on cleaning it up and identifying the crack in one of the welds. Most of the fuel had been pumped out into a temparary storage container earlier, but the tank had to be completely cleaned of fuel before it could be welded. Then Jo and Guy found a place that builds aluminum boats that would repair the tank. We wanted to make sure that we got someone who was good at welding aluminum, and these guys certainly did a nice job. Meanwhile Stacy and I cut and fitted plywood strips along the inside of the cut fiberglass. Once these were fitted they were removed, painted with epoxy to make them more waterproof, and then bolted in place. Next the repaired tank was put back in place and all the hoses hooked back up. The fiberglass section was put back in place. It was secured by screws through the fiberglass and into the plywood. The cut in the fiberglass was caulked to seal it and then I began fitting 5mm by 1.5" strip of aluminium over the cut. The strip is caulked and screwed in place, with screws going into the fiberglass and good both above and below the cut. This sandwiches the cut fiberglass between the plywood and aluminium and appears to be very strong. There are still a few pieces of aluminium strip that need to be put in place, but what's done looks very good. While this job was difficult and took over a week of hard work, I'm pleased because once again we have improved the boat. If the tank needs to be repaired again or if access is needed to fix anything else in the area, it is a trivial job to remove the section of fiberglass and the tank.
We had a most excellent feast at Choppi's. See adventure story for details.-DWH
Saturday June 2nd, 2001
Toured Tahiti with Choppi, Marie, and Lady (their dog). It was a most excellent day. This is also included in the adventure story mentioned above. -DWH
Sunday June 3rd, 2001
John stopped by to say goodbye this morning. We will really miss him and Natalie.
Spent what we thought was the last of our money on groceries and phone calls to my family and Stacy's brother. Then found more cash. Went out for burgers, hit the internet cafe one last time, and bought white chocolate..
Released the stern line and pulled the second anchor about 2:30. Then pulled the dinghy up, cleaned it, got all our gear stowed, and did some pre-passage checks. Anchor up at about 3:30. Cook islands here we come! -DWH
forward to Tonga Log 06/04/2001 - 07/12/2001