back to Tonga Log (Tongatapu and Vava'u) 06/04/2001-07/12/2001
Fiji Log
Friday July 13th, 2001
After a peaceful night we woke to find a nice breeze out of the south. The boat was in order and the anchor raised by about 8:30. On our way out we saw a sea snake and also saw two humpback whales blow. It is a great end to a most enjoyable visit. The Kingdom of Tonga has been very good to us. Now it's on to Fiji, a passage of about 456 nm.

4PM: We have had a stiff breeze out of the south all day. We are making excellent progress towards Fiji, averaging about 7.5 knots with the jib and single reefed main.
6:15pm Stacy's "girl" lure has scored. Jo and Guy noticed that we were dragging a fish (not sure for how long, probably just a few minutes). It turned out to be a nice, fat yellowfin tuna. We've been enjoying Dorado lately, but we prefer the tuna, and it's been a while since we caught one. Since it was getting dark, it was quickly cleaned and popped in the oven. -DWH
Saturday July 14th, 2001
I checked in with the "Coconut Milk Run" SSB net this morning. I also got an excellent weather forecast. The wind is excellent right now, and it should continue for at least another day or two. The forecast for tomorrow is for 20 knots out of the SE.
At noon our position is 19:11S, 177:05W. We have done 181 nm since leaving Vava'u, Tonga yesterday morning. We have about 266 nm to go to Fiji. We were planning on about 4 days to do the 456 nm passage, but at this pace we may do it in 3 days. -DWH
During the day we maintained a southwesterly course towards Vatua Island which is in the southern part of the Lau Islands. After Vatua we changed course to head in a more northwesterly direction and our next way point of Totoya. We still have plenty of (tasty) tuna left so no lines are out at the moment. -Guy
Sunday July 15th, 2001
2AM: Jo woke me for my shift and we took down the mainsail and continued the rest of the evening with just the jib. The wind was coming from directly behind us making it impossible to keep to our course with the mainsail up. Even with just the jib up we maintained an average speed of 5 knots. During the night we past the Lau group of islands to the north of us. The Lau Islands are Fiji's eastern archipelago and forced us to take a southern route from Vava'u as they're too dangerous to pass through the centre. -Guy
I checked in with the "Coconut Milk Run" SSB net again this morning. After everyone had given their position I listened to two other boats talking about their schedules. They both agreed that Fiji and Vanuatu are both worth an entire season each. Unfortunately, with our schedule we will be spending only 3 or maybe 4 days in each group. I keep promising Stacy that next time around we will go much slower. -DWH
At noon our position is 19:14S, 175:40W. We did 151 nm in the last 24 hours. We have about 115 nm to Suva, Fiji. -DWH
1PM: Jo was itching to put up the spinnaker during his 8-10am shift but very kindly didn't wake me to help him. As a result we only got the spinnaker up at 10:15am. We've been making fantastic progress since then. If the Bug slows to anything less than 6 knots it now feels like we're standing still. I took over the helm at 10:15am and at 10:30am we had a new speed record: 13.82 knots! That record didn't last 40 minutes as I set another one of 14.33 knots at 11:05am. It's the most fun I've had steering in a long time and Dave had to force me to give up the helm at noon. At the beginning of my shift the Island of Totoya came into sight which we'll pass on our starboard and later Dave spotted Matuku which we'll leave to our port. Within the next couple of hours we should be passing from the western hemisphere into the eastern hemisphere. -Guy
4:20PM: We crossed the line that marks 180 west and 180 east at 2:25pm Tongan time. That means that we have officially left the western hemisphere and are now in the eastern hemisphere. We'll be spending a relatively short period in the eastern hemisphere as we expect to be leaving Cape Town shortly after the new year and should be crossing the Greenwich meridian during January 2002. That gives us around 6 months in this hemisphere. Dave made a couple of excellent pizzas to help us celebrate our crossing. Stacy's "girl-lure-caught" tuna with pineapple and the other was mushroom. -Guy
6:15 The spinnaker is down for the night. In the last 8 hours since we put it up we have done 65 nm. That's an average of over 8 knots! -DWH
Monday July 16th, 2001
The anchor is down at noon Fiji time. We are temporarily anchored while Stacy goes in to handle the paperwork.
It took Stacy a couple hours to get all the paperwork completed. She had to fill out several long forms. The most interesting question was on the health inspection form - it was something like "Have an unusually high number of people died on the passage here?"
After Stacy finished the formalities, we headed to the anchorage near the Royal Fiji Yacht Club. We dropped in 14 feet of water, set the anchor, got the bug shipshape, and then headed to shore. A few minutes and couple dollars after getting to the yacht club, we were honorary members. Then off to explore Suva!-DWH
Tuesday July 17th, 2001
Stacy and I headed into town this morning. After a light breakfast we stopped at the national health office to pay our clearance fee, the last bit of "checking in" business.
Next we hit the internet cafe. I had some excellent emails. My mom has become an internet queen, and I enjoy her frequent emails. She and my dad seem to be getting very excited about meeting us in Bali in a month. The other exciting news from Mom was that she has been named and honorary member of the Lake Delton Fire Department. Only two other people have ever been made honorary members. (Never underestimate the power of baked beans) I also got an excellent email from our good friends Dennis "Howie" Tubbs and Polly Miller. They are interested in getting hitched on Ladybug, possibly in Brazil. Excellent! I also heard from Buck Weber. My previous around the world adventure was by bicycle with Buck. He is doing really well. It's always good to hear from friends who are experiencing a different kind of adventure (parenthood!). Finally, I got an email from the second guy that I ever really sailed with, Greg Jackson. Greg just did the Mac race solo. Including getting to the start in Chicago and getting home, he did over 900 solo miles in 10 days. I'm glad to hear he is getting lots of time on the water. He also reminded us to be very careful and passed on a story that helped make his point. Thanks Greg.
Later in the afternoon Stacy and I hit the local markets. Fantastic! The fruit and vegetable market might be the biggest I've ever seen. There is a wonderful variety, and the prices are really good. There was also a large section for spices and kava. Everything was also very cheap here. If I remember correctly, curry powder was about $3F/kg (about 65 US cents a pound). After the food market we stopped at the bus station and snacked on spicy dried peas (20 Fiji cents a bag) and then went to a flee market. I found a used book store in the market and Stacy looked at clothing. -DWH
Wednesday July 18th, 2001
Jo and Guy headed to the national forest today.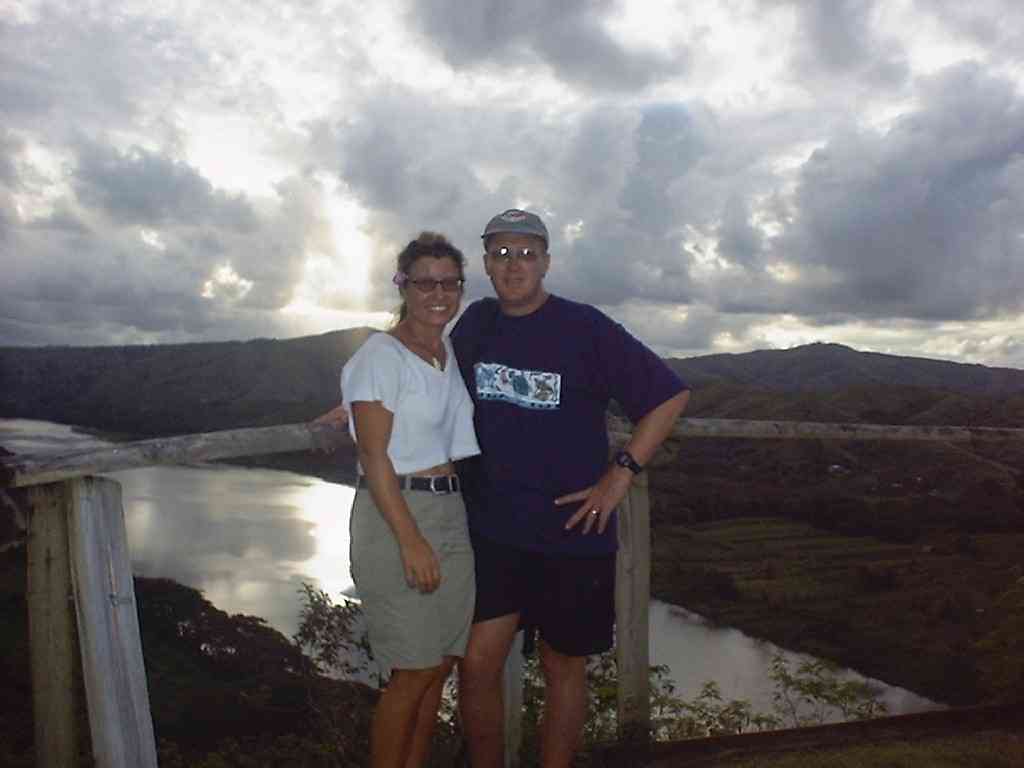 Great day of hiking, scenery, and friendly people.
Stacy and I jumped on a bus for Sigatoka, which is about 2 hours down the coast by express bus. We had a nice ride. It is good to see something other than Suva. Once in Sigatoka we ate lunch and then walked around town. Everyone greeted us with "Bula!", which is "hello" in Fijian. After walking around most of the town we checked out the market. The people selling crafts were brutal. They were pushing stuff in our hands and insisting that we buy something. They were very aggressive, and we could only take about five minutes of it. After that we got tea and mellowed out. Then we took a hike along the river and up to an old hill fort. It was about 6 miles round trip. Along the way we were constantly meeting locals who were very friendly........"bula, bula, bula!". This would be a nice place to travel by foot with small tent. I'm sure there would never be a problem finding a place to sleep or something to eat. After our hike we caught the last bus back to Suva. This one was not nearly as nice as the one we came on. Stacy and I got on right away and picked what we thought were the prime seats. Then we looked around. Remember the Indiana Jones movie where the guy asks why the floor appeared to move. In this case it wasn't the floor, it was the walls; and it wasn't snakes, it was roaches. The walls were covered with them. We quickly moved to sit towards the isle. I kept Stacy's backpack on my lap. After we were settled another traveler got on and sat down near us. She seemed so relaxed, drinking a Coke and eating a roti. Wow, I thought, she must really be used to this. I was wrong. A minute later she noticed the bugs and almost jumped out of her seat. After a few minutes we were on our way and most of the roaches went back into hiding was we headed down the road. It was loud, bumpy, and uncomfortable in general. This wasn't an express bus either, so there were frequent stops. Oh well, despite all of that, we were still having fun.
Thinking off the people in the market.....I think part of the reason the people were so aggressive is that the tourist business has been really bad here the last year or so. Fiji is not real stable politically and that has really hurt tourism. There was a coup last year, and many weapons disappeared and are still unaccounted for. The army is guarding a large dam/hydro power plant because they are afraid that somebody will try to blow it up. There have also been threats to shut down (not sure how) the airport. Elections are next month, and as they approach things might get interesting. But then many of the locals say that it's nothing to worry about. -DWH
Thursday July 19th, 2001
I checked the hours on the diesel. The oil does not need to be changed yet (we usually change every 100hrs, we have about 85 on them now), but I will make sure they are topped off before we leave tomorrow. -DWH
Stacy and and I headed to shore around 9:30. I called my mom and dad from the yacht club. It's always good to hear their voices. Then we headed into town. We stopped at a food stand near the bus station and had a little snack - two small rotis and two large glasses of juice. The cost was $1.40 local or about 65 US cents. Then we visited the national museum which was not real big but was pretty interesting. After running around town we were pretty tired and headed back to the bug for a little rest. Around 7pm we headed back to the yacht club. On the way in the dinghy engine died about 100 feet from the dinghy dock. Stacy took off the engine cover to see if we had any gas. It was pretty dark, but it looked like there was a little. We had an extra jug of gas on board, so I decided to fill up the engine tank anyhow. I put the cover back on the engine and then began filling the tank from our jug. Then something brushed my hand. I looked down and in the limited light I thought I saw something like the coily cord that goes to the engine kill switch, except it was black and white and on the wrong side of the engine. I looked more closely, but it still took a few seconds for me to figure out what exactly I was looking at. It was a sea snake! It must have crawled up and wrapped itself around the outboard sometime earlier in the day. Now I know that it is very, very rare for sea snakes to bite people, but that thought was stuck in the back of my mind. The front of my mind was focused on the fact that they are incredibly poisonous. Needless to say it was a little exciting for a few minutes. Stacy was in the very front of the dinghy using one oar to paddle us to the dinghy dock. Our little friend kept trying to slither into the dinghy itself and down by our feed, so I used the other oar to encourage him to stay out. Just before we reached the dock he decided that it wasn't worth the effort and slipped into the water and disappeared. -DWH
Forward to Vanuatu Log 07/20/2001-07/28/2001