Bicycle Tour Around Tonga
The bike rentals are cheap here so I planned a 2 day bicycle tour of the island for Dave and I. We walked over to the bike rentals around 9AM. My bike had no gears, which was not a problem as the island is completely flat. We headed out of town trying to make sense of the map. Our map was not very accurate but gave us a general idea of the roads. Luckily the island is small enough that it would not be possible to get very lost. We managed to find the bird park and really cool blow holes on the south west part of the island. We had a nice picnic lunch along the coast then headed for the 'Otuhaka Beach Resort where I had made a reservation.
The resort was simple but very nice with a beautiful beach and hot showers. It was more like camping, which was just fine with us. We slept in a traditional Polynesian style bungalow called a "fale". Our dinner was authentic Tongan with octopus, fish, oysters and yam. After coffee and desert we watched 'Sleepless in Seattle'. The evening ended up being the perfect romantic getaway that we both hoped it would be.
We slept in and then had breakfast. We set off on our bikes around 10 AM. Our first stop was the Marine Reserve on the west point of the island which is also where Abel Tasman landed here about 360 years ago. Next we headed along one of the main roads back towards the east. There are coconut trees, manioc (cassava), taro, and mulberry trees(the bark is pounded tapa cloth) growing everywhere. Many people were out working in the fields, everyone really seemed to enjoy greeting us - especially the children. After some time we manage to find the Natural land bridge. There was no sign, but luckily there were not many roads to choose from. We turned off the main road onto a dirt path. After about 1/2 mile we the sea coast was to our right and we noticed a large hole in the ground to our right. As we looked into the whole we found that we were on the Natural land bridge that was wide enough for a car . The ocean waves were breaking into the hole causing a milky looking foam. Very dramatic!
Finally Dave and I headed back to town at a quick pace, enjoying the smooth flat pavement.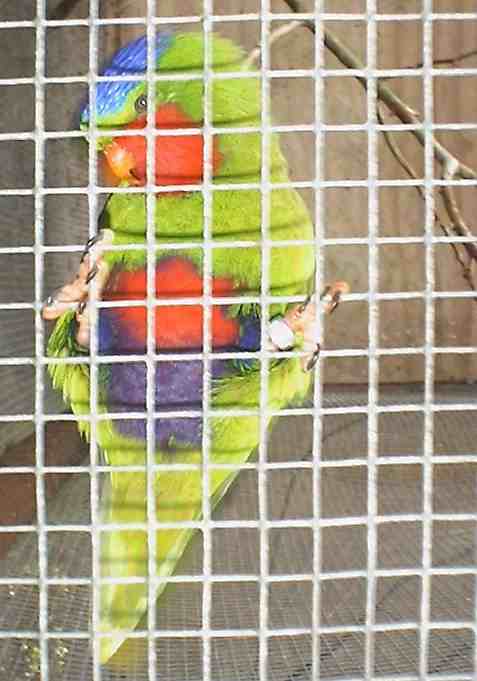 We found some very colorful birds at the Tonga Bird Park.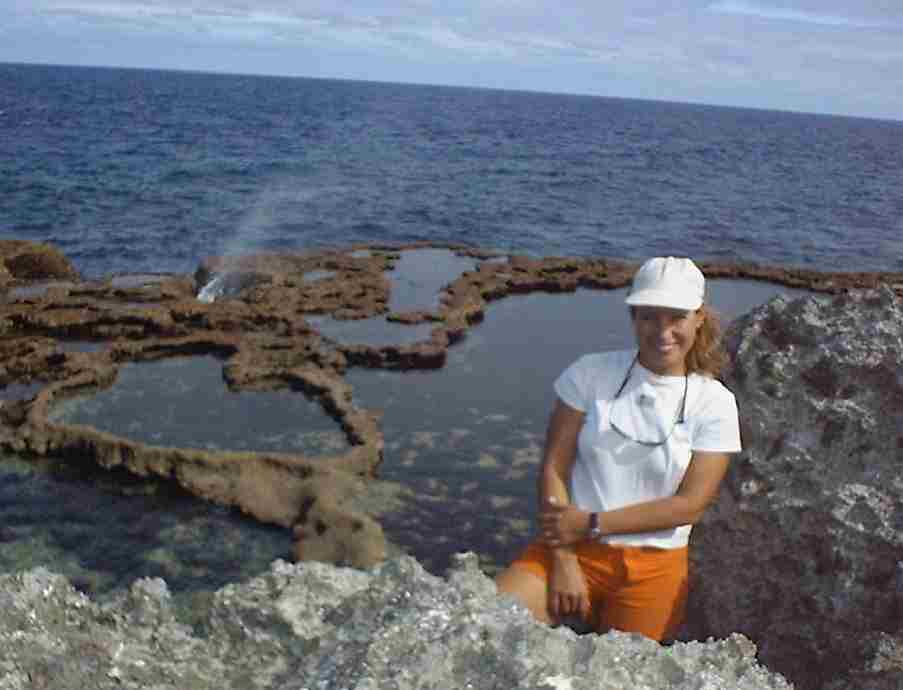 Houma blow holes.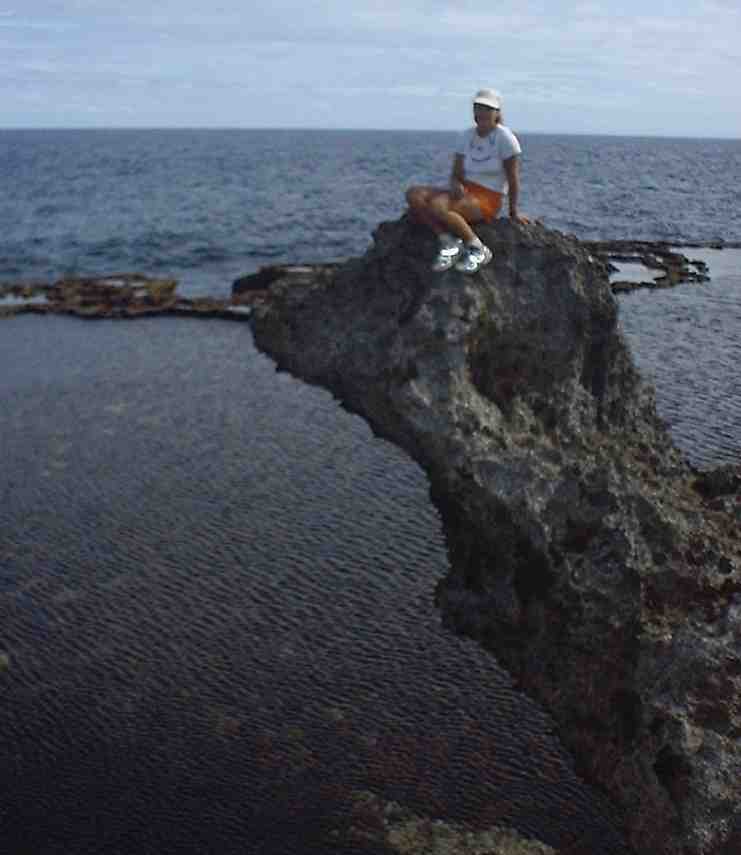 Stacy on a high perch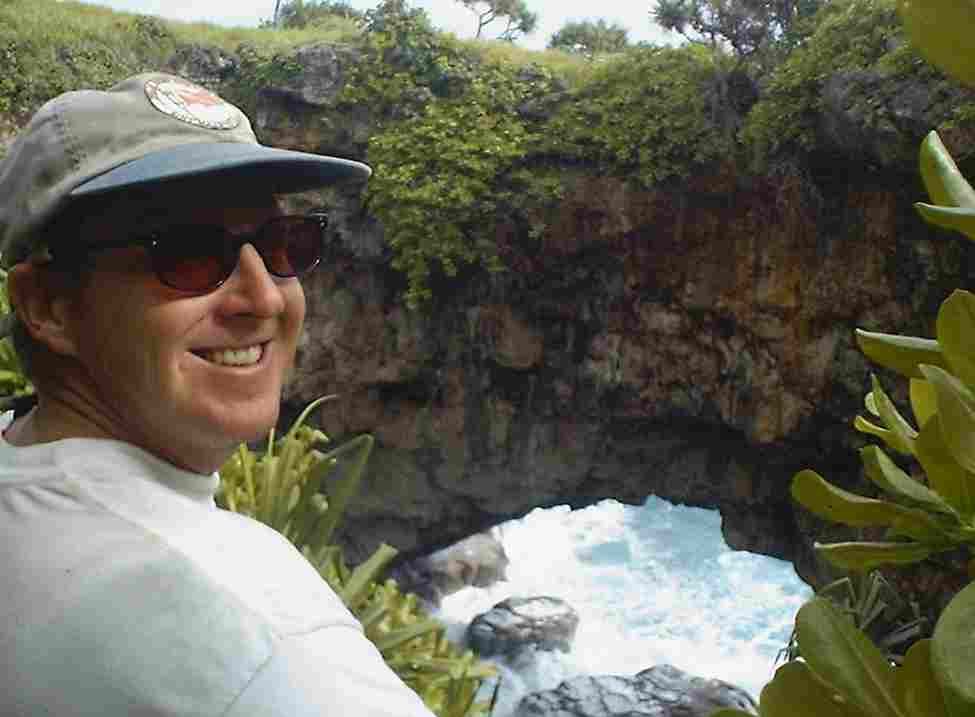 Dave and the Natural land bridge.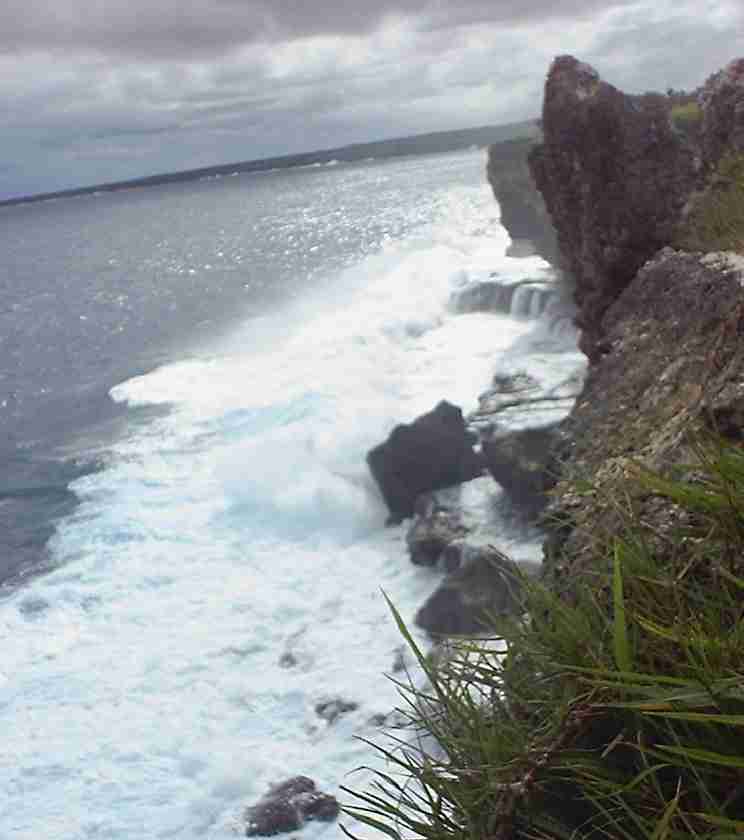 Dramatic and scenic coast.