LADYBUG IS FOR SALE
We have completed our circumnavigation!!!
Jo, Laurie, Stacy, and I bought Ladybug with a dream of sailing around the world. That was just over two wonderful years ago. We've seen interesting places and met beautiful people. But now we are nearly out of money and it's time to go back to work for a while. It is with mixed emotions that we are offering Ladybug for sale. She has been good to us, we have been good to her, and we have certainly been through a lot together.
We are now in Key Largo, Florida. If you have questions or would like to set up a visit to inspect Ladybug, please email at dave@ladybugadventures.com.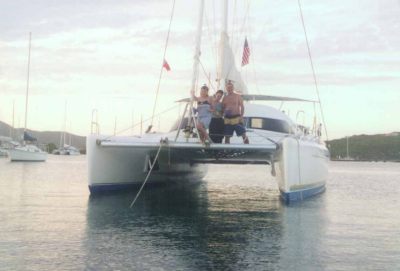 In Tortola, British Virgin Islands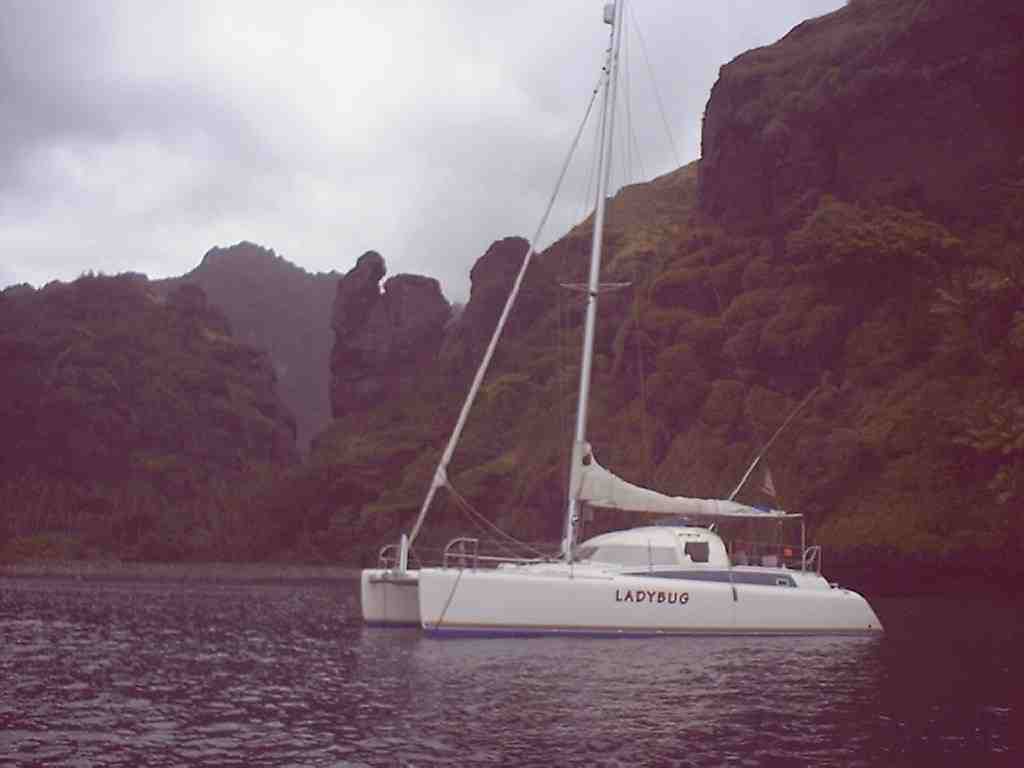 In Fatu Hiva, Marquesas, S. Pacific
INFORMATION ABOUT S/V LADYBUG
1991 Fountain Pajot Antigua 37

Length: 37'; Beam: 19'6"; Draft: 3'3"; Displacement: 9000lbs empty, approx. 12,000 lbs fully loaded

Rig: Fractional Sloop, Main (3 reefs), Jib (roller furling), and Spinnaker (w/ sock). All standing rigging has been replaced within the last 2 years. (sail area of main and jib = 738 sq ft)

Engines: Two 9hp diesels (Volvo-Penta Saildrives)

Accommodation and Layout: 4 double berths, 2 heads and showers inside, 1 shower on swim platform. Large table and galley in bridge deck. Galley includes 2 burner stove and oven (LPG), 12V refrigerator, double S/S sinks.

Tankage: water = 110 gal. in 2 main tanks, 4X5 gal. jugs in starboard cockpit locker; fuel = 30 gal. in main tank, 6X6 gal jugs in port cockpit locker.

Electrical System: 2 battery banks (port = 165 Amp-Hr, starboard = 200 Amp-Hr), Link 1000 battery monitor for each bank, 2 75Watt solar panels (each with a port/off/starboard selector switch), 110V Guest charger with shore power cable, jumper switch allowing for charging of both banks from either engine or to assist in starting if one bank is low. Two 110V inverters (600W connected to port bat. bank, 300W connected to starboard bat. bank).

Communication and Navigation: VHF (with additional waterproof speaker in cockpit) for short range communication, SSB for long range communication, 2 GPS (both with data cable to interface with PC), PC with navigation software and charts of most of the world. Autohelm autopilot.

Other Misc Electrical: AM/FM/CD with 2 fixed inside speakers and 2 portable speakers that can be used inside or outside. Spot light with 12V plug in cockpit.

Ground Tackle: 75lb Barnacle anchor with 200ft 5/16 HT chain, 44lb Claw anchor with 300ft 5/8 nylon, 35lb CQR with 270ft of 3/4 nylon. Nylon Bridal. Muir 2 speed manual windlass.

Safety Equipment: EPIRB (406), 2 Pur35 manual watermakers (with cleaning kits and spare parts), parachute sea anchor, drogue, life ring w/ 200" of line, life jackets, flares, extensive first aid kit.

Dinghy: Zodiac inflatable, 5hp Johnson outboard, Sunbrella dinghy cover, anchor and rode.

Other Misc Items: 2 heavy duty inflatable kayaks with paddles; fenders and dock lines, fishing gear (2 heavy poles w/ reels, hand lines, assorted lures); lots of spare parts, line, and materials ; all the necessary kitchen stuff (pots, pans, silverware, etc.): stainless steel BBQ grill

Price: $105,000

Review Improvements to Ladybug

To see more photos and get more information on Ladybug, please check out the rest of the website.
THINGS TO CONSIDER BEFORE BUYING A CATAMARAN
Before purchasing a catamaran it is good to investigate the differences between cats and monohulls (and trimarans) and also the basic differences between some of the different cat styles. We did a lot of research leading up the purchase of this boat. Of course we'd like to share that research with you. (Whether or not you reach the same conclusions remains to be seen.)
One of the best sources on information that we found on multihulls was "The Cruising Multihull" by Chris White. Chris is a boat designer and gives a lot of good, basic information. He makes a strong case for multihulls, but his book lacks a lot of the hype that we've seen in other places. He also has information on heavy weather tactics, etc.
Another source that we thought was pretty good was an article, "Good Cat? Bad Cat?", by the Bay Yacht Agency. The information in this article made sense when we were shopping, and most of the answers fit with what we have learned over the last 20,000+ miles. It is available on the web: www.bayacht.com/goodbad.htm
WHY WE THINK LADYBUG IS A GOOD CRUISING BOAT
When we first started looking for a cruising catamaran we were shocked by how expensive they are and how few had the characteristics that would make them good world cruisers. When we found this boat, it had almost no equipment and needed a lot of love, but we liked the basic design. We were confident that it was a solid foundation, and that we could transform her into a safe, comfortable, and fast cruising boat. We have spent the last two years doing just that. At this point we are very happy with the result.
Sails Well
The Antigua 37 is a solid, well designed boat. Her basic design maximizes sailing performance and seaworthiness. (This is unlike many of the new cats that we looked at that are obviously designed for the charter business, maximizing sleeping capacity and comfort for a week of sailing or motoring from one marina to the next.) We have good sail configurations for all points of sail from very light to very heavy wind. She is respectable upwind, excellent on a broad reach, and really shines off the wind (most trade winds cruising) were she is very comfortable and handles very well at wind speeds from 6-8 knots up to about 40 knots (the max sustained wind that we have seen). Having a spinnaker is big plus and is also very easy to handle (no pole needed, sock for easy raising and lowering, lots of deck space to work).
We've all read claims of fantastic speeds on cats. This is true if the boat is kept very light and is pushed hard. This makes sense when racing, but is more difficult and does not make as much sense while cruising. In general we find that we are a little faster than most cruisers our size, and usually keep up pretty well with cruising monohulls in the 40-50 foot range.
In addition to sailing well, Ladybug handles very well under power. With the twin diesels we have excellent control in anchorages and marinas. They are also very fuel efficient, using between 1/4 and 1/2 gallon an hour (that's total for both engines).
Safe
We have an EPIRB and can also use the SSB to call for help even when far out to sea, but in general we have tried to set ourselves up to be as self-sufficient as possible. If we get caught in really bad weather, we have chosen the sea anchor as our ultimate survival technique. We have practiced with it and found it to work well, but luckily have not actually needed it. Like all multihulls, it is possible that Ladybug could get flipped, but at least she will not sink. Even if upside down we can remain onboard with our food, water and water makers, tools, fishing gear, extra clothing, etc.
We also have redundancy in a number of critical areas so that a failure does not compromise our seaworthiness or ability to continue on to someplace to make repairs. To start with we have two engines, two battery banks, and two main water tanks. We added the solar panels to do most of our charging and as a back up to charging with the diesels. We have two GPSs, one connected to the boat electrical system and one that, while it can we connected, is not plugged in and has fresh batteries (less likely to be damaged by lightning strike). We have no fear of running out of water with 20 extra gallons held in 4 plastic jugs and with 2 Pur35 manual watermakers. We carry the materials to allow us to make most repairs. We have worked through a number of scenarios and tried to be as prepared as possible.
One factor that I have not seen mentioned anywhere else is the "crew factor". We have four private berths. If we want to take additional crew on for a long passage, it does not overcrowd the boat. With 3 or 4 people available to take watches you can: 1) maintain a 24 hour watch, 2) always have a second person available to help the person on watch, and 3) still get plenty of sleep. It is dangerous to get over-tired when sailing.
We have also set Ladybug up to be safe at anchor. We have what many new cruisers considered to be oversized ground tackle, but most people who have been out for a few years agree that it is appropriate. Not only do we have large anchors and chain for our main rode, but we also have a powerful windlass to handle the heavy gear. When we are at anchor, our primary concern is about the possibility of other boats dragging into us. Once our anchor has been set, we have little fear of dragging.
Comfortable While Sailing and at Anchor
Ladybug is comfortable at sea and at anchor. On some of the long passages we have kept daily radio contact with other boats in the area. We often heard from others that they were "getting pounded" or rolling so badly that they were often sea sick. Even though we were often in the same area, it never really seemed that bad. (Stacy and a few guests have gotten sea sick, but it is really rare) Off the coast of Madagascar we went through the same cold front as some friends on their 60', 40 ton steel monohull. We had a little bit of a rough ride while doing 99.5 nm in 12 hours, but it seemed like pretty good sailing. They had a miserable time and some boat damage.
The motion of a catamaran is very different than a monohull. The motion is not as extreme in range but is quicker, and it took us a while to get used to it, especially when sailing in short, choppy seas. On the other hand, I had no problem varnishing our new speaker speaker boxes at the saloon table (with a full can of varnish) while we were doing 7.5 knots on a broad reach in the Southern Indian Ocean. And when we turn downwind it gets really comfortable. Without side pressure on their sails, monohulls can roll terribly. We don't have that problem.
There are two big advantages at anchor. The first is that we don't roll. Our monohull sailing friends are always discussing "rolly anchorages". This is not a problem for us. We wouldn't have even included it as a big plus, but friends with "tippy" boats have really stressed how nice it is. The second big plus is that we have so much room for hosting partys. We love having people on the boat for a day of sailing, sunset cocktails, or a barbecue. The cockpit is very large and comfortable, there is seating for 6 to 8 at the table in the saloon, and there is always room in the bow net (a favorite place to hang out).
Simple (lower maintenance time and cost)
The basic design is pretty simple. While we have put a lot of effort into transforming her into a well equipped cruising yacht, we have still tried to keep her as simple as possible. In our minds she is more of a "working boat" than a "luxury yacht". When we started cruising we were in awe of fancy boats with lots of gadgets. We thought we wanted some of that "stuff", but later learned that it adds very little to the enjoyment of the trip and can actually be more trouble than it is worth (additional maintenance, stuck in a port waiting for expensive parts when there is a failure).
In addition to being fairly simple, the parts are also often cheaper. Even though Ladybug has the space and speed of a much larger monohull, she still weighs just 12,000 lbs fully loaded. Much of the gear onboard is sized primarily by weight. It is cool to look at the huge rigging and winches on a big, heavy boat, but if there is a failure the repair is much more expensive.
Lin and Larry Pardee advice "go simple, go small, go now." While I don't think that a catamaran was what they had in mind, we actually fit the philosophy pretty well. While the design and construction of the hull is complicated and expensive, the end result is a simple and small (light) boat that can comfortably carry four people around the world safely and comfortably.
Well Tested and Well Documented
When things break we have made every attempt to fix them to be at least as good or usually better than original. We have found that when boats start putting on a lot of miles, they tend to have a lot of things break. This is true in general, and is often even true of new, very expensive boats. It is sometimes actually worse for the owners of fancy new boats because 1) they don't expect to have problems because they just spent all that money for "the best money could buy" and 2) the fancy boats often have expensive gear and cost a bundle to fix. Like many boats, we had a fair number of failures early on, but we could usually fix the problems ourselves or with minimal help and money (in 20,000+ miles we have only had a couple repairs that were more than $200 and none more than $400). In the Southern Indian Ocean, our roughest sailing, and into the Atlantic the boat has been much more reliable.
Before the trip, when I saw an add for a boat that had just finished a circumnavigation, I suspected that it was beat up and probably in need of a lot of repairs. I now understand that a well cared for, active cruising boat is probably in better shape than one that has been in charter or has been spending most of it's time sitting in a marina. It may not be as shiny, but it is probably significantly more reliable.
You also know the history of this boat. The website documents what worked and what didn't, what weather we handled and speeds we made, what repairs we did and when we changed the oil. We have put a lot of effort into sharing the experience with hundreds of people. We hope this shows what the boat is capable of and helps you decide if it is the right boat for you.