Back to Brazil Log
Passage from Brazil to Buccoo Bay, Tobago
Thursday April 25th, 2002
7:15 Anchor is up. We are officially headed for Tobago. We may make a stop at Devil's Island (Papillon!!). -SLC
Tobago here we come. Only about 1950 nautical miles to go. -DWH
Once we were clear of the reefs and sand banks we raised the sails. Our course was pretty much dead down wind, but there was a nasty looking line of clouds to the east, so we went with the double reefed main and the jib. About an hour later we spotted a funnel cloud coming out of the squall line. At one point it stretched 2/3 of the way from the squall line down towards the water. -DWH
Around 11am the dark clouds had passed and we put up the chute.
Noon: Our position is 6 40 S, 34 46W. We have 1918 nm to go to Tobago.
3pm: Talked to Simmer on the SSB. They had several squalls last night and got lots of rain. They are now 175 nm from Fernando. Their plan is to spend about a week in Fernando and then head for the Caribbean, possibly making it to our party in Tobago. -DWH
3:30: Had a fish on for a few minutes, but he managed to free himself.
5pm: Caught a nice big eye tuna. Should make a great dinner!
5:30pm: Stacy cooked the tuna while Jo and I dropped the chute for the night.
10pm: The lights of Natal are to the west. We have picked up a favorable current and are making about 5.5 knots with just the jib. I passed 2 large ships and 5 or 6 fishing boats in the last 4 hours. -DWH
Friday April 26th, 2002
3:30 am: It is raining and I have about 30 knots of apparent wind. A few waves are splashing on the starboard side. I am quite wet, which is not helping my sore throat and runny nose. We are making over 6 knots with the jib only. Dave always says I can wake him for any reason, this always makes me feel better.
5am: I woke Dave up early, now I am heading for my warm and cozy bed.-SLC
7am: We have turned the corner. It is now pretty much a straight course for Tobago, 1800 nm at 325 degrees magnetic. -DWH
7:30: Sky looks friendly. Chute is back up.
8am: Our speed started to pick up to 8 knots with the spinnaker, so I decided to bring in the fishing line. I had it half way to the boat when a small "little tunny" hit it. I guess we have lunch. There is also a masked boobie flying around. It's good to have our friends, the boobies, back with us. -DWH
Noon: Our position is 4 36S, 35 45W. We made 144 nm in the last 24 hours and have 1774 nm to go.
3pm: Listened to Simmer and someone else on the SSB. They both got hit by squalls last night. Simmer lost their wind instruments. The masthead unit ended up hanging by the wires. Colleen went up the mast and cut it down, but it had already been damaged beyond repair. They are not sure if it was the wind or possibly a failed boobie landing. The other guy on the radio lost his wind instruments to a boobie in the Indian Ocean. We also lost ours in the Indian Ocean, but luckily Stacy noticed it, and I was able to get it down while it was still repairable. That was fortunate. Pat said a new one will cost him $500. -DWH
5:45pm: Dropped the chute and unfurled the jib. It's too bad because we are sailing along so nicely, and there is a full moon tonight, but all the unstable weather in the area makes me nervous. -DWH
Saturday April 27th, 2002
4:30am: So far one ship and I'm still dry. There are lots of clouds and lightening to the west, but the bright full moon keeps poking through. Not much wind, but the GPS tells me I'm still averaging 5 knots. -SLC
8:30am: Waited for a line of dark clouds to pass and then put up the chute. We have about 20 knots of wind out of the SSE. We are making about 7.5-8 knots through the water and 9.5 over ground (favorable current of almost 2 knots right now). The shore is about 55 nm to the SW. We are right along the shelf and will continue along it and parallel to shore for the next 150-200 nm. We are moving a little fast for fishing, but this should be a good area. I'm going to put out the lines and hope. I want to see how many days in a row we can have fresh tuna. Stacy has already put in her order for today. She wants sashimi. -DWH
Noon: Our position is 3 22S, 37 48W. We made 144 nm in the last 24 hours and have 1630 nm to go.
2:15 pm: We are currently about 40 nm directly offshore from Fortaleza. We've had a dark line of clouds to the east all day. It looks pretty nasty, but we have stayed out of it by altering our course slightly to the west. The wind has dropped to about 15 knots, but we are still making about 9 knots speed over ground. We have done 56 nm in the last 6 hours. It is sure nice to have a following current. -DWH
3:30pm: Threatening weather getting more threatening. Pulled spinnaker down. It was a good run of 67 nm in 7 hours and 15 minutes. -DWH
Today I finished the novel "Wild Fiction" by Guy Ellis. It explores a whole different slant on fiction and was very entertaining. He was working on it when he was sailing with us in the Pacific, and I'm proud to say that there is even a cameo appearance by a ladybug. (I hope the author does not edit that out.) We wish Guy good luck in getting it published and becoming rich and famous. Anyone out there who would like an autographed copy of Wild Fiction should make every attempt to buy beer for Guy's friends (the ones he had before becoming rich and famous), and we will see if we can arrange something. -DWH
Sunday April 28th, 2002
2am: Saw tug boat (3 white lights) pulling barge, heading south. No lights on the barge, but the tug shined a light on us then shined the light on the barge for several minutes to make sure we could see it.-SLC
5:35 Sunrise! -SLC
6:30 am: It is a beautiful morning. The sky is clear and the sun is shining. We have 10 knots out of the east and are cruising along comfortably with the main and jib making about 7 knots speed over ground. I have a fishing line out. We missed out on our fresh tuna yesterday, but I am optimistic about our chances today. -DWH
Noon: Our position is 01 49S, 40 12W. We made 151 nm in the last 24 hours and have 1479 nm to go.
At 5:15 there was a storm approaching, so we put a double reef in the main. We were all waiting for it to hit when the Provider started to sing with line peeling off the reel. Maybe this was our tuna for the day. Then the fish started to jump and looked to a small marlin. Jo furled in the jib to slow us down as I hauled it in. When we got it to the boat we discovered that it was not a marlin but a sailfish. Cool. It was 4 to 5 feet long and very pretty. Jo took video and Stacy took photos. Then I handed the rod to Jo. With a leather glove on my left hand and a pliers in my right I headed down to the stern. After several attempts, and lots of thrashing and splashing by the fish, I had a firm grip on his bill. (I was a little nervous doing this as the bill was about a foot long and extremely sharp. We've heard of people getting impaled by these.) I was able to pull out the hook with the pliers and then held the fish in the water for a short while to make sure he was OK. Then I released him and watched him swim away. -DWH
10 PM: The storm cell that was approaching when we caught the sailfish passed ahead of us, but as the sun was setting another followed behind it. We had a beautiful sunset to the left, the dark, menacing storm cloud to the right, and clear blue sky behind. For about an hour or so after sunset the wind was affected by the storm cell and was up and down, ranging from about 10 to 20 knots. Behind and above the sky was so clear and the stars were as bright as I've seen for a long time. Seeing the Milkyway spread across the sky reminded me of cold winter nights in northern Wisconsin. Then at about 7:30 the nearly full moon came up. The storm cell ahead had dissipated and there was nothing but steady wind and scattered puffy white clouds. Beautiful sailing! -DWH
Monday April 29th, 2002
5:40 Sunrise and Rainbow! -SLC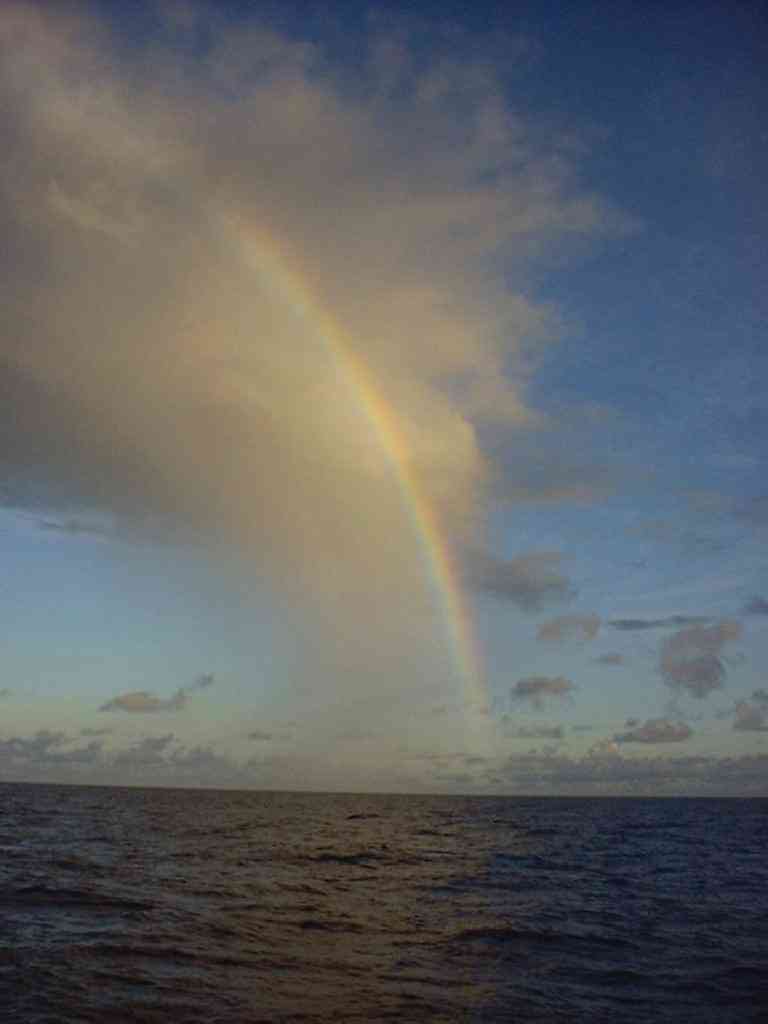 We have steady wind from the east and scattered puff clouds this morning. From the weather report I got a couple days ago on the SSB I was expecting to hit the ITCZ around 1 S, but it almost seems like we have already passed through it. We had variable and unstable weather for the first couple days out of Jacare, but since yesterday morning it has been beautiful and steady with the exception of a couple small storm cells. I hope this keeps up because it sure is nice. -DWH
I spent the morning working on the bell for the bottom of the spinnaker sock. The sock did not come with one, so I decided to make my own..............back in Tonga. I collected some 1/8" think foam pieces floating in the Tongatapu harbor for the core. I formed this into the proper bell shape (not a trivial task) and then covered it with a thin layer of fiberglass. The fiberglassing was done somewhere between Tonga and Australia. In Australia I sanded it a little. Then it sat untouched for a little more than half the globe. Yesterday I got it out again, did some sanding and a little more fiber glassing. Today I decided that, even though it is not done (needs paint, etc), it is done enough to try. I attached it to the sock, and now it's up and flying. We'll have to wait to see how much it helps when pulling the sock down over the spinnaker.
While working on the sock I noticed the fishing pole was bent over a little. I guess I left the drag set too high, because the fish was not big enough to pull any line off. The poor little guy was just dragging behind the boat. Anyhow, I pulled in the 18 " skipjack tuna. We have lunch! So far we have been very successful fisherman on this passage. We have caught fish 4 out of 5 days and each fish has been different. We have caught a big eye tuna, a little tunny, a sailfish, and now a skipjack tuna. They have all been caught on the same lure which is made from a blue rubber squid and shiny strips from a wine bag. The wine bag strips are pretty chewed up, but otherwise the lure is still looking good. -DWH
Noon: Our position is 00 11S, 41 55W. We made 161 nm in the last 24 hours and have 1318 nm to go.-SLC
Jo made an excellent pre-equator lunch consisting of peri-peri fish, rice, and potato salad.
2:58pm: Just crossed the equator. The last time we were in the northern hemisphere was March 27th, 2001. At that time we were on passage from Panama to the Galapagos. We were going to toast with champagne, but did not put it in the fridge soon enough, and it is not cold yet. We toasted with slightly chilled beer and ate Brazilian chocolate to celebrate. We will have the champagne later. -DWH
5pm: Champagne and cheese !!! What a great party day. We had a super lunch, listened to music and read books all day (accept Dave who worked very hard putting the spinnaker back together). I love having parties when we are at sea. It really gives us something to look forward to and is a good change of pace from our usual routine. -SLC
9pm: We have smooth sailing all day, but have been getting some confused seas off and on since sunset. We also saw some funky surface conditions that reminded us of when currents mix. Maybe we are on the eastern edge of the main NW current. There is no obvious change in our speed over ground when we have the confused seas or strange surface conditions, but the average current seems to have decreased a little. Maybe there is something going on with subsurface currents or eddies that is causing this. -DWH
Tuesday April 30th, 2002
4:15am The sky was pretty clear at the beginning of my shift, but I noticed big storm clouds to the east about 10 minutes ago. Would have reefed, but we only had the jib up. Wind went from 6 knots to 20 knots in about 2 minutes. I am glad we did not have the spinnaker flying. -SLC
Our steady wind was disappeared. We have off and on wind (from all directions) and off and on rain (mostly coming down). It looks like we might do a little drifting today. At least we still have a knot or two of current in the right direction. -DWH
A little later. No wind and drifting. Checked the current: 2 knots at 313 degrees M. Our desired course is 325 deg M, so it couldn't be much better. -DWH
Noon: Our position is 00 49 N, 43 54W. We made 133 nm in the last 24 hours and have 1185 nm to go. We are currently motoring with just one engine at 1200 RPM (uses 3 gallons of diesel a day at this rate) making about 4.5 knots. Jo is taking advantage of the extra electricity being produced to power sand the walls in the starboard head. -DWH
Today I got to do something that I've been dreaming of for a long, long time. Today I swam with dolphins. There was no wind, and we were motoring along slowly when the dolphins appeared. They swam lazily around the boat and did a couple jumps for us. It seemed like the perfect opportunity, so I quickly put on my mask and fins. Jo slowed the boat, and I slipped into the water. For the first couple minutes I didn't see anything, but Jo and Stacy assured me that they were still around the boat, just a little farther away. I suspect that they noticed that there was another creature in the water and they were being wary. Then I saw them up by the bow. I swam between the hulls and was soon just in front of the boat. The dolphins were swimming all around. A few of them seemed to be checking me out, but none got too close. They were always at least 15 or 20 feet away. It was very interesting to see them from this new perspective. Even though we see them jump and dive, from the boat it still seems somewhat two dimensional. Under water I could see all their antics in a full three dimensions. I could also hear them clearly. They made both a high pitched squeak (dolphin talk) and a clicking sound (sonar). Stacy was standing at the bow and even she could hear them, so you can imagine how loud it was underwater. It sounded like there was quite a conversation going on........"What's this strange creature doing doing down here with us? Don't get too close. I wonder if we should tell him about the sharks following the boat?" After five minutes or so the dolphins seemed to get bored and moved on their way. I wish I could have spoken with them. I would have liked to tell them what a thrill it was to swim with them. -DWH
Later: I was lounging in the saloon thinking about what a good week it has been so far - Sunday: Caught a sailfish; Monday: Crossed equator and celebrated with champagne, cheese, and chocolate; Tuesday: Swam with dolphins in the middle of the Atlantic Ocean - when Stacy yelled from the cockpit. "Hey guys, get out here. I think there's a whale." Sure enough. About 125 feet off the starboard side there was a sperm whale just hanging out at the surface, it's big square head held out of the water. It didn't swim at us, but it didn't swim away either. By the way it was pointed at us I got the feeling it was a little curious. It also had a friend, another big square head sticking up a little further away. As we motored past we got a good look at it's head and back. It blew several times. The spray was angled forward at about 45 degrees. This is a characteristic of sperm whales. We could have identified it from the blow alone, but didn't even need that clue as we got such a good look. I think this is the first time we have had such a good, extended view of a whale and also the first time we have been able to 100% positively identify one. How cool. -DWH
Wednesday May 1st, 2002
6am: Dave got up early to make breakfast for me!! It was great... coffee and oatmeal. I am such a lucky girl -SLC
There was no wind and a clear sky for my 6-10 PM shift last night, but after that we started to get a little wind and a lot of rain. We had a slight problem with the outhaul which caused it to be very squeaky. I was fixing it this morning when the pin for the goose neck came out. Jo was just getting up, and we managed to get it fixed after about 45 minutes. -DWH
Noon: Our position is 01 50 N, 45 23W. We made 108 nm in the last 24 hours and have 1073 nm to go. We are about 150 nm offshore and seem to have gotten out of the current which is probably closer in.
Stacy spent the early afternoon making a new courtesy flag for Trinidad and Tobago. We want to be looking good when we arrive. Jo is still working on the starboard head, a very dusty project. Stacy and I are also doing laundry (We collected a lot of rain water last night). -DWH
I was looking forward to talking to Pat on the 3pm SSB net because I had interesting things to tell him - swimming with dolphins, seeing sperm whales, and we also had a large dorado on for a few minutes earlier today. Unfortunately we lost the dorado but not until after he had treated us to some spectacular jumps. After tuning in I first listened to s/v Dawn and s/v AJ. They are a couple days behind us. Sally on Dawn reported that they had a large shark swim past the boat. That made me think back to swimming with the dolphins. I've heard that dolphins will actually protect humans from sharks, but I'm not interested in testing that out. After Dawn and AJ finished Pat came up and started talking to s/v Tomcat. I was waiting for them to finish their conversation so I could talk to Pat when the Provider started to sing. It was another sailfish! This one was a little bigger than the last, on the plus side of 5 feet long, and put up a better fight (although nothing like the blue marlin we caught). Jo and Stacy slowed the boat and then got the cameras. Jo got some excellent video and Stacy took several old fashioned film photos and a couple digital shots. Once again I eventually handed the pole over to Jo and went down on the stern with a glove and pliers. I grabbed the bill and managed to remove the hook without too much damage. Then we sent the fish on his way. -DWH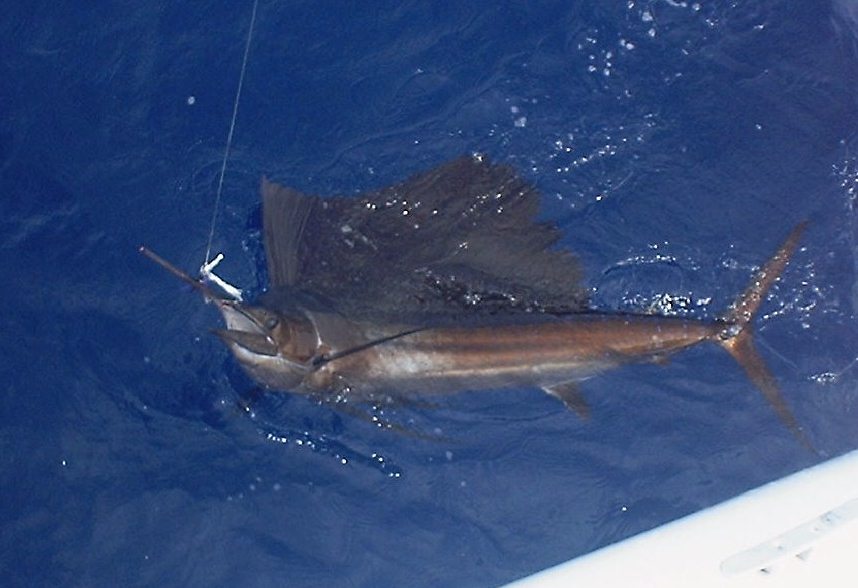 The sailfish shortly before being released.
10pm: The NE wind started to fill in around noon and was pretty steady at 10-15 knots most of the afternoon. Around 6pm a squall line came through. As it approached the wind came up to about 20 knots and has stayed at that level ever since. It makes for great sailing. We've been averaging almost 9 knots for the last 4 hours. -DWH
Thursday May 2nd, 2002
3am We are cruising... over 9 knots. Wind is 20 to 25 knots. No rain on my shift yet, just a few waves splashing. 957 miles to go, we are officially half way to Tobago! -SLC
8am: The wind has stayed up at 20-25. We made 105 nm in the last 12 hours. We are about 180 nm offshore and running roughly parallel to the coast. During the night we passed the mouth of Rio Para and the city of Belem. We also passed the island of Marajo. Ilha Marago is situated between the mouths of Rio Para and Rio Amazonas (The Amazon!). We are basically passing the mouth of the Amazon right now. That is one of the reasons we are so far offshore. A lot of logs and debris gets washed down the river and into the sea. We definitely don't want to run into a great big log when we are cruising along at 8 knots. -DWH
11am : Had to stop reading my book because the dolphins came for a visit. They stayed for about 15 minutes. There was a lot of jumping on the windward side of the boat.-SLC
Noon: Our position is 03 39N, 47 56W. We made 188 nm in the last 24 hours. I think that is our best noon to noon run so far. (We did 210 in 24 hours in South Africa but it wasn't noon to noon). We have 885 nm to go to Tobago.
1pm: Dave hollered "fish on!!" I ran to his rescue and put on the gloves. He handed me the hand line and I started to pull it in. It ended up being a fat skipjack tuna, 26" long and a 17" girth. I had some sashimi and we baked the rest (vegetable oil, a few drops of soy sauce and sesame seed oil. Cover fish with mixture. Finally put lots of garlic under the fish and bake 15-20 minutes. Excellent!!), and we are experimenting with drying the rest. We've never dried tuna before, but we've recently been told that it dries well.-SLC
The wind is not blowing as hard as it was last night and this morning, but it is still pretty steady around 15 out of the NE. We put the spinnaker up for a while this afternoon. When it started to get dark we brought it down for the night. It was my first chance to pull it down with the new bell on the sock. It was smooth, smooth, smooth. Granted, there was only about 10 or 12 knots of apparent wind, so final judgment will have to wait until we need to pull it down with 25 or 30, but it sure seemed to come down better than before. -DWH
Friday May 3rd, 2002
8am: The wind was 15 to 20 all night, and we are making excellent progress. We are about 75 nm offshore and near the boarder between Brasil and Guyane Francaise. We are starting to head more towards Ile Du Diable (Devil's Island), which was a French prison island and was made famous by the book "Papillon". We might spend a day or two there before doing the last 600 nm to Tobago.
The tuna seems to be drying nicely. If this works maybe I'll write a short "cruisers guide to drying fish". Despite reading about how a few others have done it, it has still taken us 2 years to get proficient. We are also surprised that so few cruisers dry fish. Maybe too many have freezers these days. -DWH
10:40am: Another visit from the dolphins. -SLC
Noon: Our position is 04 52N, 50 36W. We made 175 nm in the last 24 hours. We have altered our route a little to take us towards Devil's Island. We have 715 nm to go to Tobago.
We had a discussion this afternoon about whether or not to stop at Devil's Island. In the end we decided that 1) the sailing is great right now and 2) we are all anxious to get to Tobago and see our friends. Tobago here we come!
10pm: Ladybug must know that she is going to a party because she is just flying. A little following current doesn't hurt either. We have done 60 nm in the last 6 hours and 94 nm in the last 10 hours. We are now 50 nm offshore of French Guiana and passing the city of Cayenne. -DWH
Saturday May 4th, 2002
Tonight I slept in the saloon. I have been having trouble sleeping because of the noise from the traveler which is right above our berth on a starboard tack. And the v-berth is too hot. I slept very well. Jo did not know I was sleeping up here until half way through his shift, he was very startled to realize I was there. It is so important to sleep well when we are sailing like this. Otherwise night shifts are very difficult and everyone gets a little cranky. -SLC
8am: The wind has dropped to about 15 knots, but we are still humming right along. We are 65 nm offshore and passing the boarder between French Guiana and Suriname. -DWH
Noon: Our position is 06 49N, 53 33W. We made 215 nm in the last 24 hours. (A new record!) We have 497 nm to go to Tobago.
We put up the spinnaker around 1pm. Jo took over watch at 2. Stacy and I were busy cooking (homemade bread so we can have tuna sandwiches and rice pudding for desert) when the Provider started to sing. We had a dorado on. Then we noticed that the hand line was also tight. Stacy pulled in a 23" little tunny while I pulled in and released the big dorado (about 40"). We often have multiple fish on at the same time, but it has always been the same kind of fish. The is the first time we have had multiple fish of different kinds. Cool. When I started to clean the tuna there was a funky orange liquid that came out of it's mouth. There was also the usual blood, but the orange stuff was very strange. When I finished filleting the fish I checked it's stomach. It was packed with hundreds of tiny orange shrimp all about 1/4"-1/3" long. That explains the orange fluid. Stacy covered the tuna in BBQ sauce and onions and popped it in the oven. Now we just need for it and the bread to be done and we can have our BBQ tuna sandwiches. -DWH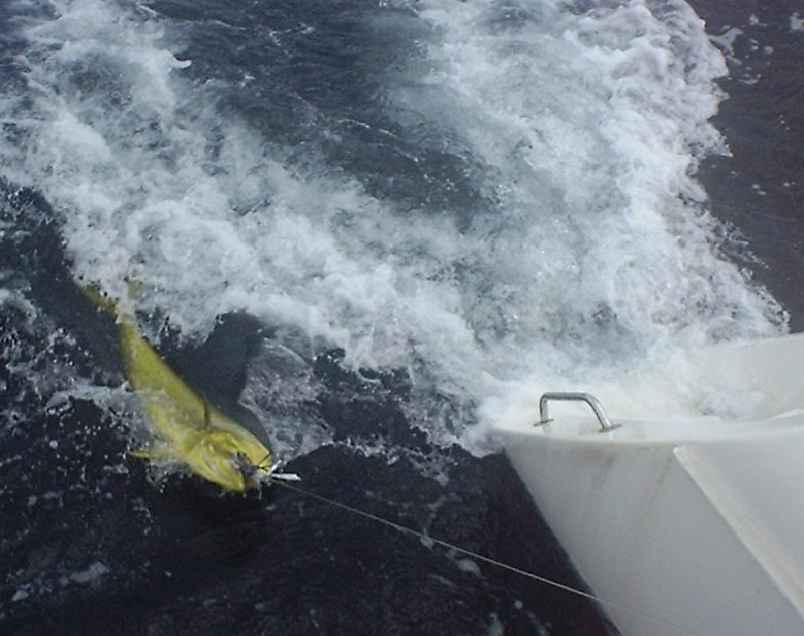 A nice dorado about to be released.
Dave tosses our favorite bucket into the sea, thus ending the legacy of Matti's Bucket Bridal! A man over board drill was executed, but it was not the bucket's day. -Jo
As an sign of things to come, I just noticed the boat is covered with a fine orange dust. Sahara dust they call it here. For those of you with a good memory it is also the name of Frank's fishing boat in Tobago! - Jo
6:30pm: Chute is down. Single reefed main and jib up. Bellies full of tuna, bread, and rice pudding. Ladybug all picked up and ready for a nice night of sailing. -DWH
Sunday May 5th, 2002
3:45am: Had one ship pass west of us, he was heading south. The wind had died quite a bit so I started one engine and I also headed up wind a few degrees. Several small rain clouds have passed over but did not provide me with much wind. But now the wind has picked up again, around 20 knots.
uh-oh... it's raining again... (wait that's a song, isn't it??)... I hope the wind doesn't die...
Well, I can see some stars and we seem to have settled with 10-12 knots of wind. Better than nothing. It's enough to keep the rig from making huge noise, just hope it lasts. We are probably making 4.5 knots of boat speed. I took the reef out of the main sail which gives us a little more speed, but unfortunately it has also increased the noise. -SLC
Noon: Our position is 08 03N, 55 33W. We made 136 nm in the last 24 hours.
During the night and morning we had generally light wind with occasional squalls, some with heavy rain. In the afternoon the wind started to pick up and be more steady with around 15 knots from the NE. By sunset it is up to about 20 knots. -DWH
7pm: We are 140 nm off the coast of Guiana (former British colony). We have just over 300 nm to go to Tobago. There is a fishing boat that we noticed behind us two hours ago. It almost seems to be following us. It is slowly gaining and is now about one mile behind. I wonder where he is headed. -DWH
Later: The fishing boat passed us around 9pm. I'm really curious as to where it was headed.
Monday May 6th, 2002
It turned out to be another squally night with rain and variable wind. In the morning it was just more of the same. There was one little bit of excitement though. I saw a sailfish fin behind and to the side of the boat. It was certainly very distinct. We don't have any lines out right now. We finished the last tuna yesterday and are still working on drying the one before that. If anything we are a little tired of fresh fish right now. -DWH
Caramel apples popped into my mind while I was closing my eyes for a morning nap. Must be the weather...cool, wet and gray. -SLC
Noon: Our position is 09 43N, 57 44W. We made 163 nm in the last 24 hours. We have 198 nm to go to Tobago.
3pm: At 12:45 it was still cloudy, but seemed to be getting lighter. The wind had also shifted a little more to the E, putting us on more of a down wind course, so we raised the spinnaker. We were back on course and our speed came up after that. We now have about 180 nm to Scarborough. We are hoping to make it there and clear in to Trinidad and Tobago by tomorrow night. Then we can sail around to Buccoo Bay in the morning to officially complete the circumnavigation. Let's hope for good wind. I am really looking forward to seeing all the fisherman in Buccoo Bay. -DWH
11pm: The coast of Venezuela is 135 nm to the SW, Trinidad is 125 nm to the W, and Tobago is 110 nm to the NW (straight ahead). Our first destination on Tobago is Scarborough where we will clear in. Scarborough is 117 nm away. At 7pm tonight we decided to keep the spinnaker up for the night. (Bringing it down has actually gotten easier lately for two reasons. 1) I finally finished the bell for the sock which makes it easier to snuff and 2) We finally fixed our deck light, which didn't work when we bought the boat, making it easier to see what we are doing on a moonless night.) Everybody is ready to help out if we need to drop it, but so far it has been nothing but smooth sailing, making about 8 knots. If we can keep this up we should not only get to Scarborough during daylight, but we might get there during regular business hours so we don't have to pay overtime to clear in. That would be nice. More money for cold Caribs. -DWH
Tuesday May 7th, 2002
6am: We had excellent sailing all night. We now have 65 nm to go to Scarborough and are making 6.5 knots. At this pace we will not have a lot of time to spare, but we at least have a shot at making it before 4pm (Tobago time, -1 hour from our current time). -DWH
9am: The wind is giving up on us. It dropped to almost nothing before an approaching squall. We dropped the chute before it hit. It rained and blew for a half an hour and then the wind died again. We are now motoring with the jib up. -DWH
10am: The wind is up a little. We are motorsailing with the spinnaker now. Come on wind! -DWH
Noon: Our position is 10 58N, 60 14W. We made 154 nm in the last 24 hours. We have cut a corner and have only 31 nm to go to Tobago.
12:02: Land ho!! Stacy spotted Tobago in the distance. Her comment....."I can almost taste the cold Carib."
2:14: A Square One song is playing on the radio. We are back in the Caribbean!!!
As we were approaching Scarborough I was using the compass in the binoculars to verify our position as displayed on the computer screen. I took a bearing on the fort over the city. I was off by 15 degrees. Huh? I checked again. This time I was off by 25 degrees. I looked straight ahead along the axis of the boat and compared it to our main compass. I was off by 30 degrees. Jo tried it and he thought it looked OK. Then I realized what was up. I was resting my hands on the cabin top to steady the binoculars, and one of our portable stereo speakers was right next to my hands and binoculars. It was the magnet in the speaker causing the problem. I moved away from the speaker and everything suddenly matched. -DWH
5:15 anchor is down!! Coast guard guys gave us good directions on where to anchor.
We went into town to try to check in, but all the offices were closed. So we went to the bar. Cold Carib all around and excellent roti from Patsy in front of the taxi stand! -DWH
Wednesday May 8th, 2002
Went into town and checked in this morning. There were no fees. Then we went to an internet cafe. There was good news from home. Jo's friends Steve and Jill will be coming to Tobago for our party. We knew there was a good chance of this. The big surprise was that Stacy's friends Kris, Tammy, and Sue are also coming. Most excellent. Let's Party!! -DWH
Anchor up at 11:15. It is 17 nm to Buccoo Bay and the official completion of the circumnavigation. -DWH
Noon: Our position is .................just kidding.
1:30am We just passed Pigeon Point and crossed our path from 20 months ago.
3pm: Anchor down at Buccoo Bay!!!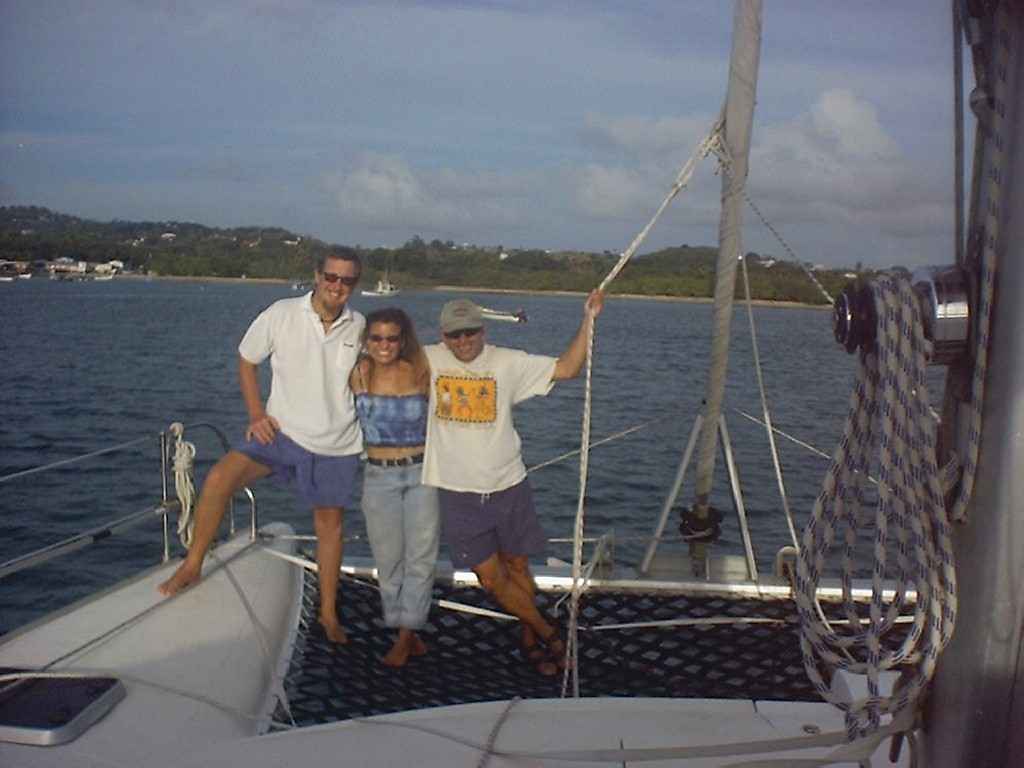 The happy crew.
Our old friend Smoky spotted us and came out in his pirogue to welcome us back. We recognized a couple other fisherman coming in from sea. One pirogue went by and then quickly whipped back around. The fisherman was all wrapped up to protect himself from the sun, but I could recognize that smile anywhere. It was our friend Alix. We chatted for a couple minutes and then Alix headed in to take care of his catch.
We had heard fisherman talking on the VHF and knew that Sahara Dust was out fishing. We tried to call Frank, but could not reach him. Another fishing boat, "skipjack", relayed for us though. Frank said he will be back tomorrow night or on Friday. We are really looking forward to seeing him.
We had a bottle of champagne, and Stacy gave me a most excellent "circumnavigation present", an old chart of Tobago. She picked it up in the used chart shop back in Durban. What an excellent gift. After the initial celebration we set to getting Ladybug shipshape. I decided to do a swim around the anchor to make sure we were not too close to the reef. The visibility was really bad for some reason. I swam from the boat to the anchor. Then I swam a big circle around the anchor to make sure we had room to swing. I got about 80% of the way around but then got into some coral heads that came to within a few feet of the surface. They were too close for comfort. I swam back to the boat to discuss the situation with Stacy and Jo. We were all anxious to head to shore, but if the wind shifted we could get in trouble. Then I checked under the keel. Shit! There was a coral head right under the starboard keel. There was less than a foot of clearance and the tide was falling. We quickly moved and re-anchored further out. I did another swim around and everything looked good. It pays to be careful.
Once on shore we ran into several other old friends. We had a few Caribs and a nice dinner of flying fish and chips. -DWH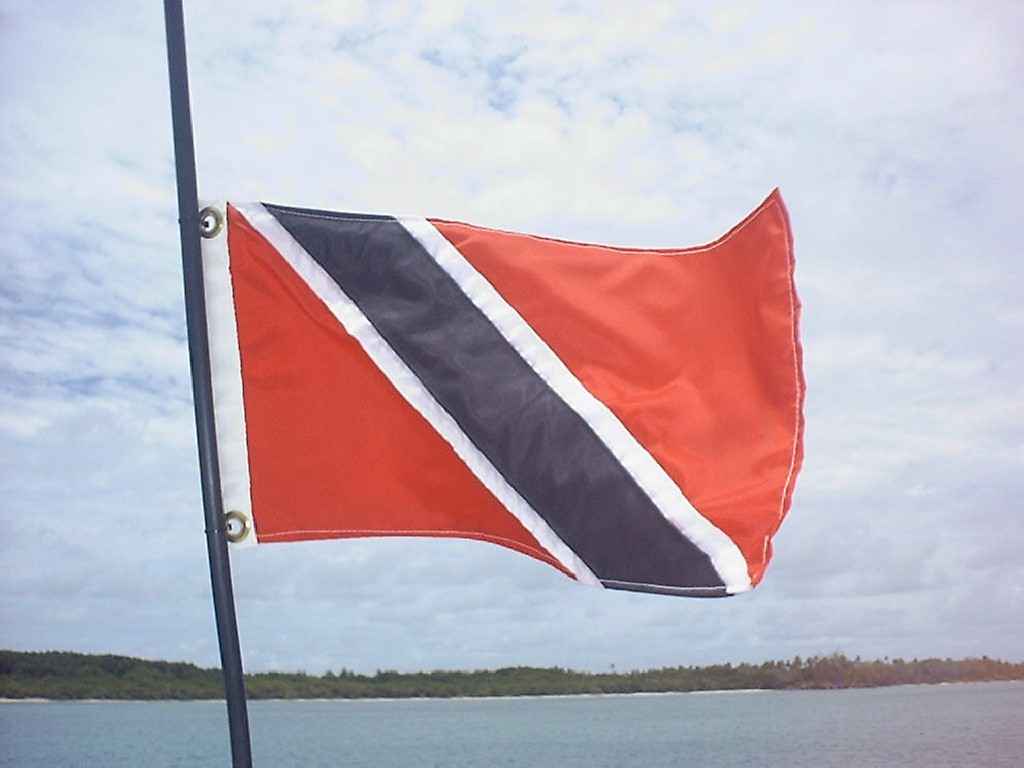 Tobago flag with beach of Buccoo Bay in the back ground.
Forward to Tobago Log