Thursday June 22nd, 2000
We had a wild night of sailing. We had good wind and a few squall lines. We hit Boca de Mono, the narrow channel between Trinidad and Mono Island about 9am. It was very cool. On either side we had steep cliffs of rock with caves at the surface and breaking waves. The tide was falling and there was a current of 2 - 3 knots coming out. This mixed with a 1 to 2 not current coming west along the north shore of Trinidad. Add to this swells from the north and wind from the north east and the result was a very interesting scene. We were motoring with a following wind and waves, but only making a couple knots. The waves looked very strange - they were smooth and seemed to be in slow motion.
We arrived at the customs dock at 10am, cleared, and then anchored. After naps Jo and Laurie pulled the dingy out of the locker and inflated it, and Stacy made pizza for dinner.
We had incredible bioluminescence in the water tonight. Pouring a bucket of water overboard caused something like fireworks. Even flushing the head caused a beautiful display as sea water was sucked into the bowl. -DWH
Friday June 23rd, 2000
We all went into shore to explore Chagauramas. There isn't really a town....just a couple marinas, small marine related businesses, and a commercial shipyard. Everything seems very reasonable. 60 inch wide Sunbrella material is $95TT ($15US) a yard, teak is $95TT for a 6" x 1" x 6 feet, and beer is usually $7TT (about $1.10) There are a couple nice marina restaurant/bars with reasonable food and pool tables. -DWH
Saturday June 24th, 2000
Stacy and I caught a bus into Port of Spain. We walked around, had lunch, and checked out the shopping. There is everything from malls to great street markets. This is the city we have been in where we don't feel like targets. For example, in St. Martin everyone wanted to sell us pot, in Grenada everyone wanted to give us a taxi ride, but here the people are just friendly. We had lunch ($21TT, about $3.50US) stopped at a bar for a couple cheap beers ($4.50 TT each). Then continued through the street market. Prices are marked on most things which makes life easy. Stacy bought a pineapple. While she was picking it out, a guy in an entrance to a bar asked if I wanted a beer. I was a little confused and asked how much. Then he was a little confused. He was offering to buy me one, why would I want to know how much it cost. Eventually I understood and Stacy and I had a beer with him. His name is Joseph, and he is a police officer. He loves his job even though he has been shot twice in the line of duty. He jointed the police force 32 years ago just before his 18th birthday. He was happy that we were enjoying ourselves and asked us to spread the word that Trinidad is a great place to visit. He did warn us to be careful. Downtown Port of Spain can be dangerous at night.
We caught a bus back to Chagauramas and met Jo and Laurie who had spent the day working on the web site. We had dinner at the "Bight" and then played some pool. We met Jim who has been sailing since 1984 and Jamie who is working on a big project to restore a eighty two foot catamaran. Jamie also used to sell Fountaine Pajot catamarans. It was very interesting talking to him. He has a lot of knowledge, experience, and contacts in the sailing community. -DWH
Sunday June 25th, 2000
While we were in Port of Spain yesterday we saw a sign for a running race, so we headed back with the hope of participating. It turned out to be a big event to raise money for the Heart Foundation. Stacy did the 10K run, and I did the 5K walk. It was very hot, but other than that I don't think the run was that different from big, local races in the US. The walk, though, was something completely new. In the states there is often a walk along with the running race. It is usually a casual affair for those who want to participate but don't want to or can't run. I began suspecting that this was going to be different when people started pushing and wedging trying to get good position at the walk starting line. When the gun went off, everyone took off at a very brisk pace. I'm a pretty fast walker, but the leaders were soon out of sight and I was in the middle of the pack. This was really a serious race. I was not able to really get into "race" mode, but I enjoyed cruising along at 15 minute mile pace with the old women and little children.
After the race we hung out for while. It was quite a party. Afterwards we had grilled corn from one woman along the street and then oysters from another woman. The oysters were fantastic. She starts by filling a glass up half way with small oysters, then adds tomato juice, hot sauce, spices, garlic, and several other things. The final product is poured into a cup, and you basically drink it. It was fantastic. We would do a trip into town just to try it again.
We met Jo and Laurie at the "Bight" again. We met and played pool with Bob and talked with Jim and Jamie again. -DWH
Monday June 26th, 2000
Spent a good part of day working on Ladybug. This is the best place so far for getting parts and supplies. The labor is also very cheap, but we are still doing everything ourselves to save what little money is left in the boat budget.
We went to the "Bight" restaurant for beer and pool. Laurie loves playing pool, and has us all playing. -DWH
Tuesday June 27th, 2000
While listening to the "cruisers net" (8am on VHF channel 68), we heard Saliander asking for help replacing there hard drive. We replied saying that Jo, our local computer expert, could give them a hand.
Stacy and I went to look at kayaks. Jo and Laurie went to Port of Spain. We met up later where Jamie works, and he gave us a tour. The company is in the process of starting a boat works. The first project is a 80+ foot catamaran that they are completely stripping and redoing. It is a huge project with an estimated budget of about 2 million dollars. The same person who owns that boat is also considering having a new 130 foot cat built for him. Some people have too much money. -DWH
Wednesday June 28th, 2000
Went over to Saliander. Jo worked on Sally and Alan's computer while Alan fed us cocktails. -DWH
Thursday June 29th, 2000
We updated the web site and checked email today. We had an email from Lynn and Larry on Zephyr. The are the people that Jo and I stayed with on the first night of our boat shopping trip to Tortola. It turns out that they are in Trinidad. When we got back to Ladybug I put out a call on the VHF. A few seconds later Larry replied. They had just cleared out of customs and are heading to Venezuela tomorrow morning, but they are going to stop by in the morning before they left. -DWH
Friday June 30th, 2000
Lynn and Larry stopped buy. It was great to talk to them again. They are kind of our first cruising friends. In addition liking them, we also value their opinions on a wide variety of cruising related subjects.
Jo is still helping Sally and Alan with their computer. In return they are helping us out with some electronic charting software and charts. While they are quite a bit older than us they seem to be quite young at heart, and we enjoy hanging out with them. -DWH
Saturday July 1st, 2000
Stacy and I went into town to find the fish market. We did not find the market we had hoped to but we did eventually find fish and had a fancy dinner in the cockpit. -DWH
Sunday July 2nd, 2000
Worked around the boat. There is so much to do. We have this vision of how we would like it to be, but it is so much work. We really need to get back to focusing on sailing and adventure. It's not that we don't enjoy the projects, but we need to keep a healthy balance. -DWH
Monday July 3rd, 2000
We've been working too much, but today we had a treat. We took a trip to the east coast to watch leatherback turtles lay their eggs. (see Turtle Adventure) -DWH
Tuesday July 4th, 2000
Another day of working on boat projects, then off to Sails restaurant for an Independence Day celebration. We are celebrating for the US, Canada (July 1st), and Venezuela (which is around this time also). There was lots of good music by locals and cruisers alike including a small boy (I'd guess about 8) who did an incredible steel drum solo. -DWH
Wednesday July 5th, 2000
Jo got the navigation software running and the computer hooked up to the GPS. It is exciting to see the little boat icon appear at our location on a chart of Chagauramas bay.
I finished some wiring projects that I've been working on since we arrived. The inverter is properly wired up, the battery monitor is hooked up to the port battery bank, I've added fuses were there should be fuses coming from the port battery bank, and there is a switch that lets us connect the port batteries to the starboard batteries (so if one bank drops too low we can still start both engines from the other bank).
Stacy is busy preparing a feast for tonight. We have invited Jamie (the boat builder), and Kerry and David from "Tequila" over for pizza. -DWH
Thursday July 6th, 2000
Stacy picked up a cockpit table that she ordered. Otherwise it was a lazy day. She and I had a picnic on the boat while Jo and Laurie when in for dinner and to play some pool. -DWH
Friday July 7th, 2000
Another day in paradise working on the boat. -DWH
Saturday July 8th, 2000
Jamie cooked dinner for us tonight. We actually went to his friend Letfi's apartment where he prepared the meal. It was fabulous and included included lobster, shrimp, pasta, and a huge bowl of fruit salad. Jo often says "eat till it hurts". I surely reached that point and I believe that Jo went way past the point of pain. -DWH
Sunday July 9th, 2000
We finally got our act together and got out of Chagauramas Bay. We lifted the beast about noon and sailed around Gaspar Grande to Chacachacare Island. Chacachacare Island was the sight of a leper colony until about 30 years ago. Once a cure was found, it was abandoned. The buildings are still standing, but mother nature has gone a long way towards reclaiming the island. Other than the old leper colony, there are a couple houses and a light house.
We had a most relaxing night. We had grilled chicken and salad for dinner and then just sat enjoying the peace and quiet. There are only a couple other boats anchored here. It is by far the least crowded place we have ever anchored. It is really amazing that we are only about 5 miles from Chagauramas which is packed with boats and is very noisy and bright (working port and shipyard).
We had really great bioluminescence again tonight. Jo told Stacy that sometimes it's good to be a man, and gave her a glass of water to pour overboard. This way she could get some idea of the joy he feels causing fireworks in the water while......ah.........communing with nature.
When we were finally ready to retire, we were alarmed by strange noises. It seemed like the boat was bumping something, but we were in plenty of water so it wasn't the bottom, and we couldn't see any other possible source of the noise. Eventually we convinced ourselves that it was fish bumping the boat trying to eat the barnacles that are growing on the hull. I'm not completely sure of this, but we managed to see some fish around the hull, and nobody has come up with a better explanation. -DWH
Monday July 10th, 2000
When I woke up this morning it was perfectly quiet and there wasn't even the slightest bit of roll. We all got up and took the dingy to shore. We then hiked up and across the island to the Boca Lighthouse. It was a beautiful walk of about a mile and a half, climbing to 800ft. Along the way we saw many lizards. There were dark ones with yellow stripes, bright green ones, and even a big one that was about 2 1/2 feet long. There were also many butterflies including the most beautiful one I've ever seem. It was large, probably a little bigger than a monarch, and bright, metallic, glowing blue.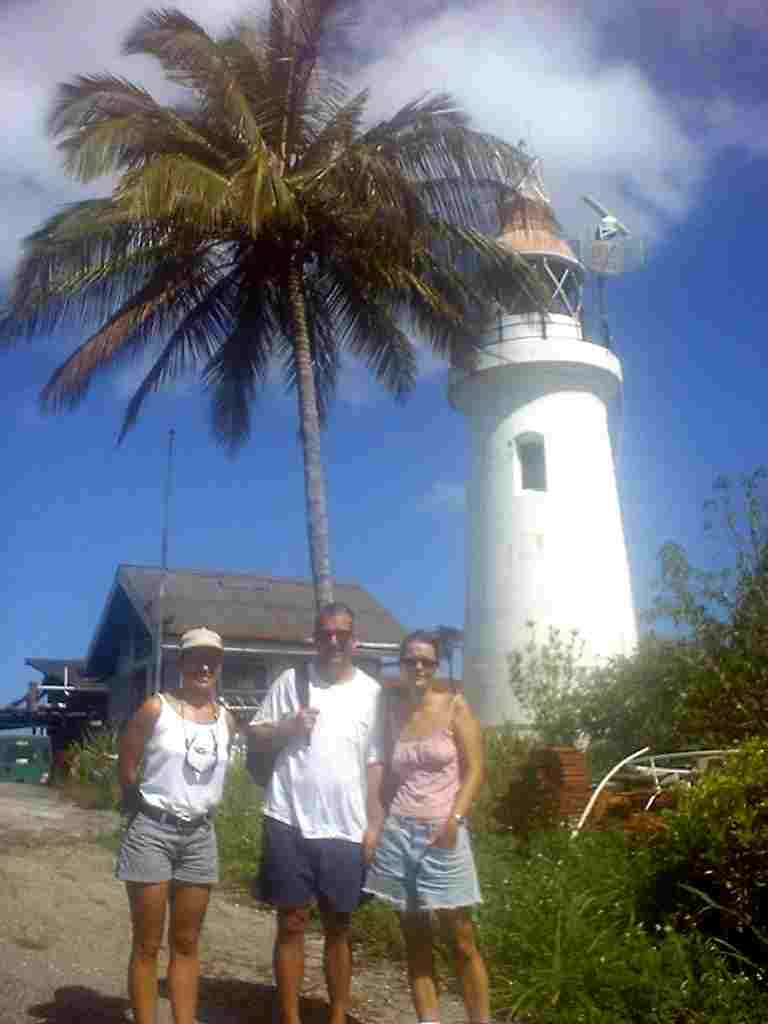 Stacy, Jo and Laurie in front of the Boca Lighthouse.
When we returned to Ladybug, we decided that it was a good time to scrub the bottom. We all got into the water and started scrubbing and scraping barnacles. If the fish were actually eating them, they sure left a lot. We scrubbed for about an hour and twenty minutes.
Later we sailed back to Chagauramas. -DWH
Tuesday July 11th, 2000
Worked a little on the bug. Ended up playing pool with Jamie at the Bight. Also run into Brian and Kathy from Tundra (Alberg 37 from Canada). We met them briefly at the big Independence Day party. They are checking their email frequently as they are due to become grandparents any time (actually 2 days over due at this point). They are a wonderful couple and we really enjoyed talking to them. -DWH
Wednesday July 12th, 2000
Looked at material for a dingy cover, sun shade for the windows, and other projects for Stacy. Laurie is working on curtains in the starboard hull. Jo worked on replacing the gaskets in a couple of hatches that were leaking. I worked in the bilge adding some additional support for the floor boards in the port hull (It ended up much stronger, but the floor boards still squeaked until I pulled out the duct tape.)
Stacy went to a meeting of the local (long term cruiser type locals) writers club. She read part of her story and got some good advice and encouragement.
I made pasta for dinner and then we all settled in the cockpit and watched "The Matrix"(DVD) on the computer. -DWH
Thursday July 13th, 2000
Stacy went running this morning. She has been doing that 4 or 5 days a week for the last couple weeks. I ran some errands. First I went to the customs office looking for our lost "Certificate of Documentation". It seems that when we cleared in the customs official didn't hand it back to me when he gave me the rest of the paper work, and I didn't notice. I was really relieved to get it back, because it's my jog to take care of all the paperwork. Then I went to the sail maker. I was hoping to get some old, used sail material. We could use this instead of sunbrella for making a dingy cover, replacing the bimini, etc. The sail maker said he saves everything for the local fisherman. While we are on a budget, they need it much more so I actually felt good about the fact that he didn't give us any. He was a very nice and gave me some good advice about getting to and anchoring in Tobago. Then later, while waiting for Stacy to finish her run, I met Emery and Yvonne. Their boat, Promise, is very similar to ours, but 2 feet longer and fixed up better. When I mentioned I was on an Antigua, Yvonne smiled and asked if I was "Ladybug". They have seen us around, most recently in Prickly Bay, Grenada..
Friday July 14th, 2000
Went grocery shopping. Called Paul Heidenreich who is here on a field service trip. Cleaned up Ladybug. Met Paul and Ricardo (from the plant, driving for Paul) at the Bight. Brought them out to Ladybug for pizza and beer. It was a most excellent night. -DWH
Saturday July 15th, 2000
The plan was to change oil, relax, and then leave for Tobago just before dark, but had trouble starting the port engine. By the time I got a clue as to what was going on, it was too late to get parts.
Jo changed the oil in the starboard engine. (hours at 1076) -DWH
Sunday July 16th, 2000
Everyday there are water taxis running people to Fantasy Island. They go right by Ladybug. This morning one of the drivers passed close by and told Jo that he should come with him some time. So, Jo and Laurie caught a free ride to Fantasy Island (boss, de plane! de plane!). Once they got there they were planning to get something to eat at the marina, but found only a bar and no restaurant. They bought one round, and then the owner served them free beer and soda for the rest of the day. When they returned, Jo had a healthy buzz.
Stacy and I went to TTSA (Trinidad and Tortola Sailing Association) to swap some of our books. Then I worked on the engine including changing the oil (hours 1076), and Stacy fired up the sewing machine to do a couple small projects. -DWH
Monday July 17th, 2000
I went running this morning... hot as always. I left Dave on shore to find a relay that is necessary to fix the engine so we can move on to Tobago. I went back to the boat and found dolphins in the anchorage between our boat and Saliander. What a surprise, thought I was imagining it. Jo and Laurie jumped in the dinghy and we chased them around for a while. They were playing in the bow wave of one of the work boats. This is the first time we saw dolphins while at anchor. What a special treat. Still planning on leaving today if Dave can find the replacement parts that he needs. -SLC
I was able to fix the port engine. There were two problems. There are two large relays, one that connects battery negative to the engine and one that connects battery positive to the starter, and a small relay that switches the larger relays when "start" is pushed on the control panel. I could feel the small relay switching, and I could measure no resistance across the contacts with my meter, but when there was any significant current draw, the contacts failed. I jumpered this but the engine still did not start reliably. The large relay that connects battery negative to the engine was also switching, but the contacts were failing completely. I went to the Volvo dealer to see about replacements. They didn't have either but could order them for $160US (large) and $30US (small). Luckily I managed to take the large one apart and fix it and then found a replacement for the small one at an electronics store for about $15US.
Once the engine was back in a working state, Jo and I went in to check the weather. There is a guy who basically has a weather station set up in the little mini mart in the marina. When I had checked on Saturday morning it looked great for a couple days. Now it didn't look so good. There was a tropical wave that would be passing through in the next 24 hours and the ITCZ (inter tropical convergence zone) was right over Trinidad. We had had similar conditions for the last two passages, so we knew it probably would not be too bad, but we should expected to get wet.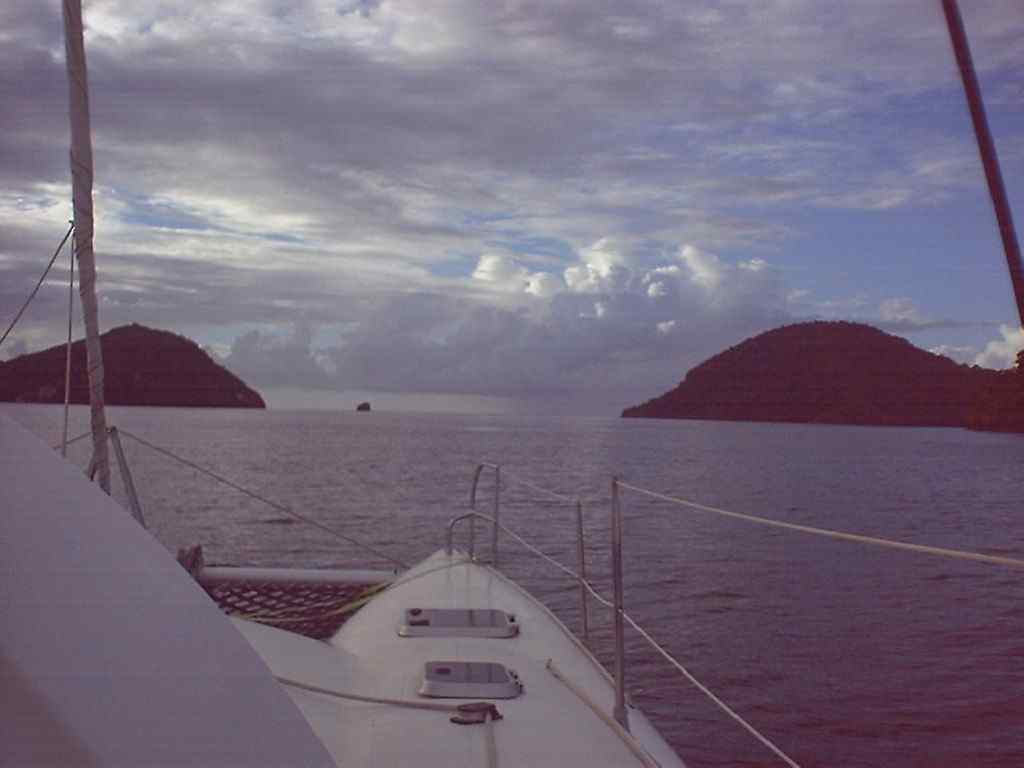 Leaving Chagauramas Bay looking at Boca de Monos (One of the "Dragon's Mouths").
We left Chagauramas Bay about 5pm. Tobago is up wind and up current. At times the current can be 3 or 4 knots. Most people motor along the north coast of Trinidad at night, trying to stay out of the current, and then motor sail from the north east tip of Trinidad to Tobago in the morning. We were planning to do this, but once we got out the wind seemed good so we started sailing, staying 2 to 10 miles offshore. -DWH