First impressions
Feb. 14 - 29 / 2000
After Jo and Dave's reunion, and Stacy and my introduction to miss Ladybug we all fell into a basic routine.
THE ROUTINE:
We ate most meals on the boat as we wanted to get an idea of just how expensive it was going to be for the four of us to eat while traveling; besides, I can't think of a more wonderful place to have my breakfast than sitting on the deck of our boat with the morning sun on my back. I'd like to compliment my cohorts on there cooking skills. We made many great meals with very little. Dave has a gift with pancakes, Jo is a master at rice and beans (it's the aftermath you need to worry about), and Stacy can whip up a mean angel food cake no matter the deterrents.
After our morning meal the four of us would normally set sail for one of the islands that make up the B.V.I. (British Virgin Islands). These sails were usually short in length leaving us plenty of time to explore or snorkel before the sun went down. I have never snorkeled before and have to admit that I really, really enjoyed it. The coral in the B.V.I wasn't extraordinary colorwise but the fish more than made up for it. They were anything but shy. In fact they swam so close to me I tried to reach out and touch them several times. While on one of these sails we were lucky enough to spot two whales, one of them was shy and only showed us his back but the other came up for air and then gave us a wonderful view of his tail fins. Judging from his fins this whale was positively huge.
We spent all of our nights at anchor, most of them in a small harbor called Trellis Bay. Trellis Bay is the home of my all time favorite bar and grill, The Loose Mongoose. The burgers there were delicious and the rum drinks unbelievably yummy. We met all kinds of interesting people at the Loose Mongoose and on the night of my banana daiquiri binge I believe I probably danced with them all. Although Jo assures me I have no reason to be embarrassed about the aforementioned evening I'm not quite sure I believe him.
So that about sums up our trip. Please realize that I've had to leave out much of what happened, partly to keep the story short so you stayed interested and partly because I know next to nothing about sailing and can't really tell you much about that part of our journey; but I'm learning. The B.V.I. is a lush and beautiful place and I am looking forward to returning to both it and my new home Ladybug.
Laurie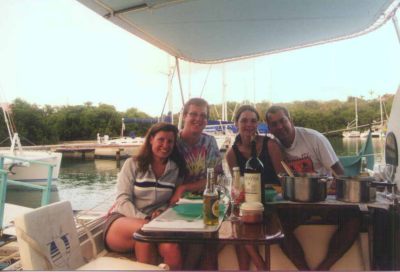 Typical outdoor dinner setup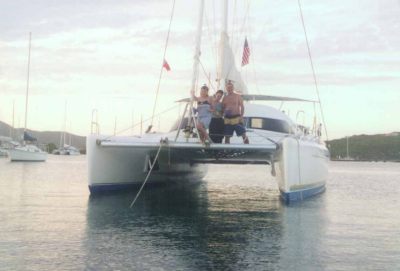 Ladybug at anchor (Trellis Bay)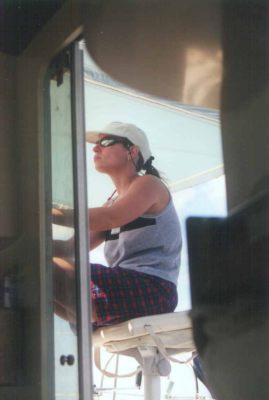 Stacy driving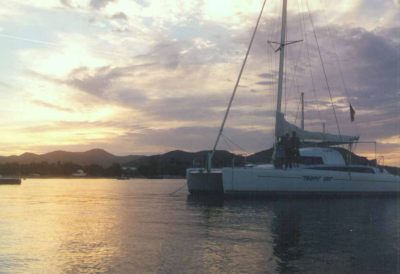 Sunset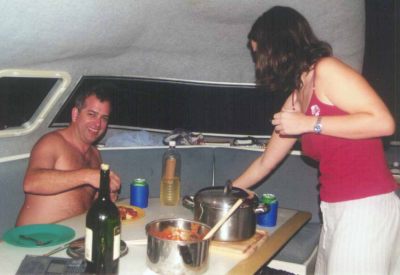 Dinner inside (notice Jo working hard)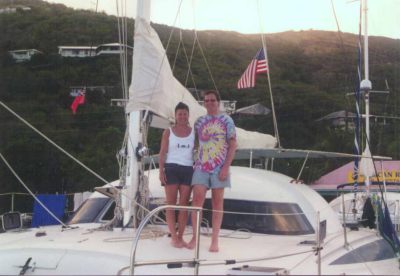 Dave + Stacy (Maya Cove)
.