Wednesday September 13th, 2000
The rest of the sail to Trinidad was uneventful. We entered Boca de Monos about 8am and were anchored around 10am. -DWH
Thursday September 14th, 2000
I worked on the electrical system. The load will be different when we are sailing 24hrs a day, and I'm trying to make sure everything will work. I estimate that we will use almost 50 Ah (amp hours) from each bank. That means that we will probably need to run the engines 2 hours a day to keep them charged. To be prepared to spend 60 days at sea we will need 30 gallons of diesel for charging.
Jo is working on getting the steering wheel off so we can mount the autopilot that we hope Matti will be bringing down. It's pretty stuck. Looks like we might need a torch.
Stacy worked on the web site. Most of what you see on this update was done by her this morning (Visit with Mom and Dad Hess and Guest Log)
Later Stacy and I went into Port of Spain to order copies of some cruising guides for Panama and the Pacific (my idea) and go shopping for material (her idea). I survived but just barely.
Now as I write this I am sitting in the cockpit enjoying a fantastic sunset. Our friends Sherm and Vickster sent us an email saying that they have seen the web site and "You have also confirmed what I have heard said that cruising is fixing your boat in exotic locations around the world." That's pretty accurate. We should add that you don't have an income so you can't actually afford to buy parts. All that said, it's still a pretty good life. Now if I can just find one more bottle of red wine in the bilge, I'll know I'm the luckiest guy alive. -DWH
Friday September 15th,2000
Had our standing rigging inspected by Billy of Billy's Rigging. There are a number of swages that are in bad shape. His estimate for proper repairs with the Pacific in mind is around $2700. Ouch.
Julius and Sally from Argonata had a pig roast at coral cove. We ate, drank, and had spirited discussions about rigging and politics. -DWH
Saturday September 16th, 2000
We have been working hard on the boat but we took the day off to help with a local clean up project. We headed over to Scotland Bay to help pick up the beach. There were about a half dozen boats and lots of helpers. The people who came on Ladybug can be seen in the Guest Log. -DWH
Sunday September 17th, 2000
Working of Ladybug. We went to talk to Peter and Sue on LaBoutique about charts. They are replacing their 1 year old batteries (6volt gulf cart type) and we bought two from them. We would have bought more, but they had already sold the rest. We also picked up six additional diesel jugs. They fit perfectly in our cockpit locker. We are now able to carry 71 gallons of diesel. This should be enough for about 4 to 5 months of cruising. -DWH
Monday September 18th, 2000
Working on Ladybug. Stacy and I got tickets to fly home for Ryan and Linda's wedding in November. -DWH
Tuesday September 19th, 2000
"Someday is Here" announced on the net that they have a used SSB (single side band marine radio, similar to a ham radio) for sale. This would be very handy in the Pacific. Our VHF radio is good for maybe 25 miles, but a SSB will allow us to get weather reports and talk to other boats that are hundreds or even thousands of miles away. -DWH
Wednesday September 20th, 2000
After talking to a few radio savvy friends we bought the SSB for $400US. -DWH
Thursday September 21st, 2000
Had our rig inspected by Neils of Budget Rigging. Since it is likely that we will be spending a lot of money, it's good to get a second opinion.
Jo went up the mast to look at our mast head light and wind sensor which are not working correctly. -DWH
Friday September 22nd,2000
Stacy and I had a date. We had pizza and our last bottle of red wine up in the net.
Jo went the the Bight to watch the Olympics. He met up with Jamie who spent the night. -DWH
Saturday September 23rd, 2000
Stacy volunteered to go help clean up a classroom at a local school for handicapped kids.
Jo and I worked on the boat.
We rented a car so we could go to the airport an pick up Matti tonight. Unfortunately we got a message that there was some problem with his flights, and he will be coming in tomorrow night on a flight from Barbados. If he's lucky he is spending the night in Barbados because a 100m sprinter from Barbados just won a Bronze medal, the first medal ever won by a person from Barbados.
We ended up at the Bight watching the Olympics and playing pool. We met Jamie there and he spent the night on Ladybug. -DWH
Sunday September 24th, 2000
Stacy, Jo, Jamie and I took the car on a tour. First we checked out some land that Jamie is interested in buying. That involved driving on a very nice but steep road that seriously challenged our "rent a wreck" type rental car. We got a great view of La Vache Bay were we anchored a while back. Next we went to Maracus Beach. It was rainy so the beach scene wasn't so hot, but we finally got to try "Shark and Bake", one of the favorite local meals. After Maracus we continued along the north coast to Blanchisseuse Bay. The road was a little rough and our car made a number of unhealthy sounds. At Blanchisseuse we turned south on a small, rough road that goes about 40km through the rain forest. The car continued to make disturbing noises, but the drive was beautiful and about 2 hours later we emerged from the forest of the other side of the mountain range. We then headed to the airport hoping to pick up Matti.
Matti arrives! His flight was a little late but he made it. It's good to have him back.
Monday September 25th, 2000
Took the car to the Price Smart store to stock up on food in the morning. It is one of those high volume bulk places that require you to become a member. We had heard that they let yachties use the store w/o a membership, but we were wrong. Oh well, a little fast talking and we were in. After giving almost $2000TT (around $325US) they let us leave.
After returning the rental I checked with Neils, but he does not have our rigging quote ready. It should be done tomorrow. -DWH
Tuesday September 26th, 2000
The quote for replacing the rigging was around $1500US. This is far cheaper than the previous quote, but there are some significant differences in what would be done/ what parts would be used. The biggest difference is that Neils (Budget Rigging) is quoting swaged terminals and Billy is quoting StaLoc terminals. We did some research and concluded that StaLocs are clearly better. The biggest difference is that if swages are not done correctly they might fail within a couple years. On the the other hand, if done well they can last as long as the wires. If we had buckets of money, there would be no discussion of whether or not to use StaLocs, but the extra $1000 dollars could buy a lot of other gear (or food). We looked into the equipment Neils uses and his quality control program and concluded that he is doing swages very well, so we are going with swages. Neils and his guys will start on Ladybug's rigging on Thursday and should be done within a week. -DWH
Wednesday September 27th, 2000
Neils said that he could replace the rigging at anchor, but we decided to move Ladybug to a dock at Hummingbird Marina. We are tucked in a little inlet with a couple other boats, so it should be very calm for working on the rigging. -DWH
Thursday September 28th, 2000
It was rainy and windy when we got up, but the water is completely calm in our little spot. About 9am I walked down to the main dock. Chaos!! Thunderstorms in the Gulf of Paria have kicked up winds from the south and a big southerly swell. The waves were coming straight into the marinas tossing the boats around like they were toys. Docks were getting smashed, boats were being damaged, lines were snapping, mast were colliding, and some of the boats that could were heading out. We took spare lines and tried to help our friends who were struggling to control their boats.
Around noon, as things were calming down, the riggers showed up. Bad news. All the turnbuckles are frozen and the wires will have to be cut. We also found out that there was some serious corrosion. Our mast has triple spreaders (one forward and one swept back on each side) with two aluminum tubes that connect the ends. There was a lot of tape on the end of the forward one, presumably for chafe protection. Once the tape was removed we found that the ends of the aluminum tubes were completely corroded and it was only the tape holding them together. -DWH
Friday September 29th,2000
On top of all the chaos yesterday we have a couple other concerns today. There has been an oil spill and there is a big slick heading our way, and Hurricane Joyce is threatening Trinidad and Tobago. Trinidad is usually considered to be out of the hurricane zone. The storms often start out coming towards Trinidad but almost always turn north long before getting here. The last time one hit here was about 30 years ago. In this case it appears that high pressure to the north is keeping Joyce on a westerly course. The current projections estimate a 10-20% chance that center of the storm will hit Trinidad. If that happens it will probably be Sunday night or Monday morning.
Jo and I talked to Neils to make sure he will have the diamond stays that he removed yesterday replaced before the storm hits. Stacy and Matti are making sure that our water and diesel tanks and jugs are full. -DWH
Saturday September 30th, 2000
Woke up this morning and checked the VHF for the position of Hurricane Joyce. Someone reported that she had turned north and was up to 13.5 north.
Stacy and I went to our friend Tanya's concert. She was fabulous, but we also had to sit through some fire and brimstone.
When we returned to Ladybug she was pretty well tied up for a storm. There were lots of extra lines out, the bimini was off, etc. My first thought was that Jo was being extra careful and treating this as a trial run. I then checked and found that Saliander and a number of other boats had left. This surprised me considering that the storm had turned so far north, so I stopped by a marina office that had the latest weather posted on the door. The guy on the radio this morning had it all wrong. Joyce is still headed for us! She has been downgraded to a tropical storm, but is still something to take very seriously.
We spent the rest of the day preparing Ladybug. We also added some extra lines and prepared the boat ahead of us whose owner is away and added an extra line to the boat that is behind us. Now we wait. We should start to feel the effects around 2 or 3am with worst hitting us around dawn. We are in a very well protected spot, so we should be OK, but we'll just have to wait and see. -DWH
Sunday October 1st, 2000
Woke up several times during the night. It was dead calm with lots of rain. Got up around 5:30. It was still dead calm and raining. It is very strange. Nothing is moving. We got an update on the VHF around 7. Joyce slowed down and turned north during the night. She was just reaching Tobago and heading north west. She also lost some strength. I'm glad we didn't get hit, and I hope everyone in Tobago is OK. -DWH
Monday October 2nd, 2000
Another rainy day. We celebrated not getting hit by a hurricane last night and are not moving too quickly today. -DWH
Tuesday October 3rd, 2000
Miscellaneous work on the boat.....rigging, hatches, SSB installation, etc.
We started looking at the charts that we got from La Boutique. There are about 300 charts of the Pacific, and we can get copies made for about $2 each. Wow, what a task. Looking at these charts for a couple hours has significantly improved my geographical knowledge of the Pacific. So many places, so little time. -DWH
Wednesday October 4th, 2000
Jo and Matti are working hard on making a mold for our new chain locker hatch. Hercules, our new anchor windless, does not fit under the existing hatch. Rather than modifying the hatch, Jo is using it to create a mold for a new hatch. This way we can have a nice new hatch, but will always be able to go back if we don't like it or change windlesses later.
Stacy is making clear chart pouches. They will be great for organizing all the new charts we are going to have.
I'm reading a lot about SSB (single side band) / HAM radios. Alan on Saliander loaned me a couple books. To avoid distractions I went over the the open air bar here at the Hummingbird Marina. I was concentrating very hard on antenna theory when everything started to shake. Earthquake! It lasted about 20 seconds. When it was over nothing seemed to be damaged, but everyone was pretty excited. I later learned that it was a magnitude 5.8 quake and the center was 60 or 80 miles north west of here.
We managed to receive the USCG weather broadcast from Virginia on the SSB.
I wonder if someone here has done something to upset the gods lately. In the last week we had a swells from the south that smashed piers and boats, an oil spill that coated birds and boats, Hurricane Joyce that threatened us and hit Tobago, and a earthquake. -DWH
Thursday October 5th, 2000
Stacy is helping out on a local group that helps teach disabled kids. It is called "SAIL", Sailors Assisting In Learning. They are collecting materials for the sewing class and also having tee shirts made to sell as a fundraiser.
We found out that La Boutique is hoping to leave soon, so we need to get the charts we want to the copy shop tomorrow. It was very late night of looking at charts. -DWH
Friday October 6th, 2000
Jo popped his mold off the hatch this morning. It looks pretty good. Later he and Matti started laying new fiberglass/epoxy to form the new hatch.
We finished "selecting" charts of the Pacific to copy. In the end we basically decided to copy all of them even though our planned course does not take us near many of the places. Our thinking is that they are relatively cheap ($2 each) and we are more likely to get a little more off the beaten path if we have the charts. All told we will end up with about 300 new charts. We also have several cruising guides and should be getting some electronic charts also. -DWH
Saturday October 7th, 2000
Neils came by and tuned the rig. When we got the bill it was a couple hundred more than the quote, but not bad considering the extra things that he found and fixed.
We all spent most of the day working very hard on projects that we would like to get finished before we leave...new hatch to cover the windless, sunbrella cover for helm seat and remounted it a little closer to the wheel, reinforcing and putting new hinges on the cockpit locker hatches, etc.
Stacy went to Sails Restaurant to help sell tee shirts to raise money for SAIL, Sailors Assisting In Learning. They help teach English and sewing to handicapped kids at a local school. There is usually a yachtie concert at Sails Restaurant on Saturday night. (It is amazing how much talent there is in the local and yachting community) It made for a very festive atmosphere. Jo, Matti, Jamie and I ended up there a little later. -DWH
Sunday October 8th, 2000
Sailing!!
We worked hard to get the boat back together in the morning and went sailing in the afternoon. Our friend Tanya, Jayleen (her little girl), and Jumoke (her boyfriend) came along. It was a nice sail, but when the wind picked up maybe a little too exciting for some. Jayleen was great though. She is a couple years old and a natural sailor. She has great balance and was all over the boat. She watched what was going on and ended up playing with the winches (we turn the one with the line on it, she turns the one without the line). Once we were back and tied on the dock she crawled up in the helm seat and pretended to steer.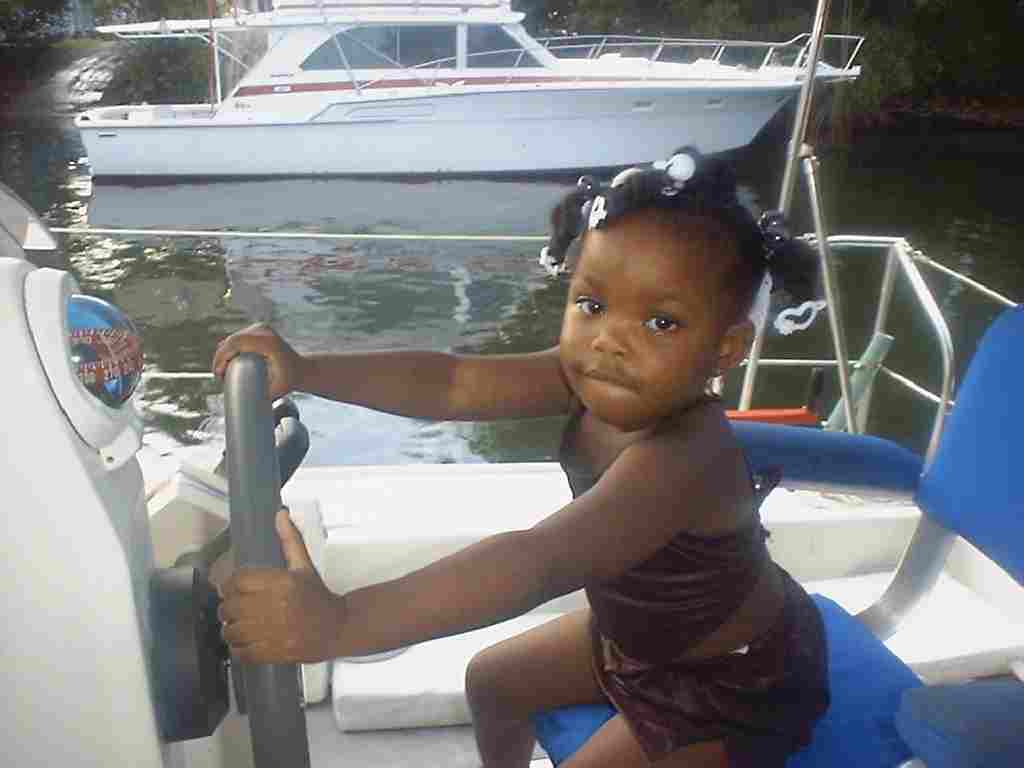 When we got back Jamie cooked up a killer meal and we all stuffed ourselves. It was a very satisfying day. -DWH
Monday October 9th, 2000
Sailing again! Two days in a row!
We did a little work on the boat in the morning. Jo and Matti worked on the chain locker hatch. I worked on the rigging. Yesterday the stays seemed a little loose. I added 3 full turns on each turnbuckle. I talked to Neils before we headed out, and he said that he had originally tuned it for 18% of breaking strength. He added that he expected it to need to be between 18 and 21%, so a little adjustment is not unexpected. He said that we should not go over 25%.
We sailed out of Chagaramas, around Gaspar Grande, out Boca de Monos, between Monos Island and Huevos Islands, and over to Chacachacare Island for a swim, hair cuts, and some bottom cleaning. Then we headed back to Chagaramas. We did not get too much wind, but the stays tension looked better. -DWH
Tuesday October 10th, 2000
Worked hard on the boat. If should be able to finish all our current projects and be out of here tomorrow!
We had a cookout / bon voyage party tonight. Jamie bought 70 pounds of beef which we cooked on the marina's grill. Most people brought a little something to share and it turned into a fabulous time. -DWH
Wednesday October 11th, 2000
The crew was sleepy this morning, but we got everything done and headed to Chacachacare around 3pm. It was good to cast off the dock lines but was hard to say "so long" to Jamie. It was great to have him stay with us. Hopefully when he gets home he will get his boat ready, and we'll run into him someplace exotic.
We arrived in Chacachacare and dropped anchor next to La Boutique. There were waves from the SE due to a storm that had passed through the Gulf of Paria which made things a little uncomfortable for awhile. We had dinner and Jo, Matti and I played Scrabble. The waves subsided, and we had a peaceful night at anchor.-DWH