Tuesday July 18th, 2000
The sail from Trinidad continued to be exciting with lots of rain. I'm not talking about the light, soft rain. I'm talking buckets. Sometimes there was wind with the rain and sometimes it got calm and we motored. We tried to stay close enough to the north coast of Trinidad to keep out of the strong current, but the further east we got, the closer the current was to shore. We were using the GPS and software on the laptop to continuously track our position. There was a very interesting pattern. We would make progress while heading south east along the coast of Trinidad. We would tack back out on a north east course when we got within a mile of shore. We would make good progress on this tack until we got 4 or 5 miles off shore. At this point, our course over ground would change dramatically to the north west. The first couple times we continued for a mile or so and then turned back along the same line. Like I said before, it's hard to sail up wind and up current. This is exactly why we will go around the world to get to Brazil rather than just sailing down the coast of South America.
About 10 am we left the coast of Trinidad and started straight for Tobago. The conditions continued to be challenging, but the tropical wave had passed, so at least we had sunshine. To be perfectly honest, despite the slow progress, it was glorious sailing. We arrived at Pigeon Point about 5 pm. After dropping anchor and getting Ladybug ship shape we headed to shore for dinner. It was a very good day. -DWH
Addendum to the 7/18/2000 log entry:
We made an interesting observation when we arrived at Pigeon Point: our position according to the GPS and displayed on the electronic chart on the lap top shows us in the middle of the reef about 1 mile north of our actual position.-DWH
Wednesday July 19th, 2000
Jo and I got haircuts this morning. It's a little different than at home. First of all, hair cuts happen when the water is good for swimming, which we do right after the cut. Secondly, I've never had to dive in the water to recover barber tools when I got a hair cut from Ken the barber (someone at Marquip please say "HI" to Ken for me). We have an electric hair trimmer (compliments of Matti). The little plastic piece on the end popped off while Stacy was cutting my hair, and I had to dive after it. Anyhow, we got fantastic hair cuts. Good job Stacy and Laurie.
We took the dingy ashore to check out the area. We are anchored next to Buccoo Reef and just off of Pigeon Point Resort. We tied the dingy up at the resort and walked about a half mile through the grounds towards town. It is a beautiful walk under palm trees along the beach. After passing the gates of Pigeon Point resort there are several dive shops, a bunch of fishing boats, and then some hotels and restaurants. It seems very laid back and less rough than Trinidad. There are people offering horse back riding, glass bottom boat tours of the reef, hikes to waterfalls, etc.
When we got back to Ladybug we were warm and in the mood for a swim. Stacy and I headed for the reef. The water is not as clear as in the Virgin Islands, but it is much nicer than in Trinidad. There were lots of beautiful reef fish and coral. I especially like the fan coral. -DWH
Thursday July 20th, 2000
A most excellent day! I had a great swim on the reef. I have always had trouble clearing my ears when snorkeling, but for some reason I was able to do it reliably today. This allowed me to dive deeper than usual and really get face to face with more coral and fish. I was in such a good mood, I finally got my act together and made bread. While I was doing that Stacy was making soup. Then Smoky, a local fisherman that we met earlier, came by with a boatload of tuna. He was selling them for $20TT (about $3US) each. We said we would take one, and he said to meet him at the pier. Jo and I went in. In less than two hours he had caught 13 tuna in the 5 to 12 lb range, about a dozen smaller ones, and one big tuna head (a shark got the rest) off Buccoo Reef. Jo and I watched him clean them, and then he asked which one we wanted and how we wanted it cut up. I picked one that was about 10 lbs and told him to make it into steaks. When he finished we had the nicest pile of fish steaks that I had ever seen. When we got back to Ladybug Jo fired up the grill and we had a fabulous dinner. -DWH
Friday July 21st, 2000
Jo had a great trip to the reef. Visibility has improved a lot over the last few days. He saw a number of big fish, an eel, and a ray. I spent a good deal of time in the water cleaning the bottom of the boat. While this was not as cool as Jo's swim, there were a number of fish feeding on the barnacles that I scraped off the bottom.
We had a group of three boats anchor around us for the day. They were packed with American kids of about college age. They were on a group tour or captained charter of some sort. They picked up anchor and sailed away late in the afternoon. More about them later.
We only managed to eat half of our tuna last night, so Stacy added the leftovers to the soup. It was excellent. We had it for lunch and dinner.
Later we walked to the airport to meet Jamie and Lotfi who are flying in for the weekend. We all got back to Ladybug around 11 PM We were sitting in the cockpit enjoying a few beers when Jo thought he saw a red flare coming from the other side of the reef, about 2 miles north. I got out the binoculars, and Jo turned on the VHF. I could see a couple boats but no more flares. After a couple minutes we heard a "Mayday, Mayday, Mayday". Jo talked to the captain. He said that they were on the reef and abandoning ship. Everyone was safe, but the boat was taking a pounding. Jo and Laurie went to shore to try to get some local fisherman to help. There are about 20 sailboats anchored here, but nobody else seemed to have noticed, and in fact local fisherman were the only ones who know the area well enough to go near the reef at night. Jo and Laurie didn't find any fisherman, but talked to the security guard at Pigeon Point Resort, who said he would contact the right people. Meanwhile I made contact with the vessel on the reef again. It was one of the three that we had seen earlier. All the passengers were safely on the other boats, but the captain was sticking with the boat. He had a satellite phone and had contacted his boss who was trying to arrange for help. I told him that we would stand by on channel 16 in case he needed assistance. A couple hours later the Coast Guard was involved, and when we finally went to bed it looked like things were being handled by the professionals.
While the whole situation was very unfortunate, we are using it as a learning situation. First, stay clear of reefs, especially at night. The captain had said something about the chart being wrong and "cutting the corner a little tight". Second, the first flare might get someone's attention, but they may likely not be sure what they saw and from were. If he had used two or three flares a minute or two apart, it would have been very clear that there was someone in trouble. Third, after shooting a flare, get on the VHF right away. Chances are that someone will be listening if they saw the flare. Forth, if you go aground, get an anchor out to keep you from being pushed further onto the reef. The captain reported that they dragged for about 150 feet. That boat is really stuck. There are also some things that the captain did that really made sense. He got everyone off safely. The safety of the passengers and crew is always the first priority. Also, while we was sticking with the boat, he had a dingy and abandon ship bag ready, so if anything went wrong, he was ready to get off himself. -DWH
Addendum to the 7/21/2000 log entry:
If the boat on the reef was using the same electronic chart that we have, they would have believed that they were a mile north of the reef when they hit it. This is quite likely what happened. -DWH
Saturday July 22nd, 2000
We woke up to the sight of a lot of activity trying to pull a 50ft boat off the reef. Jo, Jamie, and Stacy went over in the dingy. I'm glad that's not Ladybug. It looks like it's pretty well stuck. I wonder how and when they will get it free.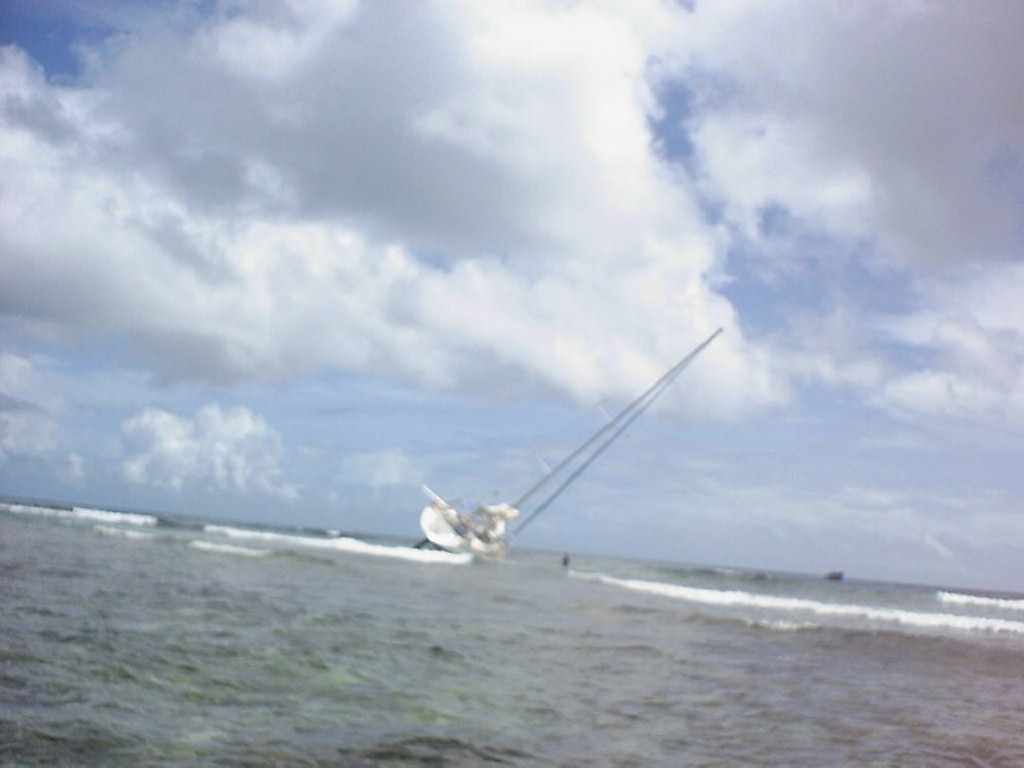 Looking at the boat wreck on the Buccoo Reef from the dinghy.
Later we all went snorkeling. It's nice to be in the water. About 3 PM Stacy and I went out fishing. We caught 1 small tuna (about 2 lbs). I was surprised that no local fisherman were out. Laurie, Jamie, and Lotfi went to shore to try to buy more fish from Smoky, but he didn't have any tuna, only red fish and barracuda. Laurie asked why he hadn't gone out for tuna, and he said "because they aren't biting". Stacy and I will have to try again when they are biting. Laurie bought some of the red fish and barracuda and came back to the boat. Lotfi an Jo fired up the grill and Lotfi gave Jo a lesson in grilling fish. He explained that you cook the barracuda until it is very well done and even a little charred on the edges, but the tuna you just cook a little or even eat it raw. It was all very good.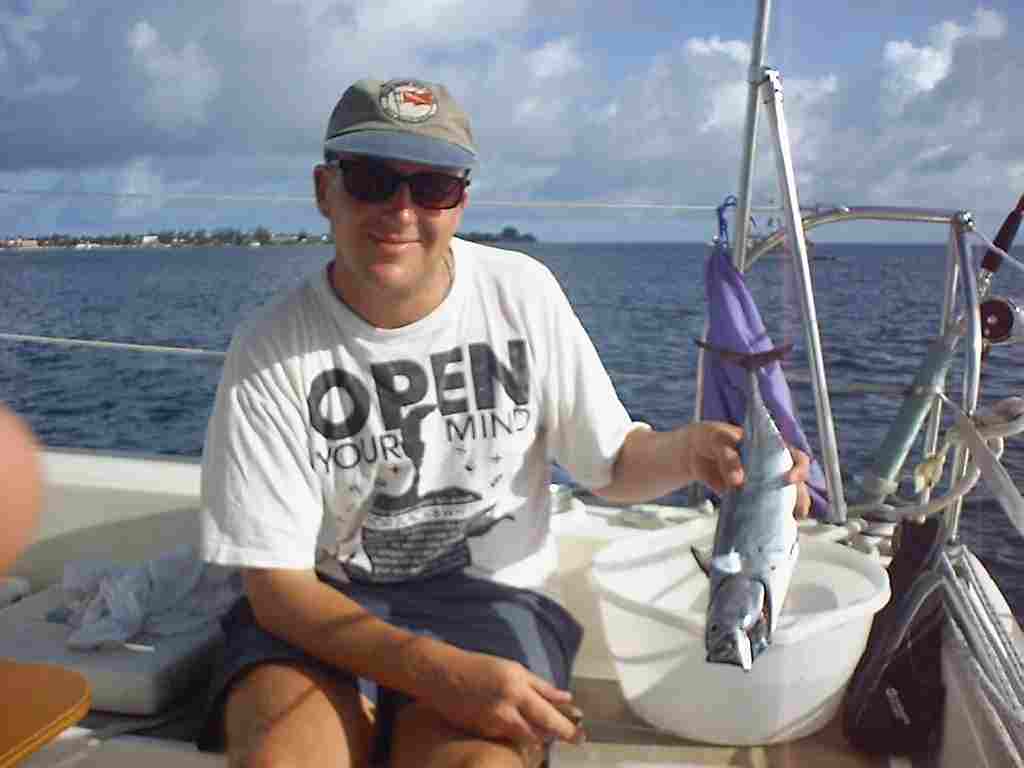 Dave's tiny but tasty tuna!
While Laurie was talking to Smoky, he mentioned that he plays African drums and that he would be playing at a bar around 10 PM Jo, Laurie, Jamie, and Lotfi went to check it out, while Stacy and I had a quiet night on the boat.-DWH
Sunday July 23rd, 2000
Woke up to find a large fishing boat off our stern. It turns out that the Ladybug crew had a fabulous time last night and met several more local fisherman. They told Jo that they would be going to try to pull the wreck off the reef and that he could come along. When Stacy and I heard what was going on we shot out of bed to join them. We met Alix, Murdock, and Frank who is the captain and owner of the boat. When we got to the reef there were a couple divers deploying float bags, but they were not ready to try pulling it. Frank decided that we should go get some fresh bait and then check his fish traps while waiting to see what was up with the wreck.
While we were on shore in Buccoo Bay getting bait, Murdock gave a quick tour of town. This is were they have the famous "Sunday School", which is a huge party on Sunday night. He said that people often dance in the street until dawn. I guess that Monday is a pretty unproductive day in Buccoo Bay.
Just as we were ready to head out, there was a guy looking for a ride to the wreck. His name is Bill Casey, and he works for the insurance company. His specialty is pulling wrecks off reefs or off the bottom and assessing damage. He rode out to check the fish traps with us, and then we went to the wreck. Frank got us to within about a hundred feet and then Bill, Jo and I waded the rest of the way. As we approached the boat we found a mesh bag with some snorkel gear and a fish pole in the water.
The boat was holed on it's port side, but had been pulled over onto its starboard side which seems to be OK for now. Small waves were breaking onto the deck. The boat was full of water, with water spilling in two open port holes with each wave. Bill went into the boat to closed the port holes and assess the situation. I went up into the cockpit to get a better look. Wow, what a nice boat. Except for the hole on the port side and the current location, this is a fantastic boat. Bill said that it cost about a half million dollars. He half jokingly asked if we would like to buy it as is, were is. He didn't seem too optimistic about saving it. He said they can patch the port side, but to pull it off they will be going over some very sharp rocks which will probably rip open the starboard side. It also has a winged keel which is in danger of being ripped off when they drag it. It will be very interesting to see how this all turns out.
When Jo, Stacy, and I got back to Ladybug we found a sleepy crew. We pretty much laid around until it was time for Jamie and Lotfi to go to the airport.
Later we went to Buccoo Bay to check out the party. There was a local steel drum band that played for about an hour, lots of people selling food, and later dancing in the street to music played by a DJ. When we left about midnight, it seemed like things were just starting to cook.
Oh, one last thing. We ran into Frank at "Sunday School". He is getting married next Sunday! He invited us to the wedding and said he would even arrange transportation for us. He seems to be a really great guy, and we are all looking forward helping him and his wife celebrate their big day. -DWH
Monday July 24th, 2000
We had a lazy day, worked on the boat a little. The repair of the net attachment is a big job. There are swallows around the boat every morning and every evening. They are trying to build a nest in our boom, but we covered it. They seemed a little pissed, but it will be better in the long run. -DWH
Tuesday July 25th, 2000
I went for a run this morning while Dave took the dinghy out to look for tuna. I ran to the corner where you turn to go to Buccoo Bay. This corner is about 4 miles from where the boat is. It is very nice to run here. There is a sidewalk and the people are very friendly. There is also a bakery close to that corner. I stopped at the bakery on my way back and bought one of everything for the crew to try. The cheese pastries were the favorite. When I returned to the boat I worked on my short story. After a while Dave and I went out again to try to catch a tuna, still no luck. Finally Smokey came by and told us he had some red snapper. Laurie went into shore and bought us some fish while Jo started up the grill. We had a great lunch. Then Dave and I went into shore to buy groceries for our big celebration day tomorrow. This was an exhausting trip in the heat. I made a little humus for dinne,r and we called it an early night because we wanted to be well rested for our dive tomorrow morning. -SLC
Wednesday July 26th, 2000
As our 3 year anniversary, Dave and I had an exciting day planned - no work on the boat!! Dave and I woke up around 7 AM and had a light breakfast of mangoes. Jo took us into shore around 8:30, our dive was scheduled for 9!! Jimmy the owner of Dive Tobago Ltd. introduced us to our Dive Master "Delano". Delano got us suited up and took us into the shallow water for a quick refresher on the use of the diving equipment. Dave and I did a 10 minute swim in the shallow water, and we both felt comfortable enough to go ahead with the dive. We hopped into a pirogue named "Pixie" and cruised across the bay to an anchor dive on Carawak Reef. We descended down along the anchor line into about 20 feet of water. Then we swam along the reef until about half of our air was gone, then we turned around and came back along the reef until we ended up back at the boat. The dive was maximum depth of 40 feet and a total of 55 minutes. The shallow dive allowed us to stay down for a longer period of time, and also meant that the colors were extremely vibrant! We managed to find a Green Moray Eel. We could only see the mouth and teeth. The teeth looked very threatening. Afterwards Delano told us this eel would have been about 4 feet long if we could have seen it's body. We also saw an octopus. I would guess it was about 1.5 feet long. The octopus moved with a fluid motion, only to go hide under a rock. We saw lots of different fish, some as small as my fingernail, some as long as my arm. The coral was beautiful.

After the dive we sipped a beer as we discussed what a great dive we had. Laurie picked us up in the inflatable and we came back to the boat. Dave fried some eggs for us for breakfast. Then Dave started making bread for dinner and I started to make apple crisp for desert. Jo and Laurie had just been in the water and told us there was a school of fish about 50 feet behind the boat, so Dave and I jumped in the water for another quick swim. The fish were about 3 to 6 inches in length. They were mostly bluish in color and propelled themselves with very small fins on each side just behind their head. When I got back to the boat I found a tiny squid hanging out by the swim ladder. I reached for the squid and managed to get him to squirt his ink. Very cool!

Then I started the salad we would have for dinner and Dave popped his bread into the oven. I took a short nap and then it was time to take a shower and get ready for our special evening together. Jo and Laurie were gracious enough to have dinner on shore to give Dave and I a little privacy. This was greatly appreciated. We opened a bottle of wine and started with appetizers. Dave surprised me with caviar and a spicy fish spread. The evening sky was reminiscent of our wedding day 3 years ago. It never rained more than a couple of drops but we heard very loud thunder and the sky was very black. Needless to say we had an indescribable sunset. The sky was full of different cloud formations. I shot at least 1 roll of film, and I probably still did not capture the beauty of the scene that surrounded us. We were also visited by some beautiful swallow like birds. There were hundreds, they were landing on our boom and on our life lines! Mostly the birds were circling our boat. This created a very neat sensation.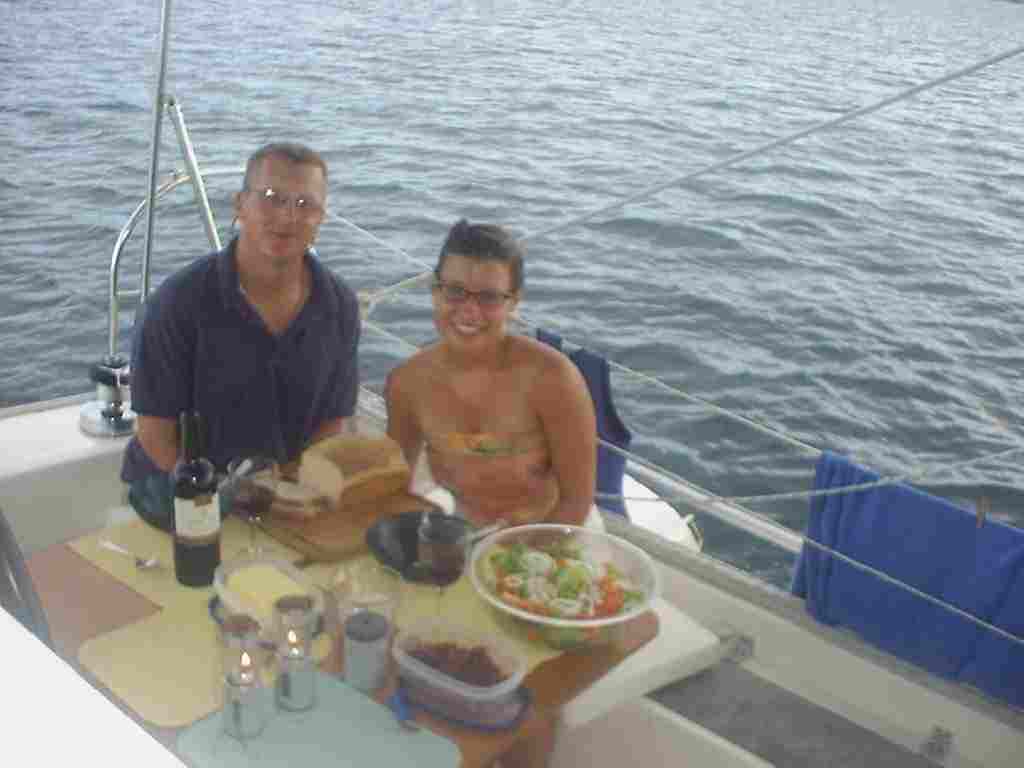 Dave and I enjoying our anniversary dinner together.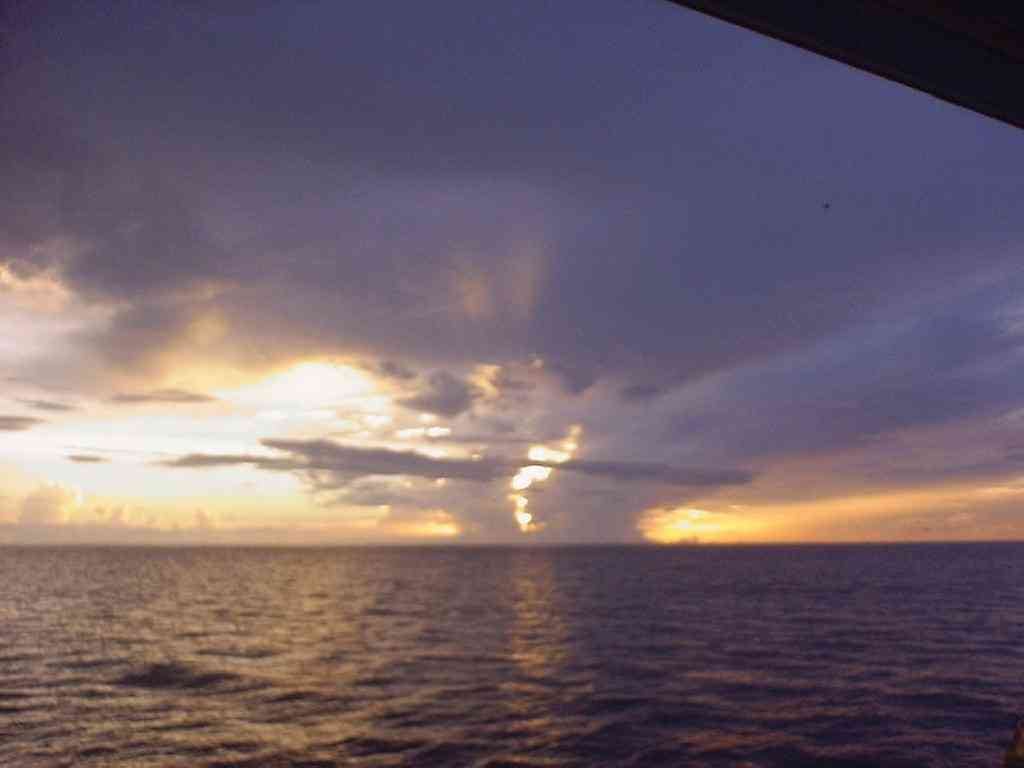 Jo and Laurie came back from shore around 8:30. They had played some pool and a game of Scrabble. They also had the good fortune of meeting Irwin. Who carved the exterior surface of a Calabash for them with a palm tree and a Dolphin. Jo bought it for Laurie as a present. It looks really great with a candle inside to light up the intricate carving. We listened to some music together and then called it a night. It was great day. Now I know what it is like to celebrate our anniversary in Paradise!! -SLC
Thursday July 27th, 2000
Another easy day of swimming, working on Ladybug, eating fish, and watching clouds and a great sunset.
This is a good time to write a little about Tobago. It is much more laid back and safer than Trinidad. A couple days ago I was at the grocery store and noticed that people don't lock their car doors and sometimes leave their kids in the car while they run in for something. There was a bike against the wall without a lock. That would be very unusual in Madison. It was a nice bike too. After the grocery store, where they had anything you would normally want and then some, we went to a fruit and vegetable stand. There was so much good food. When we were coming down island people said that we could get provisions in Trinidad, but we had better stock up if we were coming to Tobago. What do they think people here eat? We have never eaten better. We have all the basic ingredients, lots of fresh fruits and vegetables, and fresh fish every day. Oh, and the beer is cheap. It's $5TT (80 cents US) in the cheap bars and $8TT at the expensive places. And lately we have had trouble buying fish or beer because people are always giving it to us. -DWH
Friday July 28th, 2000
Laurie went to the airport. She is flying to Trinidad to meet her mother's flight. Jamie will pick them up and take care of them until Sunday morning when they will fly together to Tobago on Sunday.
Alix stopped by with some "channet", a local fruit. He was on his way to go out fishing.
Jo, Stacy, and I pulled up the anchor and sailed for a while. Eventually we met Frank on "Sahara Dust" at the entrance to the passage through Buccoo Reef to Buccoo Bay. Frank guided us through safely. We did not want to end up like the boat that went on the reef last week. We dropped anchor. Then Murdock called out from Sahara Dust telling us that he had four red snappers and mangos for us. This made for a fantastic dinner.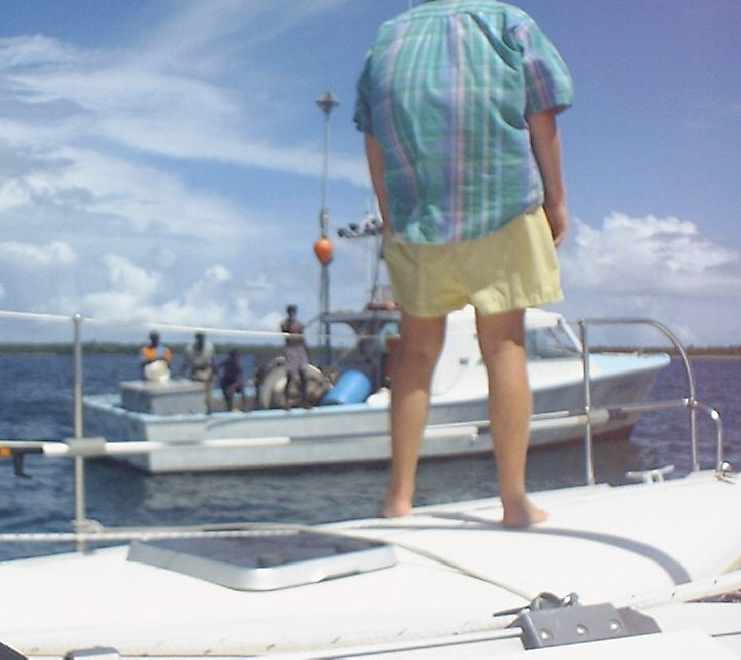 Sahara Dust leading us into Buccoo Bay.
We went to shore and had some beers with Murdock and some of his friends. Alix came in from fishing about 9pm. He had several king fish, 150lbs of Bonito ( a kind of tuna), and a couple other miscellaneous other fish. He said it was a good catch considering that it is the bad season right now. Later Frank showed up and we went "liming". To lime is to party in Trini and Tobago lingo. They do love to party here. We drank and danced until about 2am. Then we came out on the boats. We tied Sahara Dust off Ladybug's stern and started cooking fish. The party went on until dawn. -DWH
Saturday July 29th, 2000
After sleeping off and on until about noon, Jo and I got busy and did some fiberglassing. We started cleaning up Ladybug, so she looks good for Laurie's mom. Stacy and I took a walk to buy some groceries and to check out Buccoo Bay. It is a pleasant little town. Later Murdock came out to see ifwe were coming Limin' again tonight. Jo and I went in for a few beers, but were not ready for another "dusk to dawn" night. -DWH
Sunday July 30th, 2000
Stacy got up early and ran to the airport to meet Laurie and her mom, Linda. Jo and I stayed behind to clean Ladybug, make bread, etc. Stacy, Laurie and Linda arrived about 10am. We sat around and talked and then headed into shore around 12:30. Tobago is having a "Heritage Festival" and the sight of today's activities is Buccoo Bay. The main event is goat racing. There is also a power boat race and the usual food, music, and dancing in the street. We are a little disappointed that we will not be seeing the races, but that's OK because we have even better plans. We are going to Lawrence Frank and Melissa's wedding today!
We caught a taxi to the church and arrived about a half hour before the ceremony was supposed to begin. We were almost the first ones at the church. This was nice because we got to watch everyone else arrive. What beautiful dresses the women wear! The ceremony was fairly short and soon we were headed for the reception. There we had lots of food, beer, dancing and fun. You can see more at Frank & Melissa's Wedding .
After the wedding reception we were pretty beat, but we still enjoyed "Sunday School" in Boccoo Bay for a while before finally hitting the sack.
Monday July 31st, 2000
The crew slept in this morning. When we finally got up we Stacy worked on her story (It's getting close to completion!), Laurie and Linda made potato salad, Jo worked on the computer and made beans and rice, and I worked on the net attachment system and made bread. All the food preparation is because we are expecting visitors. Apparently the after shocks from the wedding celebration will be going on for a week or more, and we expect some of the fisherman to be showing up at some point today.
Frank came by in the fishing boat. The rest of his crew did not make it, but he was up and fishing early. He really loves being on the water. He had a few red snappers for us. We are really eating well.
About 6pm Laurie and Linda went to shore. They met up with our friends and began to ferry them to Ladybug. We had a good night of food, drinks, and lot's of laughing. -DWH
Tuesday August 1st, 2000
Where's Waldo? Or that should be "Where's Eric?" Our friend Eric Slayback, former Marquipian and current airline pilot, is expected today. He gets to fly very cheaply, but always standby, so we are not sure when he will be arriving. We've sent a couple emails telling him how to find us, but we are not sure if he got the last one telling him that we have moved to Buccoo Bay.
We spent a good part of the day partying with the fisherman.......lot's of food and beer. Around 5 PM Alix gave us a ride over to Pigeon Point Resort. I talked to the security guard and gave him a note for Eric, so if he didn't get our last email and goes there, he will know how to find us.
We found out that the last flight arrives from Trinidad at 9 PM Stacy and I waited on shore until 11:30 but no Eric. Laurie put out the word around town that if anyone sees a tall white guy, they should ask him if he knows Eric Slayback. I'm sure once he gets to town he will have no trouble finding us as half of the people in this small town are looking out for him. -DWH
Wednesday August 2nd, 2000
Stacy started to shore to go running this morning and guess who was on the dock.....Mr. Eric Slayback! He was tired (slept in the Trinidad airport last night) and dressed in work cloths (luggage got left in Miami), but otherwise looked well. It's good to have him aboard. He didn't have all the goodies from my parents, but he did have two spear guns from Kurt and Amy Nelson (Thanks Koit!). They were in a corrugated cardboard box. The airline would not let him check them, but had no problem with him carrying them on. Go figure.
Once Eric was aboard, we put him right to work. First he learned a little about epoxy and fiberglass work on the net attachment project. Then he jumped in and helped wash some dishes. After he had earned his keep for the morning, we let him have a glass of water and a 15 minute nap. Then we made him go snorkeling with me and Stacy. We were hunting for conch. We had no luck on the conch front, but we found a cool cave and lots of nice coral. And even though we didn't find any live conch, we found some discarded shells. I later made one of these into a horn. -DWH
Thursday August 3rd, 2000
Jo went out with the boys to pull fish traps early this morning. Eric and I got the net reattached. Once they were back, we prepared to go sailing. We had Frank and Melissa, Jose and Leslie, and Joe with us. This made for a total of eleven people on board which is still very comfortable if the weather is nice. We sailed up the coast for a couple hours, then turned back and sailed to Crown Point. At Crown Point we dropped off Stacy and Eric who went to the airport to get Eric's bag (no luck because he didn't have his passport) and then caught a taxi to Murdock's football game. The rest of us sailed back to Buccoo Bay. We hoped to also make it to the football game, but were too slow. Later we had more people stop by, Eric and Stacy rejoined us, and we had a little party. Frank brought his propane cook stove and fired up a pot of fish, while Bulldog and Murdock made dumplings. -DWH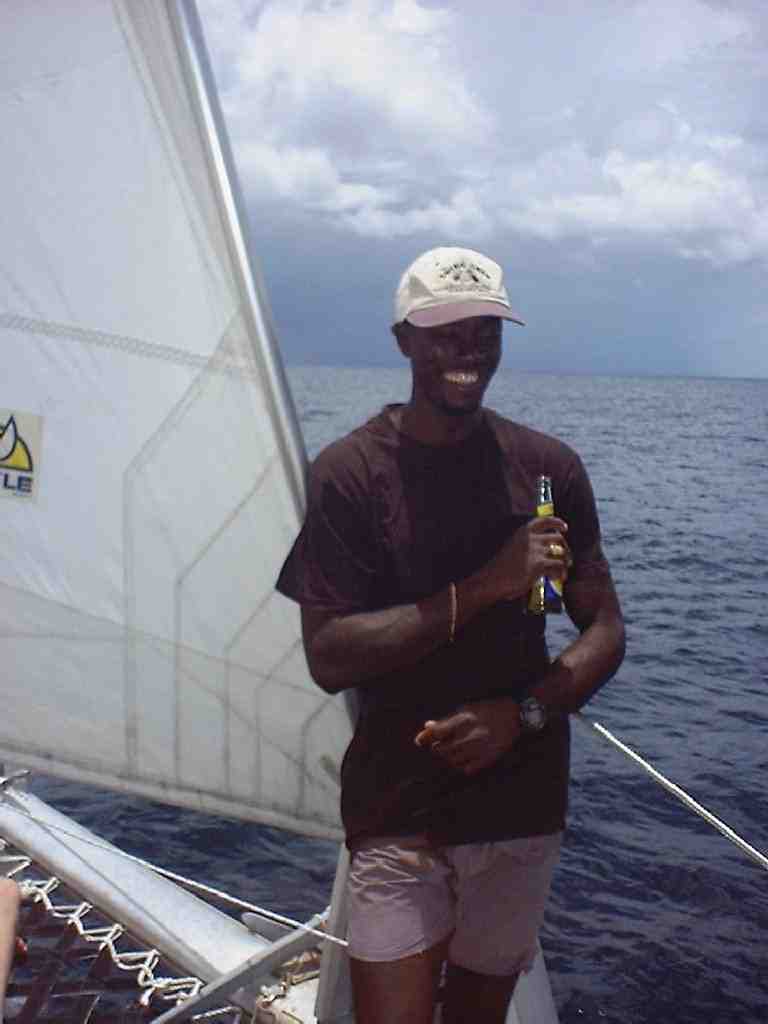 Frank enjoying a day at sea without fish traps!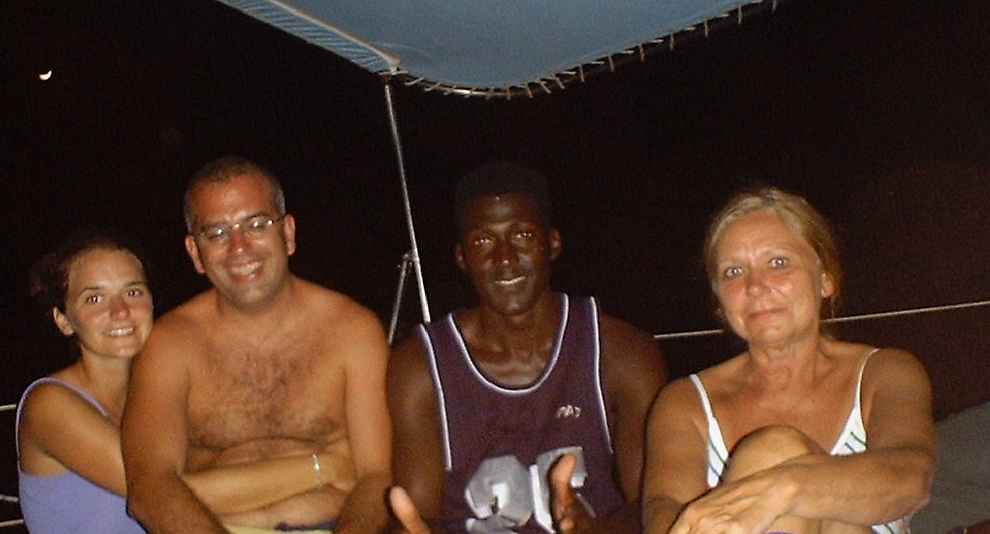 Laurie, Jo, Murdock and Linda waiting for fish stew and dumplings.
Friday August 4th, 2000
We had a lazy day on the boat. Laurie and Linda went shopping and got their hair braided. It looks cool but is apparently not very comfortable. Jo went out fishing with Alix and Murdock. They were trolling and caught a few Bonito. Jo came back with some ideas on how we can catch more fish.
Later we went to the airport with Eric. He will be trying to catch a 6 am flight from Trinidad tomorrow, so he is got the last flight from Tobago tonight and will be sleeping in the Trinidad airport again. It was great having Eric visit, but this was just too short. He is going to end up spending as many nights in the Trinidad airport as he did on Ladybug. -DWH
Saturday August 5th, 2000
Frank had some trouble getting in from fishing this morning due to a line wrapped around his prop and shaft. After he went in to shore, Jo and I swam over to Sahara Dust with knives. We dove and cut for probably close to two hours. Towards the end, Alix swam out and helped us. It was tough, but eventually we got it.
We went to see drumming. There was a group of 9 including our friend Smokey. They played well and there was some good dirty dancing.-DWH
Sunday August 6th, 2000
Linda got up and went fishing this morning. I'm sure everyone on Sahara Dust enjoyed her company and adventurous spirit.
Stacy and I went to the internet cafe, but it was closed. We caught a ride back to Buccoo Bay with a guy named Winston. We gave him $5TT and bought him a beer as payment for the ride.
In Tobago it is a tradition that a couple throw a party the Sunday after their wedding, so Frank and Melissa had a bash on the beach. There was plenty of food and drinks. Royston was there and gave me a drum lesson. Now I need to practice before I see him again. Later some of the guys got into throwing each other into the water. A guy called "Short Boy" made sure we were all dressed in our swimming suits before getting us. He got Laurie, Jo, and then Stacy. I had been studying his technique of picking up and carrying his victims, so when it was my turn, I quickly wrapped up his legs so he couldn't run. After a few seconds the rest of the crew sprang into action and the tables were turned. In the end we were all wet and loving it.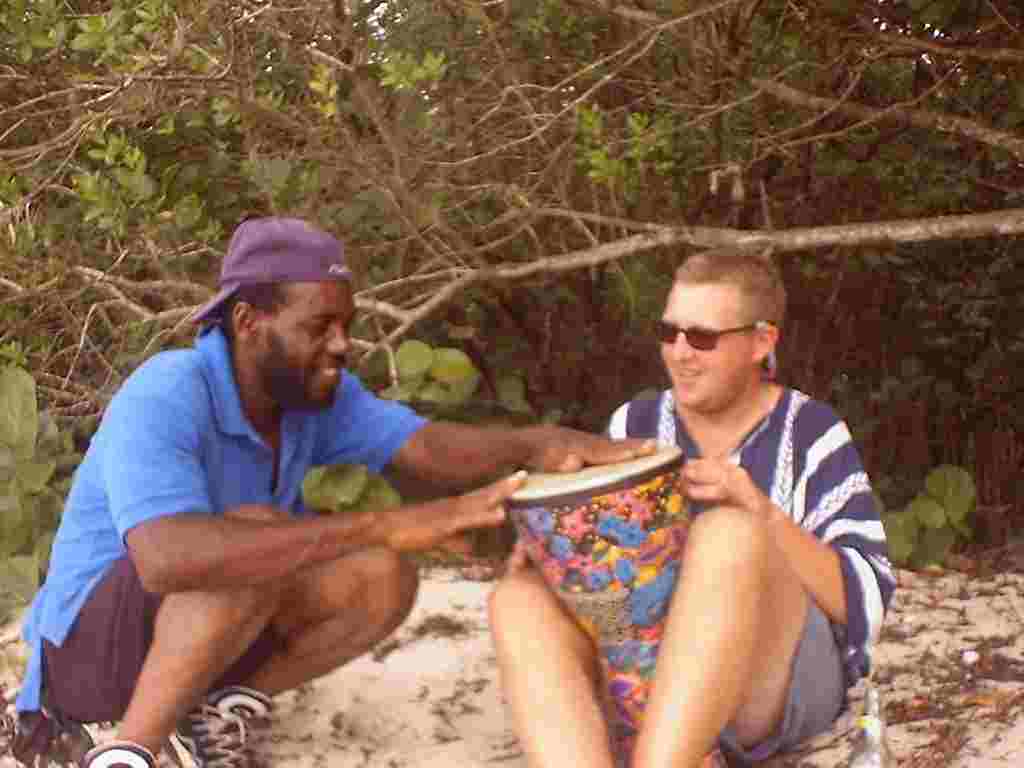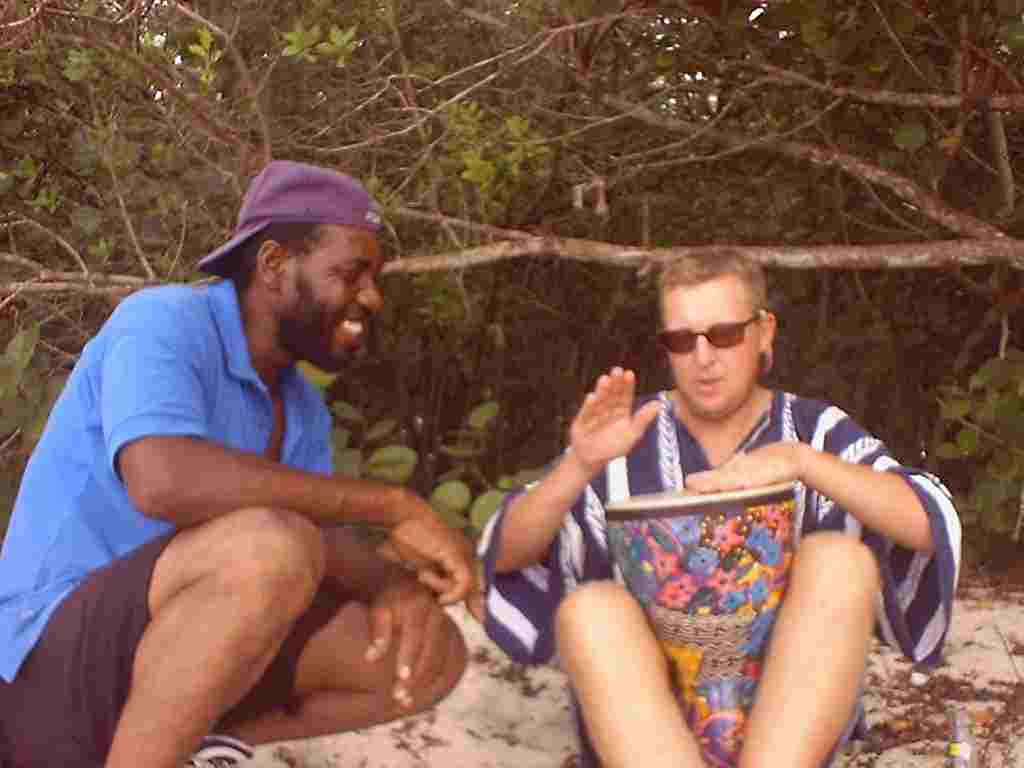 Drum lessons with Royston.
After the party on the beach we headed in for Sunday School. It was the usual good time, but most of us were pretty tired. We watched the steel drums and hung out with our friends. Later we ran into Winston. He bought us a beer, tried to buy us dinner, and said that he will watch for us when we come back to Tobago after taking Laurie and Linda to Trinidad. He is a sea food distributor and said he will find us and bring us some shrimp. He is a very nice guy. Sometimes meeting nice people is as easy as hailing a cab.
Eventually Jo, Stacy and I ran out of steam. Laurie and Linda dropped us off at the bug and headed back in for more fun. -DWH
Monday August 7th, 2000
We were planning on sailing but today brought lots of rain and almost no wind. Oh well, it's a sign to be lazy. -DWH
Tuesday August 8th, 2000
Sailed to Man Of War Bay. On the way Stacy caught one small Bonito on a spoon and I caught two on a home made lure (rubber glove parts, red electrical tape, aluminum foil, a little lead, and a hook). At Man Of War Bay we anchored in about 65 feet of water. This is the deepest we've ever anchored and had to add an extension to our rode. We all got cleaned up and headed into Charlotteville (town on MOW Bay). From there we took a bus about 3 or 4 miles to the other side of the island to Speyside. The rode was very steep and twisty and the forest is very dense. There is not much development on this side of Tobago. In Speyside Linda treated us to a fantastic dinner of fish, shrimp, and lobster at Jemma's. The restaurant is in a tree house which is propped up on stilts around a large old almond tree hanging on the surf line. Very cool and great food. After dinner we returned to Ladybug and got her ready to head to sea. We are planning on leaving for Trinidad around 1 AM tomorrow. -DWH