Wednesday August 9th, 2000
Got up and pulled anchor at 1 AM. We are hoping to make it to Chagauramas before dark today. In the morning we saw some dolphins in the distance, but I guess they were not in the mood to play as they did not approach us. The wind was light and we eventually realized that at the current pace we would not make Chagauramas by dark, so we resorted to motorsailing. Even with this it looked like we might not make it and began considering spending the night at La Vache Bay on the north coast of Trinidad. Around 2 PM we decided that we were not going to make Chagauramas, so we turned off the diesels and focused on enjoying the sailing. This must have pleased the wind gods as the wind began to pick up and soon we were cruising at 8 knots (SOG). Chagauramas was once more within reach. As we approached Boca de Monos, Jo saw a large ray, probably 6 feet across, jump clean out of the water. We also had a pair of dolphins play in out bow wave briefly. -DWH
We arrived in Chagaramas at dusk. It was dark by the time the anchor was set. Sailing was wonderful, very smooth. Laurie's mom really enjoyed the passage. The weather was perfect, no rain and the wind was reasonable. Jo, Laurie and Linda went to Joe's Pizza for dinner and brought back a pizza for Dave and I. We all went to bed early.-SLC
Thursday August 10th, 2000
Laurie and Linda went in for souvenir shopping. Dave, Jo and I ran around looking for project materials. We met at The Bight around 5. We had a few beers and played pool with Jamie. -SLC
Friday August 11th, 2000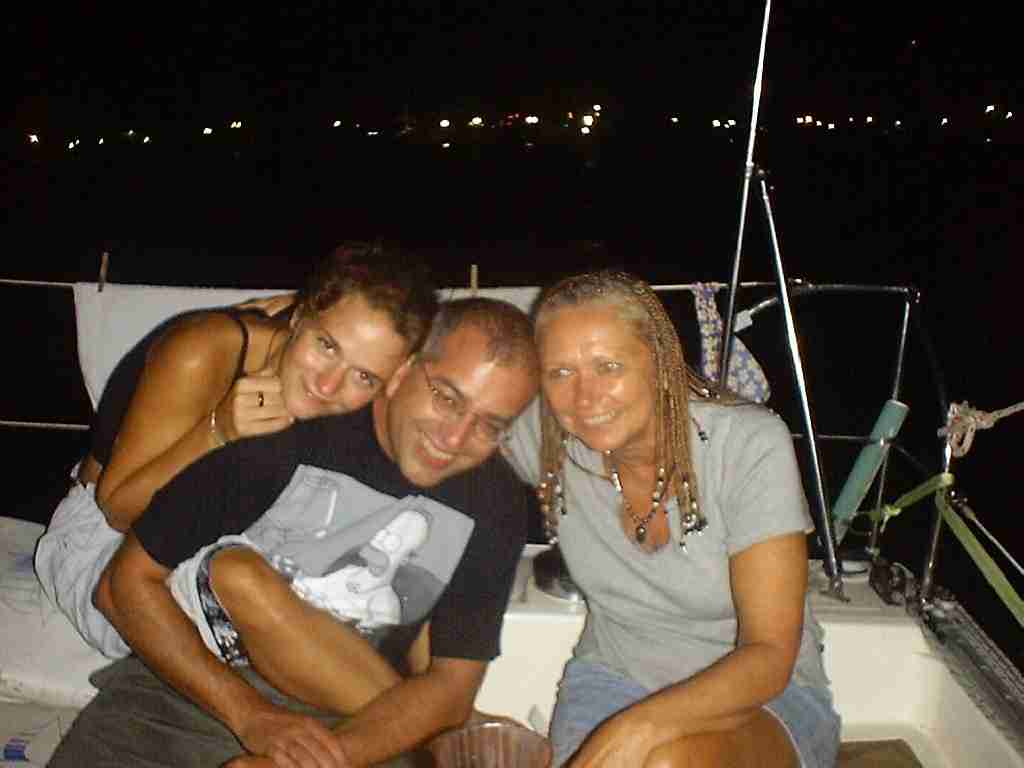 A fun party and a sad good-bye to Laurie and her mom. We had bean and beef burritos with homemade tortilla shells. We listened to some music and drank a little wine. Jamie, Wendy, Lotfi, Davika, Michel, Valentin, Sally and Allen were all here on Ladybug for the party. It was very hard to say good-bye to Laurie who has gone home for another semester of school to regain insurance coverage. I don't believe in "good-bye", I prefer "until later". -SLC
Saturday August 12th, 2000
Laurie and Linda flew home early this morning. The rest of the crew was pretty tired due to the party last night, but we still hoped to go sailing. Unfortunately the weather did not cooperate. There was very little wind and lots of rain. -DWH
Sunday August 13th, 2000
There was a little breeze, so we pulled anchor and left Chagauramas. We headed out Boca de Monos with the intention of sailing to La Vache Bay, the anchorage we considered as a backup during our passage from Tobago. Initially we were struggling against current and wind. A storm just over the north coast of Trinidad gave us more wind. After a while it shifted about 20 degrees to our favor. Jo decided that it was a good to practice reefing. He could not have timed it better. Just after Stacy reefed, we got hit with a blast of wind. I asked him how he knew the wind was going to increase. He said that if you can see the storm and you get a wind shift or big temperature change, it's usually followed by wind. He was right in this case. Eventually the wind was straight out of the south and we flew along the coast.
La Vache Bay turned out to be quite beautiful with steep rock cliffs and tree covered hills. The vegetation is very thick and filled with the sounds of birds. There were also numerous small waterfalls coming off the cliffs and directly into the sea. There was a fishing boat with snorkelers for a little while, but otherwise we were the only boat in the bay. This is the first time we have anchored alone. -DWH
Monday August 14th, 2000
Went snorkeling in one of the caves in La Vache Bay. The water was nice but cold from all of the rain runoff. Came back to Chagauramas in the afternoon. -SLC
We had a group of about eight dolphins join us just as we were approaching Boca de Monos. This was the most playful group we have ever seen. They were with us for 15 or 20 minutes, and Stacy even managed to touch one! -DWH
Tuesday August 15th, 2000
Missed the propane pick up, but met a nice French guy and his wife from Guadeloupe also on a catamaran.-SLC
Wednesday August 16th, 2000
We looked at a used Spinnaker and Windlass today. Spinnaker is too big, but we are pretty sure we can find a used one with the right dimensions on the internet. The windlass has definite possibilities. Took down the sails to take them in for inspection. Jo went in to work with Jamie on internet stuff. Dave and I went to movie night at TTSA, saw "Erin Brokovich".-SLC
Thursday August 17th, 2000
Went in to get our sails inspected. They look really good. The loft put some extra chafe protection on the main sail and declared them strong enough to take them around the world!! Dave and I grilled Pork Chops on the boat. Jo went in to work with Jamie on internet stuff again.-SLC
Friday August 18th, 2000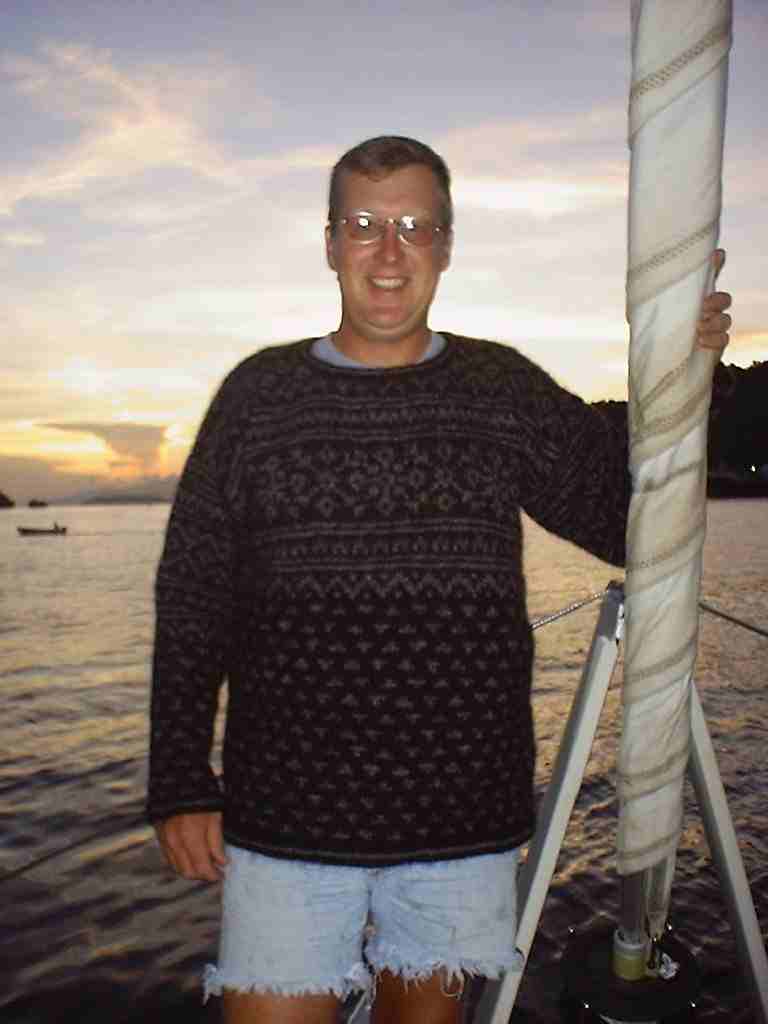 Dave has waited almost 7 years for this sweater that I promised him while I lived in Africa. I picked the yarn and the pattern last fall. It took me close to one year to finish this project. Seeing Dave wear it for the first time made every minute of knitting worth it. It fits him perfectly, now we just have to head to a colder climate! Dave took me out to our favorite bar to celebrate. Luckily they like to keep the air conditioning on high at The Bight as Dave was determined to show off his new sweater. The Irish gentleman that we met at Power Boats really appreciated the value of this heavy handmade sweater. -SLC
Saturday August 19th, 2000
Dave and Jo are working hard on the net again today. We have the corners to glass in then we will apply filler and paint to the whole surface. We are still searching for a new windlass. We have found a used one, but we need to figure out how we will modify the hatch to fit. We also bought some PVC tube and connectors to lower our main table to make more room for guests. Tonight we will go to a party over on Fantasy Island at the new Bar/Restuarant.-SLC
We found out today that our boat insurance is being canceled. Caribbean Insurers of Tortola sent a letter explaining that they are canceling insurance on all US registered boats. It has something to do with the US legal system and the proliferation of law suits. I think the timing also has something to do with hurricane season. They took our money while the risk was low, but now that hurricane season is starting the risk is higher and they are dumping us. -DWH
Sunday August 20th, 2000
We are moving a little slowly today. We continued the boat work from yesterday. Later a power boat came by and I heard "Hey Jo!". It was Smokey. He is in Trinidad for a few days. We got together later at Sails Restaurant. We also met Rick who runs the only dive shop in Trinidad. -DWH
Monday August 21st, 2000
Started searching for new insurance. We got some suggestions from other cruisers. I spent a lot of time in the internet cafe searching, sending emails, and submitting quote requests. -DWH
Tuesday August 22nd, 2000
The exciting news for the day is that Stacy has finally finished her short story, posted it ( Reflection), and sent it to a publisher. She has been working on this since Grenada. We also purchased a used manual windlass. It is a two speed Muir Hercules and is rated for about 1200 lbs. It is definitely the beef and a good match for "the Beast". Now we just need to figure out how/where to mount it. I'm still working on insurance. -DWH
Wednesday August 23rd, 2000
Still in insurance hell. -DWH
Thursday August 24th, 2000
Still in insurance hell. We are getting turned down flat by companies that simply refuse to insure US and Canadian (are their laws screwed up too?) registered boats. -DWH
Friday August 25th, 2000
We finally got a quote from Bluewater Insurance. It turns out that they see more owners as more risk, so there is a surcharge of about 20% for each additional owner. They mistakenly figured it out for 3 owners - $2200, but said they will have the exact quote for 4 owners on Monday. This is way more than what we were paying before and is quite a shock.
Went out with Jamie and one of his new coworkers. We went to Joe's Pizza. Right next to the restaurant there were a bunch of guys working on a race boat. Jo has a nose for interesting boats and was soon talking and crawling up by the engines. We all followed. Wow! Ocean racing boats are so different. First of all, it is beautiful - everything from the $16,000US stainless exhaust to the bilge that you could eat out of. Everything is very well laid out and highly polished. The boat has twin engines that put out about 800hp each. There is a twin cockpit, one for the pilot and one for the throttle man (actually the tougher and more critical job). If you didn't know better you'd think you were in a jet fighter. There is also a whole different money situation here. This boat eats money. The engines were $40,000 each. They are tuned to run about 4 hours and then need to be rebuilt at a cost of about $15,000 each. That puts the rebuild cost alone at $120 a minute. Ouch! Anyhow, the guys were really nice. They are preparing for the big Trinidad to Tobago race. We told them that we would meet them at the finish line. -DWH
Saturday August 26th, 2000
Since we are stuck, we dove into boat projects. Stacy is working on refinishing the port head which actually involves a lot of scraping and sanding of glue covered fiberglass. I'm working up front on the net attachment, and Jo replaced the hose on one of the bilge pumps.
Jo cooked fabulous chicken dinner.
Later Stacy and I went to Sails restaurant at Power Boats Marina. There was supposed to be free rum all night, but when we arrived we found out that for each rum drink you purchase, you get a free mini bottle (50ml) and get to put your name in for a raffle (they are giving away a big bottle of rum and a shirt). We had a couple of cocktails and then ordered a coke and mixed a couple ourselves. Just about the time we were ready to order another round they had the drawing for the bottle of rum. And the winner is.........Stacy Cohen! The editor of the Boca, a local sailing publication, took some pictures of her with her prize and got details like our boat name, etc. It sounded like her photo might be in the next issue. We were sitting with 3 other couples so we ordered some more cokes and opened the bottle to celebrate. -DWH
Sunday August 27th, 2000
Woke up early this morning to the sound of increasing wind. Jo was up also. We kept on eye on things to make sure that nobody near us was dragging. It would be most unfortunate to have a collision right now. The wind lasted about 30 minutes and then died back down.
When we listened to the cruisers net this morning our volunteer weather person said it blew about 30 knots and that one boat at TTSA dragged up onto the beach. -DWH
Monday August 28th, 2000
Talked to Bluewater Insurance again. They needed more information before they can finalize the quote. Sent info and waiting. We are really ready to go sailing again.
Stacy is a working like a mad woman. When the port head is finally done I'm sure she will be very proud. -DWH
Tuesday August 29th, 2000
We have a quote - $2193. There was charge for having more than two owners, and this insurance covers us for the South Pacific all the way to Australia. I gave Bluewater my credit card number, and now we just need to get confirmation from the underwriter.
The net attachment project is essentially done. We will need to repaint it eventually, but we are calling it good for now.
We went to Saliander for dinner and a few too many cocktails. We really enjoy spending time with Sally and Alan. -DWH
Wednesday August 30th, 2000
Called Bluewater this morning. They still have not heard back from the underwriter. I WANT TO GO SAILING, NOW!!!!!!!!
We filled up the diesel tank. We took 115.8 liters (30.1 gal.), and our hours are at 1148. Last time we filled up was in Martinique on May 26th. When we filled up in Martinique our hours were at 1025. This works out to 0.12 gal./hour for each engine. Probably 80% of this time is just charging batteries, but it is still pretty impressive.
Got an email from Bluewater saying that the underwriter has turned us down. I called to get more details. Jamie, who works there and has been very helpful, said that they wanted at least one person on the crew that had done an ocean crossing. She is checking into another possibility.
INSURANCE:
I'd like to take a little time and to cover the whole insurance thing. First of all, many people sail without insurance. Some of these people are well known and respected cruisers and do this based on sound reasoning. They say things like "I'm personally safer if I use the money to buy new safety equipment for the boat" or "I built it myself and will repair it or rebuild it myself if anything happens." Other people sell everything they own to buy a boat and go sailing. Then an unexpected storm turns their boat into scraps of fiberglass on the beach. With no insurance they have lost everything. When one person who lost her boat like this was asked if she was going home she said "Go home? We can't. We sold our house to go cruising.". There is a good discussion of this in "The Capable Cruiser" by Lin and Larry Pardey.
We've discussed insurance with other cruisers who think it's a personal choice to have coverage on your own boat but that everyone should have liability. This is a very good point. While you can choose to not insure your boat, you need to be able to cover the damage if you hit someone else's boat. So, the option of just having liability is in our opinion pretty reasonable. I asked Bluewater about this and they do not sell just liability. Our friends Sally and Alan say it's very cheap, but we haven't really looked for it. We will probably find out that being a US boat, nobody will want to insure us.
In our case, up to know we have not seriously considered not having insurance. Being insured is not always completely simple though. For one thing, it can be tougher to get than car insurance for example. This gets especially tough when many of the biggest companies stop insuring US registered vessels. Also, based on discussions with other cruisers, we are learning that boat insurance is more complicated than car insurance. We've heard of people who have been paying premiums for years and then have a problem and find out that they are not covered for exactly what happened.
The bottom line on this is that we believe that everyone should have liability. Some people really should have full insurance if there is a lien on the boat or in the case of the lady mentioned above who lost everything. In most other cases it is a tough call. We'll see how it all turns out for Ladybug. -DWH
Thursday August 31st, 2000
Called Jamie at Bluewater. She said that another company has already approved us but they are $1000 more. She also said that the first company is reconsidering and wants a detailed plan for our Pacific crossing. For a thousand dollars, I guess it's worth it.
This is Independence Day in Trinidad and Tobago. Everything is closing down so we are losing our ability to communicate effectively with the insurance company. The chance of us damaging anyone else's boat is greater in the packed anchorage at Chagaramas than at sea, so we are heading to Tobago. We will hunker down in Buccoo Bay, where we will probably be the only sailboat, and try to resolve it from there.
We left Chagauramas at 3pm. Once we left the Boca de Monos we had good sailing for a couple hours. The wind was 15 to 20 on the nose. We were sailing at about 8 knots, with our velocity made good being about 4 knots. By about 10pm the wind had completely died, so we motored along the coast staying out of the current. -DWH