back to Atlantic Ocean Log
Brazil Log
Friday March 22nd, 2002
Dave and I checked email while Jo checked on getting a bus to visit his parents. After the internet cafe we took a short walk around the lower part of town. This is mostly a business district. Lots of banks and office supply stores. But we did find lots of fruit vendors on the street, the bakery, and a cold beer.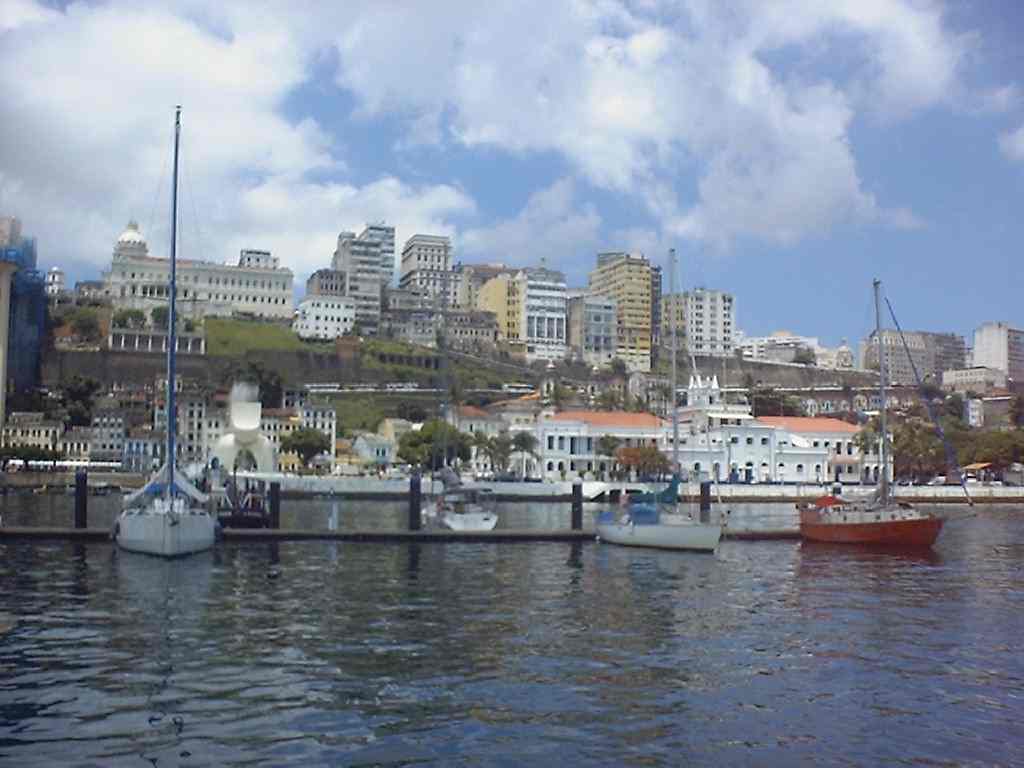 A view of Salvador from the deck of Ladybug
Around 5pm we got a taxi to the bus station and caught the bus headed for Belo Horizante. We settled in for the 22 hour ride. We saw lots of beautiful green scenery during the daylight hours. The road was quite steep and winding (which made trips to the bathroom a little difficult). We read our books and played a few games of cards. It was a long but fun trip. -SLC
Saturday March 23rd, 2002
In Belo Horizante we caught another bus for the short (only 2 hours) ride to Ouro Preto. As we were getting off the bus Dave scanned the waiting area and asked Jo "Is that Mom and Dad?" Jo replied "Yeah!". And before long there were hugs and kisses all around. We were happy to finally meet Harriet and Octavio after hearing so many stories from Jo, Guy (who had visited them last year) and Tammy (a friend from home who met Harriet on her Brazil trip). As we drove to their house we got our first view of this beautiful historic town. Steep and narrow cobblestone streets and very old buildings. This town is over 300 years old and has done a great job preserving the historic look and feel. There are no paved streets, no fast food restaurants, and not even one stop light. This is amazing as there are over 60,000 people who live here.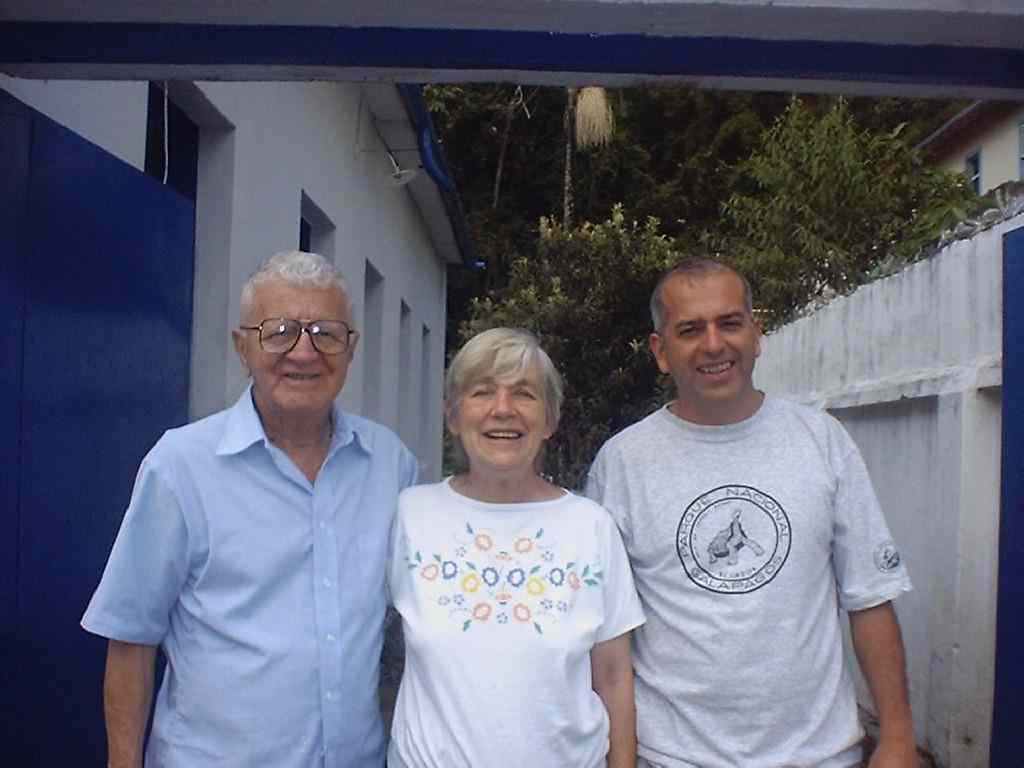 Jo with his parents, Octavio and Harriet
We were a little tired after the 24 hour bus trip, but we were quickly revived with a hot showers. Then Harriet and Octavio took us out to a wonderful little Italian restaurant. We enjoyed some great conversation and super food. -SLC
Sunday March 24th, 2002
After breakfast Dave and I took a walk to the Igreja (church) Matriz do Nossa Senhora do Pilar. We had a little trouble finding it but the streets were so interesting we didn't mind walking around in circles a few times to get there. The church is very large, very beautiful and very old. There is even a small museumof 17 th Century sacred objects in the basement .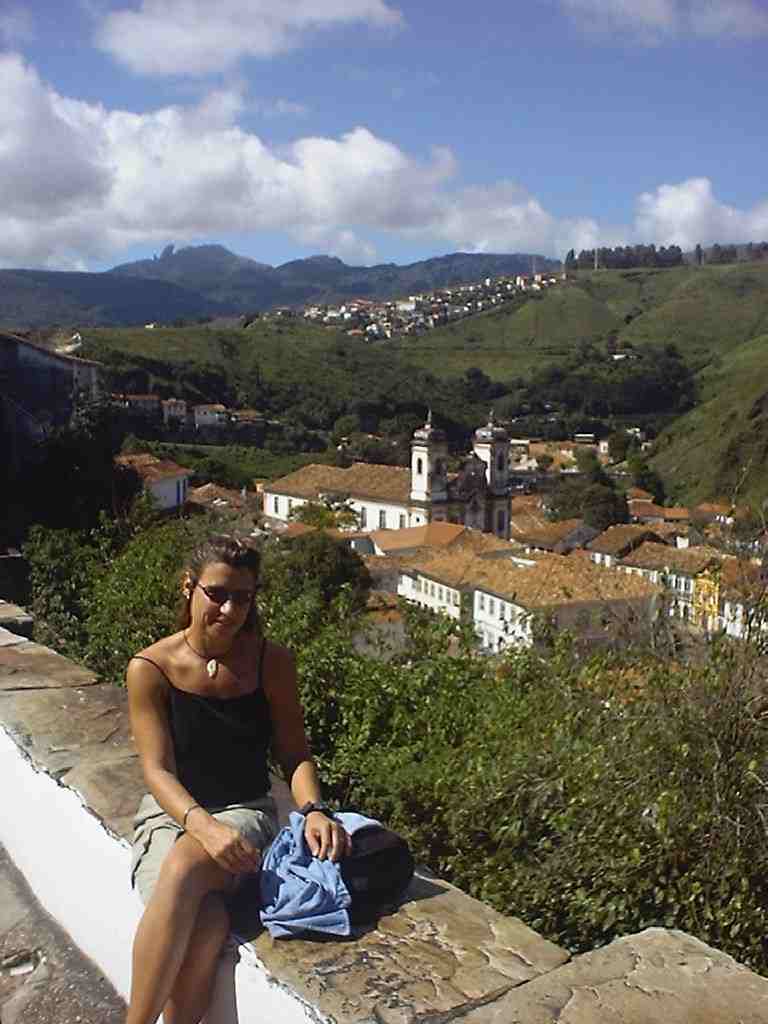 Stacy takes a break during our walk.
In the afternoon Jo's cousins Ed and Helena came to visit from Belo Horizante, and Harriet prepared a wonderful lunch for us. Their house was really starting to feel like home already. After lunch Ed and Helena took us on a tour of the mine that was only a few miles from Ouro Preto. This is a gold mine but the part we visited is no longer actively mined. We took a ride down into the mine a an original cart that the miners used in the old days. We found a little lake underground that goes for miles and tunnels leading every direction from where we stood.
In the evening we walked up to the main square and watched the Palm Sunday processional from the second floor balcony of Carmen's apartment. The processional was really nice. I was most impressed with all of little girls from age 2 to 10 who were dressed as angels.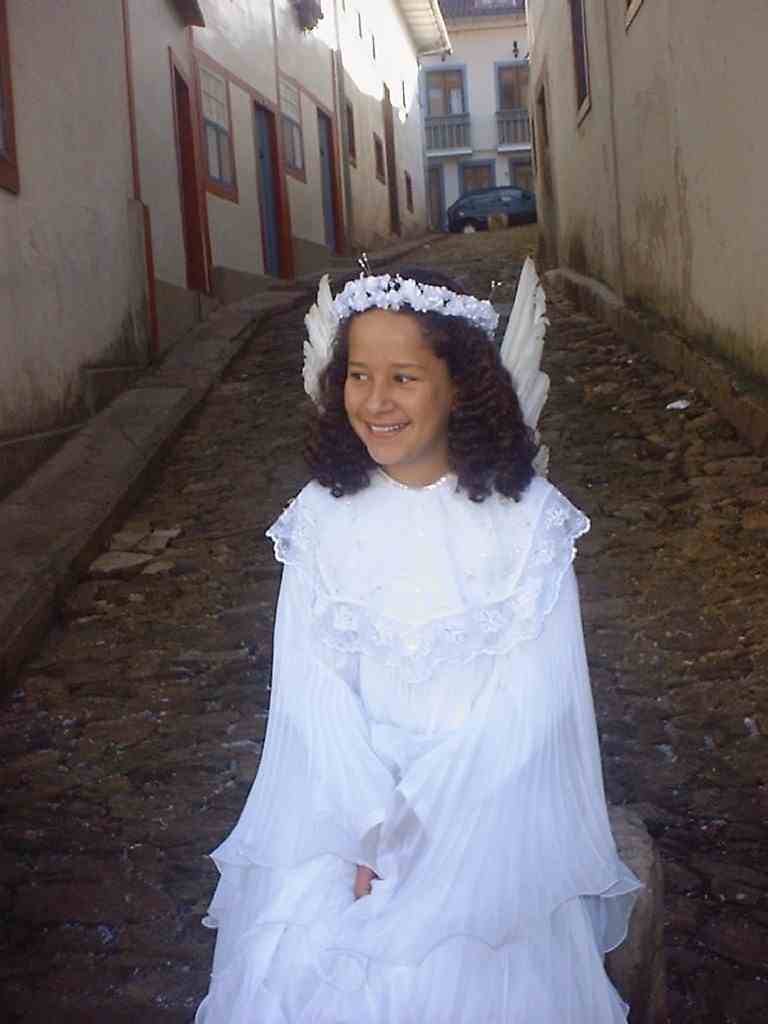 One of the hundreds of little angels
Carmen was on vacation, so we did not have an opportunity to meet her. But we did really enjoy seeing her house. This was one of the original houses on the main street and is over 200 years old. The house has been in her husband's family for about 200 years. The entry to the house was built wide enough for horses and a carriage. In the court yard you can see where the horses would be tied up to drink water and eat. The house itself was incredible, more like a museum than a house, antique furniture in large rooms with very high ceilings. -SLC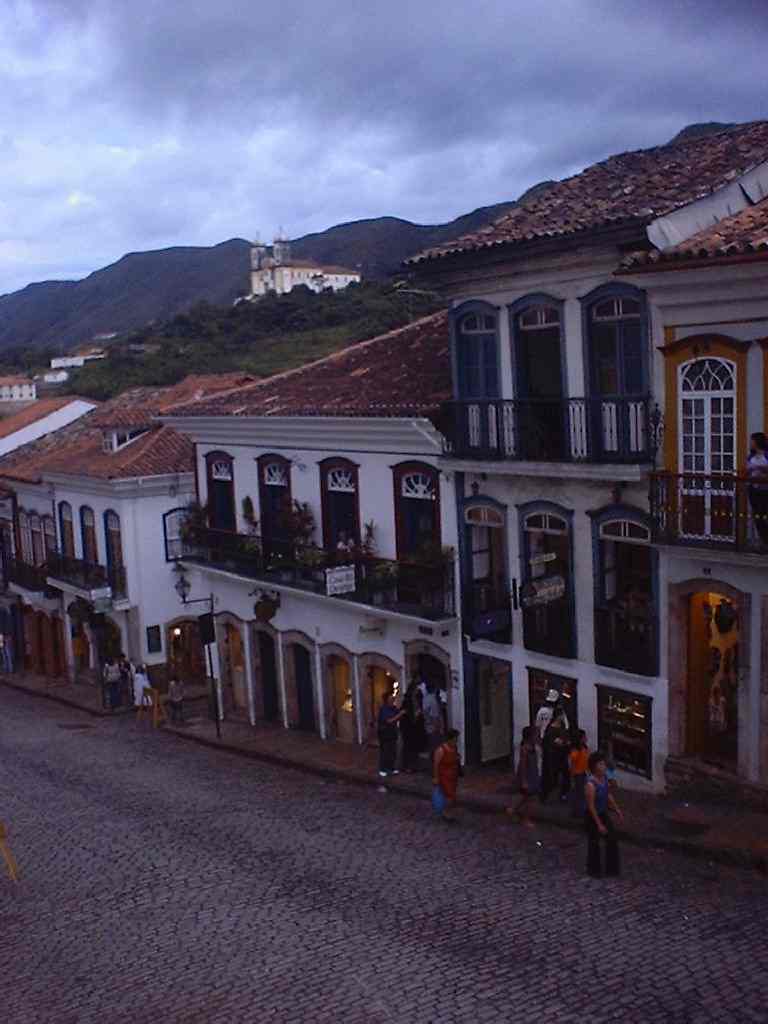 A photo from Carmen's taken before the processional.
Monday March 25th, 2002
This morning it is rainy so we visited Harriet's office which is located in the School of Mining. This building is very old and contains a large museum and an observatory as well as rooms for university classes. Next we went to see the University where Octavio is teaching his class and Harriet is a student. It is just on the edge of town. We had a nice view of the town from here.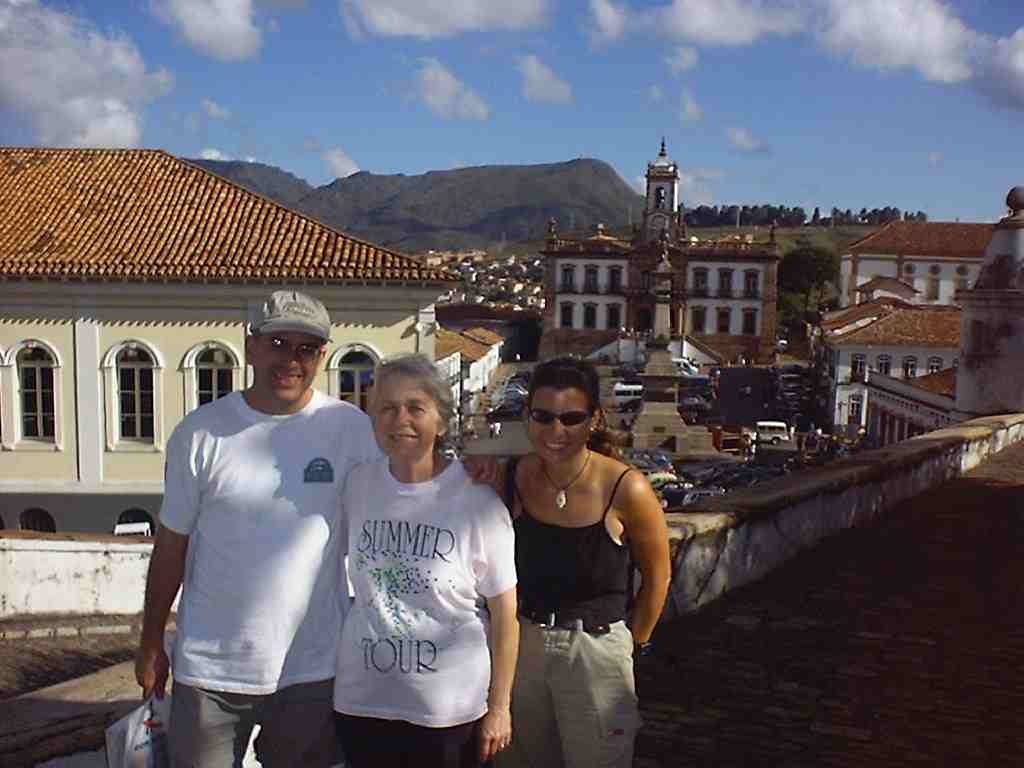 A view from the mining school
On the way back to the house we stopped to buy a few groceries. After lunch Dave and I took a hike with Harriet up a pretty big hill to the cross. We met a group of people singing hymns and few children playing games around the cross.
After dinner Dave and I went for a walk. We found the town to be pretty quiet on a Monday night. So we went into the only bar we could find for a cold beer. We met a few guys and had a good time talking to them. Luckily they spoke more English than we speak Portuguese. One guy said his name was Daniel Freake and that we should come to his bar across the street tomorrow night. He scribbled out a coupon for 2 Caiparinhas ( limes, sugar and cashasa - Brazilian alcohol made for sugar cane) on a piece of paper. We were a little confused as we could not see a bar across the street, we thought maybe he meant his house?? He even claimed that his place was in the new Lonely Planet. If that is true, it is a pretty big claim to fame. But we had our doubts. -SLC
Tuesday March 26th, 2002
In the morning I made pizza dough and sauce for dinner. Around noon Jo, Dave and I headed into town. Jo took us for our first experience of a per kilo restaurant. This is kind if like an all you can eat buffet, but every time you go up to get more they weigh your plate and add the appropriate amount to your bill. We really enjoyed this. It was not very expensive and we got to try a lot of different traditional Brazilian food.
Next we went on a museum tour. We started at the Casa dos Contos museum where gold taxes were collected and coins were minted. We saw very old coins and currency here. Next was the Museu Inconfidencia which was formerly the municipal building and jail. This museum contained articles from the Brazilian political revolution. Finally we visited the Escola de Minas (mining school). This was built in 1875 and contains the Museu de Ciencia e Tecnica (Museum of Science and Technology). We found objects related to Astronomy, Engineering Design, Topography, Natural History (anthropology, paleontology, and zoology), Metallurgy and Minerals (with samples from all over it is the most complete collection in the world).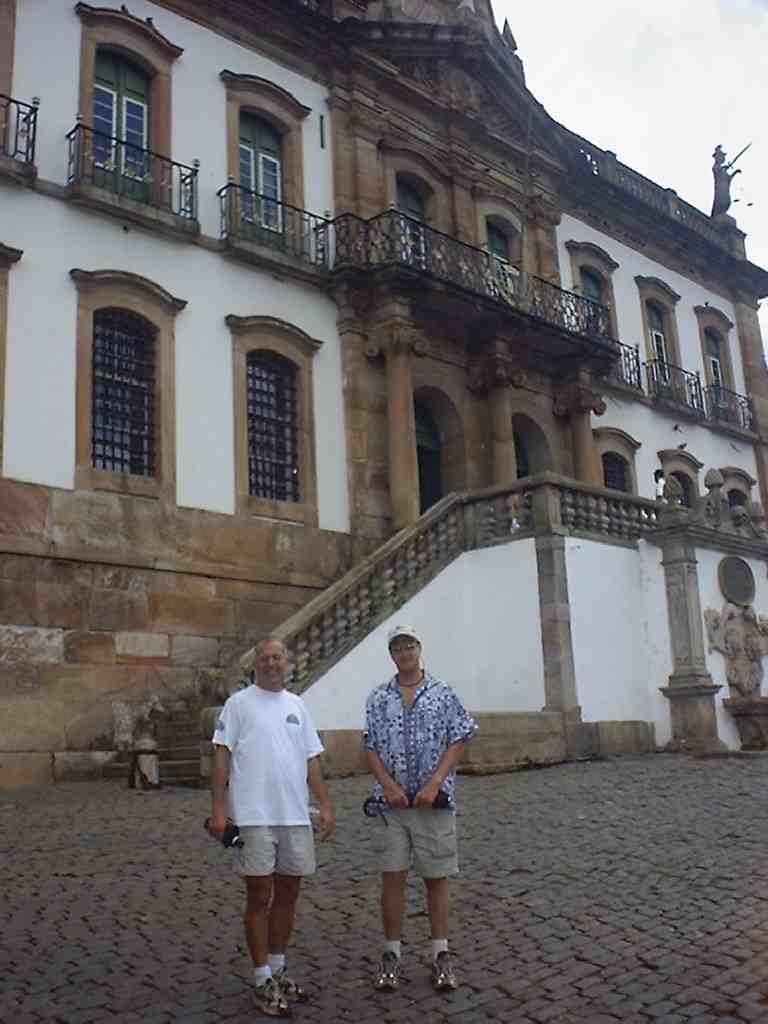 Visiting the Museu Inconfidencia
In the evening we watched the Bridget Jones movie with Jo's mom.
Wednesday March 27th, 2002
This morning Harriet took us on a hike along the railroad tracks. The tracks are no longer used, but the path seemed to be well worn. We enjoyed the butterflies, birds and flowering trees.
After lunch we took a short nap then Dave and I headed into town for a little shopping. We found some nice things, but did not purchase as we were enjoying just looking.
Thursday March 28th, 2002
This morning we headed back out to do some more shopping. We bought a few T-shirts for ourselves and a birthday present for Grandma. We stopped for coffee in a nice little cafe and walked around some more. Then we went to a little bar by the Mining school where we had stopped for a beer the day before yesterday. When we were there on Tuesday, the food everyone was eating looked great. We were served salad, rice and beans, squash, and piece of fish. The food was excellent, and Dave was offered seconds on anything he wanted. Very friendly place. It is always nice to find a new favorite place.
In the afternoon Harriet took us on a bus trip to the next town called Mariana. We had a nice walk around the town and visited one church. We stopped for a soda and then caught a bus back to Ouro Preto. The sun was just setting as we came back into town. People were hustling home from work and all of the lights were just turning on. The scene was really beautiful.
After dinner Jo decided he was in the mood to explore town. We headed for the main street and found much more activity than on Monday. We heard some live guitar music in an upstairs bar. As we started to climb the stairs we found the sign 'Freake Bar'. So this is what Daniel was talking about. We found a very young and lively scene going on. We really enjoyed the music and ambiance. Now that we found Daniel's bar and spent a night hanging out there it really did seem like a place that would be listed in the Lonely Planet. So maybe Daniel wasn't pulling our leg. -SLC
Friday March 29th, 2002
This morning I helped Harriet prepare lunch for Mark, Marta and their daughter Annelise. Mark is another Milwaukee person who had the good fortune of meeting and marrying very nice Brazilian woman. They are both teachers, and Mark knows my friend Tammy quite well. We had a super lunch together. After eating we showed them Jo's videos from the boat. I think Annelise really liked the videos.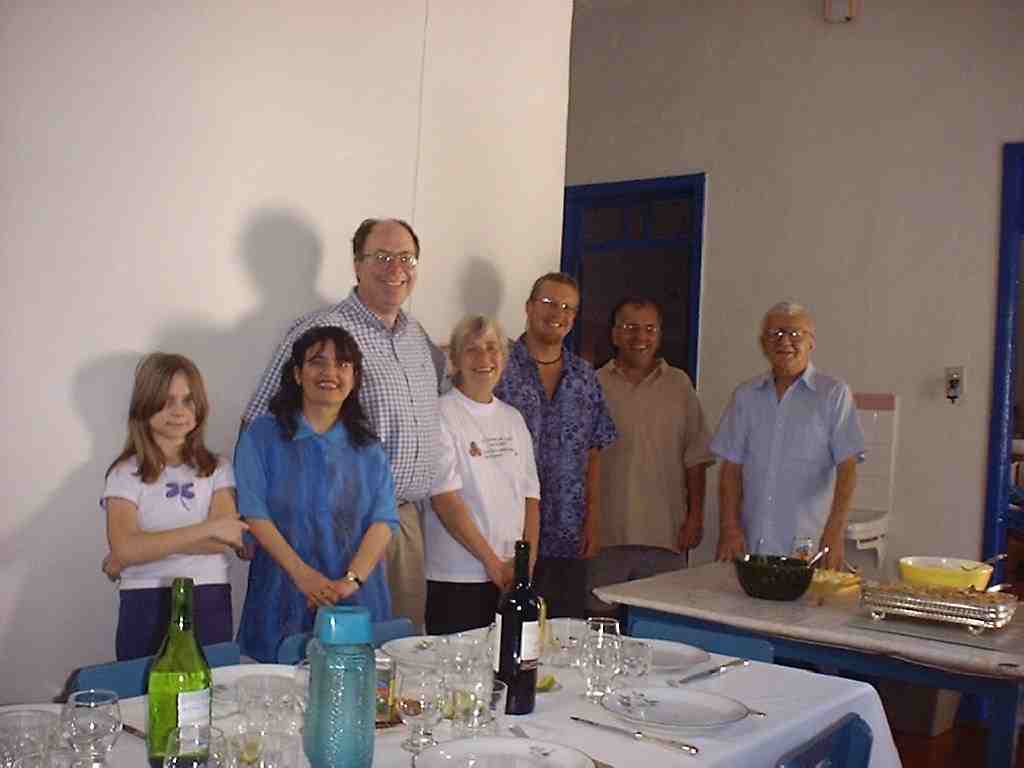 A wonderful lunch
In the evening we all met at Carmen's house to watch the Good Friday Procession. The procession was a little slow moving, but we all enjoyed it. -SLC
We have been anxiously awaiting news from home. My brother's wife, Jenny, is about to have a baby. When we got back to the house tonight, Octavio had a big smile on his face. He said he had a secret. He would not pass it on, but told me I could use their phone to call home. When I finally got through a very tired Jenny answered the phone and gave me the great news. Riley James arrived shortly after 7PM. He weighs 8#2oz and is 21" long. -DWH
Saturday March 30th, 2002
Dave and I took a short walk this morning and had some coffee. Dave bought some flowers for Harriet from some little old ladies selling vegetables on the corner.
By the time we got back to the house, company had arrived and lunch was ready. Joberto, Thais, Pedro and Gabriel were all waiting for us. Joberto prepared a salmon that was really awesome. After lunch Jo entertained Pedro by making a miniature parachute from the Easter egg wrapper and tree climbing. Gabrielle was a little hot and fussy so Thais gave him a cool bath, this seemed to please him very much.
In the evening we decided to head into to town to see what kind of trouble we could find. We found Daniel and his friends at the bar. We had a few caiparihnas and a few beers. Lots of people were overflowing the bars into the streets. The young crowd hanging out in the street reminded us of similar scenes on State Street in Madison. We met an intelligent and beautiful young woman named Amanda. She is a philosophy student and was soon chatting with Dave about great philosophers. We enjoyed the night. On the way home we took a detour to see the people decorating the streets for the Easter morning procession. It was nearly 2 AM and many families were working hard. The resulting decorations were incredible and they continued for a few kilometers. They were using color dyed wood chips and rice along with paper patterns and wooden forms. Dave complimented an old woman on the beautiful decorations and she wanted to invite us in for juice and snacks. We have really found some friendly people here in Brazil. -SLC
Sunday March 31st, 2002
Stacy and I got up early to take photos of the decorated street and watch the Easter Processional. -DWH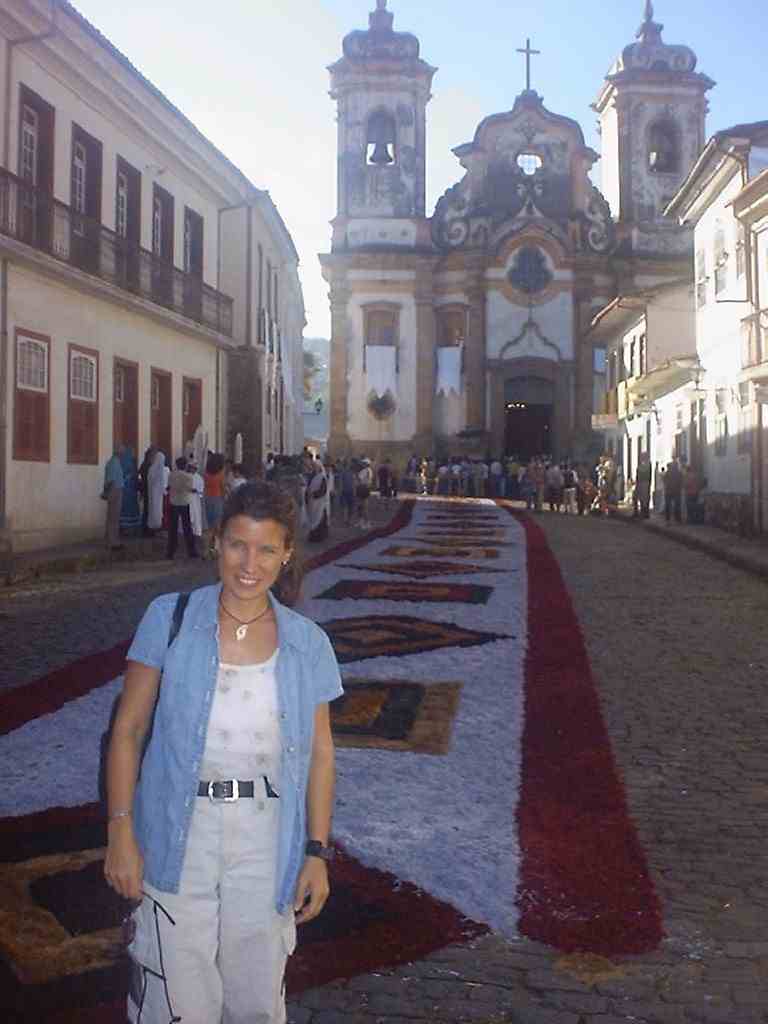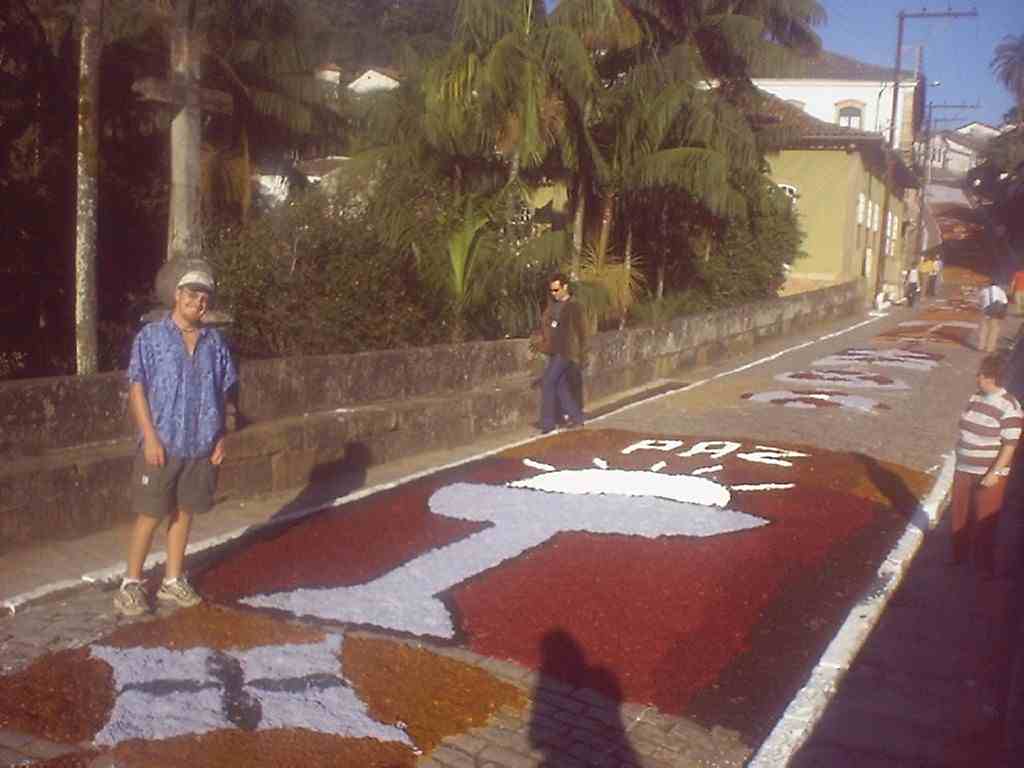 After the traditional Sunday morning Reis family breakfast of pancakes we headed for the bus station. It was hard to say good-bye to Ouro Preto and Jo's parents. We have really enjoyed staying at their house and getting to know them. They took great care of us. Thanks a million Harriet and Octovio!
Jo's cousin Ray met us when we got off the bus just outside of Belo Horizante and took us to the local yacht club. We enjoyed an afternoon of talking about sailing, snacking and sipping on a few beers. We even toured the lake on one of the local sail boats. Unfortunately we had to motor, due to the lack of wind. The scenery was great, and we even got to see the largest rodents in the world. They were looked like a cross between a dog and a pig. They were very still as we approached them.
Jo and Ed during our boat ride
In the evening Ed took us to Belo Horizante and we spent the night with Jo's aunt Dijalmina. Her apartment was on the 14th floor right in the center of the city. Diljalmina didn't speak much English, but she made it very clear that we should make ourselves at home. Her big smile and hearty laugh said it all. She had lots of different local fruit waiting for us to try. A few that I have never seen before, but very tasty. -SLC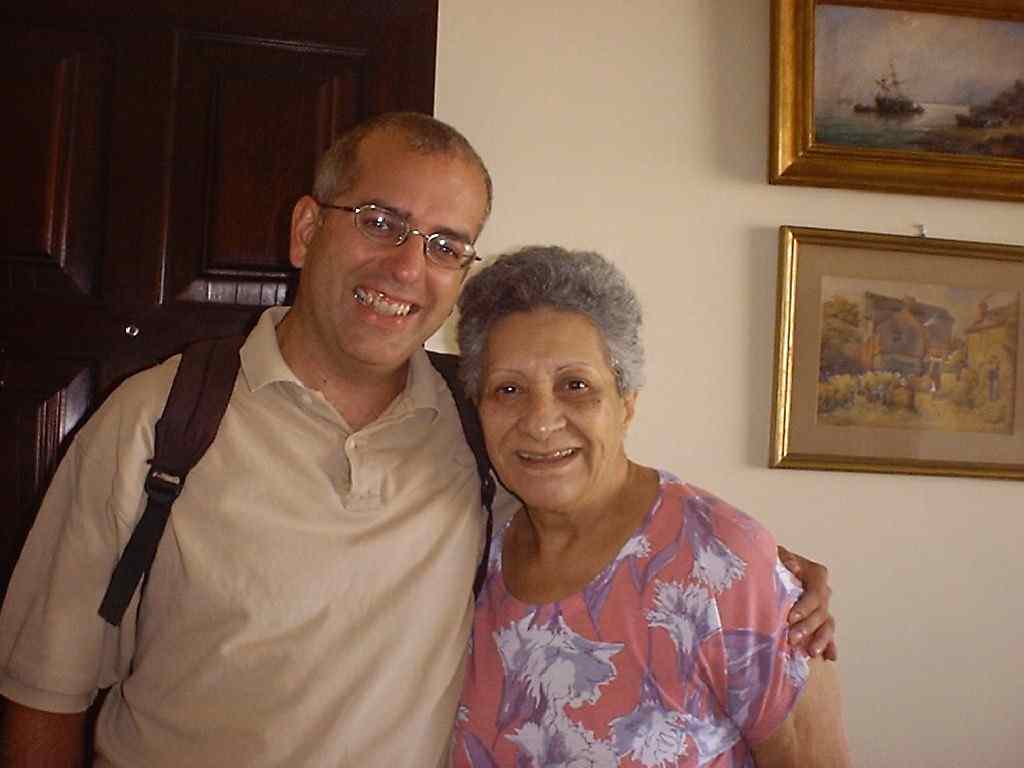 Jo and his aunt, Diljalmina
Monday April 1st, 2002
After spending the morning shopping for a party dress for Stacy, we stopped in a little restaurant for lunch. We had just finished eating when I heard a song from the Doors "Absolutely Live" album. I went to find the source of the music, which turned out to be the juke box in a bar just down the street. We met the friendly people who were responsible for the fine selection of music and were asked to join them at their table. As usual, a good time was had by all.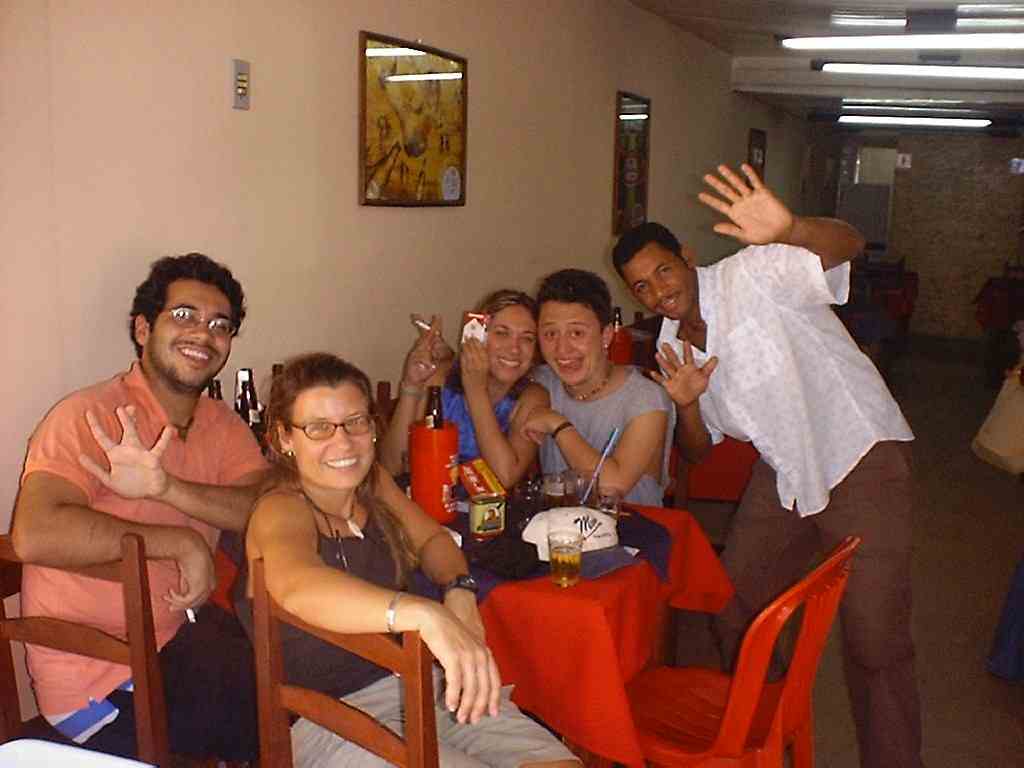 Later Ed and Helena picked us up and took us out for pizza and ice cream. It was a fun night.-DWH
Tuesday April 2nd, 2002
Ed gave us a ride to the airport. The 24 hour bus ride from Salvador to Belo was about $45US. The one hour and 20 minute flight back was about $55US, a pretty good deal in our opinions. It also gave us a chance to scope out the Salvador airport and transportation into the city, so we will be prepared for Jann's arrival tomorrow. -DWH
Wednesday April 3rd, 2002
We spent the morning cleaning up the boat. In the afternoon Stacy and I went to the airport to meet Jann. She had a good flight except for some lost luggage. We headed back to Ladybug and had a few beers and some snacks. Jo called the airline and got the lost baggage sorted out. Stacy, Jann, and I headed into town later for some more food and beers. It was a fun night. -DWH
Thursday April 4th, 2002
Jann's bag was delivered late last night. We got it from the marina security guy this morning. Then we headed into town for some fun and adventure. We walked around the old section of town. We checked out a museum, a church, and had lunch. I had some work to do at the internet cafe. While I did that Stacy and Jann did some shopping. By 3 pm we were pretty pooped and headed back to Ladybug. We decided to take it easy and hang out on the boat for the rest of the day. Jo went into town. Jann, Stacy, and I were having snacks and wine in the cockpit when a guy came up to the boat and said "hi". At first glance I thought it was our friend Etienne from South Africa, but I quickly realized I was wrong. It was a fellow American named Dan. He has been living in South Africa for most of the last 10 years. We invited him on board for some wine. He had a good conversation, but his story started to sound familiar. When we were in Hout Bay I had a conversation with a lady named Jenny who has a marine supply business. Jenny had talked quite a bit about an American guy who left the US when he was 16 and sailed most of the way around the world before getting stuck in South Africa. She said she had basically adopted him. Well, it turns out that Dan is that very guy. It's a small world. Had some good stories. He left Michigan in November when he was 16. He was on a twenty foot boat at the time. Lake Michigan in a small boat in November is pretty adventurous, but that was just a start. We really enjoyed his stories. -DWH
Friday April 5th, 2002
Stacy and Jann went shopping this morning. Jo worked on a sticky choke cable on the starboard diesel. I worked on the website. I also checked email. We were expecting our friend, Eric Slayback, to arrive today. Unfortunately he had trouble getting his visa. The officials at the Brazilian embassy have probably heard about his previous adventures on Ladybug. (For the record, Eric has never actually been convicted of any crimes he has committed while visiting us.) While Eric will not be coming, we have confirmation that Jo's cousin, Ed, will be arriving tomorrow, so that's good news. Later James for s/v Patrica came over to swap books. Then Dan came over to do the same. -DWH
Jann, Stacy, and I had beers on Brigitte. I'm sure she is seaworthy, but you would never suspect that by looking at her. There are numerous rust holes, etc. The sides are all bashed up. A previous owner used her to take cargo to St. Helena, and she spend a lot of time against the unprotected wall there. Steel can be a wonderful thing. Later the four of us headed into town for dinner and other fun. We ended up staying out until 2:30 am. It was a very interesting evening. -DWH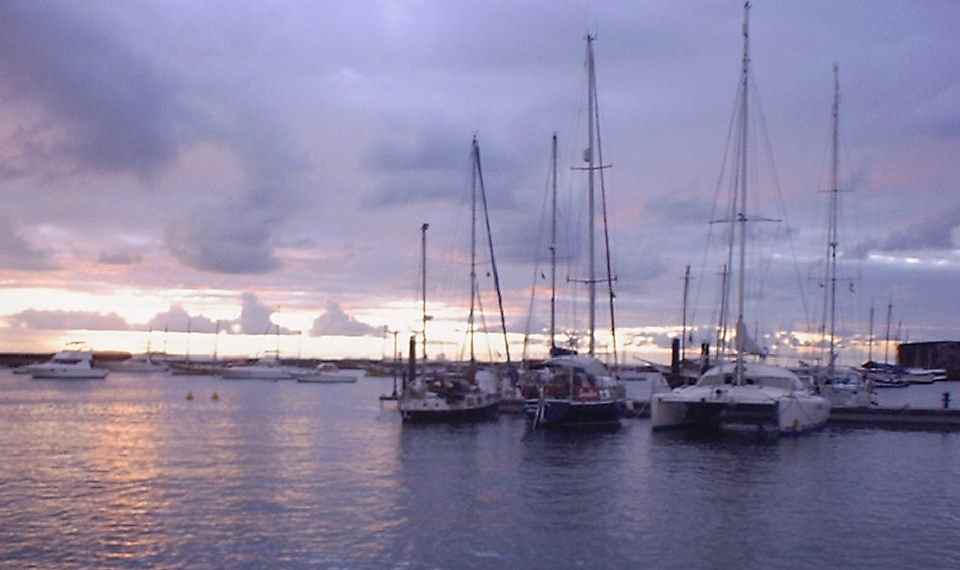 Ladybug at sunset from the cockpit of Brigitte.
Saturday April 6th, 2002
Spent the morning doing some writing while Stacy and Jann ran around town. I met them later for lunch. Jo tried to help Dan with his computer. It looks like they had some success. Ed showed up around 2pm. We untied from the dock around 3pm. First we sailed a little with the main and jib. It is hard to believe but I had been over 2000 miles, maybe even 3000 miles, since we had the main up. After a while we dropped it and switched to the spinnaker. It was very pleasant sailing in light wind. We were hoping to anchor on the other side of Itaparica Island. At 5:45 it was obvious that we would not make it before dark. Since we don't like going into a strange place at night, we found a nice spot to drop the hook on the near side of the island. Life is most excellent. -DWH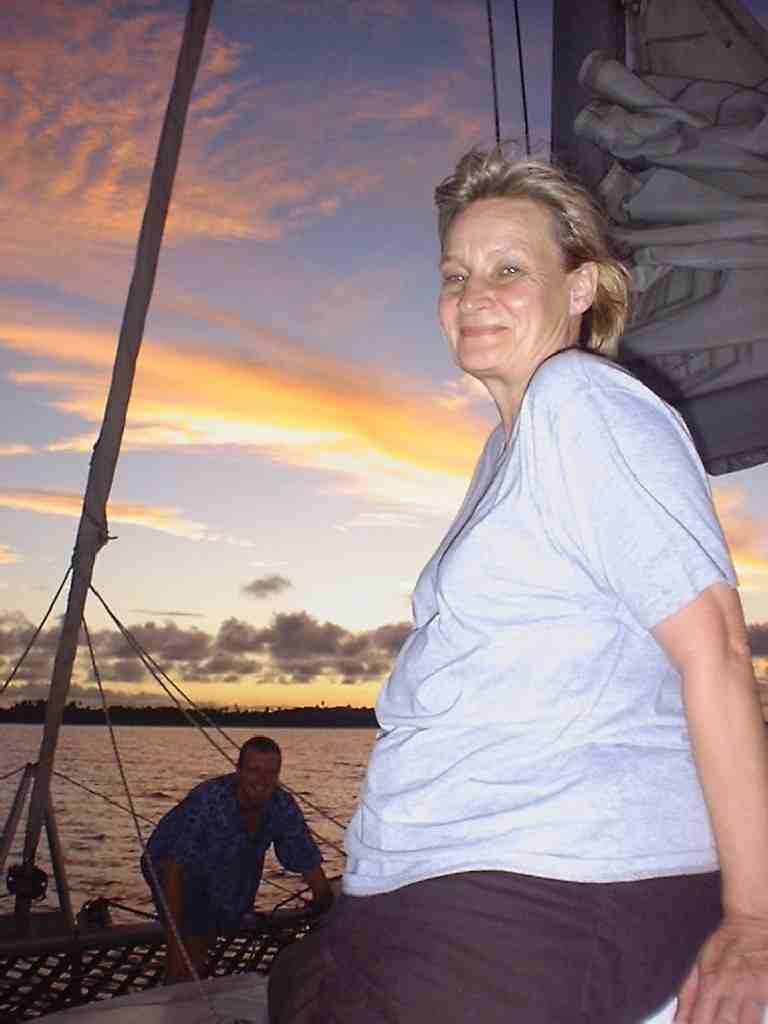 Jann supervises the dropping of the anchor. Check out that sky!
Sunday April 7th, 2002
Woke up about 4 am. The wind was starting to pick up and there was some rain and lightning. I was pretty awake, so I sat in the cockpit for a while. After the sunrise I took advantage of the peace and quiet to work on the website. We should be able to do another update before leaving Salvador. -DWH
Jo and Ed took a long walk on the beach this morning. Later Jann, Stacy and I also checked it out. Then we pulled up the anchor just after noon and headed for our original destination.
Anchor down just before 2pm. Time for a swim and then lunch.-DWH
We had a nice walk along the shore. We saw the public market, the town square, and the fort. As we rounded the northern tip of the island we started to hear some music. Mom said the drumming sounded live. So we followed our ears and found a very lively football match. Two teams from the island were playing each other. The score ended as 4 to 0. There was a lot of hustling on the field and a lot of enthusiasm in the crowd. We met a really nice guy Jovano and his brother Carlos. We had a few beers with them, and then we went out for dinner.
The restaurant at the marina was closed already, so we walked along the shore to the first open restaurant. We found all of the other yachties there, so we figured the food must be pretty good. We sat with our friend Tony from Argentina and his new crew Suzanne from the Netherlands. He advised us that the Ensopado Peixe (fish stew with rice, squash and manioc flour) was the best thing on the menu. So I ordered it. The dinner was great! After dinner we stopped at the ice cream buffet. This is a serve yourself thing, then you weigh it and pay. Our friend Gregorio let us sample all of the different flavors. My favorite was the tamarind.
By now we were getting pretty tired, so we headed back to the boat and called it a night. We found Jo and Ed on the boat relaxing and listening to some music.-SLC
We were really impressed with the enthusiasm of the fans at the football match. There was a lot of screaming, dancing, singing, drum beating, and butt shacking. I think some of the fans got more exercise than the players. -DWH
Monday April 8th, 2002
After our morning coffee we picked up the anchor around 9am. We decided to head for Ilha de Mare. But upon further investigation we found there was not a good place to anchor. So we altered course for Ilha dos Frades (Monk's Island). There is an ecological park on this island. Looks like a good place to hang out. The sun is hot today, we are hoping to spend some time in the water to keep cool.
11 am anchor down in a cute little bay to the east of Pta. Nossa Senhora de Gaudalupe. -SLC
The girls enjoying a trip in kayaks. Notice traditional Brazilian vessel in background.
We had some snacks on the island. Then Stacy and Jann explored the coast in the kayaks. The boys stayed on shore and kept the staff at the beach bar/restaurant from getting bored. We all headed back to Ladybug and lifted anchor at 2pm and sailed back to Salvador, arriving at sunset. -DWH
Tuesday April 9th, 2002
Ed will be heading home to Belo today. It was great having him on board for a few days. The rest of us will be busy preparing to leave tomorrow. -DWH
I was up at 6am and working on the website. Stacy and I finished it by 10am, and she scooted off to the internet cafe. Later we started on other prepassage jobs. I went up the mast to check the rigging and the main haylard sheave. Everything looked fine. I took the camera up with me and got of good shot of Brigitte coming into the marina.
I wanted to wash the kayaks and dinghy with fresh water before packing them away. The water on the pier was not working, but it rained most of the day, so that job was easy. Stacy, Jann, and I went into town with Dan. Stacy and Jann bought groceries while Dan helped me find marine plywood (10mm for $18US a sheet, not bad) for a new dinghy floor and screws to fix one of the hatch handles. By the time we finished shopping we were hungry so we ordered lunch in a little restaurant. Sometimes it is fun to order without having any clue what it is you will be getting. It usually turns out great. This time it was good, but we could not identify the meat. At first we thought it was stomach. Brain was the next guess. Finally we settled on lung. After lunch we headed back to the boat. Stacy worked on the hatch while I worked on the new dinghy floor.
Jo tried to check us out, but one of the offices was closed most of the day and then too busy to take care of him. He will try again tomorrow.
Another catamaran pulled in this afternoon. They caught a tuna during the day and gave some to our new friend, Tony. It was more than he could eat so he passed some on to us. I prepared a plate of sashimi, Stacy made rice w/ veggies, and Dan threw a fillet mignon on his braai. It was a fantastic meal. Later Tony joined us for a glass of South African wine. Then we all headed to town. It was another fun night. We finally got to bed around 2am. -DWH
Wednesday April 10th, 2002
Woke up at 6am. When the sun comes up it gets hot fast. Started preparing to leave. Checked engine hours. It has been 70 hours since the last oil change, so we should still be good for a while. Engine and transmission oil looked good on both sides. Checked batteries. EPIRB battery tested OK. Added a little water to starboard battery. Packed up dinghy and kayaks. Filled water. Jo checked us out.
12:30 pm: Lines free. Made a quick stop to pick up fuel. We used 73 liters since leaving South Africa. That was for about 65 hours of usage on each engine. Not too bad.
It is good to be underway again. It is 474 nm to Cabedelo. -DWH
3:30 pm: Jann has taken over the helm. Watch out New Zealand. We might have a secret weapon for the next America's Cup!! -DWH
Thursday April 11th, 2002
2 am: We have light wind on the starboard beam. We have been following the coast at about 2 miles off shore. I saw 10 fishing boats in the last 4 hours. -DWH
I put out the fishing lines around 8:30. Jann and I were in the cockpit around 9:00 when the Provider began to sing (sound of line going out). We soon landed a 25" big eye tuna. This is the first big eye tuna that we have ever caught, so we will test the meat properly, preparing it three different ways. We will have sashimi, ceviche, and mafe tiga tuna. It will be an excellent day of eating. -DWH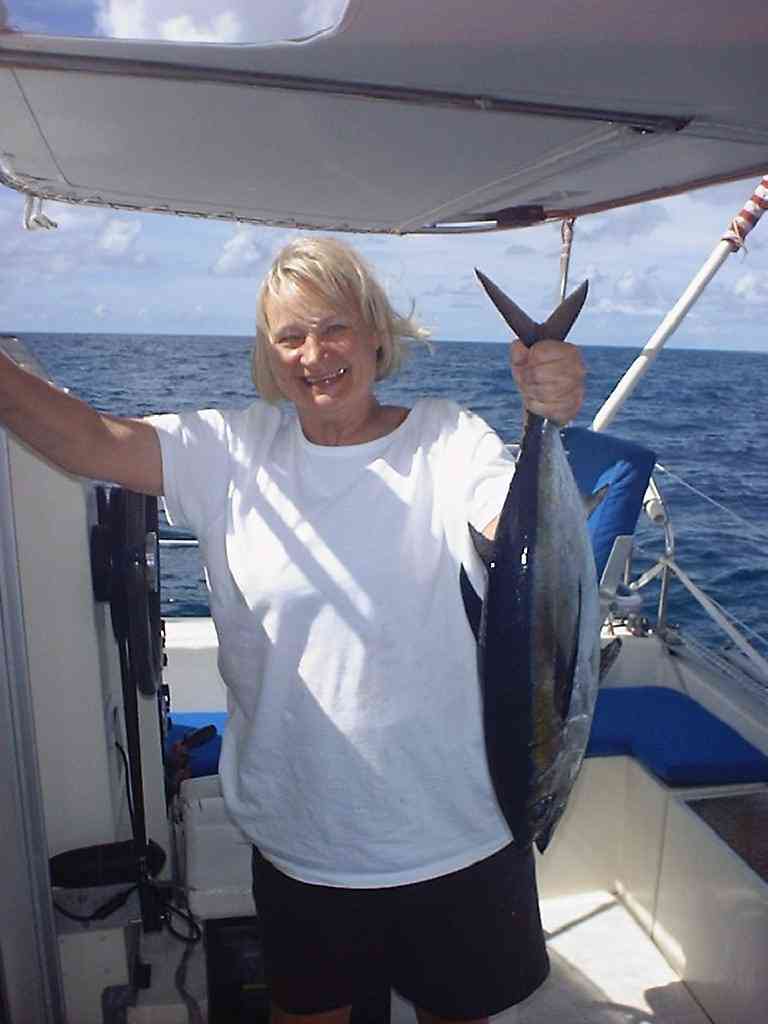 Jann and our bigeye tuna.
Noon: Our position is 12 07 S, 37 25W. We ended up making about 90 miles good since leaving at 12:30 yesterday. That is not too bad considering that we started pretty much straight up wind and had to tack a lot. Now we are headed more north and the wind has shifted a little, so we are able to make our desired course with about 12 knots of apparent wind at 50-60 degrees off our starboard bow. We are not going to set any speed records in these conditions, but it is pleasant sailing. -DWH
Stacy tuned into the SSB net at 3 pm. We have not been on the net since just before we arrived in Salvador. She talked to Simmer. They are at Ascension and will be leaving for Fernando in a couple days. Simmer also reported that Wings of Time has reached St. Thomas. It is good to hear that they are doing so well.
Friday April 12th, 2002
2 am: We are now about 25 nm off shore. I didn't see any fishing boats in the last four hours, but there were several freighters. I guess that we are too far out for small fishing boats at night, but we are certainly in the shipping lane. -DWH
5:15 AM: Radio contact with the tug Sanco Sea. They are southbound within visual range and give us instructions so we can avoid their tow. A 7km cable! Promptly we give our speed an extra boost with the engines and sail eastward to give them room. -Jo
10:30am: The wind is light (5-8 knots) and right on the nose. We are not making much progress, but at least there is entertainment. The dolphins have come by to say hello. -DWH
Noon: 11 00 S, 36:18 W. Another slow day with 93 miles made good. Winds are light and variable, mostly on the nose.
3pm: Party, Party, Party!! Today we are celebrating with Tammy and John. We hope they are having an absolutely wonderful and amazing wedding party. It is very out of character for Dave and I to miss a party, but we just couldn't make this one. We are there with you guys in spirit. We definitely will have some catching up to do when we get back to Wisconsin. Tammy said that we could make up for missing the wedding by promising to get together with them at least once a year from now on to drink at least one bottle of wine together. I think this is a great idea!! Hope your having fun. Can't wait to see the photos and hear the stories. -SLC
11pm: The light head winds continue to make for slow sailing, but we also seem to be going against a 1-1.5 knot current. Water temperature is 81.9 degrees F. We are about 6 nm from where the depth starts a quick drop from about 30 meters to over 1000. -DWH
Saturday April 13th, 2002
1:30am: There is a lot of traffic again tonight. It gets more interesting when there are multiple ships all trying to run us over at the same time. -DWH
10:30am: Water temp is 82.3. We are less than a mile from the shelf. There are several fishing boats and one military ship in sight. -DWH
Noon: 9 57S, 35 38W. Only 74 miles made good in the last 24 hours. -DWH
It always seems to take a couple days to get in the groove when starting a passage. This time is seems to have taken me longer than usual, but I'm finally there. It started when I my first sea water shower yesterday. (I needed to be clean for the party in honor of John and Tammy). Today I have already done my exercises and taken a shower, and now I'm going to study for the coast guard exam. It always feels good to be at sea, but once I'm in my groove, it feels great. To top it all off, Stacy and Jann are baking cookies. -DWH
14:16 Contact with Canadian catamaran Carpe Diem heading towards Salvador. They are coming from Cabedelo.
The wind picked up to about 15 knots around 2pm, and boat started to move along nicely. Then we got the call from Carpe Diem. Stacy was happy to pass on info about Salvador. Just after Stacy had finished talking to them, the Provider began to sing. Jann landed a small skipjack tuna. It is just the right size to go along with the beans and rice that Jo is cooking. It is turning out to be a pretty fun filled day. -DWH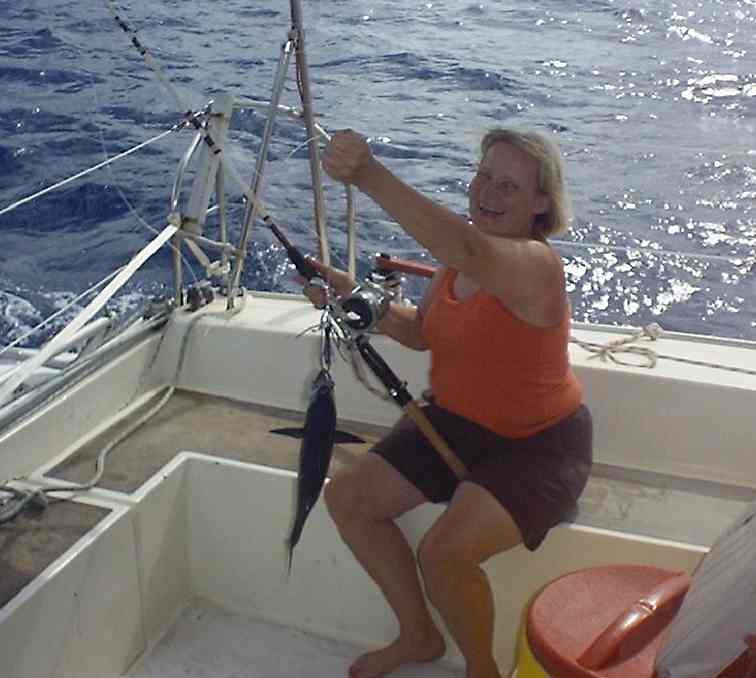 Jann and her skipjack tuna.
Sunday April 14th, 2002
5am Cranberry muffins are coming out of the oven and it is a beautiful sunrise. I had a large military ship pass to the port side about 45 minutes ago. Also many fishing boat lights. -SLC
We had good wind until morning when it died down and shifted to the ESE. The spinnaker went up at about 10am. We are making around 3-4 comfortable knots. -DWH
Noon: 8 13S, 34 38W. 120 nm made good in the last 24 hours. We have 87 nm to go.
2 pm: All though we are moving very slowly through the water, our speed over ground is 1-1.5 knots higher. We are close to the eastern most tip of South America, so we must have picked up the NE current that continues all the way up the coast to Trinidad and Tobago. Excellent news. It's all down hill from here. (A little later we passed some fishing floats. The way they had water streaming around them confirmed our current.) -DWH
Guy Ellis is writing a book and emailed "draft 23" to us a while back. I finally started reading it. It is called "Wild Fiction" and after a couple chapters I am hooked. -DWH
Monday April 15th, 2002
2am: What a crazy night. At 6pm we had about 50 miles to go to the approach to Cabedelo Our goal was to reach this point just after sunrise. The wind was nice and steady, so we decided to keep the spinnaker up for Jo's 6-10 shift and then drop it if we had made good progress. When I woke up at 10 we only had 24 nm to go and 8 hours to do it, so we started to bring the spinnaker down. As we were dropping it the wind suddenly picked up very quickly. We just got the sail in before we got hit with 30 knots of wind and driving rain. It rained for about 20 minutes, and the wind stayed 20-30 for about 20 more. When the wind finally died down I noticed a light ahead. After a few minutes what had originally looked like one light turned out to be a set of lights - red and green side lights and two mast head lights. It was a large ship headed directly at us. We have seen a lot of ships lately, but they are very seldom pointed right at us. A voice came over the radio and said something in Portuguese that was probably very polite and professional but sounded very much like "hey little boat, get out of my way." I was already in the process of turning 60 degrees to do just that. Within a few minutes he was passing behind us. Then I noticed another light coming from the other direction. Once again this single light turned into a set - red and green side lights and two mast head lights. Oh, no. It was another large ship heading straight for us. Once again I altered course, but this time there were some small fishing boats in front of me, so I also had to avoid them. I managed to keep out of his way, but he didn't seem to concerned about giving us or the fishing boats any extra room. Once he had passed I was really ready for some sailing, but by this time the wind had completely died. We motored along with just the port engine and making about 3.5 knots. I took the opportunity to change into some dry cloths. A little later the wind started to pick up enough to try the sail. I unfurled the jib and killed the engine. The wind picked up to about 12 knots....beautiful. Then it jumped to 20-25, and I got dumped with rain again. Ten minutes later the wind had died again. Now it might sound like I'm complaining, and I guess I am a little, but there are two important points: 1) We were lucky to have dropped the spinnaker when we did. Ever since we cleared South Africa we have had mild and steady weather. We have gotten accustomed to this and were not as careful as we should have been. 2) I'd rather be on the boat writing about getting soaked than sitting in a dry office reading about it. -DWH
4:15 The wind is steady and we are making over 3 knots with the jib. I haven't seen much traffic either. Just finished reading Dave's new story. EXCELLENT. The ending really made me SMILE!! -SLC
9:15 Anchor down in front of the Iate Clube da Paraiba. We are about 10 miles up the river and it looks like a beautiful spot.
A warm welcome from some local sailors.
After getting Ladybug shipshape we celebrated the success of our 5 day passage with champagne while Jo went in to investigate and take care of the formalities. When he returned we went into Captain Philippe's for showers, beer, and dinner. (It does not seem the least bit unusual to us that a restaurant that serves yachties has a shower.) -DWH
We talked to a nice French guy who is on a monohull. He was very interested in the fact that we have almost completed our circumnavigation. There just are not that many people doing it in catamarans. He was pleased to hear that it has worked out so well for us. There is another big (45 or 50 feet) cat here. She looks sleek and expensive but only has about 6" of clearance under her bridge deck. We were checking her out as we were coming in and can't imagine sailing such a boat. According to our neighbor, the owner of that cat says that catamarans are only good for in the bay, not for open ocean. I guess he had a really miserable passage from France. Now he is stuck here with a $300,000 or $400,000 dollar boat that he doesn't want to take to sea. We were glad to here that our neighbor didn't believe his comment about cats in general. He actually said he wants a cat for his next boat. -DWH
Tuesday April 16th, 2002
Stacy and Jann headed in to explore this morning. Jo and I stayed on the boat to work on projects. Jo is running a new wire for the mast head and deck lights. I replaced the alarm buzzer on the port engine control panel. These seem like simple jobs but ended up taking the whole morning.
Mom and I went for a nice hike along the railroad tracks towards the point called Cabedelo. We did not make it to the point but we had a great walk. We found lots of people walking, horses and goats. We ended up in a nice little neighborhood. After sharing a soda we decided to grab a bus into town. We did not go to the center of town, but to an area called Tambau. This is a nice waterfront area with nice restaurants and several craft markets. We had some shrimp and beer for lunch, then we went to check out the markets. We found the usual t-shirts and tourist items, but we also found some really nice handmade arts and crafts. The day was really fun. I managed to catch all of the right buses, and only got off too early once!
When we got back home we found the guys waiting at the bar. Mom and I took quick showers so we could head back to Tambau for dinner. We took the bus back in and found a nice ocean side bar/grill. We had some snacks and a few beers. I really liked the fried fish. It was a whole fish, about 14 inches long, deep fried. This way of preparing fish reminds me of food that I ate in Senegal. Very Good. -SLC
Wednesday April 17th, 2002
This morning Mom wanted to see the big city. So we took the train into Joao Pessoa. The train is very cheep (.30 cents) and very fast. We arrived in town and inquired at the bus station for our trip tomorrow to Olinda. Some very nice guy translated and gave me the information about which stop to get off on the bus to Recife. So we are all set for tomorrow. Then we headed up the street. We found lots of little shops... everything from baby cloths to motorcycle parts. I noticed a sign for a manicure/pedicure and I decided it would be fun to splurge a little (only 2$ each!) so mom and I had our nails done while Dave took a walking tour.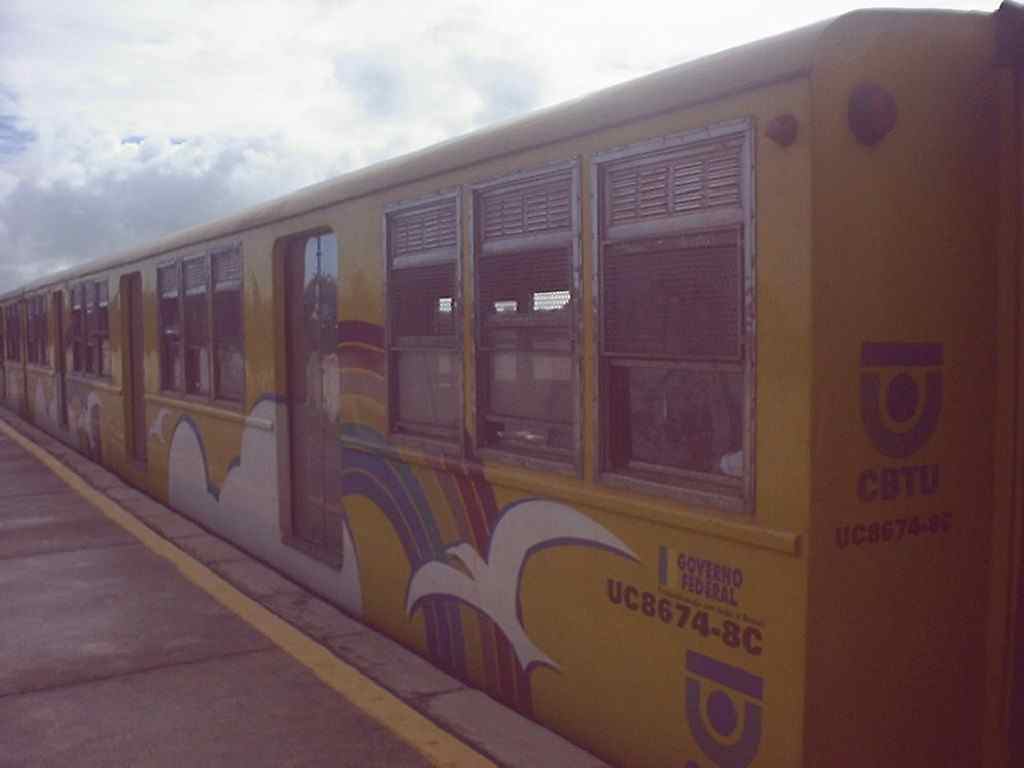 The very colorful train
Next we figured we better eat. We found a side street away from the traffic with some bars and restaurants. When we were done eating we headed from the central market. This market was very large. We found lots of meat, beans, fruits and vegetables.
We were having a lot of fun exploring so mom and I decided that we wanted to head back to the Tambau area and Dave went back to the boat. After a little more shopping we grabbed a taxi and found Jo and Dave watching the soccer game(Brazil vs Portugal...ended in tie score). We had a few beers some snacks(garlic fried shrimp of course) and chatted with Pierre (bar owner) and Eric and Nathalie from the boat next door. -SLC
Thursday April 18th, 2002
Today Jann starts her trip home. She flies from Recife tomorrow.
Stacy, Jann and I took the train to Joao Pessoa. From there our plan was to take a bus most of the way and then a short taxi ride to Olinda, which is just north of Recife. It is about 60 miles and the bus fare was 11R ($5US) each. On the way up to the bus station a taxi driver offered to take us all the way to Olinda for 40R. What a deal! We jumped in his car and were in Olinda in an hour and a half. Once in Olinda we found a place for coffee and juice. Then I left Jann and Stacy and ran around town looking for a place to stay. There was a cheap place complete with farting and belching backpackers for 30R per room. There was a beautiful 200 year old place with a balcony overlooking the street for R220 per room. Neither seemed like what we wanted. I continued to run around and, after checking a couple others, found Pousada dos Quatro Cantos. The woman at the front desk was friendly, the place was beautiful, and the rooms were 60R per night. Perfect. I ran and got Jann and Stacy and we were soon checked in. We spent the rest of the day checking out town. Eventually we ended up at a restaurant right on the water where we shared a good fish dish and a fantastic plate of garlic octopus. -DWH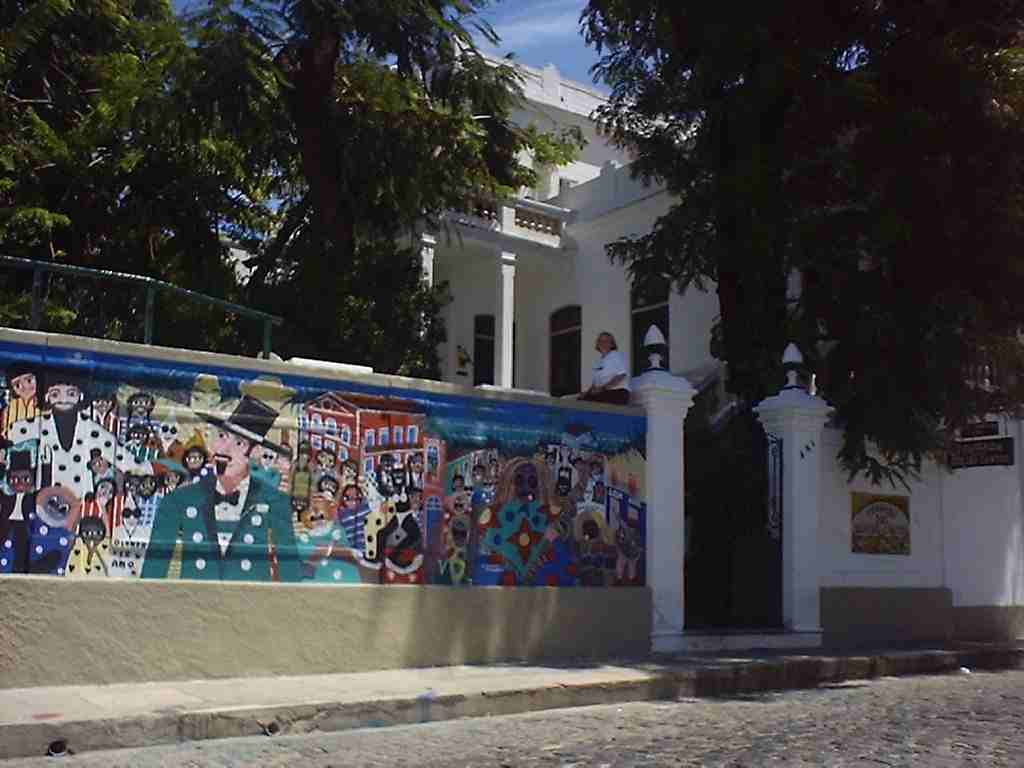 Pousada dos Quatro Cantos, our home in Olinda.

Friday April 19th, 2002
Breakfast is included in the price of the room, and it was fantastic. There was coffee, fresh juices, and wide variety of local food laid out for our eating pleasure. The staff was not only friendly and helpful but also really fun. After breakfast we walked around town a little and then returned to the hotel for snacks and beer. We had a car arranged to take Jann to the airport, and it arrived at 1pm. We were sad to say good-bye, but glad that she had a good trip.-DWH
Tonight we decided to treat ourselves. We still had some money left from a Christmas present from my brother Ryan and his wife Linda. So, we went all out! Around dusk we went for a short walk to look at the different restaurants. We found a very nice once called "Oficina do Sabor". The menu looked incredible and the staff was friendly so we reserved a table on the balcony. Next we went back to the hotel to shower and get ready. I put on my new dress and we headed out. It was about 7pm and we stopped for a drink on the way to the restaurant. We sat outside and watched the people. It seemed to be a very active little neighborhood. Across the street we spotted a Carnival club, where they do all the preparations (costumes, music, dances) each year for the big party.
When we got to the restaurant it was already pretty busy, but our quiet table was waiting for us. We started with some wine and local appetizers(cheese, fish, eggplant). Then we had a fabulous entree of shrimp and fish in sauce which was served in a whole pumpkin. The sauce was made from an amazon fruit called Graviola (white sweet/tart juice). We finished with desert...mint ice cream with cinnamon/clove liquor and coffee. It was a great dinner.
The evening turned into a rainy night and half way through dinner the power went out. How romantic!! They kept serving food and brought out candles as necessary. With the lights out we enjoyed watching the rain and we really got a good view of Olinda and the city of Recife. It has been a wonderful evening, but we are ready to go home. Oh, it is still raining! But not to worry, a very sweet boy escorted us to our Pousada with a very large umbrella!
Thanks a lot Ryan & Linda... we had a great time! -SLC
Saturday April 20th, 2002
Stacy and I returned from Olinda. Before we left we took a photo of the friendly staff at Pousada dos Quatro Cantos. They really made our visit most enjoyable.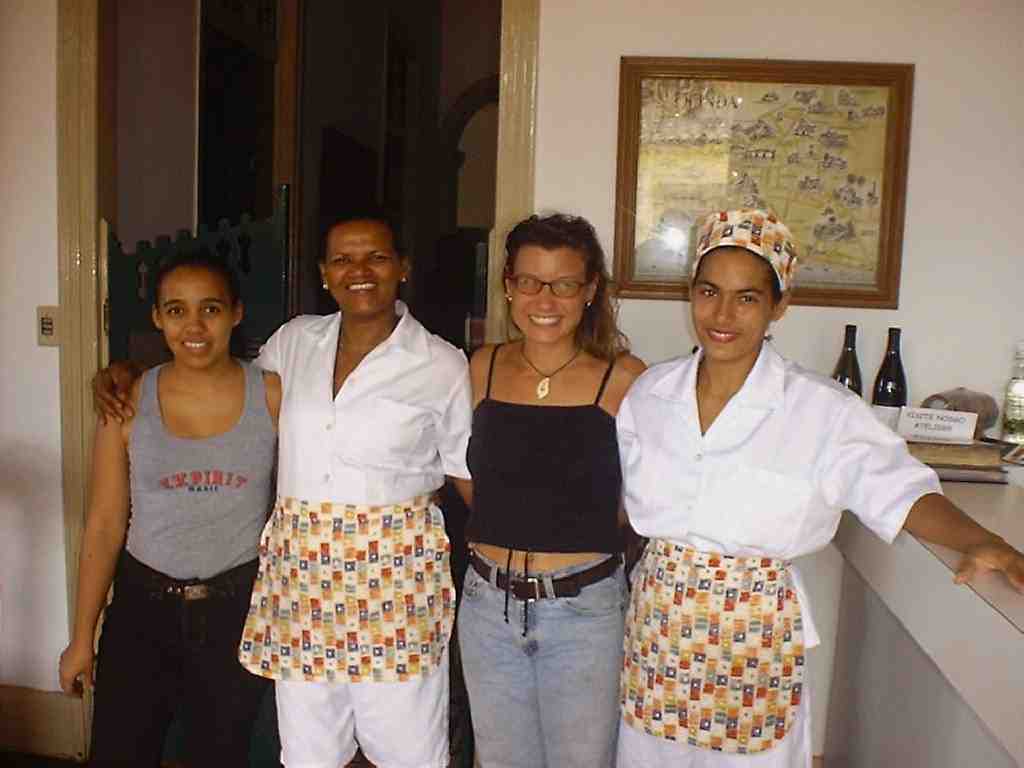 Kisia, Suely, Stacy and Milena

When we got back to Jacare we found Jo helping a local kid fix his little sailboat. The sailboat was originally a dinghy that was left here by a cruising boat. The kid found and rigged a sail and is now a very good sailor. The boat is rough but with a little epoxy, fiberglass, and expert advice from Jo it is quite useable. -DWH

Sunday April 21st, 2002

Spent most of the day doing little boat projects and cleaning. Later went into Captain Philippe's for dinner and beer. -DWH

Monday April 22nd, 2002

Stacy and I checked email in the morning. Then she and Jo went to the grocery store. I stayed on Ladybug and did some little projects. Later we had a little party. We had our neighbors s/v Arc en Ciel and s/v Pourquoipas. Also Theo stopped by on his kayak and Morcego came by in his little sailing/rowing dinghy. It was a great mix of people and language (English, Portuguese, French and Spanish). Dave and I especially enjoyed the company of the two young ladies. Nathalie(on Arc en Ciel) is 15 and is really great company, we even found some music that she liked (The Cranberries). Mercedes( on Pourquoipas) is 9 and we were very impressed with her maturity and consideration of others. I think both of these girls are very smart and study very hard at home on their boats.

Tuesday April 23rd, 2002

Early this morning Dave worked on the website and now he is installing our new mast headlight. Jo did some varnishing and is now working on checking us out of Brazil. I will finish the website update and do some sewing today. We are hoping to head for Tobago tomorrow.