Provisioning in Sint Maarten
May. 05 - 13/ 2000
May 20, 2000
Martinique
"Provisioning is the art of spending all your money so that you can worry about sailing again."
-Two sailors that will someday be famous
We tried to provision and outfit in the Virgin Islands, and we did make some progress. As far as boat parts go we got an outboard for our inflatable, a couple of respectable anchors (including "the beast", a 75 lb Barnacle anchor), and some other small miscellaneous parts. We also loaded up with one big trip to the supermarket. Yet we still had money when we headed for Sint Maarten.
In Sint Maarten we took provisioning and outfitting to a whole new level. First of all, Matti arrived with all the parts we ordered prior to leaving Madison. Matti's luggage consisted of about 100lbs of boat parts and a couple shirts and a couple pair of shorts. It was the mother load.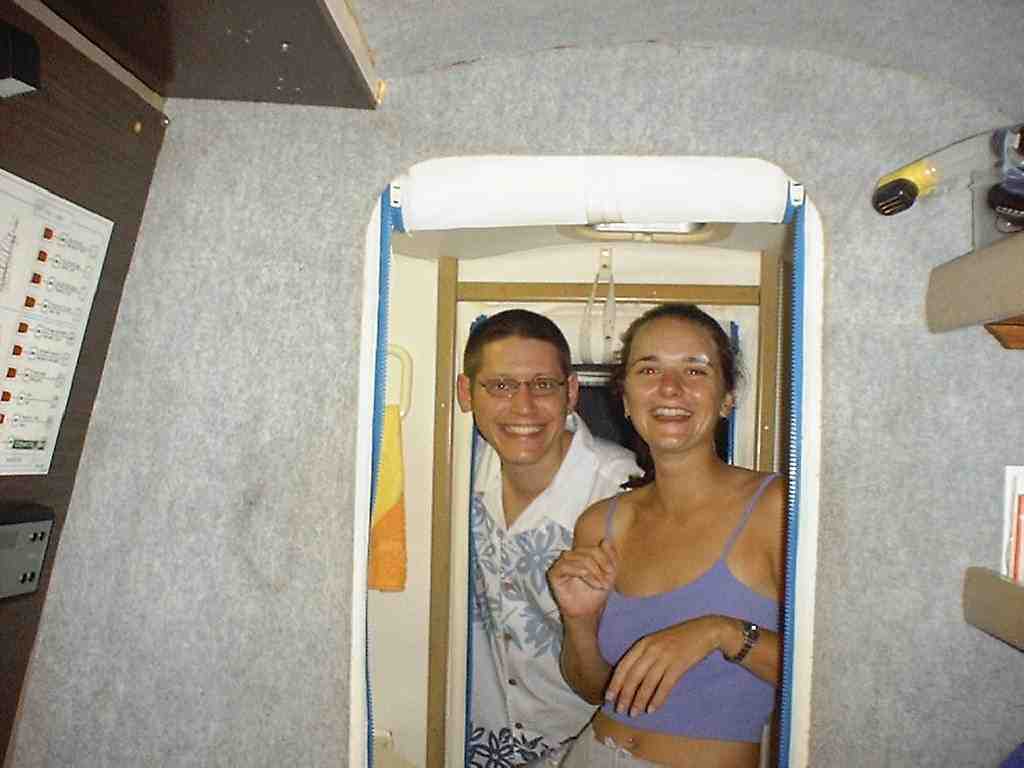 Matti arrives!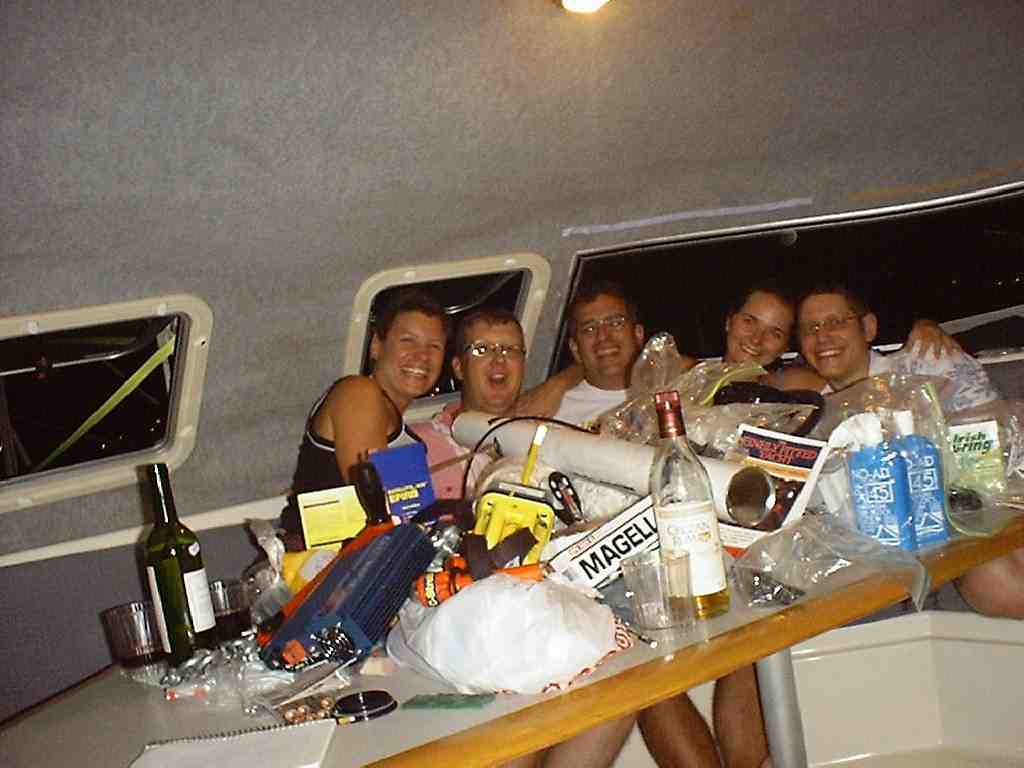 Here we are with some of the loot.
The second part of our provisioning and outfitting consisted of several trips to the marine supply stores. We ended up getting a new chair for the helm, 200 feet of 5/16 high test chain for our main anchor rode, 600 feet of 5/8 nylon line for the second rode and stern anchor/drogue, paint, charts,.....and so on. It took some serious negotiation, but eventually the manager at Budget Marine told the clerk, "just give them the discount and get them out of here". We were actually being very reasonable, patient, and friendly. I guess he was just having a bad day.
The third part of our provisioning started at Chez Reymond on Saturday night. That's were we met Georgette. Georgette works at Simpson Bay Marina where among other things, they provision for mega yachts. She told us that she could get us a deal on wine, beer, etc. She also gave us some tips on keeping fruit and vegetables fresh without refrigeration.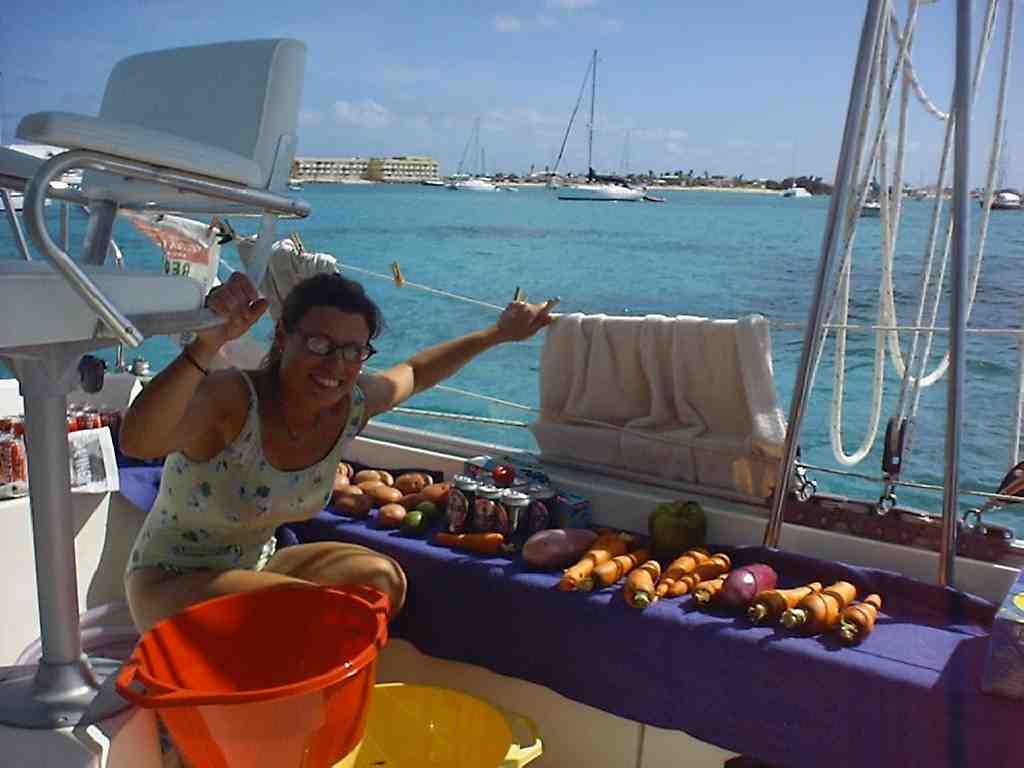 Here is Stacy treating fresh produce.
We stopped by Simpson Bay Marina a couple days later. Georgette introduced us to Dorian who does the provisioning for the rich and famous........and now for us. We ended up getting 6 cases of wine (2 cases of Santa Rita, 3 cases of mixed French Reds, 1 case of champagne), 8 cases of beer, 6 cases of soda, 8 cases of orange juice. The prices were great, significantly cheaper than if we were to buy it in Madison. Dorian is also arranged to get us 5 lobsters and some parmesan cheese.
Wrapping wine in old blanket scraps so they can be stowed with out breaking.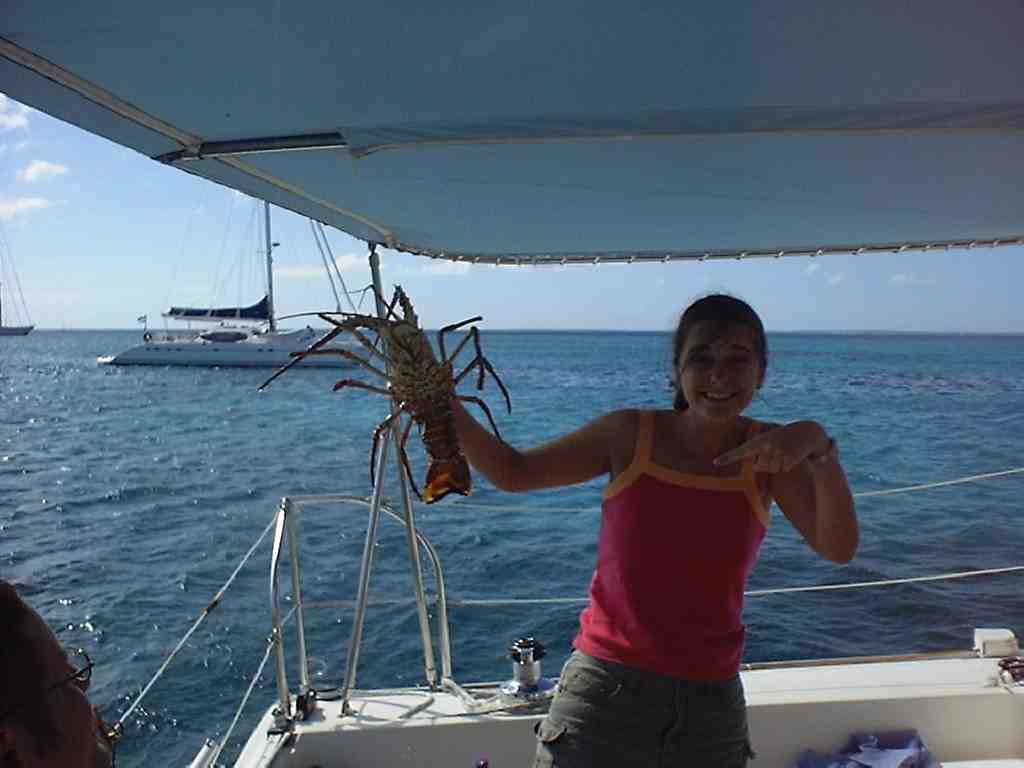 .....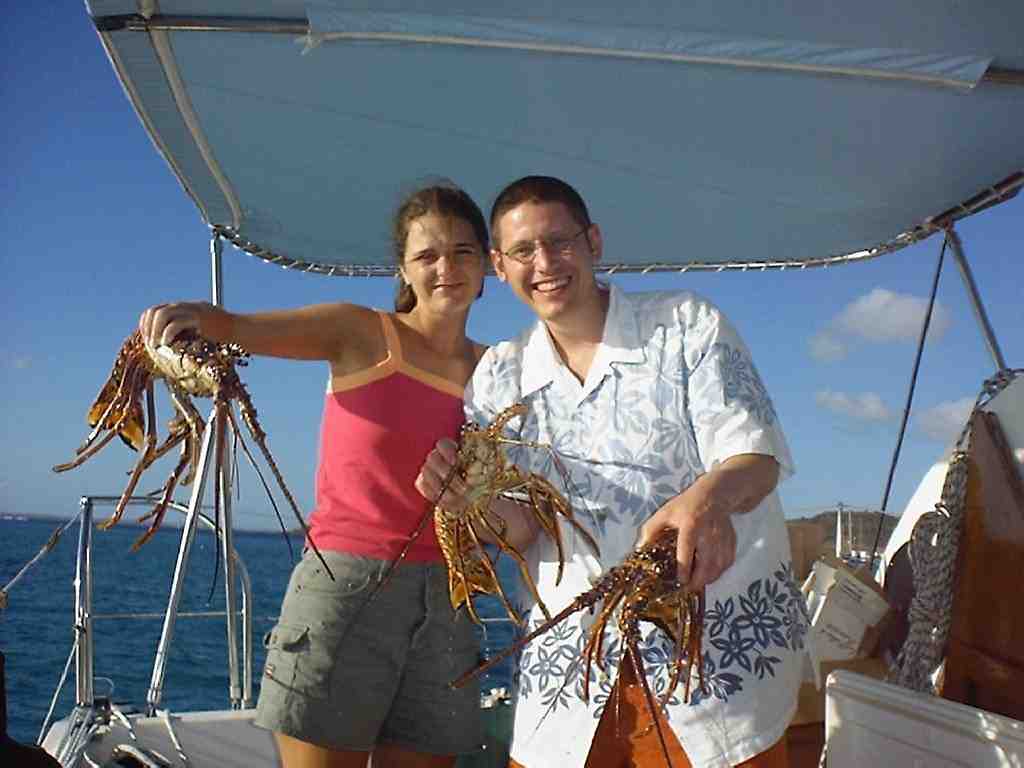 Laurie and Matti playing with the lobsters.